NASCAR Cup Series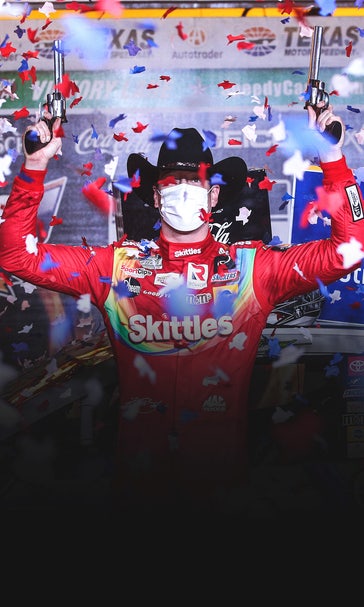 NASCAR Cup Series
Finally For Busch
October 28, 2020
By Bob Pockrass
After a modern-era record rain delay of more than 72 hours, NASCAR finally finished its Cup Series playoff race Wednesday at Texas Motor Speedway.
The race Wednesday – the final 282 laps were run after 52 laps got in Sunday before the rain – didn't surprise too much, even with a Kyle Busch victory, his first of the season and two events after being eliminated from championship contention.
It was Busch's fourth Cup victory at the 1.5-mile track, as he snapped a 33-race winless streak stretching back to the 2019 season finale at Homestead that Busch won to capture the 2019 title.
Finishing second was Martin Truex Jr., and that was little consolation, as a win would have propelled him into being among the four drivers vying for the championship Nov. 8 at Phoenix. Instead, he's 36 points behind the cutoff going into the elimination race Sunday at Martinsville.
Joey Logano is the only driver who has earned one of the four championship-eligible spots thanks to his win at Kansas. There will be two or three spots available on points, depending on whether any of the seven remaining playoff drivers wins at Martinsville.
Kevin Harvick has a 42-point cushion on the cutoff, follow by Denny Hamlin (+27) and Brad Keselowski (+25). All four drivers behind the cutoff potentially face must-win situations at Martinsville: Alex Bowman and Chase Elliott are 25 points behind, Truex Jr. is 36 points back and Kurt Busch is 81 behind. 
Bad day to have a bad day
Chase Elliott has been one of the best drivers in the playoffs, and a no-tire call when pitting prior to the end of the second stage seemed the best call for track position and stage points as he attempted to put himself back into championship contention.
But Elliott didn't realize that one of his tires was worn badly to the cords, and he had to come back in under green, losing a lap and never getting back. He finished 20th.
 
"I was trying to gain some track position to get some stage points in that second stage and had a tire come apart that I didn't realize was coming apart," Elliott said. "So I had to come back down pit road and fix that.
"Then we settled in where we typically do out here and finished in the back."
Also having a bad, but much shorter day, were Matt Kenseth and Bubba Wallace. Just seven laps into the resumption of the race Monday, Kenseth got loose, slid in front of Denny Hamlin, got turned and clipped Wallace.
"I just hate it for my guys for sitting around for four days to have the race taken away from us like that," said Wallace, who will leave Richard Petty Motorsports after this year for 23XI Racing (the Michael Jordan/Denny Hamlin team).
"We'll wait, sit on the plane and wait [for other teams] to go home. I got two races left. It's just unfortunate."
Truex Penalty Impact
With a 20-point penalty after NASCAR confiscated his rear spoiler prior to the race, Martin Truex Jr. faced more of a must-win situation at Texas. He finished second but still finds himself 36 points behind the cutline.
Without the penalty, his situation wasn't all that must-win. But with it, it became one for either Texas or Martinsville. Truex will have crew chief James Small, ejected for Texas, back for Martinsville, where he won earlier this year.
"My guess is that it was something very, very minuscule from what James said, but I really don't know what it was, whether it would have made a difference or not," Truex said. "I can't tell you.
"I think for me I just go to the race and say, 'OK, we're behind the 8‑ball and you've got to do what you can do to try to win, and that's what we did. I think when things like that happen for me, I just brush them aside and go do my job the best I can do."
Truex said he didn't look at finishing second the same as finishing 20th or 30th despite his points situation.
"To run second all day long and lead some laps is tough to do," Truex said. "You've got to put yourself in position in the top two or three to win races, and so we were right there.
"If it was one more lap, the 18 [of Busch] was probably going to run out of gas, so it just was one of those things where we were [as] close can you get without winning. I'm proud of the effort. Obviously, I wish we could have won and we came here to win, but to finish second and say that it may as well be 20th is just ridiculous."
Kyle Busch-Stevens Pairing Still Effective
As what happens any time a driver struggles, there has been industry chatter on whether crew chief Adam Stevens will return next season as the crew chief for Kyle Busch.
They went winless for 21 races before that Homestead win last year and then opened 2020 winless for the first 33 events. Stevens said he knows he has a job at Joe Gibbs Racing next year, but he doesn't know if it will be with Busch.
Typically those type of conversations would happen after the season.
"I'm sure that we will have those type of discussions in the near future and see how it plays out," Stevens said. "I know that I have a home at Joe Gibbs Racing and that's most important, but this is a performance business, and we need a lot more nights like tonight."
The win Wednesday was big in the sense Stevens had to coach Busch in saving fuel as well as Busch arguably having the best car in the field, something he typically hasn't had this year.
"There are things that you think about certainly when you're not performing at the level that you expect yourself to perform and expect your team to perform, and you question those things," Stevens said.
"Stuff creeps in there [in your head], but you have to go back and look at all the pieces of the puzzle."
---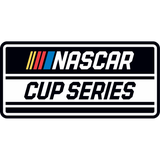 Get more from NASCAR Cup Series
Follow your favorites to get information about games, news and more
---
---