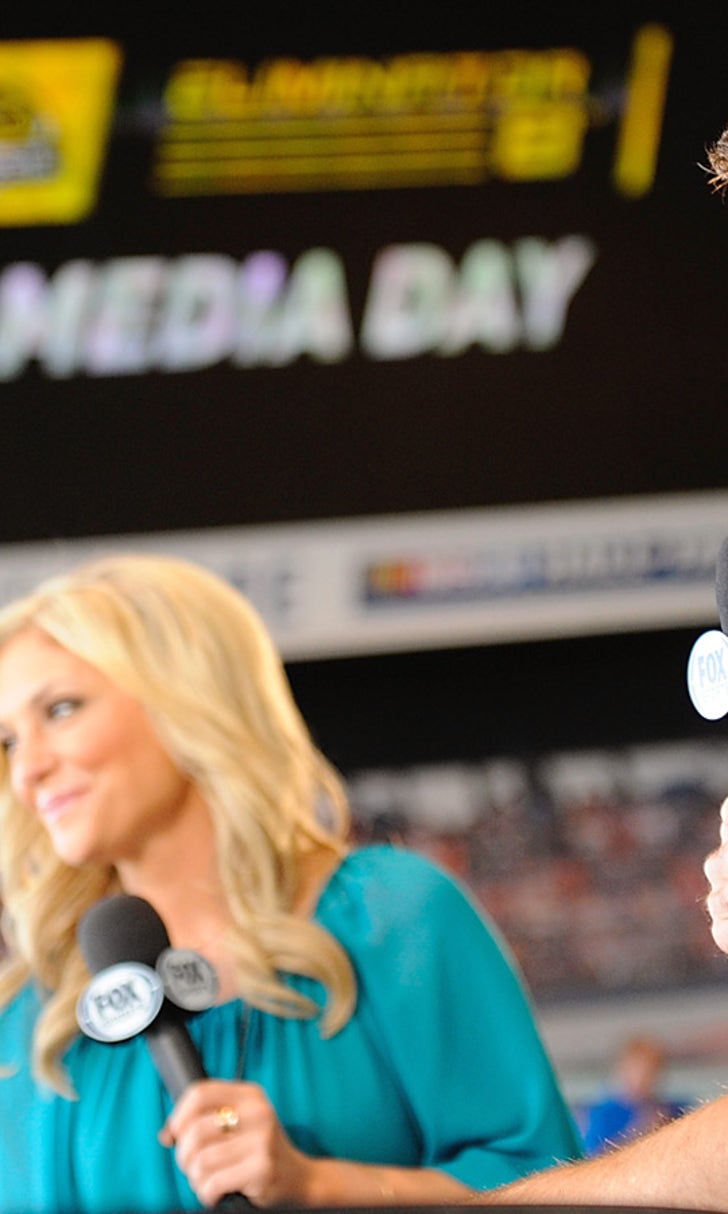 Exclusive: Gordon making transition from track to television
BY Tom Jensen • January 12, 2016
Elite athletes who perform at championship levels do their best to tune the noise out. But when you're a television analyst, you need to embrace the chatter to stay on top of what matters to fans.
That's the take from FOX's newest NASCAR analyst, Jeff Gordon. After four NASCAR Sprint Cup Series championships, 93 race victories and a record 797 consecutive starts, Gordon this year joins the FOX team, where he'll be in the television broadcast booth for NASCAR races with Mike Joy and Darrell Waltrip.
We caught up with Gordon at FOX's Charlotte studios, where he was taping a segment for NASCAR Race Hub, which returns to FS1 on Jan. 18 at its new time of 5 p.m. ET.
The change from driver to television is a big one for Gordon, but one he embraces.
"Typically, this time of year, I would be in meetings with the team, talking about race cars, testing, upcoming races, new processes that maybe we were going to be going through," said Gordon. "Let's say, for instance, the new digital dash. I'd be getting acquainted with that.
"Right now, what I'm more focused on is, what are the storylines?" Gordon said. "What kind of conversations are going to take place? What expectations are out there on the track? Who's the big storylines? In order to get more in tune with that, it's paying more attention to what's happening on social media, listening to SIRIUS radio -- just really trying to gather as much of that information as possible from the fan and the media's perspective, more so than from within the team. Because I feel like the advantage I have this year is bringing something pretty fresh from the racetrack to the viewers and the broadcast."
Gordon said that so far, that transition from the race track to the broadcast booth has gone well, but he expects challenges ahead.
"Up to this point, I think it's been pretty smooth and I've had incredible support from everyone," he said. "So far, there's been no surprises."
Asked what he expected the biggest surprise to be, Gordon said that remains to be determined.
"I think that's still yet to come," he said. "It's going to be actually getting into the broadcast booth and interacting with D.W. and Mike (Joy) and the unknowns. That's probably the biggest challenge I see right now is that I've never done a Sprint cup broadcast on FOX. And because it's live, you don't always know what is going to happen and what you're going to be talking about, or what things can be thrown at you and change."
And with Daytona Speedweeks little more than a month away, it won't be long until Gordon sees real action from the broadcast booth.
"It seems like every week, it's ramping up more and more where I'm talking to more people about the schedule and the expectations and what the process is going to be like," he said. "Really, right now, I'm excited, more than anything."
---
---