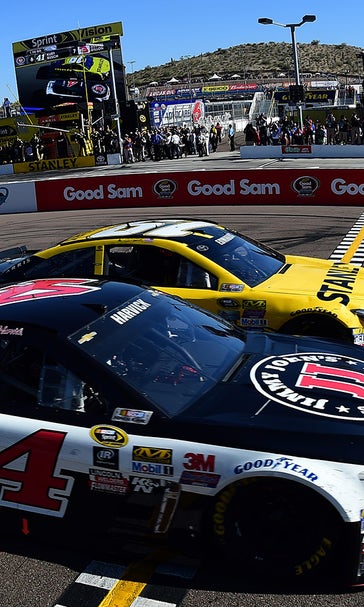 DW: Phoenix proved, again, that the cream rises to the top when it counts in NASCAR
March 16, 2016

I learned way back, when I was in high school, running the half-mile for the track team, that you always wanted to save a little something for the end. You wanted to have a little kick left.
The plan was to maintain the pace, keep up with everyone, but then when it came to coming off Turn 3 on the last lap, you kicked it up a notch and hopefully outran the competition.
I learned that clear back then. I watched my idol, David Pearson, do it and so I carried it over to my racing career. I'd try to keep my nose clean all race long and save my equipment so that when it came down to the end of the race, I had a little bit more left in me and the car. In a lot of cases that strategy worked and I would end up in Victory Circle.
The same holds true today with drivers like Kevin Harvick, Jimmie Johnson and few others. They might not be the fastest when the race starts. You might not really notice them halfway or three-quarters into the race. When we get to the end, though, when it counts, the cream rises to the top and they are there at the finish. There's a reason one of Kevin Harvick's nicknames is "The Closer." We could go all race long and barely mention him, but in the last 10 laps, if he runs to the front, everyone would be like, "Where'd he come from?"
The same concept applies to a movie or a book you are reading. You want to get hooked into it early, and then anticipate what the ending might be. Same thing in other sports. You love a tight game where the winning team scores a touchdown with no time left to win, or a player hits a basket at the buzzer. Those kind of moments are what you live for -- those strong, sometimes unpredictable finishes.
That's what we've had the pleasure of witnessing this year in only four races. Think back to the Daytona 500. It was the closest photo finish in its history between winner Denny Hamlin and Martin Truex Jr. We saw it again come right down to the wire between winner Kevin Harvick and Carl Edwards. Once again it was a photo finish with the closest finish in Phoenix International Raceway's history.
To me, that is racing at its finest. Sunday going down the backstretch you had Harvick, who basically owns that joint with as many wins as he has there, battling with Edwards, who wants to win just as bad as Kevin and lock himself into the Chase this early in the season. Carl has two fresh right-side tires while Kevin is setting there on old tires from the previous caution.
So when they came off the backstretch into the Turn 3, Carl's fresher right-side tires gave him a grip advantage, Carl moved Kevin up the hill a little bit but didn't spin him out, and then the race was on to the checkered flag. They were banging off each other coming to the line, and Kevin just barely beat Carl to get his first win of the season.
So what an incredible start to the 2016 season we've had. There have been four races, four different winners across four different race organizations, and all three manufacturers have won. NASCAR wanted parity and it's been a phenomenal start to the season. Has the new rules package played a role? I think it probably has, but I also think if you look closely enough, the same guys who were up front last year under the old rules package are up front this year with the new rules package.
Now, consider this. Last year there were 36 NASCAR Sprint Cup Series points races. Of those 36, 35 of them were all won by four organizations. I simply see that continuing this year with the powerhouse teams of Hendrick Motorsports, Team Penske, Joe Gibbs Racing and Stewart-Haas Racing battling it out for the championship.
The other thing that has stuck out to me is these young drivers and how they are performing at a high level this early in the season. Watching Chase Elliott drive that No. 24 is so reminiscent of racing his father, Bill, in that No. 9 car all those years. Like his dad, Chase is calm, cool and calculated. Chase got his second top-10 in only four races on Sunday, and you can see his confidence growing.
The combination of Austin Dillon and Slugger Labbe with the No. 3 car is working great and they are running the best I've seen them since Austin climbed behind the wheel. I'll say this again: While it might be a surprise to some, you better keep your eye on that No. 21 car and young Ryan Blaney.
Ryan also got his second top-10 of his young career, and I think the sky's the limit for them. I just think as they as an organization get back in the swing of racing every week and get into a rhythm, they are going to get better and better. Remember they have the Penske alliance, so they are getting their cars from them. The motors are the same. Young Ryan is a very smart driver and wise beyond his years.
Honest to goodness, I see Chase, Austin and Ryan all with a chance to win a race this year and make their very first Chase for the NASCAR Sprint Cup. That's how good I think they are. All three have the resources. All three have the driving skills. Now it's just a matter of putting it all together and making a visit to Victory Circle in 2016. It once again shows the future of NASCAR is very bright and unlimited with fresh young talent like those three young men behind the wheel.
I know there was a lot of talk and concern about Jimmie Johnson's steering wheel coming off in his hands. Honestly, something like that is very rare. I just think in the heat of battle being in a rush to get back out there for qualifying Jimmie simply didn't double-check it was snapped into place. As we saw, it came off in his hands in turns 1 and 2, he slapped the wall and had to start in the back. He still had a pretty good car, and despite starting in the back in a short race like Phoenix is, Jimmie was able to recover and finish 11th.
It just was an unusual situation, but a lot of good will came from it. I say this all the time, but I mean it: Safety is a moving target. It's sort of human nature after doing things time after time after time, to get complacent with the things we do. Sometimes you have to have a wakeup call like Jimmie had at Phoenix to get your attention. Luckily, Jimmie was okay and, remember, it wasn't just a wake-up call for Jimmie – it was a wake-up call for all the drivers in that garage.
Remember, this happened to our six-time series champion and winner of 76 races. Trust me, if something like that can happen to him, every single driver has now made a mental note, be it in testing, practice, qualifying or for a race, to double-check that their steering wheel is locked into place. Again, thankfully Jimmie wasn't hurt, but we'll see a lot of good come from an unfortunate circumstance.
I saw an amazing statistic the other day. Sunday's winner, Kevin Harvick, has now topped the 9,000 laps-led mark. Here's the amazing part: More than half of those 9,000 laps led have come in only the slightly more than two years he has been at Stewart-Haas Racing. You've heard me say this, but from the very first test during the off-season after Kevin and crew chief Rodney Childers created the No. 4 team, they have been at the top of their game. It's well documented that Kevin won the championship in his first season at SHR and finished second last year. Now after only four races they already have a win on the board and probably are already locked into the 2016 Chase.
It doesn't matter what rules package you throw at them, because they consistently have fast cars and are competing for wins and championships. Last year Kyle Busch had to beat Kevin for the championship, and I think once again whoever wants to be our 2016 NASCAR Sprint Cup champion is going to have to beat that No. 4 car. I don't care if they are considered lame ducks with Chevrolet since they have already announced they are switching to Fords next year. As long as that driver, crew chief and team stick together, you can change whatever you want, but that crowd is going to be hard to beat.
I'm already out here in Fontana and can't wait for Sunday. We've had some exciting finishes these last handful of years, and I think with this low-downforce rules package, it will be more of the same. This is the fifth different style track we've been to this season with the new rules. This joint is fast, it has multiple grooves that drivers love to take advantage of, it has strategy, and I just expect another exciting finish and that's not ole DW California Dreamin'!
---
---