Could payback ruin drivers' title hopes?
BY foxsports • September 15, 2010
When NASCAR Vice President Robin Pemberton uttered the infamous words, "Boys, have at it," he had no idea the kind of impact it would have on the 2010 NASCAR Sprint Cup season.
Nearly every week, two NASCAR stars get into it on the track, leading to a face-to-face confrontation or a war of words.
Sometimes, even parents (Tom Logano, Bob Keselowski) get involved. And occasionally, a driver's wife is insulted (or at least her race-day attire).
The only surprise is that there haven't been any actual punches thrown. No right hooks through the driver's-side window. No scuffles in the garage. No brawls on pit road. We haven't even seen a good helmet toss.
Not yet.
There are still 10 races to go — 10 intense, pressure-packed races to decide the Chase for the Sprint Cup.
What a perfect time for all hell to break loose and drivers to really start mixing it up. After 26 races of fender banging and name calling, there are enough scores to settle to turn the Chase into chaos.
And if the boys had at it for 26 races, why should they calm down now? Why shouldn't they continue to run into each other with the big prize on the line?
"I don't see why not," leading bad boy Kyle Busch says.
"I can't imagine why the 'have at it boys' won't continue," good guy Jeff Burton adds.
So if boys will continue to be boys, the Chase should be a humdinger.
What better time for grudge-holding drivers to enact some revenge? Why not get some payback when it really hurts?
Given the numerous tit-for-tats this season, here's a blow-for-blow account of how the Chase might go:
New Hampshire Motor Speedway, Sept. 19:
This was shaping up to be Kevin Harvick's best chance to win a Cup championship — until he tangled with feisty young Joey Logano.
Harvick spun Logano during a Nationwide Series race at Bristol Motor Speedway and then flat-out wrecked him at Pocono Raceway. Logano threatened to "kill" Harvick at Pocono and fired off the ultimate insult when he made fun of Harvick's wife, DeLana, saying she "wears the firesuit in the family and tells him what to do."
Logano gets his revenge at New Hampshire by spinning Harvick late in the race. When a scuffle breaks out on pit road, Tom Logano "accidentally" spills motor oil on DeLana's shiny, clean firesuit.
Dover International Speedway, Sept. 26:
Dover is a lot like Bristol. High-banked, fast and hard to drive. You really have to know how to drive the track, which eliminates guys like David Reutimann.
Reutimann, you may recall, finished second at Bristol to Kyle Busch, who said Reutimann would have won if he knew how to drive the track.
The comment infuriated Reutimann, who will get his revenge at Dover by showing Busch that he does know how to drive — right into Busch's door.
Kansas Speedway, Oct. 3:
Jimmie Johnson, the four-time defending champion, tries to stay clear of such shenanigans, but he had a couple of run-ins this year — one with teammate Jeff Gordon and another with longtime rival Kurt Busch.
Johnson raced Gordon so hard early this season that Gordon vowed he was "pissed" at his teammate. So when the two are battling for the win at Kansas, Gordon cuts him no slack, leaning on Johnson and running him to the apron of the track.
The two are trading paint and slamming doors when along comes Kurt, who sends Johnson spinning.
"I was just trying to bump-draft him," a grinning Busch explains.
Auto Club Speedway, Fontana, Calif., Oct. 10:
Kurt Busch has already got it coming for wrecking Johnson the week before. But what really got him in trouble is his comment back in August when he called the Hendrick drivers "pretty boys."
No daring athlete likes to be called a "pretty boy," and Jimmie and Jeff decide not to play nice in their home state.
Busch is lapping the field when he pulls up on the lapped car of Hendrick's Dale Earnhardt Jr., who is swerving so badly he looks drunk, but is really just trying to get his slow car out of the way.
Earnhardt Jr.'s rolling blockade allows Johnson and Gordon to close in on Busch's bumper. Johnson delivers some payback, spinning Busch while Gordon zooms by for the victory.
Charlotte Motor Speedway, Oct. 16:
This was the site of one of the year's ugliest incidents when Denny Hamlin squeezed teammate Kyle Busch into the wall during the Sprint All-Star Race, causing Busch to go bonkers and threaten to "kill" his teammate.
Thanks to team owner Joe Gibbs, the fiery drivers have gotten along well since then. That all goes out the window when they are racing for the lead at Charlotte.
Busch already is in a big hole thanks to Reutimann, so he has nothing to lose. This time, he squeezes Hamlin into the wall, causing Denny to deliver a few threats of his own and sending Gibbs back into Coach Joe mode.
Martinsville Speedway, Oct. 31:
Since Harvick, Hamlin, Johnson and the Busch brothers have all "had at it," Gordon has a couple of wins and is sitting comfortably atop the Chase standings.
It looks like he finally will win that fifth championship.
Not so fast.
Few drivers have earned more enemies this year than Gordon, who gets bounced around like a pinball at Martinsville.
First Martin Truex Jr. and then Juan Pablo Montoya avenge transgressions by Gordon.
Then, on a late restart, Matt Kenseth, who was out of Chase contention when the engines fired at New Hampshire, suddenly recalls, getting spun by Gordon during the battle for the win there in April.
Poof! Just like that, Gordon's championship hopes go up in tire smoke.
Talladega Superspeedway, Oct. 31:
The track drivers fear most. And no one has a right to fear it more than Carl Edwards, who nearly flew into the grandstands there last year after colliding with Brad Keselowski.
Edwards has gotten more than his share of revenge this year, using Keselowski like a punching bag at Atlanta Motor Speedway and Gateway International Raceway.
Both incidents were ugly, with Keselowski's car flying through the air at Atlanta and getting spun into the middle of traffic at Gateway.
What better place to settle a feud than where it first started. Edwards, who has cruised to the top of the Chase standings thanks to some fine consistency, is out front when Keselowski gets a push from Penske teammate Kurt Busch — who doesn't care for Edwards, either — and flies right into Edwards' bumper.
This time, Edwards' car stays grounded, but his championship hopes fly right out the window.
Texas Motor Speedway, Nov. 7:
Clint Bowyer snuck into the Chase by staying out of trouble and riding around the back side of the top 10 all season. Now, thanks to everyone else's squabbles, he finds himself on the verge of one Texas-size upset.
Bowyer is one of the nicest guys in the garage and rarely has issues with anyone, so he should have a safe path to the title.
But wait. There was one nearly forgotten dust-up in the middle of the season that has gone unresolved.
Bowyer was running second in the Nationwide race at Dover when Hamlin spun him out. Following a red-flag period, Bowyer returned to the track and returned the favor, making sure Hamlin didn't win the race.
Hamlin didn't forget and gets even at Texas, enacting some Old West revenge.
Phoenix International Raceway, Nov. 14:
Bowyer's exit from championship contention leaves the sport's ultimate good guy atop the standings. Surely Jeff Burton has no enemies. Surely no one is lurking in the weeds, waiting to settle a score with him.
Only the sport's biggest villain.
Having gotten his revenge on his teammate, Kyle Busch must get even with Burton for a couple of embarrassing episodes.
First, Busch ran into Burton late in the Coca-Cola 600, prompting Burton to scold him on pit road in front of everyone.
Then, a few weeks later, Burton hit Busch, spinning him out at New Hampshire. Busch held his tongue that day and let the incident slide.
He's not so forgiving when the championship is on the line.
Homestead-Miami Speedway, Nov. 21:
Well, after nine slam-bang weeks, here we are. It's the season finale, and who is left from the fray to battle for the championship?
There are only two Chase drivers who haven't been into it with someone this year: Greg Biffle and Tony Stewart.
Biffle has spent most of the year trying to figure out why his Roush cars won't run or trying to recover from one mishap after another. He hasn't had time for feuds.
And Stewart is now a team owner who signs the checks. Once the sport's biggest hot-head, he doesn't spar with anyone anymore except the media, which he rips and snipes at on a weekly basis.
Fittingly, Biffle and Stewart have a nice, clean race to the finish at Homestead. They have five wins between them at the 1.5-mile track, so it comes down to the last lap.
Stewart wins the race and his third Cup title by a slim margin over Biffle, who finishes second in the Chase for the second time.
Afterward, a dejected Biffle declares that he should have wrecked him.
Stewart, carrying a big trophy and sporting a wide grin, enters the media center for his champion's press conference.
Enacting their own revenge, the media get up and leaves.
---
---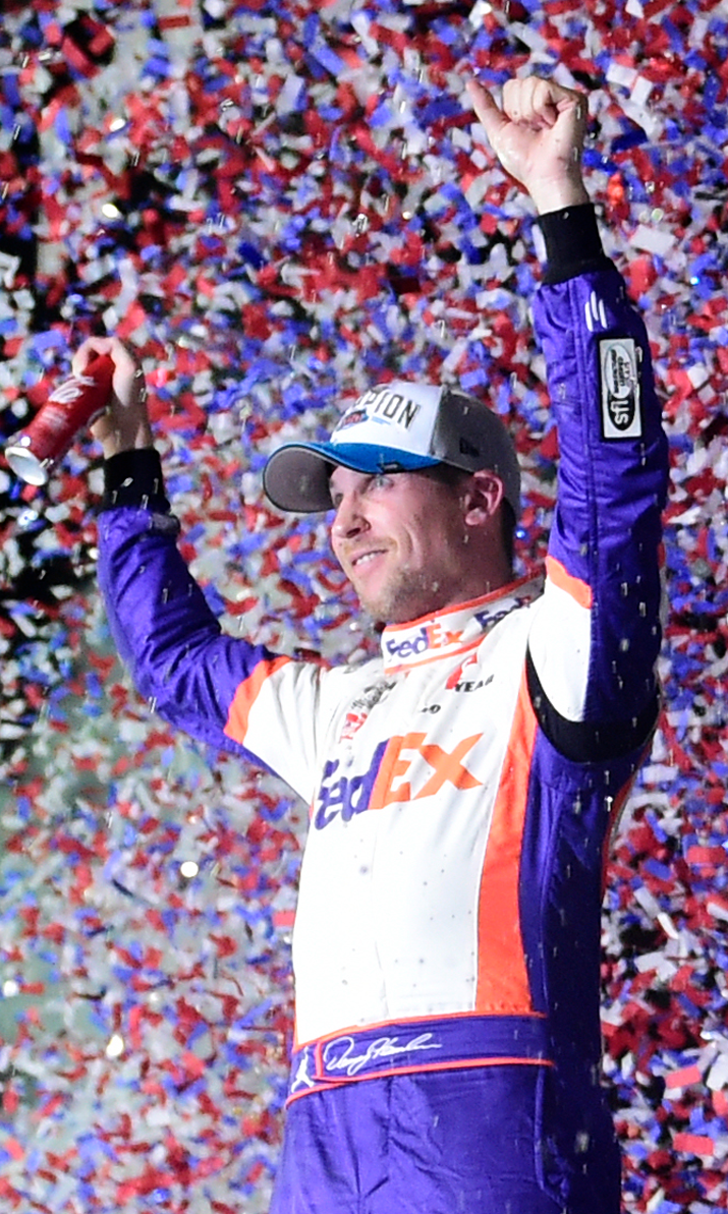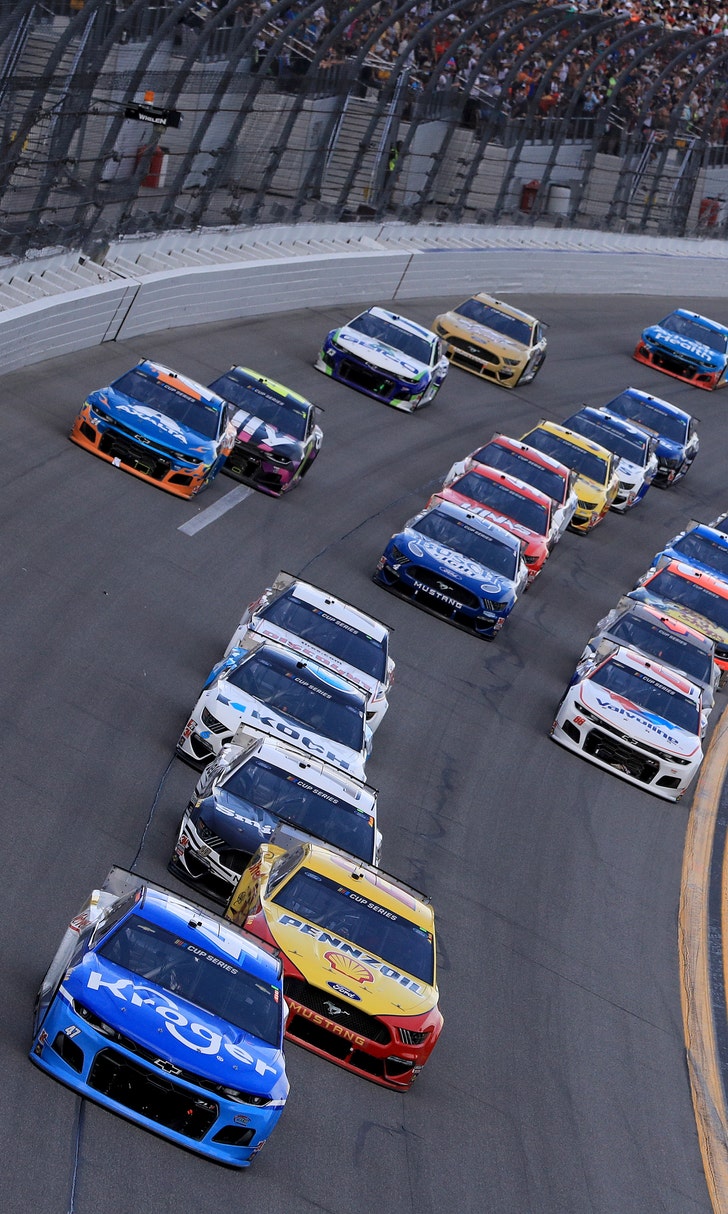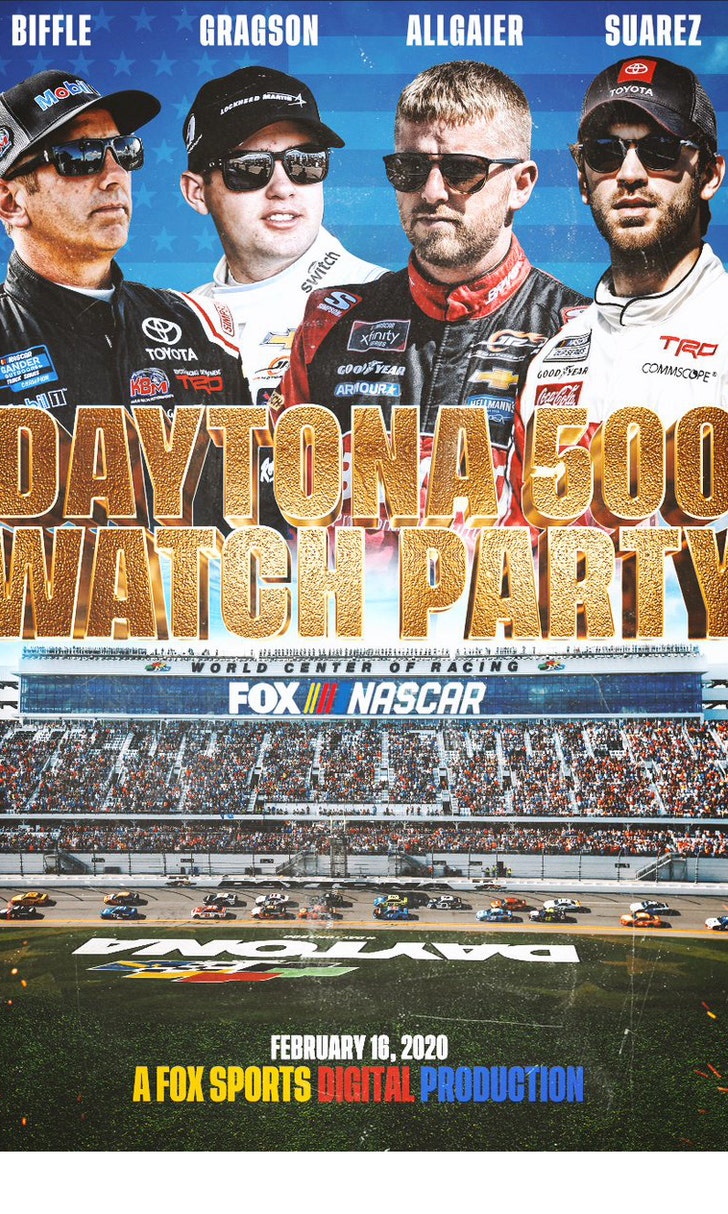 The Daytona 500 Watch Party!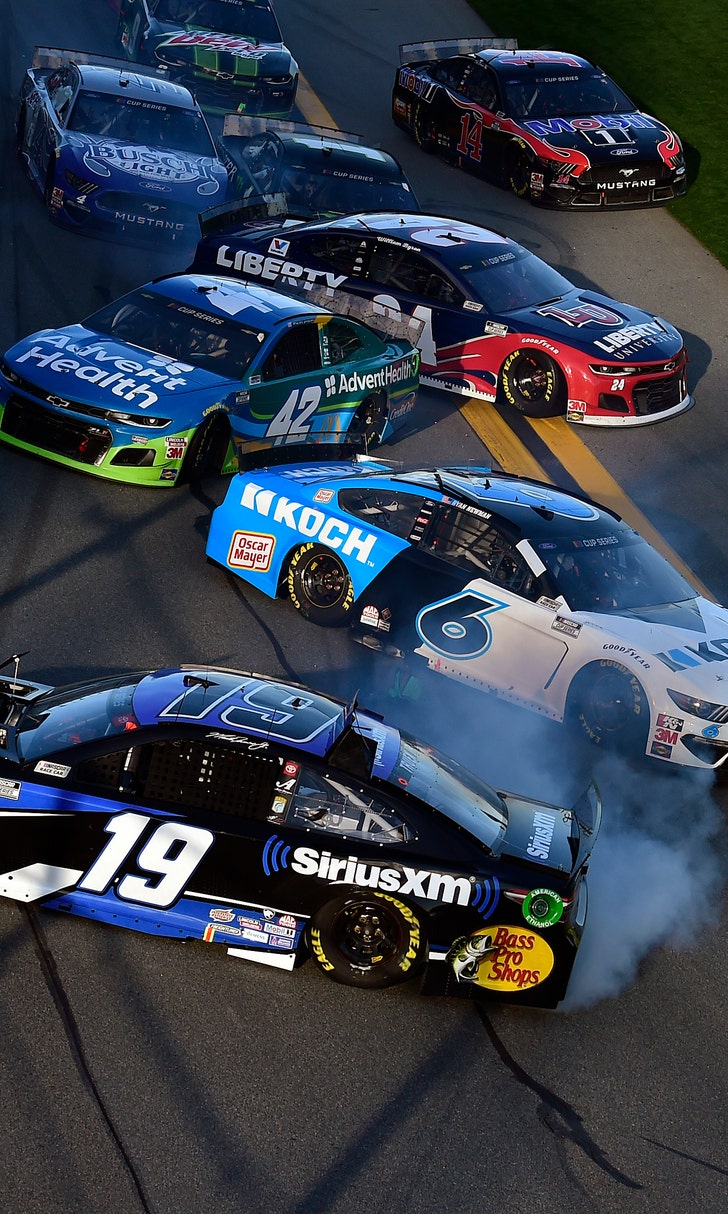 The Numbers Game At Daytona