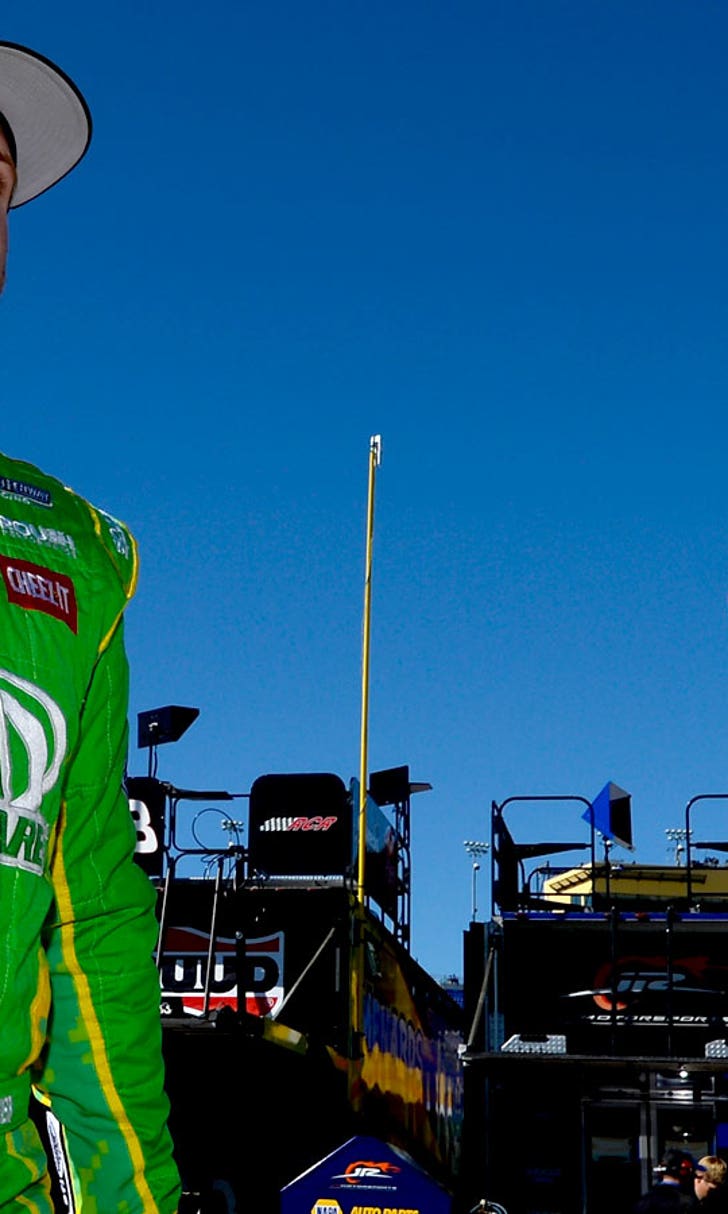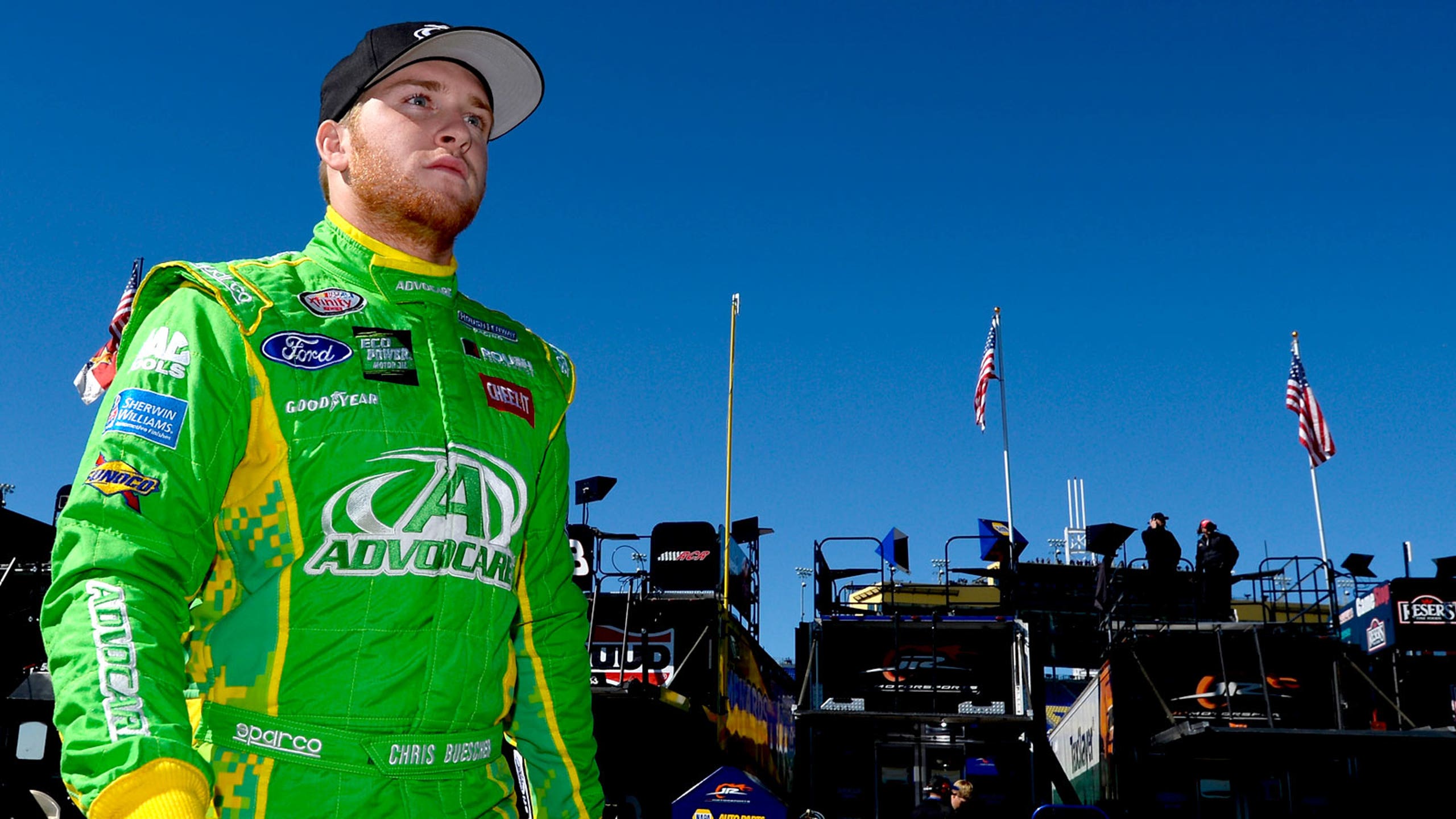 Champ in waiting? Get to know Roush Fenway Racing's Chris Buescher
BY Jared Turner • October 16, 2015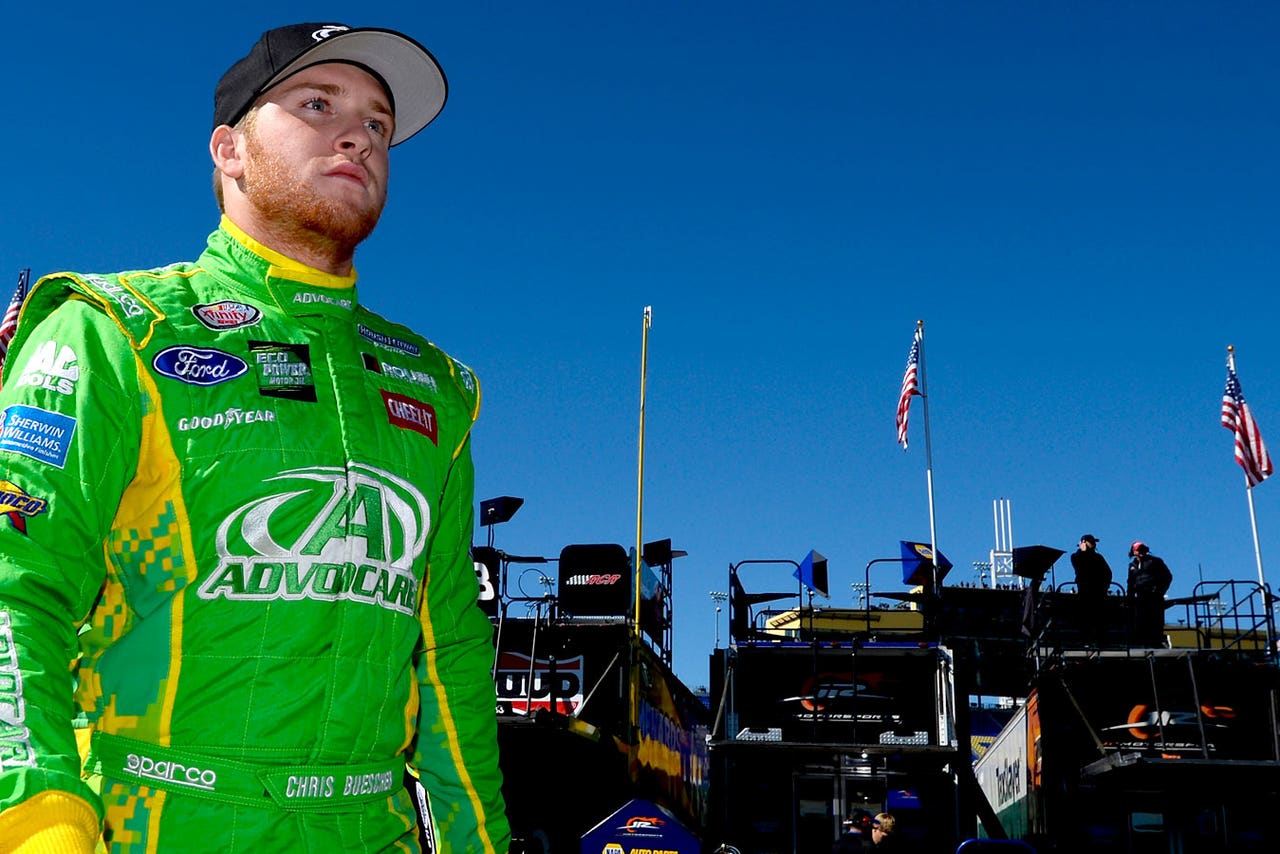 Chris Buescher has led the NASCAR XFINITY Series standings almost the entire year, won two races and is in position to claim the title in just over a month at Homestead-Miami Speedway.
Particularly impressive is that Buescher has done it all in a year when the organization for which he competes -- Roush Fenway Racing -- failed to put a driver in the Chase for the Sprint Cup for the first time.
Yet a lot of people -- including many NASCAR fans -- don't really know Buescher, a 22-year-old native of Prosper, Texas.
Perhaps it's time to let the youngster introduce himself.
"I'm just a redneck from Texas that gets to go racing, really," said Buescher, a former ARCA champion who made his XFINITY debut in 2011. "I'm a big outdoors guy, I like to spend all my time I can outside. We go ride four-wheelers on the weekends and I go fishing with a couple guys on the team and try to keep busy.
"I like to work on stuff and I'm pretty mechanically inclined and love fabrication and do a lot of stuff in the shop at my place, and work on a lot of my own vehicles. I'm really good at taking stuff apart and not quite as good at putting it back together. ... Personality-wise, I'm not very loud, but I have obnoxious vehicles, and that's kind of my getaway."
While many followers of the sport are unfamiliar with Buescher, some of the Sprint Cup Series' biggest stars haven taken notice of his outstanding season, highlighted by wins at Iowa and Dover.
"He's awesome," said Chase driver Carl Edwards, who spent his entire career pre-2015 with Roush Fenway. "He seems like a great guy and he really races very well. It seems like he's not easy to fluster even when things do go poorly for him. From an outside perspective, watching and just being around him a little bit, seems like he's really confident and he's very even and steady. ... He's going to be tough to beat. Those guys don't quit over there, either. I know those guys well enough at that shop to know that they're not going to give up, and he's doing well."
Sprint Cup points leader Joey Logano also has been impressed by the young Texan, who maintains a healthy lead not only over reigning XFINITY champ Elliott, but also over veteran Regan Smith and Richard Childress Racing's Ty Dillon.
"He's obviously doing a great job over there leading the points in XFINITY," Logano said. "He's been consistent and kind of doing his thing out there. He's got some good drivers aimed at him trying to win this championship as well, and it doesn't seem like the pressure is making him crack yet."
In just his second full season in NASCAR's No. 2 series, Buescher has come a long way in a short time. Last year, he won a race but missed the season opener at Daytona when he failed to qualify.
He went on to finish a solid seventh in the standings, however, which made him confident that this year could be special -- despite not being on most folks' short list of pre-season title favorites.
"We expected to be here. Our team expected to be here," Buescher said. "We know we're very capable of it. We ended 2014 with some really solid runs, and we started this year right where we knew we should be. I'm not surprised at all to be in the position we're in. ... A lot of guys have put their head down and worked really hard to make sure we're in this position, so it's a testament to our whole organization and making this thing better, and our guys having the chemistry within our team and being able to get results out of it."
To go from missing a race in 2014 to being in position to win the championship in 2015 is a remarkable turnaround in a relatively short time.
"Last year, it was motivation," Buescher said of failing to qualify for last year's season opener. "That was not at all where I wanted to be. I did not want to sit in a motorhome. I think I spent half of it on a pit box watching a race that I know we should have been in. We were plenty fast to be in it, and between the new qualifying format and trying to wrap our head around that, and then with Mother Nature raining a little bit right there in the middle, that caught us off-guard and made for a really bad Daytona weekend, and a really bad season opener for our team. But our guys used that as a way to get motivated and work harder."
And the work has paid off. While Roush Fenway's three Sprint Cup drivers have combined for just four top-five finishes in 2015, Buescher has 11 by himself in the XFINITY Series.
So how has Buescher managed to excel while Roush Fenway's Sprint Cup program has endured arguably its worst season ever?
"On our (XFINITY) side we've been pretty solid for the last several years," said Buescher, whose cousin, James, won the Camping World Truck Series championship in 2012. "We've had fast race cars a lot of places. We're not where we need to be, but on this side of the garage area, in the XFINITY Series, we're not changing rules constantly. There hasn't been major updates for the past several years, and we've had time to really tune on our Mustangs and make them better. So I think that shows.
"When our Cup program got down a little bit, it was the same time that rules were constantly changing, and you can't make it better if as soon as you find something,  they change another rule, and now you've got to start all over. So that's not helped our Cup side, but it really hasn't affected us over here."
With Buescher in prime position to capture the XFINITY title with just three races remaining, the future looks bright.
But does that future include a full-time Sprint Cup ride with Roush Fenway next year? The organization has room to expand from three to four cars. Buescher has made six Cup starts this year for Front Row Motorsports, another Ford organization, but doesn't know yet what he's doing next year.
"I hear more rumors from other people about what I'm doing than from people in charge, which is interesting right now," he said. "We have a really good thing going right now, and we're trying really hard to focus on the XFINITY side and making sure this championship comes to. We had the opportunity to run a couple more races with Front Row and get some more experience on the Cup side this year that ultimately we turned down to keep the focus here and make sure this goes according to plan. If we are able to turn this up and make this work at the end of the year, then we'll be able to talk about 2016 with more depth."
---
---