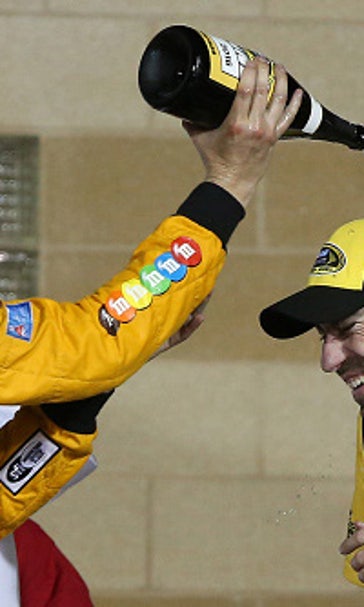 Breaking down the true cost of the penalties to Kyle Busch's team
May 11, 2016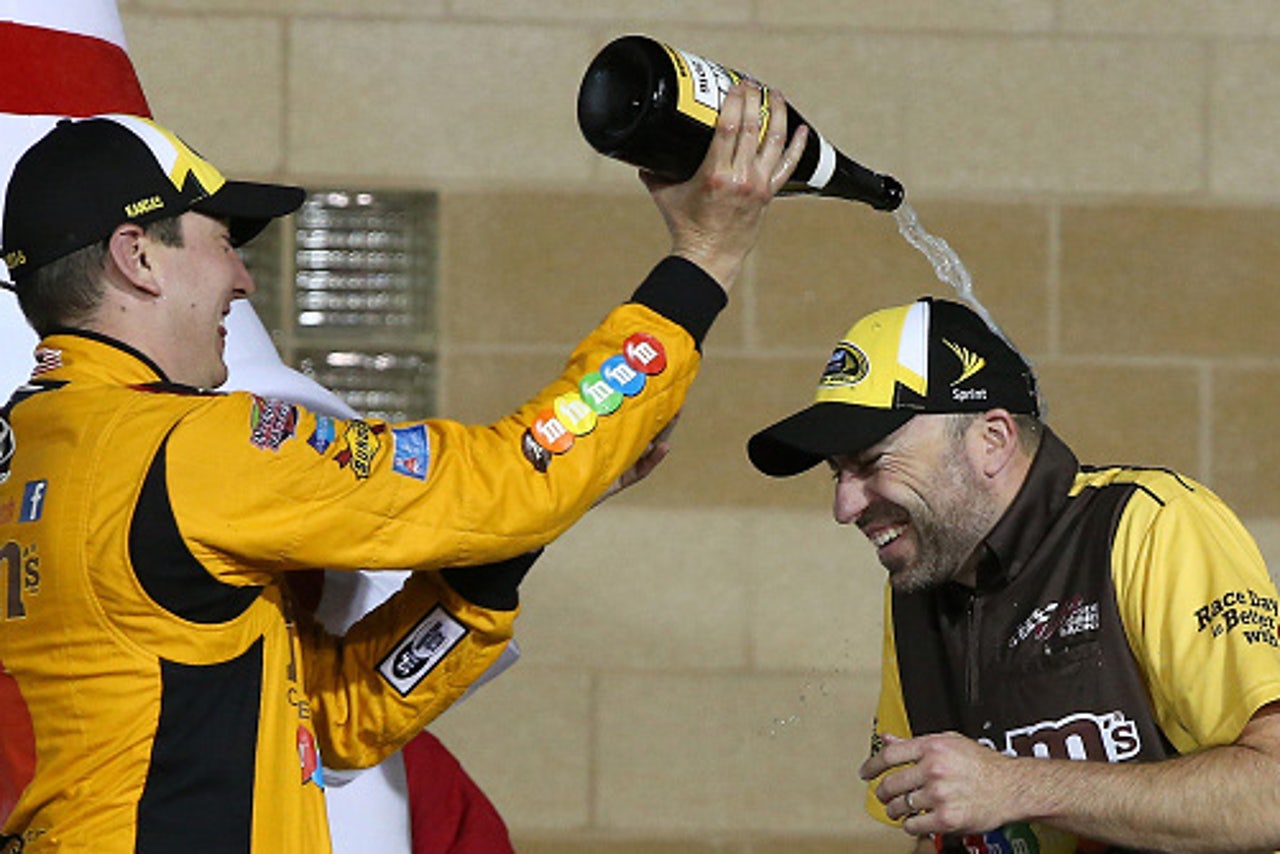 What does the loss of crew chief Adam Stevens and front-tire changer Josh Leslie for one race mean for Kyle Busch?
Right now, almost nothing.
Later on, perhaps an awful lot. As in potentially affecting his hopes of winning back-to-back NASCAR Sprint Cup Series championships.
The No. 18 was penalized for in-race violations at Kansas Speedway Saturday night, when Busch won the Go Bowling 400. The penalties, which apparently involved violations of NASCAR's new lug-nut policies, came under sections 12:1 (actions detrimental to stock car racing), 10.11.3 (pit-road equipment) and 12.5.3.4.1 (which outlines the P3-level penalty) of the NASCAR Rule Book.
While Busch doubtless would strongly prefer to have his entire team intact at Dover International Speedway this weekend, he doesn't really need that to be the case.
Busch already has a series-high three Sprint Cup race victories this year and barring some unforeseen disaster, is locked into the Chase for the NASCAR Sprint Cup.
Eleven races are in the books in the Cup regular season, with 15 left before the Chase. As long as Busch ends the regular season in the top 30 in points, he's in the Chase, so what happens over the next 15 races doesn't matter a whole lot.
Sure, he can pick up three more bonus points for each regular-season race victory, but those only count for the first round of the Chase, when 12 of 16 drivers advance to the second round.
Even without any more bonus points, Busch is in great shape.
But here's the danger: Stevens and Leslie are now on NASCAR probation for the remainder of the year. On top of that, NASCAR officials have said they will ratchet up penalties for repeat offenders.
If the No. 18 team commits a similar violation at, say, the fall Kansas Chase race, it could have a devastating effect on Busch's title hopes. Presumably, the penalties would be increased -- perhaps a two- or even three-race suspension.
If that happens, the stakes will rise dramatically, and it could cost Busch a second title. Or someone else could get penalized and lose their shot at NASCAR's brass ring.
Which gets to the bottom line here: The NASCAR drivers got exactly what they wanted a few weeks ago when the sanctioning body went back to requiring teams to have all 20 lug nuts on and tight at the start and finish of each race.
And who can blame them? No one wants to charge into a corner at 190 miles per hour with a loose wheel.
But now the onus is on the crew chiefs and crewmembers to get it right. And if they don't, ultimately the driver will still pay an awfully high price.
---
---