NASCAR Cup Series
NASCAR Cup Series
Allmendinger needs strong Pocono run
Published
Jun. 7, 2012 1:00 a.m. ET

AJ Allmendinger won NASCAR's first test session at Pocono Raceway on Thursday morning with a lap of 177.190 mph.
Lap speeds increased in the afternoon on the newly repaved 2.5-mile track, and Allmendinger slipped to seventh on the speed chart — even though he improved his speed to 178.809 mph.
But considering the struggles the Penske Racing driver has experienced in the No. 22 Shell/Pennzoil Dodge, any positive sign is well received.
Allmendinger is 23rd in the points standings — two positions behind where teammate Brad Keselowski was at the same time last year. But then Keselowski went on a tear, winning three races and qualifying for the Chase for the Sprint Cup.
Allmendinger knows it will take baby steps before the team can contend on a weekly basis. However, after a solid tire test for Goodyear in April and the speed he's exhibited in the past two days of testing, Allmendinger believes Pocono could be a turning point.
"Our car has been really good," Allmendinger said. "It was really good at the tire test. It's been really good here, and more than anything, we've just got to get back to having consistent runs.
"We've had a lot of failures this year. We've had, I think, five failures during a race this year. With the format the way it is, yeah, you can go out there, win a couple races, get inside the top 20 and you've got a chance at the Chase."
Allmendinger doesn't want to get ahead of himself, however.
"I'm not even going to look at that right now," he said of any Chase prospects. "I just look week-to week trying to run better. If you run better, you put yourself in that position. Then you have a chance to win races and in the end, the points kind of take care of themselves."
This is a contract year for Allmendinger, who said he has enjoyed the opportunity and encouragement team owner Roger Penske has given him.
Although Allmendinger originally signed a one-year deal to drive the No. 22 car, the 30-year-old from Los Gatos, Calif., would like to make Penske Racing his permanent home.
"I'll take (an extension) any day," Allmendinger said. "But right now we have to focus on running and finishing better. ... If you go run well, the deal is going to be locked up. You have to go out there and work well together.
"(Though) we've had a lot of failures and a lot of trouble but for me, I have a great team owner who understands that. I know I always have to get better, but as a team we have to put everything together. And Roger is probably the most patient one — and I'm probably the least patient one. ... There's no added pressure. I put all the pressure on myself."
Penske's patience on the stock car side of his operation is well-documented.
Sam Hornish Jr. drove 57 races in the No. 77 Dodge before posting his first top-five finish — just one of two he's had in 110 Sprint Cup starts with Penske Racing. Plus, Hornish never finished higher than 28th in the points standings.
Keselowski, who experienced tremendous success in the second half of last season and in the Chase, had difficulty getting up to speed his first season in the No. 12 car with Jay Guy as his crew chief. Keselowski scored only two top-10 finishes and ended 25th in the sstandings.
"Brad had growing pains that first year in Cup with Penske — even (during) part of the second year after winning a Nationwide championship ..., " Allmendinger said. "It wasn't really until about this time that he really started going."
Such knowledge helps Allmendinger's mindset.
"We know we have speed. We just have to keep working on things," he said. "We just have to take those mechanical issues and fix them — and that's the great thing about Penske Racing. As soon as something goes wrong, they're on it the next day to figure it out.
"Obviously, when it comes to feeling at ease about next year, the sooner the better. But that only comes with results. Hopefully, we can get those as the season goes on."
Allmendinger has exhibited speed. He's started three races on the front row this season and has an average starting position of 12.8 — ninth-highest on the Cup tour. He finished second six races into the season at Martinsville, but other finishes have been marred by mechanical issues or a car that's dialed out through the course of the race. That's been difficult for a driver who has shown marked improvement each year of his career.
Still, that first career win has eluded the former open-wheel racer in 164 starts.
Could Sunday be the day Allmendinger finally gets his breakthrough win? Perhaps. While this has not been Allmendinger's best track on the Sprint Cup circuit, the similarities between Pocono Raceway, with its three distinct turns, and a road course should play into his favor.
Plus, Allmendinger learned a lot during the tire test here in April.
"Track position is going to be key because the lap times are so close, if you can get out in the lead and your car has even a halfway decent balance, it's going to be tough to get around you," Allmendinger said. "At the same point, because of the grip level and the way the tires are wearing, there's going to be a lot of tire strategy, too. Back in the past here, you had to put on four tires. Now you can get away with two tires or maybe no tires.
"So I think track position is going to be key, but the strategy is going to be even more important. That's where the race is going to be won."
Numbers game
35: Drivers outpaced Pocono's existing qualifying record on Thursday morning.
41: Drivers in the afternoon test session were faster than Kasey Kahne's record of 172.533 mph.
62: Laps completed by AJ Allmendinger during morning testing — the most on the chart in both sessions.
Say what?
When Carl Edwards was asked whether he ever worried about his fellow drivers being out of control on the racetrack he replied, "Have you ever seen me race when I'm mad? Look, we're race car drivers. We're not manners teachers. We're race car drivers. We don't get through a race, much less a career, with any success by always being kind and always saying and doing the right things. We're competitors and I can only speak for myself, but sometimes it's very difficult to remember that you're on television and there are a lot of people watching and you have to control yourself. I think all of us, I can't think of a guy who hasn't had an incident where they've kind of forgotten that, but I think we've got a really good group of guys out there on the racetrack, and I don't ever feel any risk like anyone is a danger or anything. It's competition and things happen in competition, but nothing like you're talking about."
---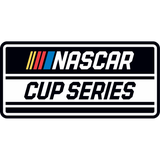 Get more from NASCAR Cup Series
Follow your favorites to get information about games, news and more
---