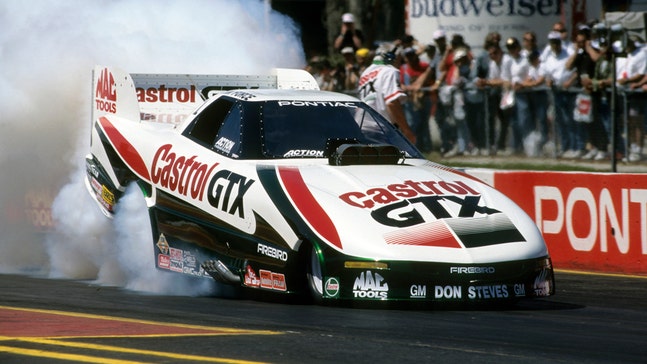 Throwback: When John Force was unstoppable in Gainesville
Published
Mar. 17, 2016 11:45 a.m. ET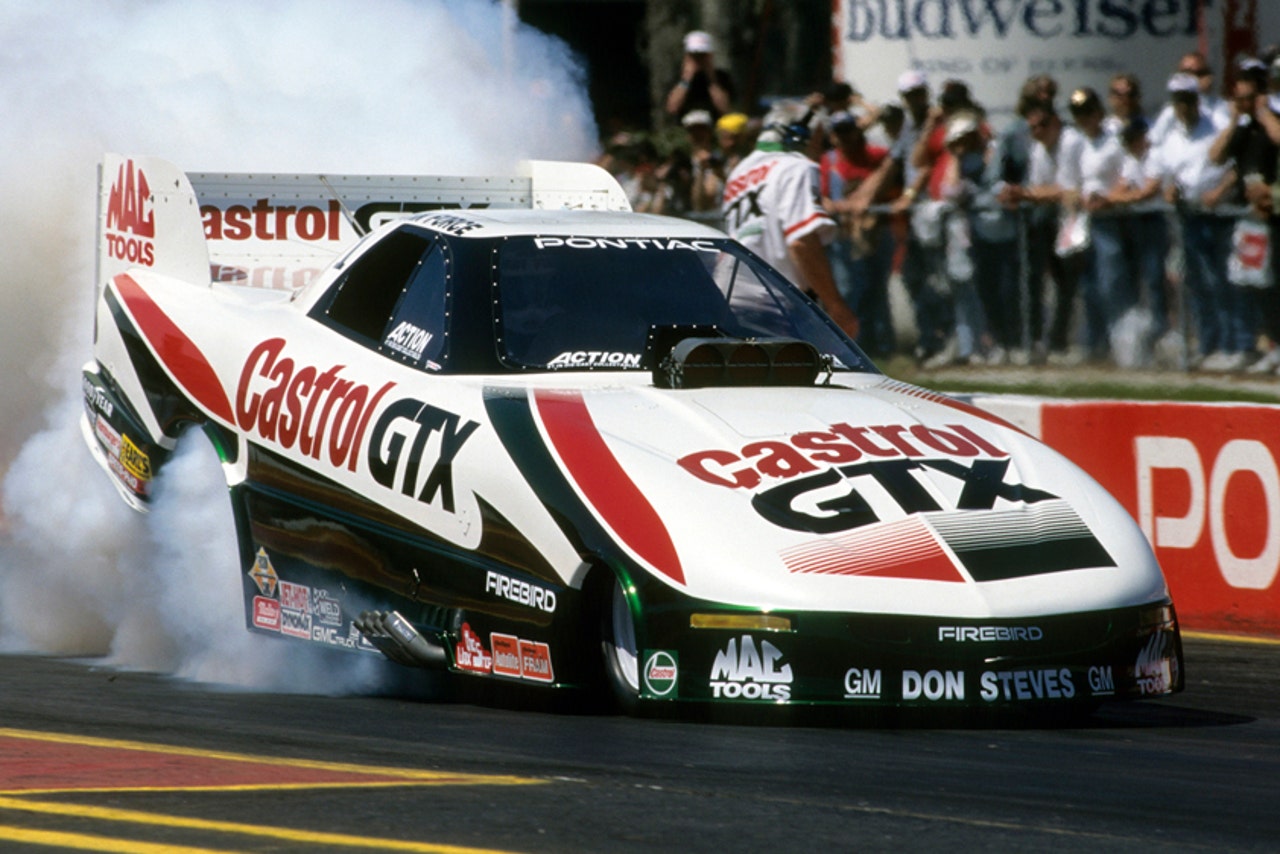 John Force heads to this weekend's Gatornationals in Florida just 15 points back of Funny Car point leader Ron Capps.
Having made it to the semi-finals at the season-opening Winternationals and the final two weeks later in Phoenix, Force is already knocking on the door of his first win of 2016.
Force has been coming to the Gatornationals since 1979, when he was the No. 17 qualifier but got to race after the No. 14 qualifier couldn't start. However, Force found himself pitted up against one of his racing heroes, Tom "Mongoose" McEwen, in just the first round, and found himself quickly eliminated.
"Just to be beat up by Mongoose, the people you dreamed to be like, that was unimaginable," recalls Force, nearly 40 years later. "The dream wasn't winning it was just qualifying. I was lucky if I could make the show.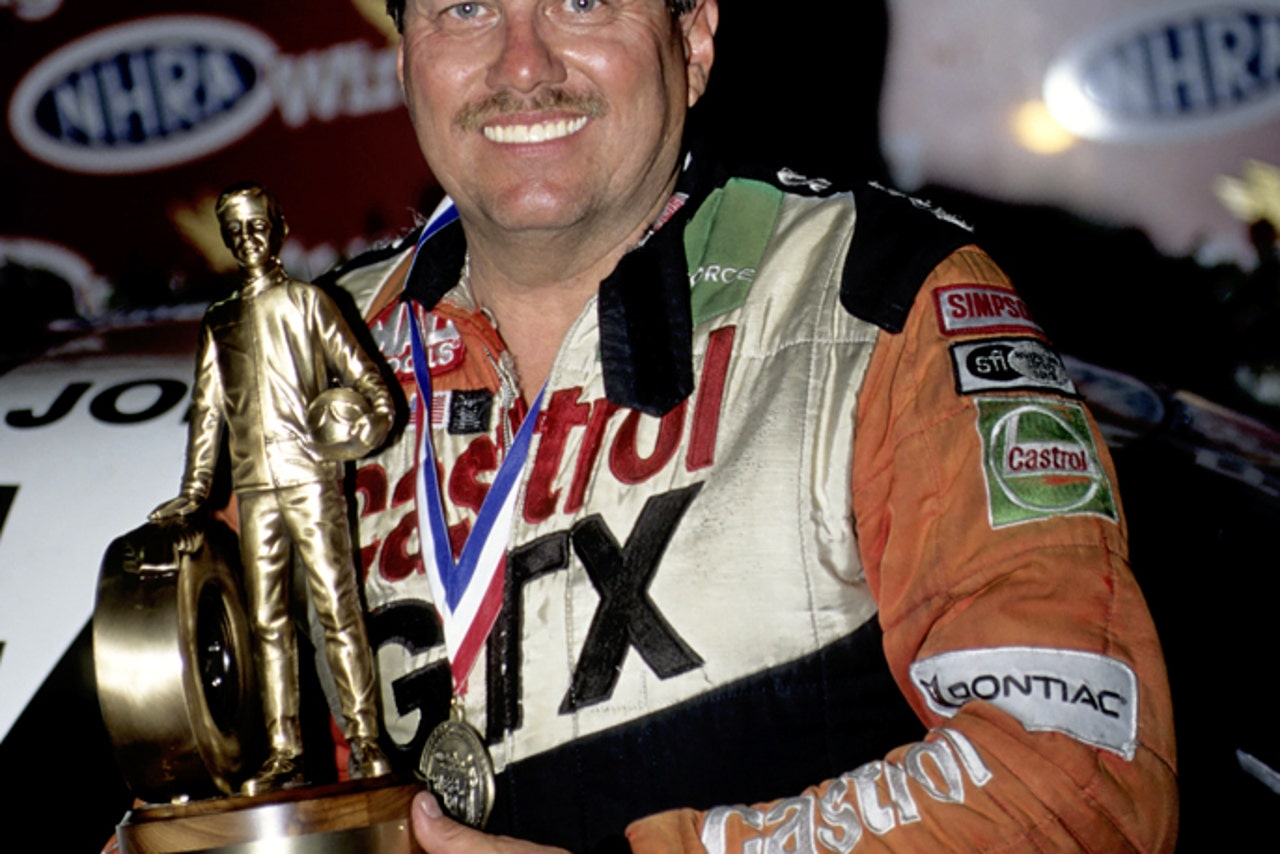 John Force celebrates his 1996 win at the Gatornationals.
"The dream was there to someday win it.
"In the early days when I was trying to win the Gatornationals, I was on fire almost every time. I was on fire sideways and then you got out of the race car screaming at (NHRA announcer) Steve Evans about how awesome racing was and capturing that moment. It was never about going to the Gatornationals and being a champion. I would love to hear the cheer of the crowd because I was brave or dumb enough to drive one of these cars when it was on fire."
Force found the crowd to be louder than usual at the Gatornationals, as the warm weather brought drivers and spectators down from all across the country and beyond down to the drag strip.
"It was about chasing the dream and the struggle. The struggle is what who makes you who you are. My kids are going through that now. It you didn't have a struggle then winning would have no meaning."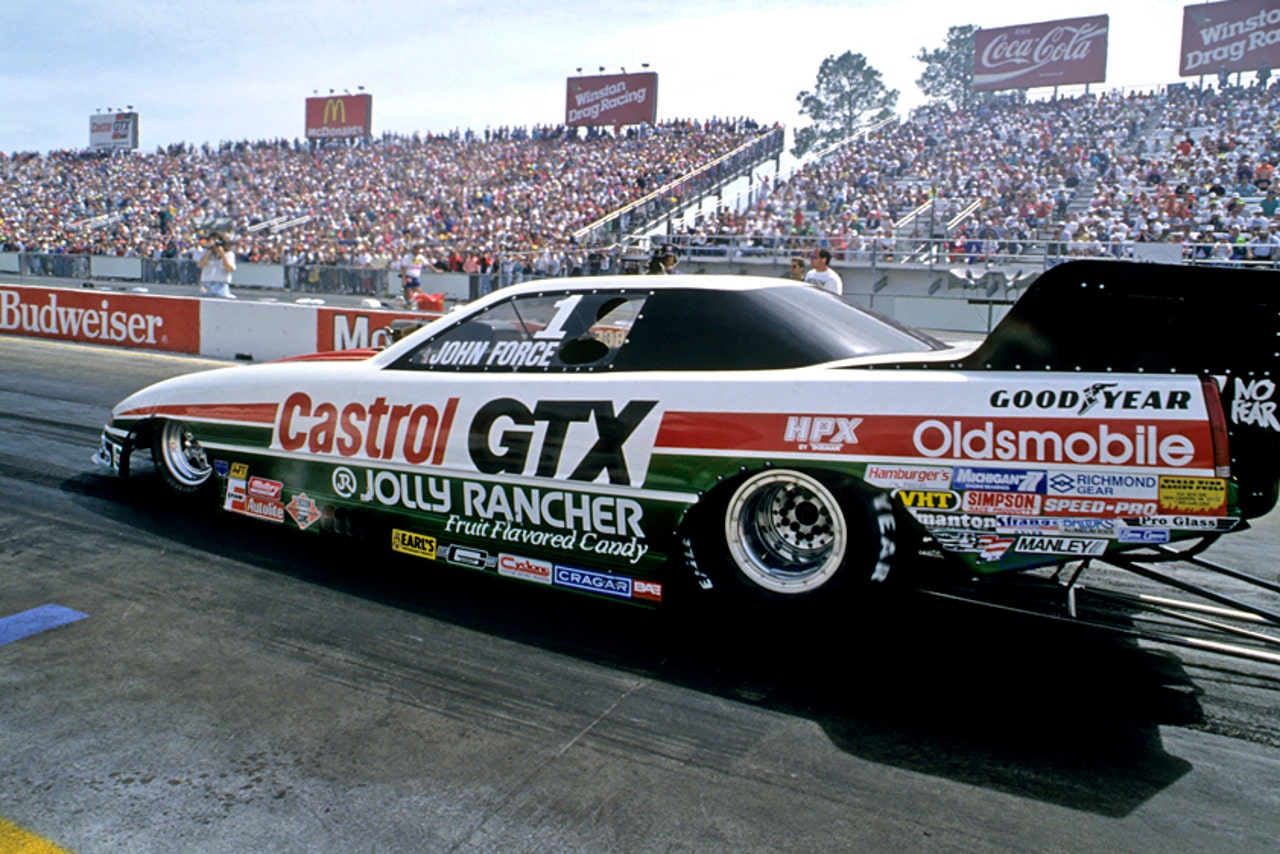 John Force lined up ahead of his first Gatornationals win in 1992.
Force has won the Gatornationals - seven times - though the seventh came all the way back in 2001. However, Force has a special relationship with this event after winning five times in a row from 1992-1996.
In 1992, Force placed as the top qualifier and beat Gary Densham, Whit Bazemore, Cruz Pedregon and Jim Epler for his first Gatornationals win. His final win in that streak came in 1996 when, after being the No. 4 qualifier, Force beat Kenji Okazaki, Marc Oswarld, Cruz Pedregon and Chuck Etchells en route to taking the victory.
Force made the Gatornationals final again in 2014, but lost to his teammate Robert Hight. Force had been the No. 16 qualifier that day and, despite all of his drag racing success, he has never won a race from that position.
"The ride to the race track was where the dream really started every day," added Force. "I remember talking to guys like Tripp Shumake and Gary Densham, they were the little guys like me. The Prudhommes, the Garlits, and Shirley Muldowney all walked on water. I couldn't even talk to them. We went there to chase the dream and (wife) Laurie went with me. You wanted to stand on the starting line with the dream to win. There were great times there for me. The first time I won the Gatornationals was big. That was a big time race."
Force will be hoping for an eighth Gatornationals win this weekend, with all the action being shown on FS1 and FOX Sports GO, which will broadcast qualifying from Gainesville at 9 p.m. ET Friday night and 6:30 p.m. Saturday night, with race coverage from 1 p.m. - 4 p.m. ET on Sunday.
Click HERE for more NHRA news and features
---