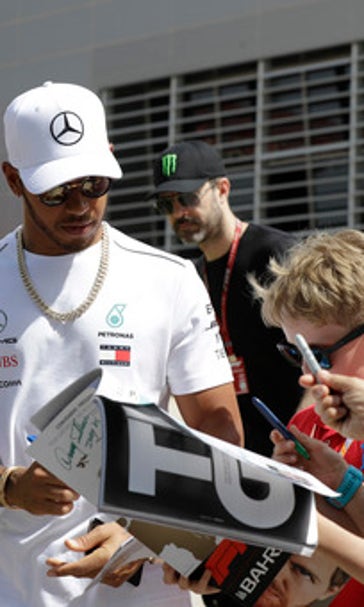 Raikkonen tops 3rd practice for Bahrain GP, Hamilton 4th
April 7, 2018
SAKHIR, Bahrain (AP) Sebastian Vettel is perfectly placed to strike another early blow to Lewis Hamilton's Formula One title defense.
The German driver took pole position for the Bahrain Grand Prix followed by Ferrari teammate Kimi Raikkonen under desert floodlights on Saturday.
The evening got even better for Ferrari, with Hamilton managing only fourth. But he will start from ninth on Sunday after incurring a grid penalty for an unauthorized gearbox change on his Mercedes.
''I'll try and eke out every last bit of power and strength from this car,'' Hamilton said. ''I don't know what we are going to be able to achieve tomorrow, but I hope I can do something.''
This setback follows Hamilton's bitter disappointment in Australia two weeks ago, when he led the season-opening grand prix from pole position only to finish second behind Vettel.
Although it is very early, Mercedes is not looking the unshakeable, supremely reliable force it was when winning the drivers' and constructors' double in the past four seasons.
''It is going to be one of the hardest races for us in some time. We've been trying to get ahead of the Ferraris, but it has been tough,'' Hamilton said. ''The goal is damage limitation.''
In a further boost for Ferrari, the aging Kimi Raikkonen has looked sharp all weekend, leading the second and third practice.
The 38-year-old Finn looked set to secure his first pole since last year's Monaco GP, but Vettel beat his time right at the end of qualifying to clinch his 51st pole.
''It was quite intense,'' Vettel said. ''The car has been excellent.''
Mercedes driver Valtteri Bottas was third.
''These guys with the red car (Ferrari) they are just a bit too quick. We can't be happy with this,'' Bottas said.
Hamilton has to take a five-place grid penalty for changing a gearbox on Friday. Drivers must use gearboxes for six consecutive races before being allowed a new one. Hamilton's problem was caused by a hydraulic leak sustained in Australia.
Vettel, last year's championship runner-up, won in Melbourne for his 48th career win and 100th podium. Hamilton ended up second because his team made an error of judgment during Vettel's pitstop.
Hamilton will also be looking over his shoulder in Sunday's race, with Red Bull driver Daniel Ricciardo starting from fifth.
Ricciardo's teammate, Max Verstappen, however, was only 15th after clumsily crashing in Q1.
Heading into Turn 2, he slid sideways off and thudded into the crash barriers, the left front wheel of his car mangled. It has been a poor start to the season from him. He spun his car after pushing too hard early on in Melbourne and finished sixth.
At the start of qualifying, Romain Grosjean (Haas), Lance Stroll and Sergey Sirotkin (both Williams), Marcus Ericsson and Charles Leclerc (both Sauber) were eliminated from Q1.
New Zealand driver Brendon Hartley complained about damage to his left front wing and soon found out why: He hit a bird. He'd done enough to make it into Q2, however.
Hartley, Verstappen, and Force India's Sergio Perez were then eliminated from Q2, along with Fernando Alonso and his McLaren teammate Stoffel Vandoorne.
It was a blow to McLaren, after both drivers finished the Australian GP in the top 10, with Alonso in fifth place.
''Our qualifying performance was worse than we expected,'' Alonso said. ''We cannot extract the maximum over one lap, and we need to find the reasons why.''
McLaren entered the season with high hopes after switching to Renault engines, following three troublesome seasons with Honda. But Toro Rosso chose to work with Honda and both of their drivers did better in qualifying than McLaren.
Earlier, Hamilton expressed his annoyance over team radio when pitting after P3, saying spectators got too close to his car.
''Who were those people on the left-hand side?'' the British driver asked. ''I was coming in at some speed, I could have killed them.''
It was a bad day for Hamilton, vying with Vettel for a fifth world title to move level with Argentine great Juan Manuel Fangio.
---
More AP auto racing: https://racing.ap.org
---
Jerome Pugmire on Twitter: http://twitter.com/jeromepugmire
---
---