NASCAR Cup Series
NASCAR Cup Series
ONLY ON AP: Jimmie Johnson has record 7th title within reach
Updated
Mar. 4, 2020 11:16 p.m. ET

HOMESTEAD, Fla. (AP) On the eve of Jimmie Johnson's attempt to make NASCAR history, the six-time champion planned to go for a little run.
How many miles?
Seven, of course.
''I've just got something with that number,'' Johnson said.
His race for a record-tying seventh NASCAR championship is Sunday at Homestead-Miami Speedway. He's been chasing Richard Petty and Dale Earnhardt in the history books for three years and finally has a shot at that magical mark.
He may have even sensed months earlier that this would be his year. He had failed the last two years to advance to the championship-deciding finale, yet picked this year to wear a commemorative helmet during the 10-race Chase.
The helmet is a tribute to Earnhardt and Petty. It reads ''Chasing 7.''
We just wanted to pay respect to Dale and to Richard,'' Johnson said. ''It's been cool to wear it. It's definitely been getting some attention, and honestly, it's just out of respect to those two guys.''
Johnson has been stuck on six titles since 2013, the last year the Chase was decided on points. The elimination format introduced the next year was not kind to Johnson, and he failed to make it into the round of eight the last two seasons. He broke though this year and now just need to finish the finale higher than reigning champion Kyle Busch, Carl Edwards and Joey Logano to join the exclusive club.
''I never thought I'd ever see a seventh championship in my lifetime by any driver,'' said three-time champion Darrell Waltrip. ''At the time, what Dale Earnhardt and Richard Petty did was sort of unheard of.''
Petty is neutral on Johnson's potential milestone. He said he won his championships against Hall of Famers David Pearson, Bobby Allison and Cale Yarborough, while Earnhardt raced against Waltrip, Rusty Wallace, Terry Labonte and Bill Elliott.
''There's no way to compare with what I've done or what Earnhardt's done or what Jimmie's doing against each other,'' he said. ''I ain't got a dog in this fight, you know what I mean? Probably from the PR standpoint, it would be great if he could win it. Because then every time they say something about him, they're going to say something about me and Earnhardt.''
Johnson has been quite dominant in an impressive crowd during his illustrious career. Although all his titles were won after the 2004 introduction of the Chase, he's won in various formats and set a record with five-consecutive titles.
Johnson has raked in 79 wins - seventh all time, ahead of Earnhardt's 76 - and collected them against Jeff Gordon, Tony Stewart, Kevin Harvick and the Busch brothers. Yes, he's done it in amazing equipment fielded by Rick Hendrick, and sure, crew chief Chad Knaus ranks in the top three crew chiefs of all time.
But Johnson puts in the work and has honed in on a clean, professional career in what ranks him on former teammate Gordon's list of all-time greats.
''I think he is the best that I've ever raced against and possibly the best that there has ever been,'' Gordon said. ''Even days where I felt like I had a car that could compete with him, he did extraordinary things to get more out of it. He is a pretty calm, cool guy, but boy when you put that helmet on him and you get him in the racecar, he just becomes another person and takes it to another level.''
Yet for some reason, Johnson's accomplishments aren't feted the way others have been. Johnson has often been referred to as ''too vanilla,'' and fans have cited his dominating stretch from 2006 to 2010 as a reason for NASCAR's decline in popularity.
Only the California native leads a very active life and, with personal fitness his cause, has created a wellness challenge for the community. He and his wife also have donated $4.8 million since 2009 in annual grants to schools in California, North Carolina and Oklahoma.
He dressed as a handsome prince for Halloween to the delight of his two young daughters, and you would be hard-pressed to find a single person speak ill of Johnson.
''Jimmie is everything but vanilla,'' Hendrick said. ''I mean, he may come across at the track that way because he's so focused and driven, and he thinks like a computer when he's in the car. The way he eats, the way he exercises, everything is about physical and mental fitness for the race car.
''I think when he won five in a row, he was winning a lot of races and a lot of championships, and people maybe got a little tired of it. But I think then after the sixth one and we had a lull, I think they respect him now, and they look at what he's accomplished.
''Jimmie is going to get more credit when he's done than he'll get when he's driving.''
Johnson remains immune from the discussions. Oh, he desperately wants that seventh title, but he doesn't worry about rankings or respect. He's noticed more cheers in the last few years, but he doesn't need any approval.
''The way people talk about me, I feel like I've received a lot of respect,'' he said. ''I think anybody that's winning gets booed. I watched Earnhardt get booed. I watched Gordon get booed. When you get older and don't win as much, you get cheered a bit more. I watched that for both of those guys.
''I get more cheers now. I feel I've been very respected for what I do and what I've accomplished, so I don't have a negative (feeling) on the way people think of me and what I've done.''
---
More AP auto racing: www.racing.ap.org
---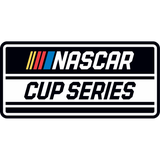 Get more from NASCAR Cup Series
Follow your favorites to get information about games, news and more
---