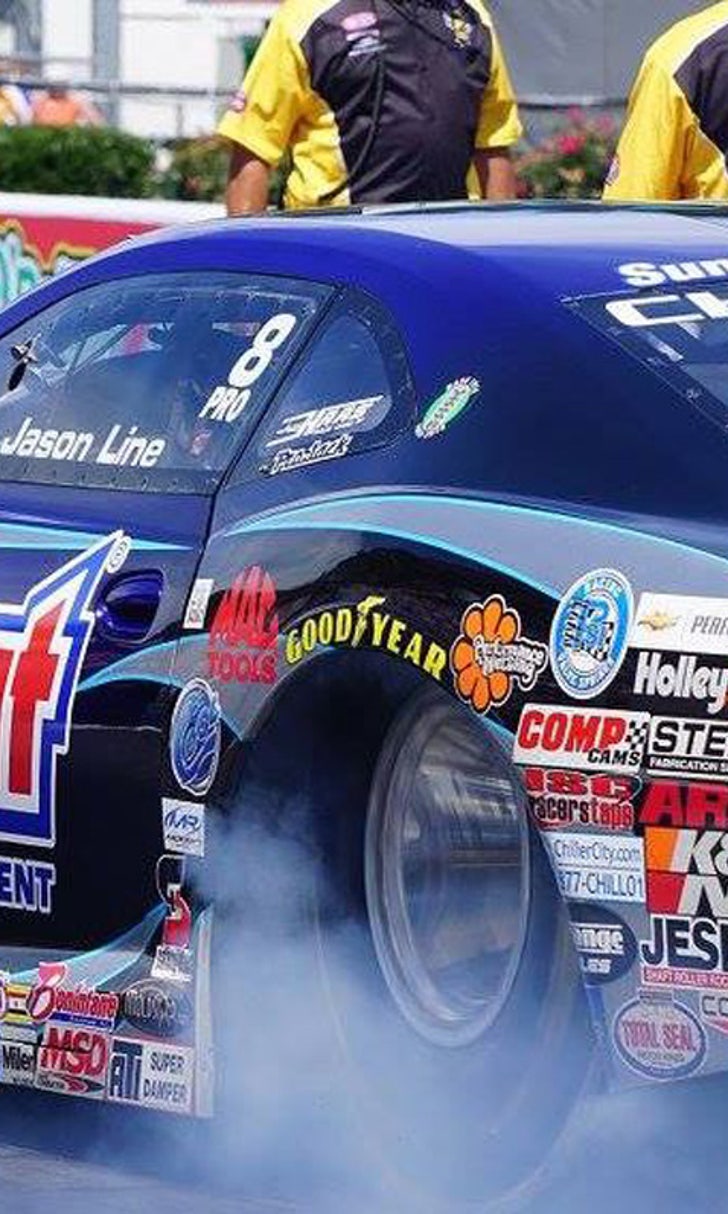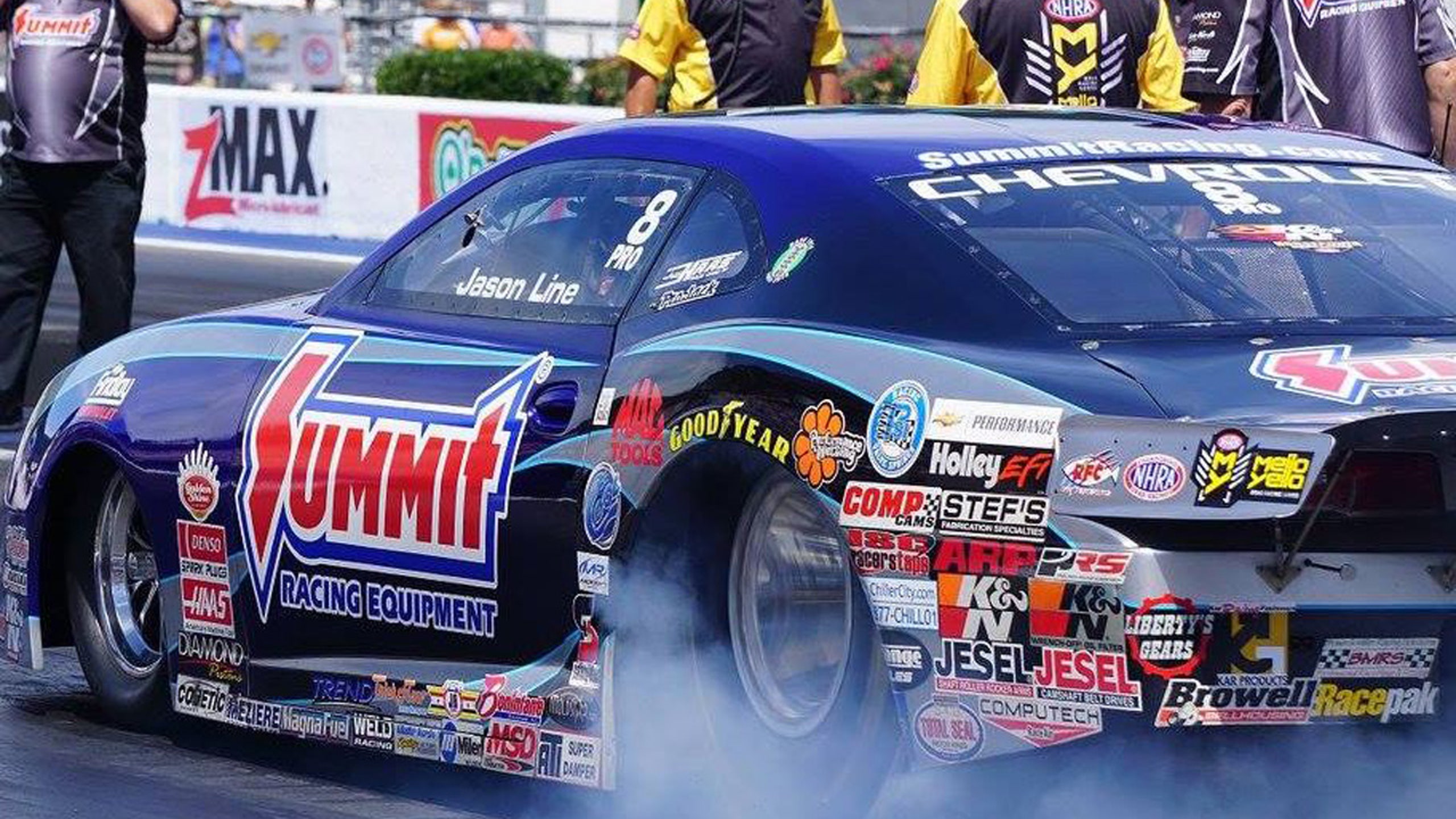 KB Racing pro stock domination serves as challenge for competition
BY foxsports • June 22, 2016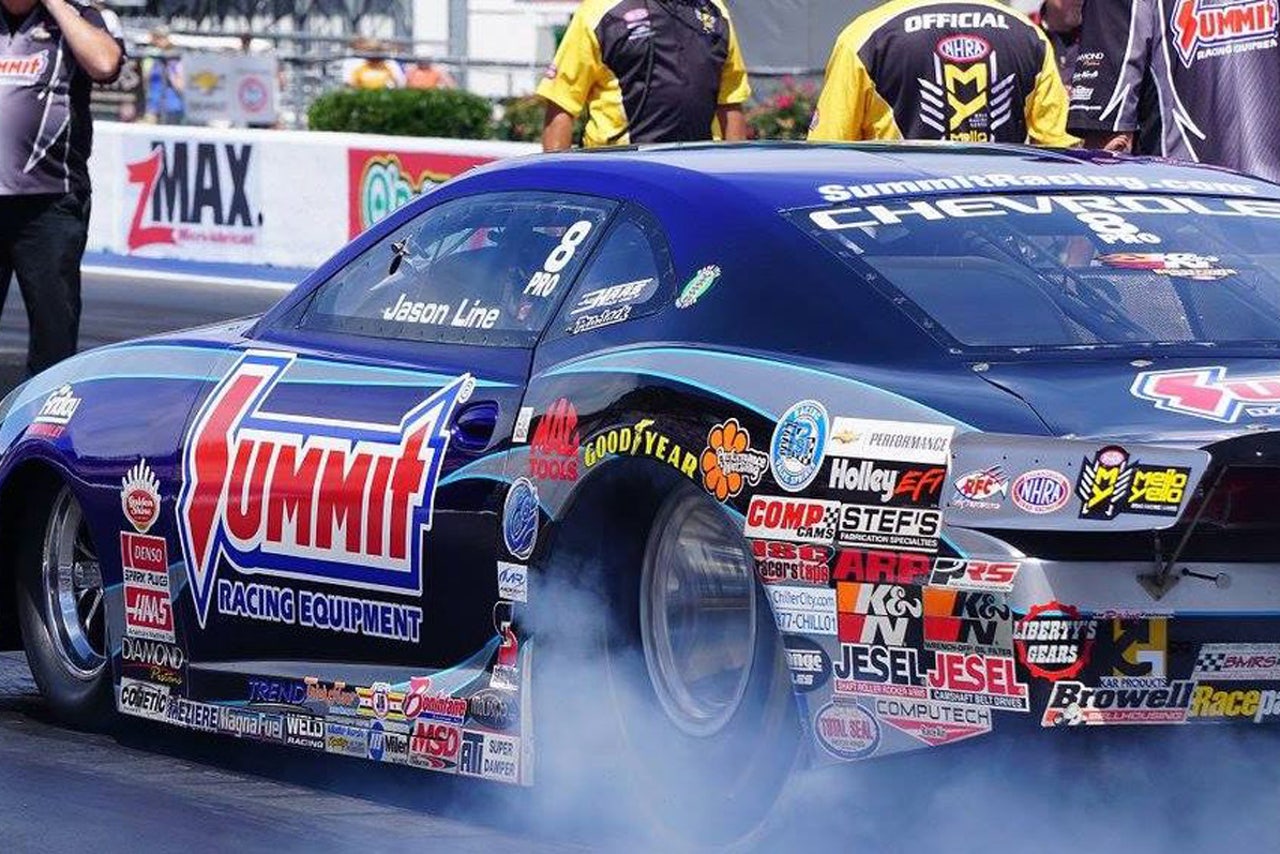 Jason Line could only imagine the look on the competition's faces just by judging the reaction on his teammate Greg Anderson's face.
Line, in the heat of the day during Saturday qualifying at the NHRA Thunder Valley Nationals, blasted out a 6.652-second elapsed time at 208.01 miles per hour. The run was the low elapsed time of the weekend to that point, and .023 quicker than Anderson's No. 2 qualifying effort.
"I saw Greg's, so I could assume what the rest of the field looked like," Line said. "It's tough, and I've been on both sides of that. It's a lot of fun, and I will spare you the 'They're gaining on us speech."
Line's run represented the most distance between the top KB Racing car and the rest of the field at .043 of a second.
Thus far, the closest anyone has come to the team's top car in each event has been .006 in the final qualifying order.
KB Racing, which also includes sportsman standout turned Pro Stock driver Bo Butner, has qualified their cars one-two-three at nine of eleven events, accumulating 235 of 246 available bonus points. A member of the three-car team has led all 43 qualifying sessions, qualified No. 1 and won all 11 events since NHRA mandated all cars convert to an electronic fuel injection combination.
Line has proven the most lethal of the trio, qualifying No. 1 in six races and reaching the final round in ten of the first 11 races this season. Though Line has never been, in the past, on the receiving end of domination of this magnitude, he has felt the sting of dominating efforts from other drivers along the way in his driving career.
"It's not fun, that's for sure," Line revealed. "It makes you try harder, and it can work for or against you. It breeds competition and makes everyone dig down deep and work hard. That's what racing is all about. It's good and bad, but nothing lasts forever."
As for KB Racing's total domination, Line understands once the tables are turned it won't be a pretty sight.
"They are going to try and hurt us," Line admitted. "There's no doubt about it. You have to know how to be a gracious winner and a gracious loser. We try to do that."
Five races into their domination, Greg Anderson was asked in a press conference if his team was "that good" or the competition "that bad."
"I don't know how I could answer that," Anderson said with a smile. "Very proud of what we have here and they are DEFINITELY not that bad. There's a lot of talented people in this class. I know that for a fact because I have finished as low as eighth in points, during the last few seasons.
"I have been outrun by many of them, and I don't consider them any less than sharp individuals. They will figure it out and get it together."
Right now, the rest of the Pro Stock contingent will need lightning quick reactions and a lot of good luck if they hope to stand a chance of beating a team which has proven unbeatable. Past champion Jeg Coughlin Jr. proved it's possible as he strapped a .07 holeshot against Butner in the first round at Bristol, and won despite the KB Racing driver carding low elapsed time of the event [6.645].
"We kinda got away with one there first round against Bo -- on a holeshot win," Coughlin admitted.
Allen Johnson, winner of the final carbureted Pro Stock event in 2015, said the initial feeling of KB Racing's domination was to take it personally, but now he feels a major challenge has been issued to not only his team but his fellow competitors.
"You know, in the beginning, I would say it's disheartening watching those guys dominate the way they have, but now it's a freaking challenge," Johnson said.
---
---