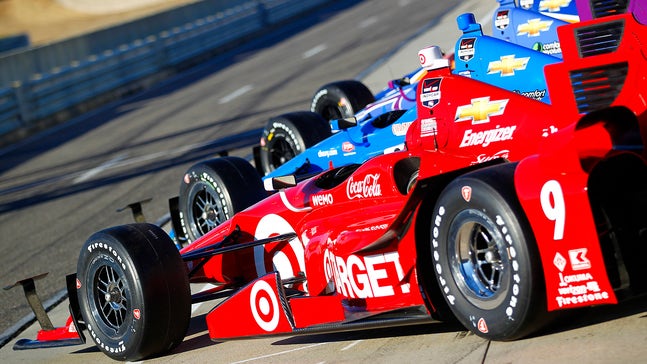 INDYCAR: Testing rules announced for 2016
Published
Nov. 2, 2015 4:44 p.m. ET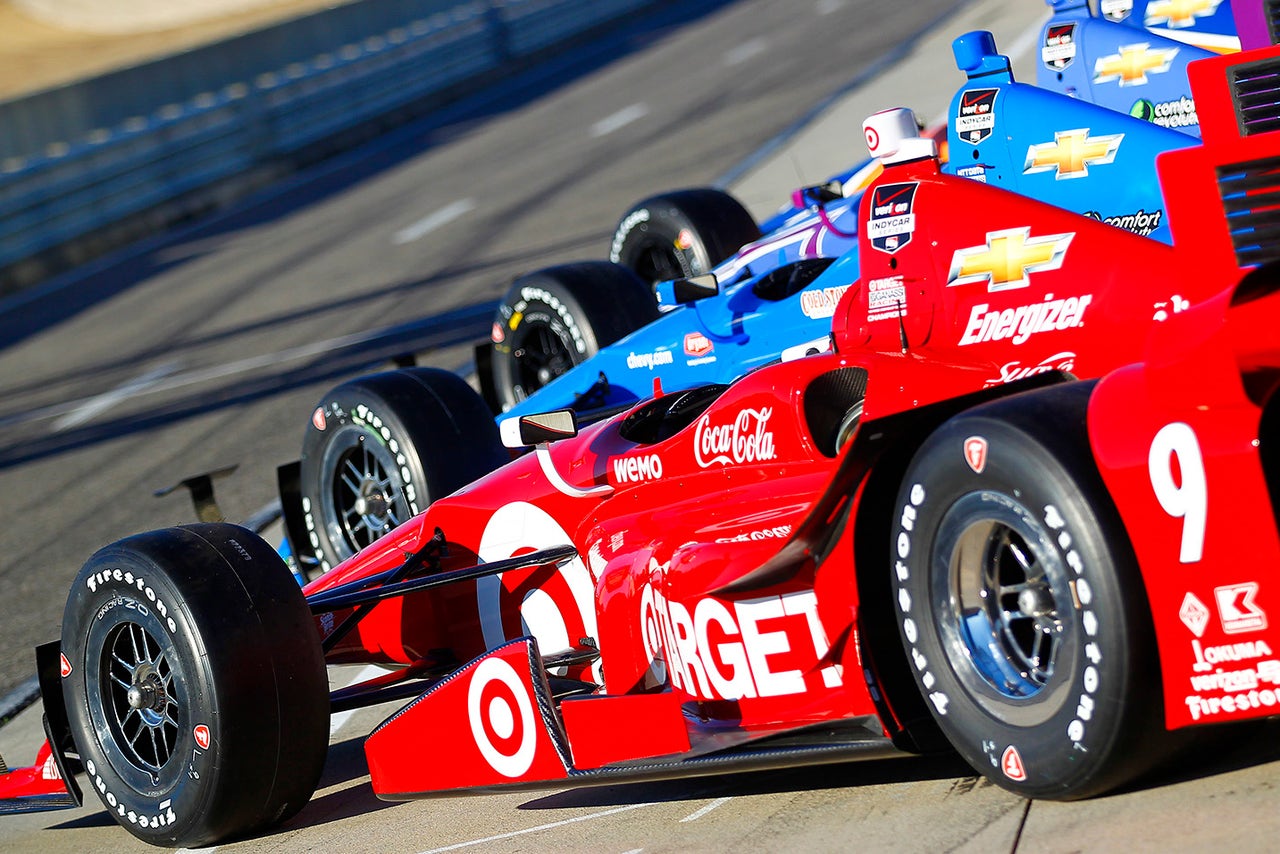 A two-day open test at Phoenix International Raceway in February, as well as eight team test dates and eight promoter test dates are the highlights of INDYCAR's 2016 testing rules that were released on Monday.
The two-day test at the one-mile Phoenix International Raceway is schedule for February 26-27 - five weeks before the Phoenix Grand Prix -- the first Verizon IndyCar Series race at PIR since 2005. The PIR oval staged 61 IndyCar races from 1964-2005.
Under the regulations that went into effect Aug. 31 and remain through the final race of the 2016 season on Sept. 18, a Verizon IndyCar Series team (defined by INDYCAR as one or more entrants/car numbers under common ownership or control) is permitted a total of eight team test and/or full-size wind tunnel test days. Teams that also field a full-season entry in Indy Lights Presented by Cooper Tires, the top rung of the Mazda Road to Indy development ladder, will now be granted an extra Verizon IndyCar Series team test day once the Indy Lights entry has participated in five 2016 races.
Verizon IndyCar Series teams will continue to receive an extra test day if seat time is divided between a Verizon IndyCar Series driver and Indy Lights driver.
"These regulations balance diverse interests in our paddock while containing costs and fostering great competition," said Mark Miles, CEO of Hulman & Company, the parent of INDYCAR and Indianapolis Motor Speedway. "We are really looking forward to our first promoter test next spring in Phoenix as a great opportunity to showcase the return of PIR to the Verizon IndyCar Series.
"The testing regulations provide teams the opportunity to earn additional test days for competing in Indy Lights and by testing a driver who is a current competitor in Indy Lights. This year the shared test day rule provided several Indy Lights drivers the opportunity to test a Verizon IndyCar Series car at Sonoma Raceway, which we felt was instrumental in the continued development of these young drivers and the overall growth of the ladder series."
There are also eight promoter test days in 2016 and those are open to all entrants and mandatory for Leaders Circle members. Promoter test days do not count against the eight-day team test allotment.
The Phoenix promoter test in February is the only one not in conjunction with a typical race weekend schedule. The other promoter test days are: March 11, St. Petersburg; April 22, Barber Motorsports Park; May 12, Indianapolis Motor Speedway road course; June 24, Road America; July 29, Mid-Ohio Sports Car Course; and Sept. 16, Sonoma Raceway.
A full-season entrant is allocated a maximum of 10,000 engine miles for use in all tests and race events from the start of the 2016 Verizon IndyCar Series season to the start of the 2017 season. Testing mileage accrued between the end of the 2015 season and start of the 2016 season will come from the entrant's remaining 2015 mileage allocation - which was also 10,000 miles - or be charged at a per-mile rate set by the respective engine manufacturers, Chevrolet and Honda.
Other testing regulation highlights include:
* INDYCAR has scheduled an aero kit safety test April 6 on the Indianapolis Motor Speedway oval. All full-season entrants are permitted to participate in the test, which will be used by INDYCAR to determine approval of aero kit components for the Indianapolis 500 Mile Race.
* Verizon IndyCar Series teams with rookie drivers are allocated two additional team test days for the rookie driver.
Rookie drivers must successfully complete a superspeedway (ovals 1.5 miles or longer) rookie test prior to participating in a superspeedway promoter test or practice for a superspeedway race, whichever comes first. Rookies participating in the Indianapolis 500 only are permitted a superspeedway test day for the purpose of driver evaluation. The Indianapolis 500 rookie orientation test is scheduled for May 16 at Indianapolis Motor Speedway.
* New Verizon IndyCar Series teams are granted four additional team test days.
* In-season tire testing requested by Firestone, exclusive tire supplier for the Verizon IndyCar Series, must be approved by INDYCAR. Participation is limited to two days per team by invitation from Firestone. All teams are permitted to have one car participate in team testing in conjunction with any approved tire test.
* Engine manufacturer testing is limited to two days each for Chevrolet and Honda, from Sept. 14, 2015, to March 3, 2016. Mileage accrued while using a manufacturer's development engine will not count against an entrant's 10,000-mile limit. No team may participate in more than one of the engine manufacturer test days.
* Aero kit suppliers Chevrolet and Honda are permitted three days of aerodynamic bodywork component testing each between Sept. 14, 2015, and the end of the 2016 race season. Mileage accrued while using a manufacturer's development engine will not count against an entrant's 10,000-mile limit.
* All ovals and permanent road courses on the 2016 Verizon IndyCar Series North American schedule are approved testing venues. Additional approved oval test venues are: Auto Club Speedway, Chicagoland Speedway, Homestead-Miami Speedway, Kansas Speedway, Michigan International Speedway, New Hampshire Motor Speedway, Richmond International Raceway and The Milwaukee Mile. Additional approved road course test venues are: Circuit of the Americas, Homestead-Miami Speedway, Mazda Raceway Laguna Seca, Palm Beach International Raceway, Sebring International Raceway and Watkins Glen International.
When Miles announced the 2016 Verizon IndyCar Series schedule on October 27 he said Gateway Motorsports Park in Madison, Illinois could become an approved testing facility if additional safety upgrades were made to the 19-year-old facility. Once it becomes a testing facility, then it has a chance to one day return to the Verizon IndyCar Series schedule for the first time since 2003.
"We are developing what I think is going to be a terrific productive relationship with Gateway," Miles said. "I have not been there myself yet, but I'm told by our people, including team owner and driver Ed Carpenter, is that the place is on its way back.  It is being improved all the time and additional venue improvements are planned.  Everybody is just really impressed by the job that track owner Curtis Francois and his team are making.
"It appears like it's right there under the Arch, even in proximity to downtown St. Louis.  Hopefully they will become a place we can test and then we'll see where we go from there."
Testing blackout dates are: Nov. 25-30, 2015; Dec. 21, 2015-Jan. 3, 2016; and May 9-30, 2016. In addition, teams may not conduct on-track testing within seven days prior to the start of any on-track activity at a race location (i.e., a promoter test or the first day of practice on a race weekend).
---
---