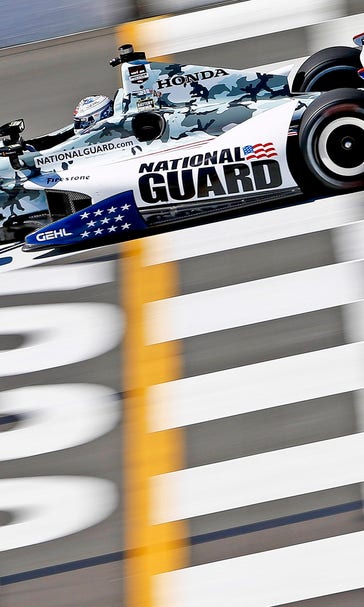 IndyCar: Rahal ready to silence doubters with win at Pocono
BY foxsports • July 5, 2014
For a brief time the Verizon IndyCar Fan Vision Screen had an eye-popping number for Graham Rahal's speed in Saturday's second practice session.
It said 333.317 miles per hour.
Not so fast – it was a typo.
"It would be impossible to go that fast in these cars," Rahal said after he ran an actual fast lap of 222.317 mph in a Honda-powered Dallara. "I saw the tweet and thought it's impossible."
Rahal was excited after practice with his laps on the 2.5-mile Pocono Raceway heading into Saturday evening's pole qualifications for Sunday's Pocono IndyCar 500 Fueled by Sunoco. He was involved in controversy at the end of last weekend's Shell and Pennzoil Grand Prix of Houston. Rahal was running fourth and trying to dry off his tires while weaving on the track before a restart when he slammed into the back of third-place driver Tony Kanaan.
That mistake ruined what had been a great drive through the field for the son of 1986 Indianapolis 500 winning driver and team owner Bobby Rahal.
"We need to keep it up; keep finding more and more and more and we are getting there," Rahal said. "People all year are bad mouthing us and saying whatever they want but the truth is we are showing progress and nobody wants to talk about that. Our street course package – we are contenders now. Our package at Indy was very good and maybe we will find our oval setup now. We were very good at Iowa and I feel very good about it."
Rahal has had to fend off criticism all season from his detractors who believe he is way past due for his second career victory. That was over six years ago when he won in his very first IndyCar Series start in the 2008 Honda Grand Prix of St. Petersburg driving for Newman-Haas Racing after unification between the old Champ Car Series and what was then the Indy Racing League.
A win in Sunday's 500-mile race at Pocono would legitimize Rahal's standing in the series.
"As you know that lap doesn't really count that much but it makes us feel good," Rahal said after practice. "For us to have that speed when we did a qualifying simulation is surprising because our race car is extremely good. The qualifying car we weren't so sure. That speed felt good and I think we have a good shot but it's 500 miles and that is a long time."
Rahal is older and wiser and frankly tired of hearing from the doubters.
"A win at any time would silence the doubters but we are at the point in our season we could use a win," Rahal said. "We could use a win no matter what. We really need it.
"Who knows about the here and now; today or tomorrow but in the bit picture a win would feel better than anyone could imagine, that's for sure."
---