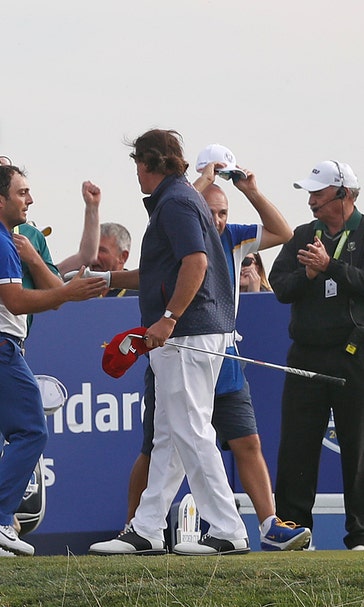 This Cup had it all _ from hat tips to golf ball exorcisms
September 30, 2018
SAINT-QUENTIN-EN-YVELLINES, France (AP) — From golf balls flung in anger to a most gracious tip of the cap, here are some moments that stood out from a dozen singles matches that gave Europe a 17½-10½ victory Sunday and returned the Ryder Cup to Europe:
GUESS YOU'RE NOT USING THAT BALL AGAIN
This event demands drama. So whether the misses came from close, middling or improbably far off, putts that looked like they'd drop but didn't prompted some Shakespearean-caliber performances.
For most players, a twist of the torso, a shrug of the shoulders or a muffled curse was enough to blow off steam. A few, though, took it up a notch from there.
You didn't have to be a lip-reader to know what Tiger Woods said after missing a 3-footer at 14. When his opponent, Jon Rahm, missed a 3-footer of his own at 16, he responded by performing an exorcism on the spot — grabbing the offending golf ball, turning and tossing it into the distance like a Tom Brady bomb.
Distances were not recorded, but the winner on style points was clearly American Justin Thomas. He bent over his short missed putt at No. 13 and, in a single motion, scooped up the ball and flung it — like a no-look pass — into the pond behind him. Straightening up, Thomas then howled an expletive into the crook of his left arm and finally swung the putter in his right hand behind him — nearly KOing his caddy.
OR THAT ONE, EITHER
When Phil Mickelson's tee shot at the par-16th found a watery grave, the longest-serving Ryder Cup player on the U.S. team graciously pulled off his ballcap, conceded the deciding point in the matches and extended his hand to Europe's star of the moment, Francesco Molinari.
It was fitting in so many ways.
Mickelson couldn't have had a worse experience here — he was 0-2 and has now lost every one of the Ryder Cups he contested on foreign soil during his tenure — nor Molinari a better one. After failing to score a full point in his two previous appearances, the Italian won the British Open two months ago and completed a 5-0 performance here with the win over Mickelson.
And yet, watching the warm handshake and quiet words exchanged between them, you would have a tough time guessing which player was about to rush into a beer-soaked celebration.
U.S. captain Jim Furyk came over with some words of consolation. But he'd barely begun talking to Mickelson when Thomas Bjorn, his European counterpart, came over and offered Lefty a very classy thank-you for displaying the kind of sportsmanship the organizers had in mind when they first put Sam Ryder's solid-gold trophy up as a prize.
THE POSTMAN DELIVERS
Not for nothing is Ian Poulter nicknamed "The Postman" whenever the Ryder Cup is involved.
The sharp-dressing, Twitter-loving, voluble Englishman was having a bad enough season on his own to require a wild-card captain's pick to make the Europe team this time around. But as part of a team, he delivered — as always — going 2-2, including a momentum-swinging 2-up win in singles over top-ranked Dustin Johnson.
After shaking hands on the 18th green, Poulter finally let loose. He pulled off his visor and stalked down the fairway like MMA star Conor McGregor — eyes bulging, mouth wide open and beating his chest with the balled-up fists of both hands.
Not too long after that, Poulter actually donned a post-office box costume and threatened to deliver some letters to the handful of other pros living in the Lake Nona neighborhood around his Florida home.
"I can't describe what goes through my veins," Poulter explained once he'd caught his breath. "This is what I live for. Week in, week out it's fun (on regular tour) ... but this is just an absolute honor."
TIGER, TIGER BURNING BRIGHT ... OR NOT
Talk throughout the matches fixated on how weary Tiger Woods looked coming off an emotional comeback win at the Tour Championship the weekend before. His walk was creaky, his play anything but crisp and the toll of playing four matches — including the three team matches with little help from his partners — clearly weighed heavily on the 42-year-old Woods.
Anyone who doubted that should have sat in the U.S. team's losing news conference. As his teammates struggled to explain Europe's dominance over all three sessions, Woods sat with a blank look on his face. At one point, as Jordan Spieth answered a question about how involved the U.S. players were in deciding the pairings, he explained that four players had gotten together and told captain Jim Furyk they wanted to play in different combinations.
"What do we call it, 'Fire Team — what is it, Tiger?" Spieth said, turning towards Woods.
Woods barely registered the question, slumping in his chair.
"We thought we had two teams," Spieth quickly resumed, looking over at his teammate. "Good talk, Tiger."
PROMISES MADE, PROMISES KEPT?
European captain Thomas Bjorn left his news conference Saturday hinting at a secret motivation for his squad ahead of the final-day singles. What he didn't say was how much of his own skin he was prepared to put in the game.
At his team's celebratory post-match celebration, several players revealed that the final score of the matches — 17½-10½ would be preserved for posterity — quite possibly on Bjorn's posterior.
There could be a visit to a tattoo parlor coming soon for Mr. Bjorn — on his head," Rory McIlroy laughed.
"Plenty of real estate there," Justin Rose concurred.
But as reporters zoomed in on the size of the tattoo — his players yelled in chorus "In a huge place!" — Bjorn made clear his scalp might not be big enough.
"Let me put it this way: It's going to go on a part that only (partner) Grace will see. I might have to send them a picture, then you'll all see it as well, I guess," the captain said, before adding, "Worst decision I made all week."
---
---