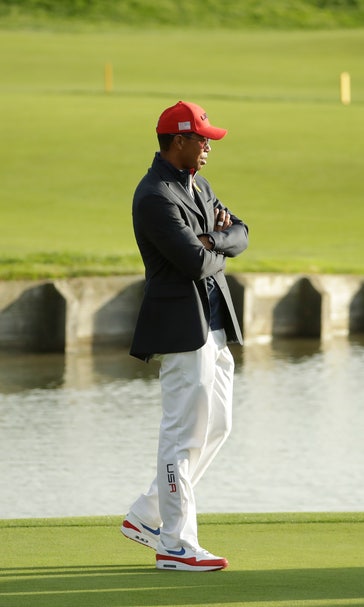 Column: Time for Tiger & Lefty to exit the Ryder Cup stage
September 30, 2018
SAINT-QUENTIN-EN-YVELINES, France (AP) — Phil Mickelson watched the ball splash into the pond in front of the 16th green and knew he was done. No need to hit any more errant shots on a day filled with them. Lefty removed his cap and stuck out his right hand to Francesco Molinari, carrying out golf's version of the white flag.
A few minutes earlier, Tiger Woods went through the same concession ritual at No. 17. He offered up a sad, solemn handshake to Jon Rahm after the young Spaniard banged in a short birdie putt, setting off a fiery, fist-pumping celebration by a player not much more than half Woods' age.
For Woods and Mickelson, it was a lost week in France.
Like so many other weeks in their Ryder Cup careers.
Maybe the time has come for both of them to exit this particular stage — for the good of their country, for the good of all those young American players eager to take on a leadership role, for the good of their own legacies.
Just a few days removed from a stirring triumph at the Tour Championship, his first win in more than five years, the 42-year-old Woods shuffled through four matches at Le Golf National with all the passion of an accountant who gets called to work on a weekend. He lost two matches when paired with Patrick Reed, another when teaming with Bryson DeChambeau. Finally, he went down to Rahm when going it alone Sunday.
The only flash of that old Tiger fire was when he missed a tiny little putt at the 14th, preventing him from closing the gap on Rahm. He blurted out an expletive, heard by everyone around the green and watching on television.
"We didn't execute like we had planned and wanted to," Wood said, his voice barely above a whisper, his eyes largely focused on the mic in front of him at a gloomy U.S. news conference. "For me personally, I went 0-4. Obviously very disappointing."
Mickelson arrived at Le Golf National fully aware that his game was a mess, especially off the tee. Given the narrow fairways and punishing rough, it was clear the 48-year-old wouldn't be much help to the Americans.
Lefty played one foursomes match on Friday — a crushing 5-and-4 loss paired with DeChambeau — and didn't get on the course again until Sunday, when captain Jim Furyk had to send him out for singles against Molinari. There was never much doubt about the outcome.
"I was not playing my best," Mickelson said. "I spent more time hitting balls throughout the week than I have all year trying to find something that would click, and it's just been a struggle."
Though their best years are behind them, Woods and Mickelson still have plenty to offer to golf, to the PGA Tour, to the major championships.
Woods is a transcending figure, of course, which was never more apparent than when thousands of fans stormed onto the 18th fairway at East Lake as he was finishing off his comeback victory last weekend. Battling back from serious injuries and personal demons carried even more gravitas given all he's accomplished in the game. It's not unreasonable to think he might win one or two more major titles to add to the 14 he already has.
Mickelson, too, is an enormously popular player who still shows flashes of his old brilliance, as he did in March while winning the World Golf Championship in Mexico. He's probably closer to the end than Woods but certainly not washed up by any stretch.
Then there's the Ryder Cup, which, for whatever reason, has dealt out far more disappointment than achievement.
"They should have been dominant in the Ryder Cup," NBC analyst Johnny Miller said.
As Europe romped to a seven-point victory, Woods' career record dipped to 13-21-3. He's played on eight of these teams but only one has captured the Cup — at Brookline, nearly two decades ago. Even then, approaching the peak of his career, he managed only a 2-3 record and is a largely forgotten figure in the historic U.S. comeback on the final day.
Woods would be the losingest player in U.S. history if not for Mickelson, who slipped to 18-22-7 with his two defeats this weekend. The Americans have won the Cup three times with Lefty on the roster, but they've lost nine times.
At least one of them is assured of winning when they meet in their head-to-head money grab over Thanksgiving weekend.
Back in 2014, Mickelson ripped into captain Tom Watson after getting benched on Saturday at Gleneagles.
When Lefty received the same treatment from Furyk, there were no complaints.
"Some of you might question some of decisions," Mickelson said, glancing toward Furyk on the dais, "but everything was done with reason, input, thought through, and then it's up to us to execute. We just didn't execute."
Mickelson isn't ready to walk away from the Ryder Cup.
"Realistically, this could very well be my last one," he conceded. "But with these guys, I'm motivated now to work hard, to not go out on this note. I'm motivated to play well these next two years to get back at Whistling Straits."
Woods was cleared gassed by the time he got to the Ryder Cup — even Furyk said he appeared lethargic — but he's given no indication his career is winding down.
He's surely got his sights on 2020.
"Those are two guys I've always looked up to," said 29-year-old Rickie Fowler, who also had a dismal week for the Americans. "We'll have to wait and see, but I wouldn't put it past either one of them to be back in two years or even four years."
What Woods and Mickelson should do instead is follow the example of top soccer players as the years creep up on them. While they may continue to play for their club teams, even with a great deal of success, they'll often step aside from international duty — passing the baton to the next generation in a symbolic acknowledgement that their time has passed.
While the European players celebrated outside the clubhouse Sunday evening, a private jet roared overhead.
"It's Tiger going home already," Rory McIlroy quipped.
If nothing else, it's time for Tiger to leave the Ryder Cup stage.
And take Lefty with him.
---
---