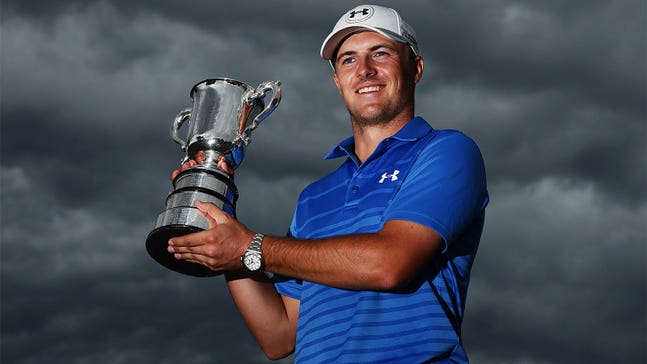 A year ago, golf's 'break' turned Jordan Spieth into a star
Published
Dec. 2, 2015 5:32 p.m. ET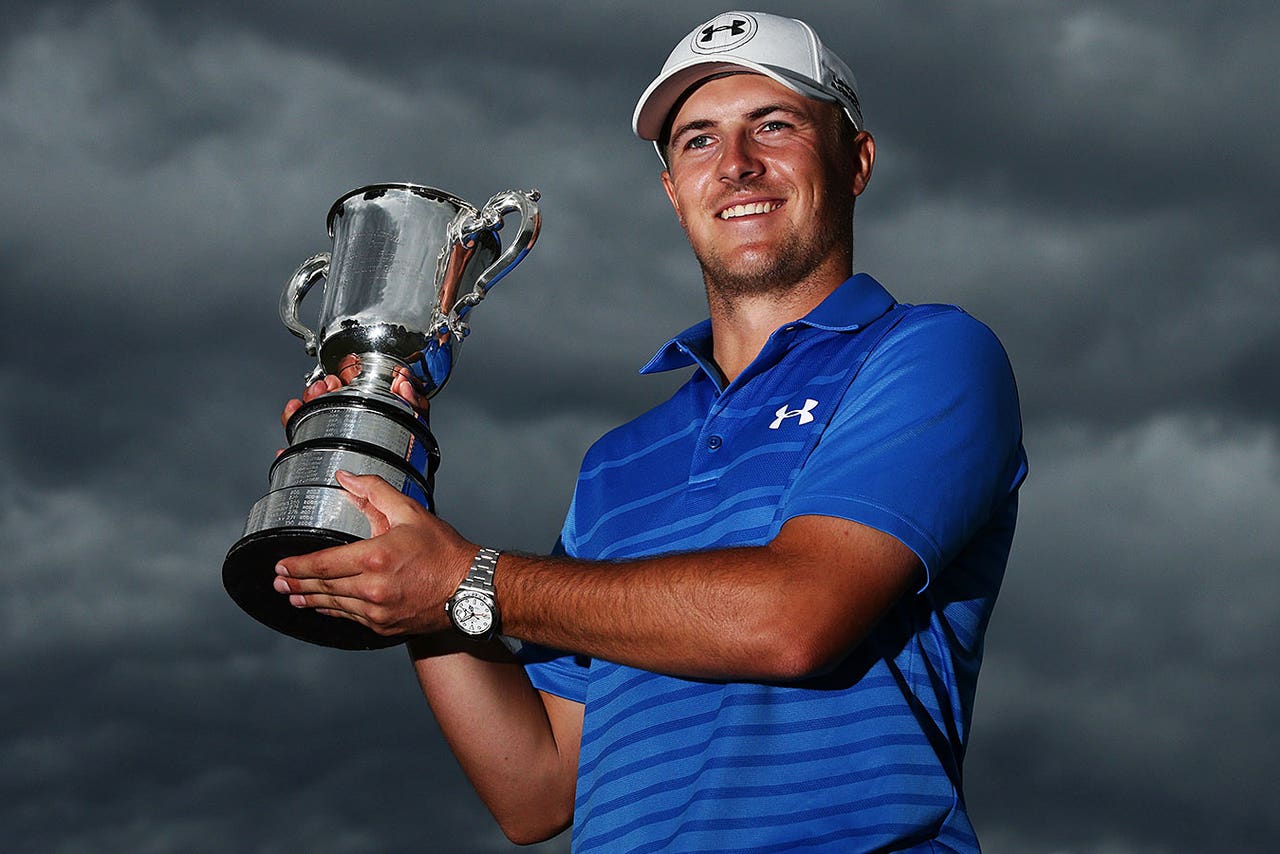 If you asked most people when Jordan Spieth really broke out as the dominant figure he's become, they would answer the 2015 Masters. It was at Augusta National that we saw Spieth rule the golf world for four days -- exercising the demons that doomed him on those same hallowed grounds a year prior, when Spieth had put himself in a position to steal a second green jacket from Bubba Watson but fell short.
Both weeks at Augusta showed us what Spieth was capable of doing, with one ending in a "what if" and the other ending in a "what's next?" But Spieth's ascension into the elite of the elite in the golf world didn't take place in the 2014 Masters or even when he draped himself in green last April.
It happened a year ago this week, when Spieth came off one of the most impressive rounds of the entire season to claim the Australian Open -- only to board an airplane and point it from Sydney to Florida, trying to shake whatever jet lag comes from traveling halfway across the world in hopes of repeating what he just did.
Yes, Spieth's Player of the Year-worthy 2015 started at the Sydney Golf Club in late November 2014, when he became the first American since Brad Faxon in 1993 to win the Aussie Open.
Spieth did it by playing a round of golf so impressive that Rory McIlroy, coming off back-to-back major wins and cementing himself as the best in the world at the time, had this to say about the final-round 63 that helped Spieth claim the second worldwide win of his young professional career (McIlroy shot 72 that same Sunday).
You could give me another 100 rounds today at The Australian and I wouldn't sniff 63.... Well done @JordanSpieth very impressive!

— Rory Mcilroy (@McIlroyRory) November 30, 2014
If that final round was impressive, it was the next week that revealed the type of dominance we've come to know from Spieth.
Despite the fact Tiger Woods' name is attached to the Hero World Challenge, golf isn't exactly the sexiest of sports in December. College football is gearing up for bowl season, the NFL playoff picture is starting to take shape, and the NBA and NHL are pushing games every night, spiking the interest of those obsessed with hoops and pucks.
The golf season isn't quite in hibernation in early December, but it's found a cave and at least has started getting comfortable. That all changed when Spieth arrived at Iselworth, putting together four rounds of golf that separated him from the rest of the field by 10 strokes.
Spieth shot 26-under over four days at Isleworth (34-under in five straight rounds if you include his final round in Australia), to beat the likes of Henrik Stenson, Jason Day, Rickie Fowler and plenty of other big names taking part in this invitation-only event.
Spieth told reporters after his win, "This caps off the best golfing year that I've ever had. Each year has been a little bit better than the last. Hope to continue to do so in 2015."
And though his talent has been undeniable, it's easy to forget how disappointing 2014 was for Spieth before those two weeks in the winter. Spieth didn't card a win on the PGA Tour in '14 after breaking out in 2013 with an incredible victory at the John Deere, becoming the youngest champion on Tour in 82 years.
We as golf fans talk ourselves into these young stars when they do something special, so when Spieth went all of 2014 without a victory, it was a head-scratcher. This was the Next Big American Thing, and as close as he came at the Masters, it seemed he might not only be ready to win but to win majors. It was a long '14 for Spieth, who put himself in contention at the Masters and the Players Championship only to come up short, but his goal all season was to win twice, and that was just what he did, even if it took until the final two events of his calendar year to do so.
Spieth has become the Adele of golf in a sense. Both are wise beyond their years, and both have continued to improve with each season as a pro. Adele's initial album, "19", put her on the map much like Spieth's win at the John Deere did, leaving us all excited for what was to come. The follow-up, "21", left us all understanding that we were seeing a legend in the making, just like the way Spieth played to close out the 2014 golf season and onward to 2015, where he won two majors and was in contention in the other two. We knew at this point that both would be factors for years to come, putting their stamp on their respective professions with each following act. As for Spieth's version of "25"? That will depend on how the kid does this season and beyond, and on whether he can continue to hit notes in his golf game that we weren't sure we'd ever see from someone so young.
Winning is a learned art in golf, it really is, and it takes some a lot longer than others to get comfortable in that moment. Rickie Fowler nearly won his second event as a professional when he landed in a playoff at the Frys.com Open in 2009. Watching him then, you'd think this was going to be a regular occurrence, but over the next six seasons we saw Fowler lift a PGA Tour trophy only once.
Spieth mentioned at the Waste Management Open this year that the Hero World Challenge was "As good as I ever played," and it was the confidence he gained from that five-round stretch that helped propel him to the '15 season he had.
Who knows what happens if he doesn't play out of his mind in that final round in Australia? Does the success carry over to the Hero World Challenge? Does the confidence from that win get him to that Valspar playoff, and to Augusta, and help him with what happened down the stretch at Chambers Bay? Considering his past, and the way he dominated junior golf and his small time at the University of Texas, the talent was there and the results were in the cards. But a year ago was the start of this run for Spieth, who ended 2014 as the No. 9 golfer in the world and now finds himself atop those rankings with six PGA Tour wins, two majors and a Player of the Year award.
A lot can change in a year, but a lot of those changes stemmed from an eight-day stretch last winter that saw Spieth take his game from impressive to imposing.
Shane Bacon is a regular contributor to FOXSports.com's golf coverage. Follow him on Twitter at @shanebacon.
---
---