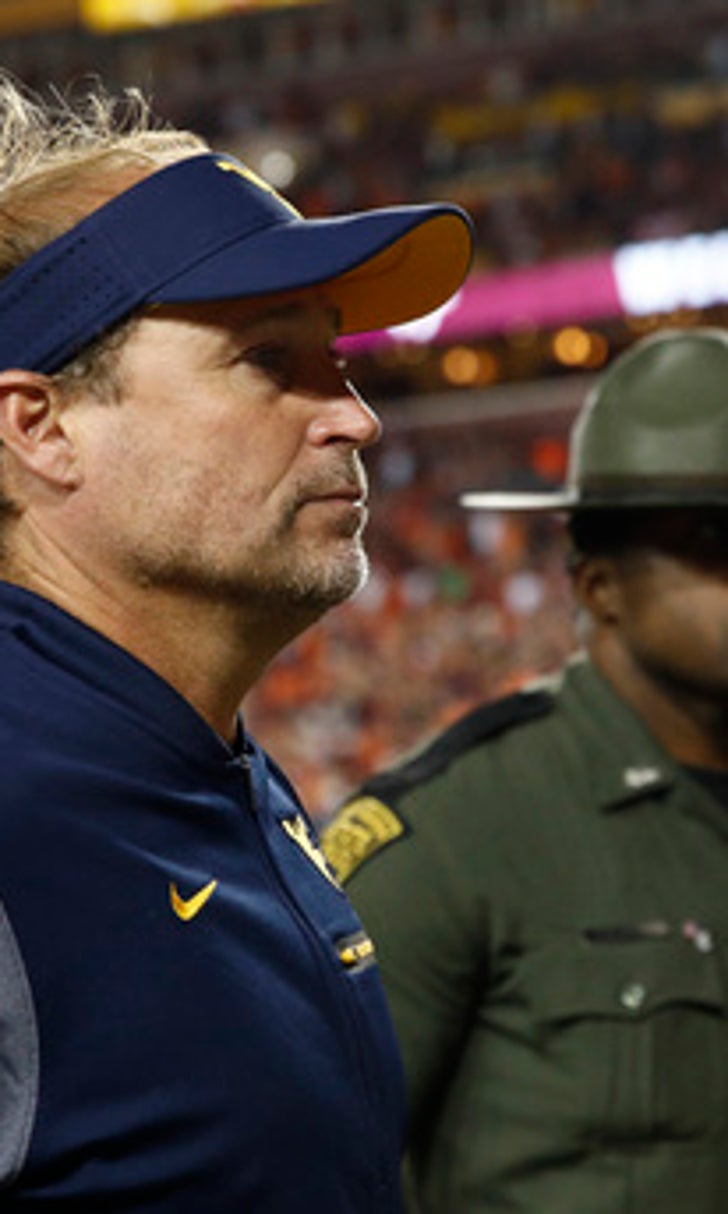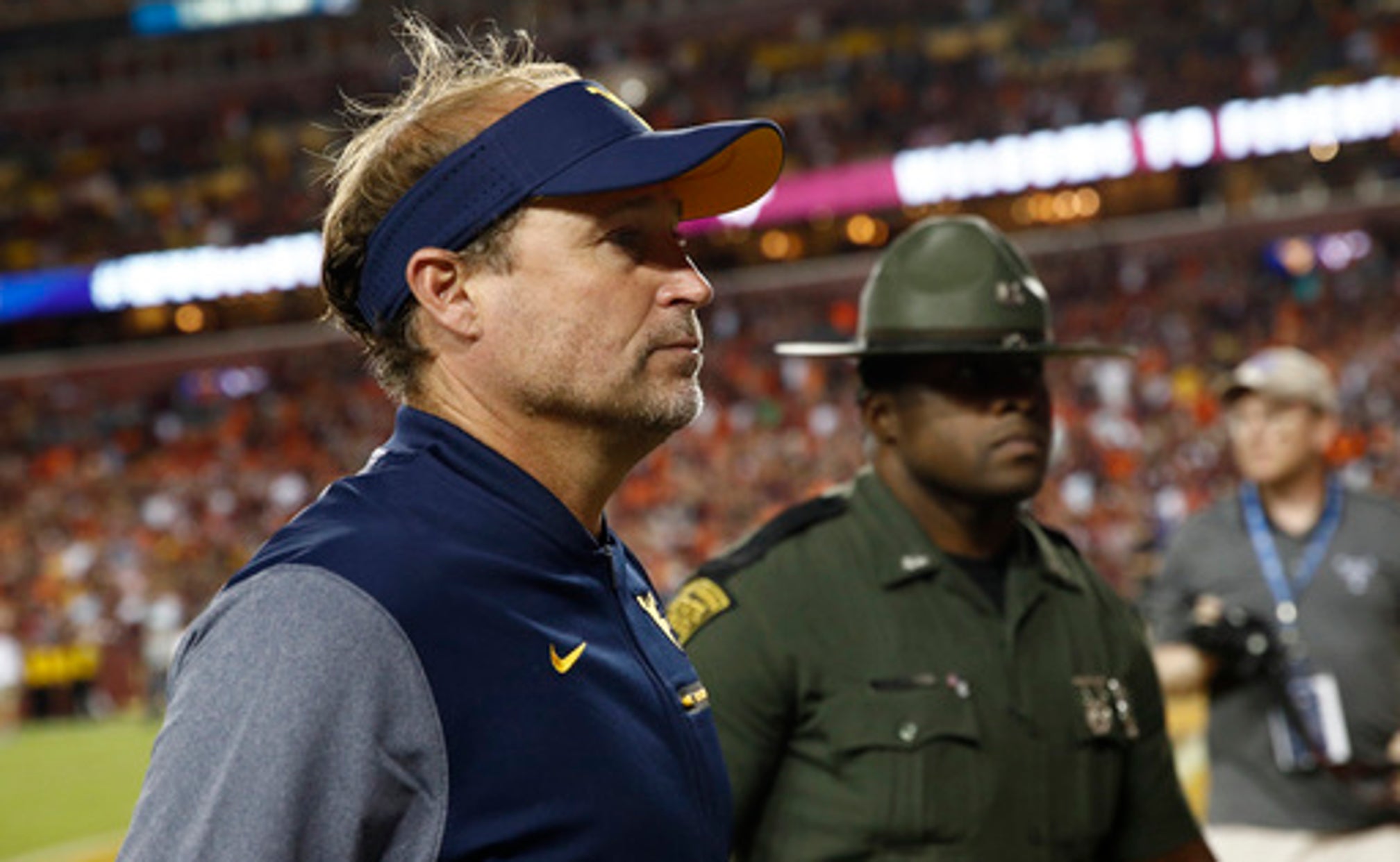 WVU coach Holgorsen adjusts to not calling offensive plays
BY AP • September 8, 2017
MORGANTOWN, W.Va. (AP) If West Virginia coach Dana Holgorsen needs some alone time, all he has to do is put on a headset.
Holgorsen relinquished offensive play-calling duties this season for the first time since becoming a head coach in 2011. That left him in a bit of a quandary in the season opener and he's sure to be talking to himself again on Saturday when West Virginia (0-1) meets East Carolina (0-1).
At least early on against Virginia Tech, Holgorsen remained in silent mode on his headset as first-year offensive coordinator Jake Spavital steered the offense and Tony Gibson the defense.
While Holgorsen didn't have his talk button engaged, he could hear what other coaching were saying on the headset and reacted to himself.
''I didn't know what to do for the first quarter,'' Holgorsen said. ''I was looking for people to talk to. I'm literally talking to myself. I said to myself, `ah, this sucks.'''
His offense was anything but pathetic, amassing 592 total yards in the 31-24 loss . A retooled offensive line gave quarterback Will Grier plenty of time to look over his reads. And when receivers weren't open, Grier took off. Normally considered a pocket passer, the junior threw for 371 yards and three touchdowns while rushing 11 times for 52 yards.
Holgorsen would like Grier to think twice about taking off running against East Carolina.
''We need to get the ball in other people's hands more than his,'' Holgorsen said. ''We're trying to control that but it does bring a different dynamic to it.''
East Carolina is coming off a 34-14 loss to defending FCS champion James Madison. The Dukes amassed 422 rushing yards, and West Virginia has running backs Justin Crawford, Kennedy McKoy and Martell Pettaway, all capable of big gains.
East Carolina coach Scottie Montgomery is wary of the damage Grier can do, too.
''His ability to keep plays alive and make the plays down the field with his legs, I thought he did a really good job of extending plays during the (Virginia Tech) game,'' Montgomery said. ''It presents challenges for us because he has an array of weapons on the outside.''
---
Some other things to know when the Mountaineers and Pirates meet for the first time since 2009:
ECU QB: Thomas Sirk will start at quarterback against the Mountaineers. He came in for Gardener Minshew against James Madison and went 21 of 25 for 210 yards with two interceptions. Sirk played at Duke in 2015 when Montgomery was the Blue Devils' offensive coordinator.
DAD'S ALMA MATER: Grier's father, Chad Grier, played quarterback at East Carolina in 1989 and 1990, serving as the backup to Jeff Blake. This is the second time Will Grier will face East Carolina. Two years ago as a freshman at Florida, Grier threw for 151 yards and two touchdowns in the Gators' 31-24 win.
SIMMS BACK: Holgorsen said speedy wide receiver Marcus Simms is available to play against East Carolina after serving a one-game suspension following his arrest on suspicion of drunken driving last month in Morgantown. Simms caught six passes for 95 yards and a touchdown in nine games as a freshman.
DON'T BLINK: Montgomery said he doesn't doubt there's some panic among East Carolina fans. ''For me I told the team and I will just tell everybody, don't blink,'' he said. ''We are not in a situation with this many games left to go play; smart decisions need to be made.''
DEFENSIVE LAPSES: West Virginia has lost 19 home openers in 125 seasons of football, and defensive coordinator Tony Gibson wants to make sure that doesn't go higher against the Pirates. Out of 72 plays on defense against Virginia Tech, three proved costly - a pair of long passes and a long run by quarterback Josh Jackson, all leading to touchdowns. ''Three snaps got us,'' Gibson said.
---
More AP college football: http://collegefootball.ap.org and http://www.twitter.com/AP-Top25
---
---