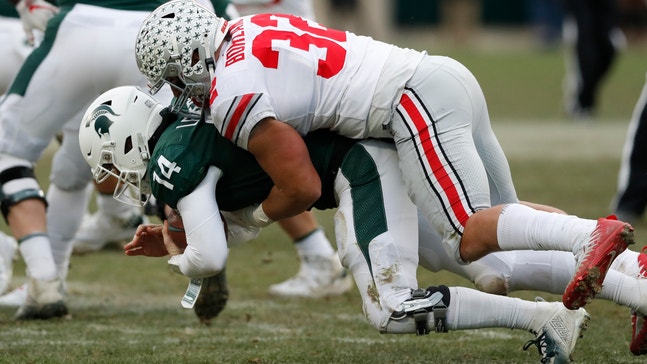 Win over Michigan St a step forward for Buckeyes' defense
Updated
Mar. 4, 2020 10:09 p.m. ET
EAST LANSING, Mich. (AP) — The ball was loose in the end zone only briefly before Dre'Mont Jones recovered it, giving Ohio State a touchdown that turned the game in the Buckeyes' favor for good.
Ohio State beat Michigan State 26-6 on Saturday with the type of defensive performance that's been all too rare for the Buckeyes this season. The Spartans aren't exactly at full strength, but this was still an encouraging win for Ohio State. Michigan State had only one red zone opportunity and no touchdowns. The only time the Spartans reached the end zone was on a trick play that was called back for a penalty.
"We knew exactly what this would be, and it was. That was November football at Michigan State," Ohio State coach Urban Meyer said. "I'm really ecstatic for the defense, for our defense the way they came out."
The win didn't do much for Ohio State's ranking, which dropped one spot to No. 9 in Sunday's AP poll . But after allowing 49 points in a loss to Purdue and 31 in a win over Nebraska, the Buckeyes (9-1, 6-1 Big Ten, No. 10 CFP) held the Spartans (6-4, 4-3, No. 18) to 274 yards and 12 first downs.
Ohio State lost All-American defensive end Nick Bosa to a core muscle injury Sept. 15, and he decided to leave school and focus on getting ready for the NFL draft. The Buckeyes had held only three teams under 26 points this season — Rutgers, Tulane and Minnesota — before Saturday's game in chilly East Lansing.
Michigan State is without running back LJ Scott, and quarterback Brian Lewerke has had injury issues as well. The Spartans are also without standout receiver Felton Davis. Michigan State used both Lewerke and Rocky Lombardi at quarterback against the Buckeyes. Lombardi was in when a shotgun snap hit the man in motion, and Jones recovered the fumble in the end zone to give Ohio State a 16-6 lead in the fourth quarter.
"We haven't had a great push out front," Michigan State coach Mark Dantonio said. "We continue to try and find ways to be able to run the football. Obviously, we struggled today. We were backed up like five straight times there and really not able to run some of our offense."
The Spartans were pinned back for much of the second half because of superb punting by Ohio State's Drue Chrisman. The Buckeyes' defense was repeatedly in good situations. On one possession, Ohio State kept Michigan State back near its own goal line, and the Spartans took an intentional safety instead of trying to punt. Jones scored his defensive touchdown a short while later.
If Ohio State wins at Maryland next weekend, that sets up a showdown with rival Michigan with the division title at stake. That will likely be billed as a matchup between Ohio State's dynamic offense and Michigan's stellar defense.
Obviously, any improvement by the Buckeyes on the defensive side of the ball is a welcome sign for Ohio State after what's been an uneven season so far.
"I think it comes down to the brotherhood. We are super close together and we are out there for our brothers," safety Brendon White said. "We are not going to try and do too extra. We are not trying to play for ourselves, but we play for our brothers. If that works out, then the rest takes care of itself."
---
---