Why Urban Meyer hated – but now is thankful for – an unusual Greg Schiano passing drill
BY Bruce Feldman • April 5, 2017
COLUMBUS, Ohio — Urban Meyer has a story he wants to tell. He's talking about practice. Well, really, it's a story about a practice drill, one Meyer hated the first time he saw his new defensive coach Greg Schiano doing it with his Buckeyes.

Last spring, Meyer, who has won three national titles, spotted Schiano doing this drill, where he had players rush at a quarterback and when the QB's front hand came off the ball (an indicator that he's about to begin his throwing motion), the defenders were to raise up their opposite hand toward the passing arm.

"What is this?" Meyer thought to himself. "Why are we doing this drill?!"

The Ohio State head coach admits now that drill at first drove him crazy and he wanted to stop it, but opted not to interrupt because he says Schiano knows what he's doing. Meyer's glad he let Schiano do his thing. Schiano's "Match The Hand" drill directly led to a momentous Pick-6 in the Buckeyes' win at Oklahoma. On that play, defensive end Jalyn Holmes did as Schiano instructed, getting his left hand up in the air as Baker Mayfield began his release. Holmes batted the ball into the air and OSU's Jerome Baker plucked it our of the air and raced 68 yards for a touchdown.

https://www.youtube.com/watch?v=KJMAnx0_Ras

Later in the season, the drill also gave the Buckeyes their first touchdown in their showdown with their rival, the Team Up North after Raekwon McMillan came free on a blitz and swatted at Wilton Speight's hand as he was about to throw the ball. The Michigan quarterback couldn't follow through on his pass after his hand collided with McMillan's. The ball drifted off course, into the waiting hands of Buckeyes safety Malik Hooker, who raced into the end zone.

https://www.youtube.com/watch?v=Ghhk6o4cJ88

"I didn't think (the drill) was gonna work until we saw just how effective it really is," defensive end Sam Hubbard said. "We do it every day. That's all I think about when I'm running to a quarterback and he's rolling out. You don't go for the hit — that's what I used to do. You just match the hand. It works every time. I've talked to all the quarterbacks and they just say they hate it so much. After doing all these drills, it's just instinct."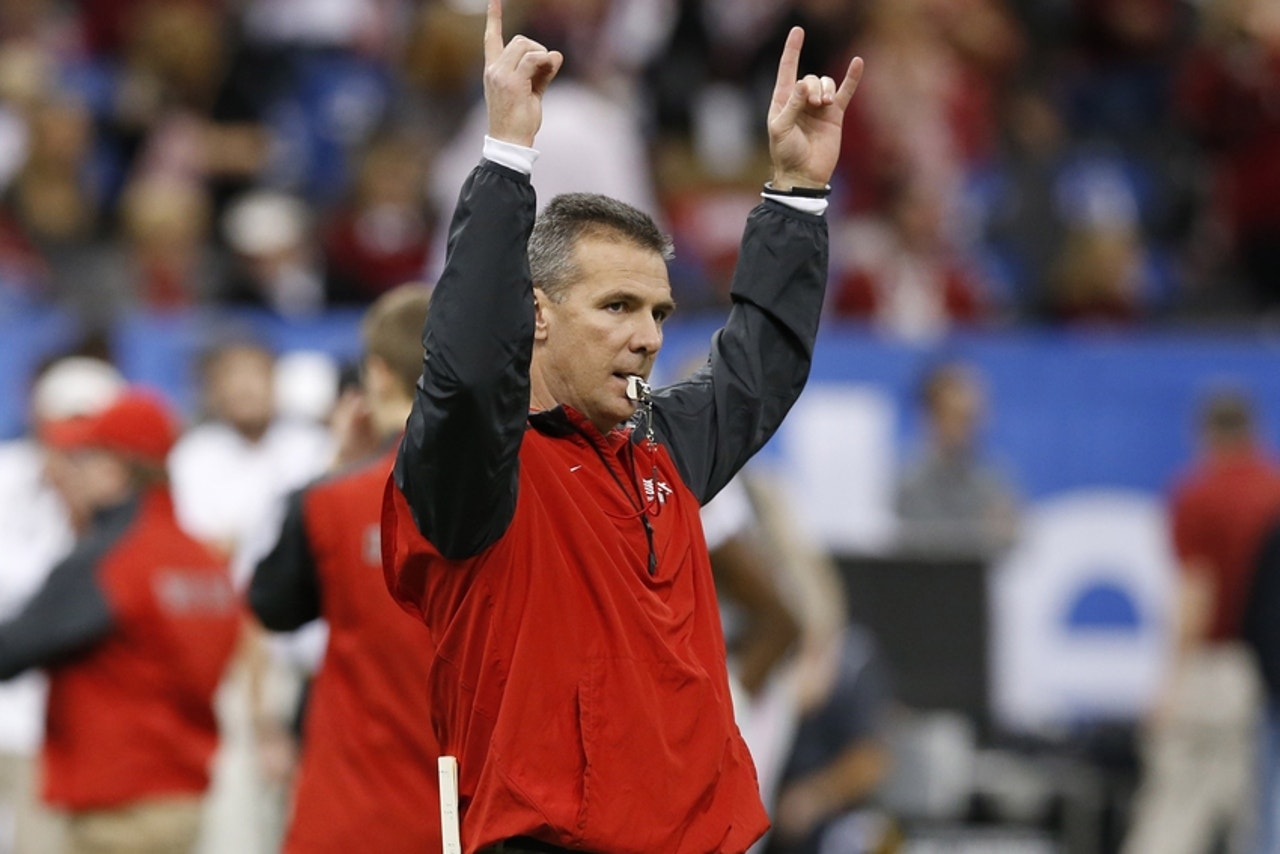 Meyer said it's not just scheme that makes Schiano a great defensive coach. It's his ability to identify issues and clean them up.

"He made a comment to me a year ago (after Schiano was hired) that we weren't great in turnovers," Meyer said. "We were good but why can't we become that suffocating defense? His drill-work is reflective on that. That's what makes him a great football coach. That's what makes him special."

Thanks in large part to Schiano — and his Match the Hand drill — Ohio State went from nine interceptions in 2015 (No. 56 in the country) to 21 last year, which ranked No. 4. The Buckeyes also improved from No. 6 in the country in fewest yards per play allowed to No. 3. The most impressive fact may be that all this happened with a defense that had only three returning starters.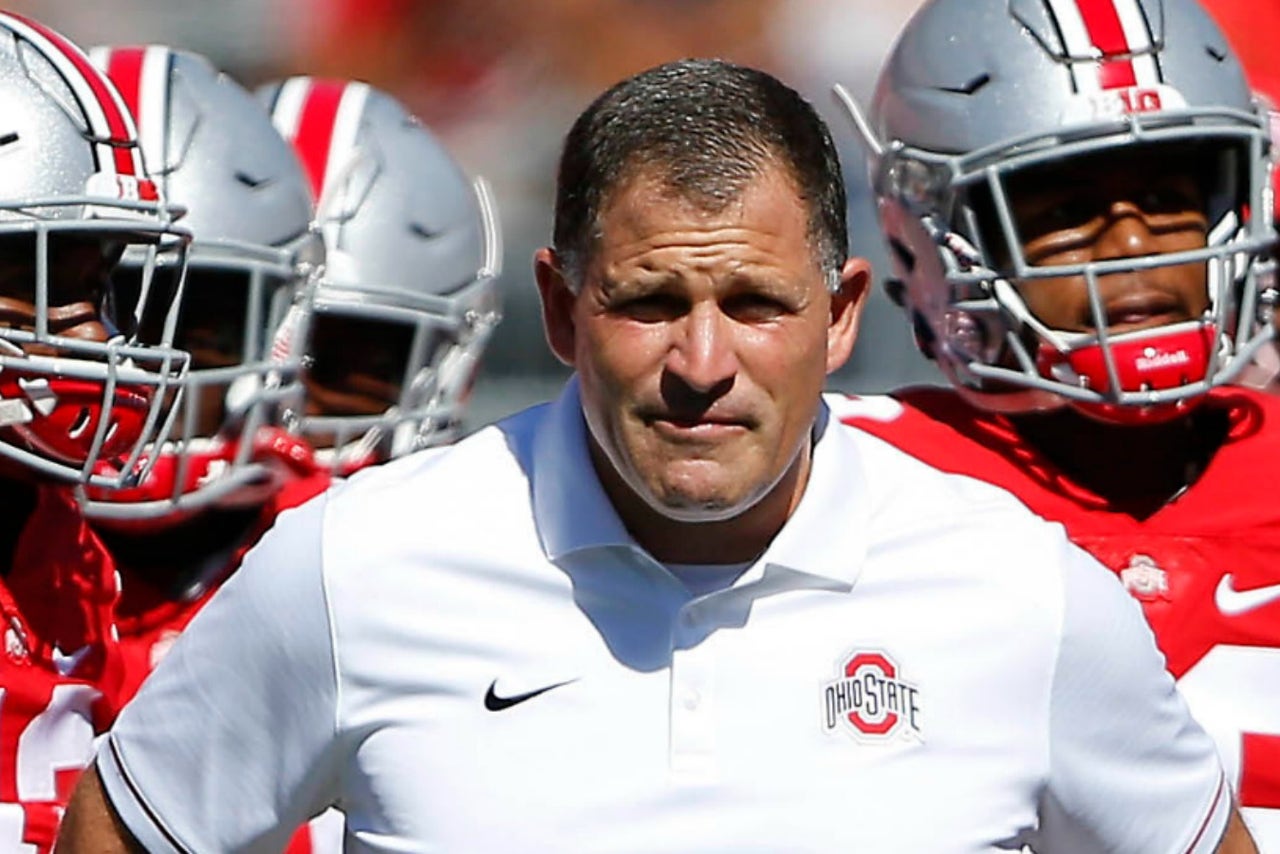 Schiano has been doing the drill for about eight years and did it with his teams at Rutgers and with the Tampa Bay Buccaneers.

"Our big thing is you want to disrupt the path of the ball," Schiano said. "Sometimes you tap it, and sometimes the quarterback changes his angle. It's one of those deals where, like, if you change the compass on a boat one degree. If it goes a mile, it doesn't really change it that much but if it goes 50 miles, you're gonna be off course. Same thing with a pass. If you can change it at the point of departure, it can be [two-feet different], and those how you make interceptions."

Schiano picked the drill up from Bill Belichick. The two became close after Belichick's son Stephen, a former Rutgers lacrosse player, became a long snapper for Schiano's Scarlet Knights. Belichick would come down to RU on some Saturdays and the coaches would talk ball or Schiano would go visit Patriots training camp.  "I picked up a zillion things," he says. "He's at just a different level of coaching and understanding of football, and it's all three phases—offense, defense and special teams."

https://www.youtube.com/watch?v=wP8cuH6VBGI

 

Schiano's relationship with Meyer goes further back than his with Belichick. In the mid-'90s, Meyer was a Notre Dame's receivers coach when the Irish staff went to Chicago to visit Dave Wannstedt's Bears staff. Meyer and Schiano, then the Bears' secondary coach, hit it off and the bond grew when both became head coaches and would spend time together on annual Nike trips.

The 50-year-old Schiano spent a decade at Rutgers, transforming a laughing stock of a program into respectability. In 2012, he left the college ranks to take over the Tampa Bay Bucs. His team started out 6-4, but fizzled as young quarterback Josh Freeman's career fell apart. The Bucs went 5-17 over Schiano's next year and half and he was fired. Schiano did some TV work during his two seasons out of coaching before accepting a job with Meyer at Ohio State. Meyer had only had one previous head coach on his staff before when he had Dan McCarney, the former Iowa State head man as his D-line coach at Florida. Meyer says he had been very apprehensive about that dynamic before but things worked out very well with McCarney.

"Greg Schiano is one of the top coaches in America, head or assistant coach," Meyer said. "His record is impeccable. He's also a very dear friend. I thought he'd be great, but it's been even better than I thought. On a personal level, he's been incredible for me to have as a sounding board as a guy that sat in that chair, and obviously from a statistical standpoint, from what our defense did from a year ago speaks for itself."

(This offseason Meyer hired a third former head coach when he added Kevin Wilson as the Buckeyes' new offensive coordinator.)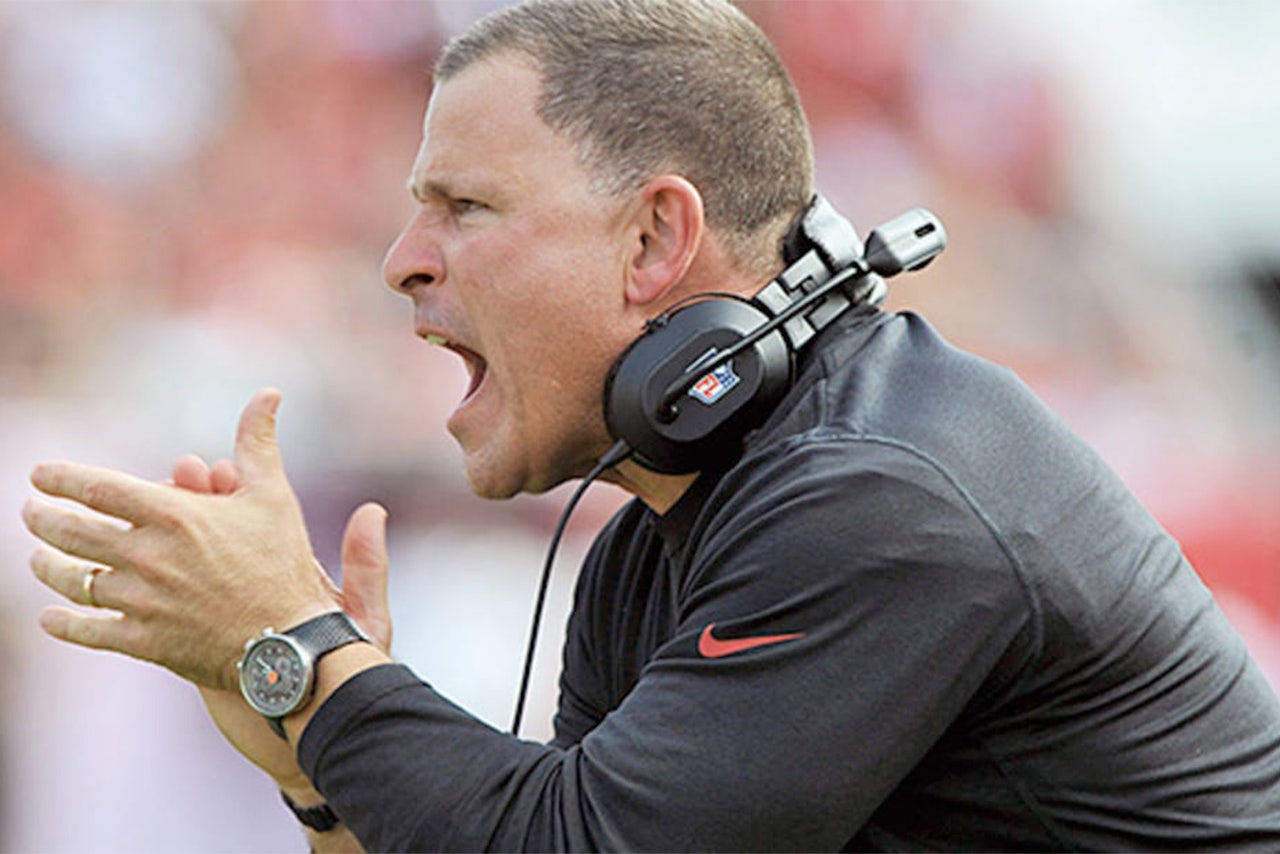 The transition to college football after four years away provided Schiano with a few challenges. You don't see much of the quarterback running the ball in the NFL.

"The RPO game (in the college game) was the biggest difference and some of the gun runs have become very creative," he said. "When I left it was Rich Rod's (QB run-scheme) stuff that some people were doing. When I came back, I was like 'Eww, I haven't seen that before.' But you can figure it out. The art is to make it simple enough so that your players can do it under pressure. If you have all day, you can figure anything out."

It helps to have lots of really talented players, and Ohio State has that. Schiano is particularly happy that the Buckeyes are stocked with gifted D-linemen, which is a luxury for a defensive coordinator. "At Rutgers, we had really good players that developed over time. It took all five years or at least all four years to get them to the level where they could compete in the NFL, but that was the way we did it. That was our formula, and it had to be.

"Here, we have guys that walk in the door as elite talent. A Nick Bosa comes in and then (defensive line coach) Larry Johnson gets his hands on him and it's — boom — thru the roof."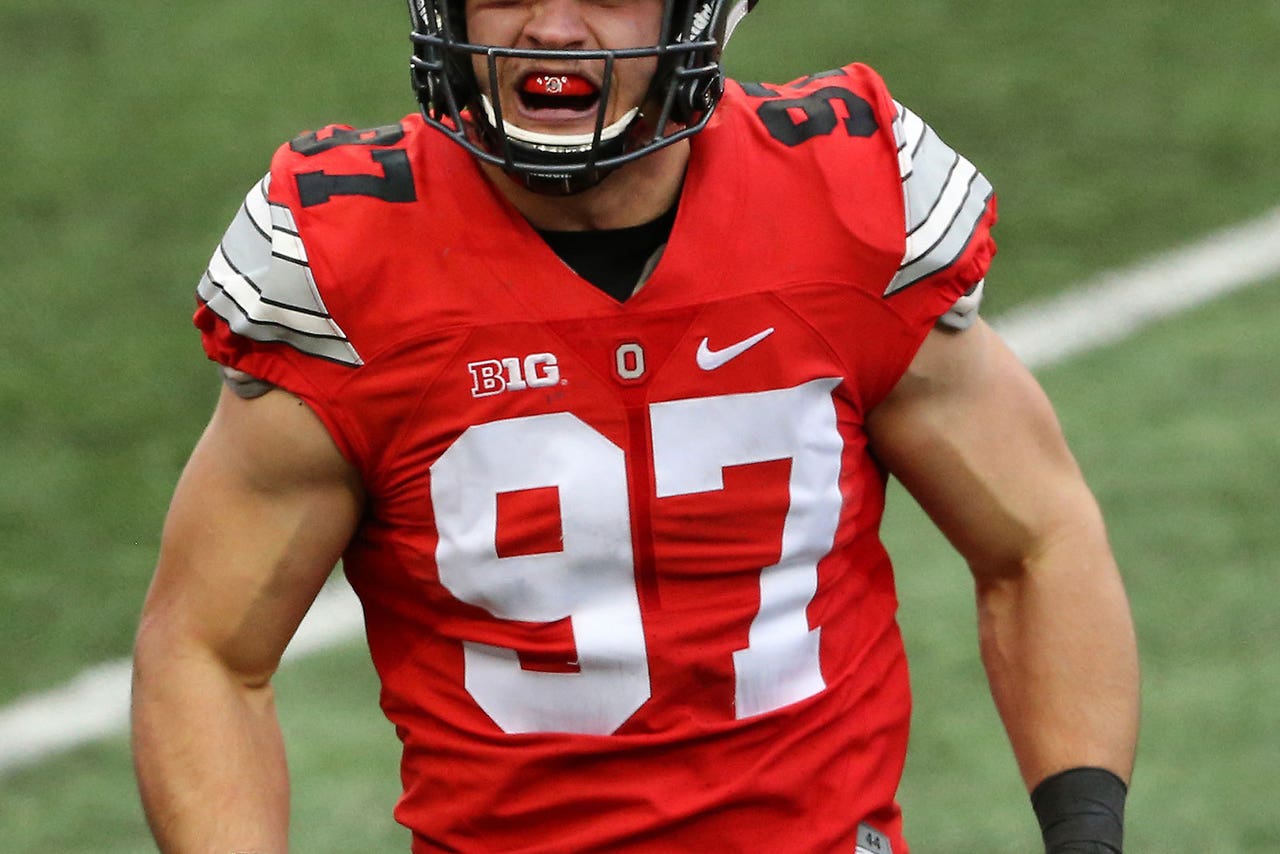 That kind of eye-popping talent, though, often leaves early for the NFL. Ohio State has had a flurry of underclassmen bolt to the pros in the past few years. Last year, nine underclassmen left early. This year, it was six, including three of Schiano's DBs, who all are projected to go as first-rounders. Some lament the three-and-out vibe and worry that having eyes on the NFL can get a program off track. Schiano sees it as a reality of today's college football world.

"We just have to develop 'em as fast as we can," he said. "I don't see that changing any time soon. You recruit great players. They're not gonna be here very long. They're gonna get their opportunity. They're gonna make the most of it if you coach 'em right. What (OSU assistant) Mickey (Marotti) does with sports performance and the mental development is second to none. What often holds people back is the mental toughness. Mick develops mental toughness at a level I've never seen. All of those components add up to kids playing early if they're talented enough, and gives them a chance to really shine. Those three kids really took advantage of it."

Schiano, too, is taking advantage of his time at Ohio State when it comes to development. Working with Meyer has changed his perspective.

"He is the hardest-working recruiting head coach I've ever seen," he said. "I thought I was like off the charts. I was not even close. He's a machine. Just so passionate about it. That's what drives the recruiting at Ohio State. He sets the standard here. Coach's best attribute is that he dives right in. He's in the middle of relationships with every one and he's current on everything. He set the bar to me of what a head coach needs to do as a recruiter." 

Schiano's also learned that if — and when — he becomes a head coach again, he will delegate more, though it's so tempting to get caught up in the details because like most coaches, you're a Type A personality who wants things done a certain way.

"You must resist doing that," he said, adding that he believes in "the exponential power of coaching your coaches and coaching your support staff and then empowering them to go do it as opposed to have to be involved in everything all the time."

Schiano's already had a few opportunities to become a head coach. He's in no rush. His twins, Matt and John, are promising football players who will be seniors this fall. He didn't want to move the family again and have the boys go to a third high school in three years.

"My wife told me I remember the happiest you were was when you were the defensive coordinator coaching your kids at Miami," he said. "I think what happens is when you're the head coach, there's so much that's on your mind all the time. When you're the head coach, you're in charge of every support person of every person that touches the program, everybody that touches the coaches, the players."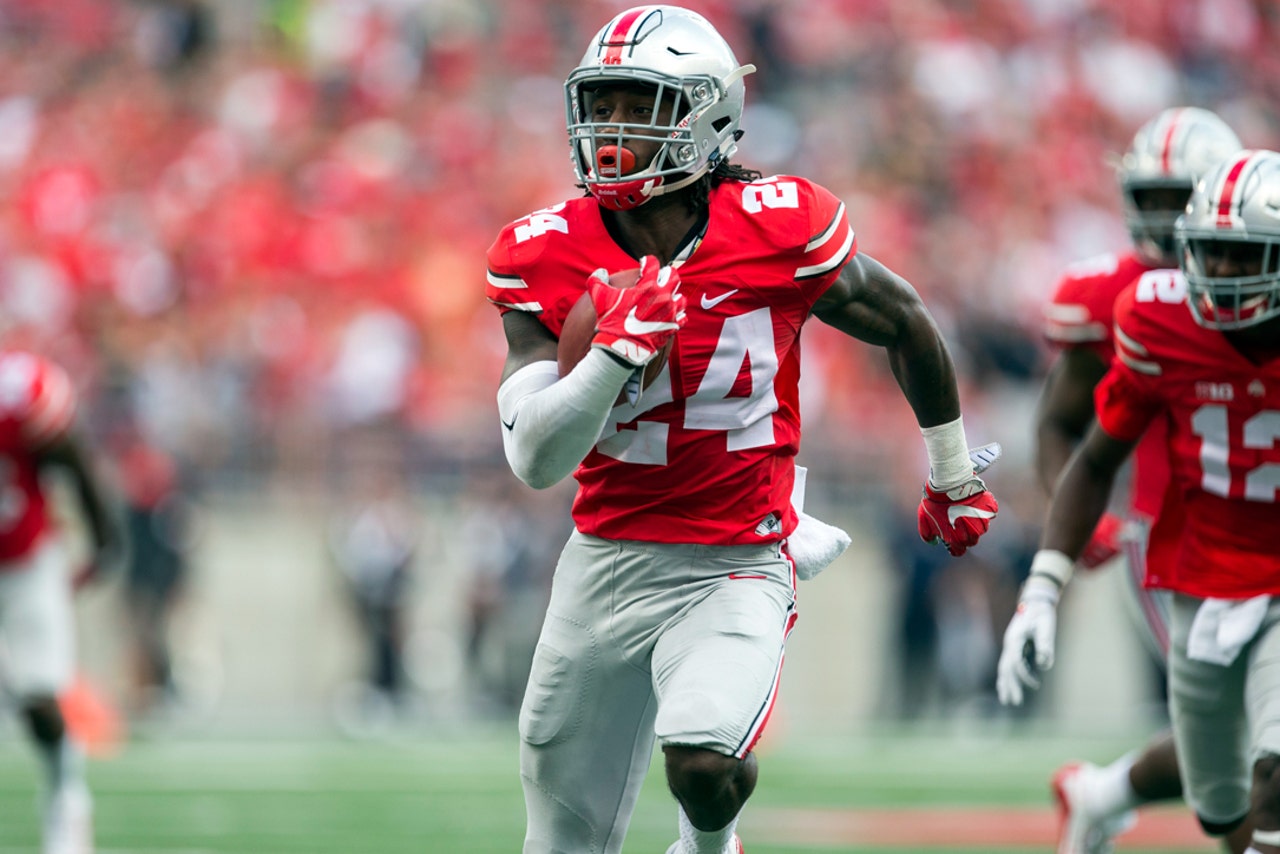 Sometimes the players can get lost in that.

Sitting at his desk in the back of the small two-row classroom setting, Schiano says this space is what he appreciates .

"It's these 20 square feet right here. This is my meeting room as well as my office. I meet with the safeties every single day. You get really close to these kids. You get to know everything about their lives, academically, socially. It's neat to see him develop. This guy right here," he said, pointing to poster-sized picture of Hooker. "I met him 14 months ago, and now he's gonna be a first-round draft pick, and he's a great kid. Great young man and is gonna get this great opportunity. The stress and strain to win football games and this level, the people you do it with you become real close to. The ultimate of that is your interaction with the staff and the position group you coach."

The fans and the folks outside only remember the games, but it's often the detail work away from the cameras, like that curious drill Schiano brought with him to Columbus, that makes the differences.


---
---