Why leaving Alabama for FAU is the best thing for Lane Kiffin
BY foxsports • June 30, 2017
This article originally appeared on FoxSports.com.
Lane Kiffin, formerly the head coach of the Oakland Raiders, Tennessee Vols and USC Trojans, currently the renowned offensive coordinator of the top-ranked Alabama Crimson Tide, has found himself a new job. He's taking over the Owls.
No, not the recent AAC champion Temple Owls.
The FAU Owls. Of Conference USA.
Hey, you've got to start somewhere. Unfortunately for Kiffin, he started his head coaching career about four levels higher than he was qualified for at the time and failed spectacularly. So now, 10 years later, he's starting over.
In 2013, when USC AD Pat Haden fired Kiffin in the middle of the night at an LAX tarmac, you couldn't find a college coach with a more toxic reputation. A year earlier, his star-studded preseason No. 1 team imploded en route to a 7–6 finish. Along the way he kicked a reporter out of practice for reporting injury news, got accused in the original Deflategate and tried a weird player jersey switcheroo to fake out an opponent.
All this of course was on top of his controversial and combustible 2009 season in the SEC (accusing Urban Meyer of cheating, a calling out by the commissioner, a bunch of minor NCAA violations). Which came on top of a very ugly divorce with Oakland Raiders owner Al Davis, the man who touched off Kiffin's entire boy wonder-rise by hiring him to be a 31-year-old NFL head coach.
At the time, if someone told you he'd have to start over in Conference USA, you'd have said—oh? What stupid school hired him this time?
But a funny thing happened over the past three seasons. Alabama coach Nick Saban gave him the ultimate lifeline—at the time seen as yet another example of him failing upward—in bringing him aboard the nation's most powerful program. And Kiffin unquestionably succeeded.
In 2014, he took a team to the playoff with undecorated career backup Blake Sims as his quarterback. In 2015 he groomed a Heisman Trophy winner (Derrick Henry) and won a national championship. In 2016, he plugged in a true freshman quarterback (Jalen Hurts) and led an undefeated season. All the while he completely changed Saban's offensive philosophy.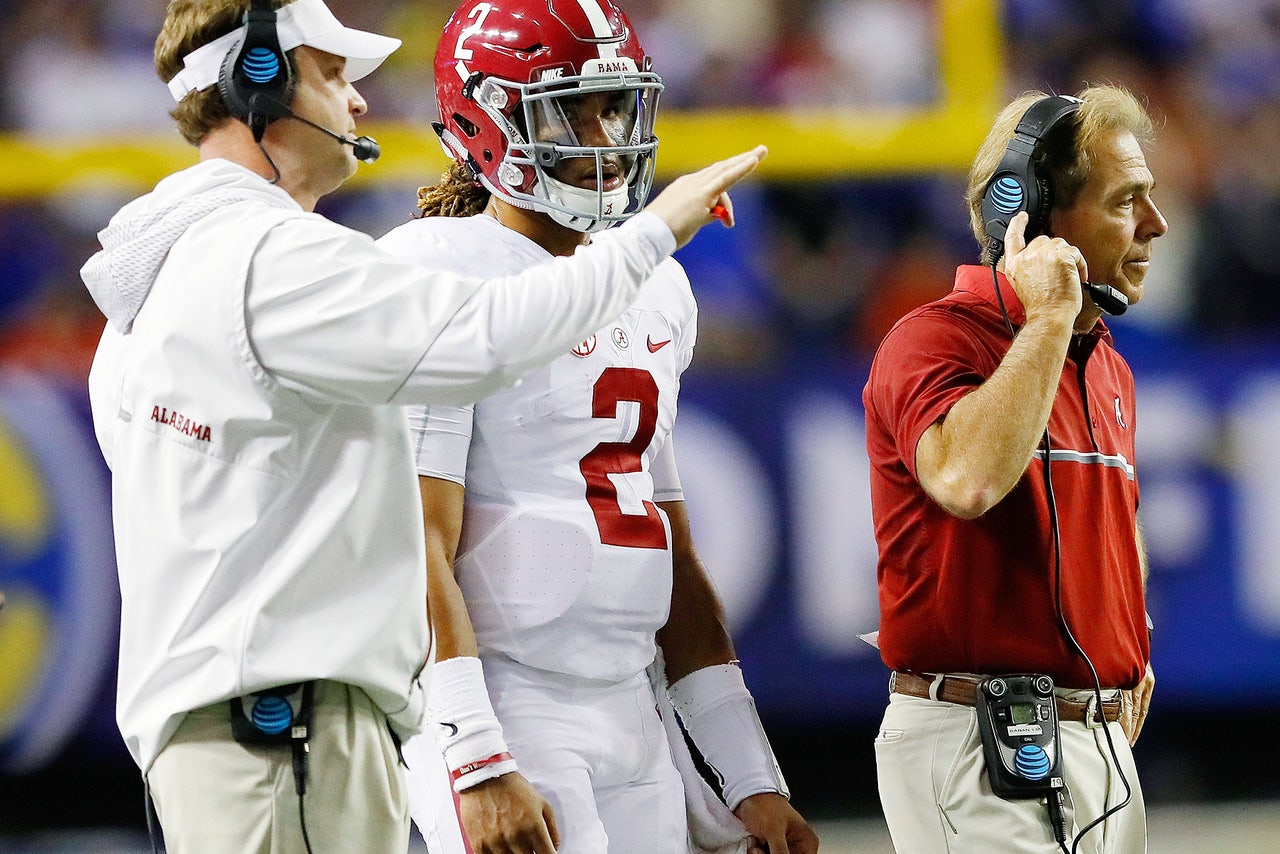 In turn, a new narrative surrounding Kiffin took hold—suddenly people liked him. They had newfound respect for his offensive mind. They got a kick out of his tweets trolling rivals. They thought it charming he missed the bus after the national title game.
Somewhere along the way it was decided by the media and fans around the country—Kiffin has rehabilitated himself. He's repaired his reputation. He'd learned from the master himself, Saban. The head-coaching offers will start rolling in any day now.
But … they didn't. It seems college ADs have a longer memory than the rest of us. They hadn't forgotten all the controversial stuff at his previous stops. They didn't want to be the one to risk him embarrassing their university.
He was never a candidate at LSU, Oregon or any other such glamorous Power 5 school.
He was a candidate at Houston—but that school opted to promote offensive coordinator Major Applewhite over hiring a guy with Power 5 head-coaching experience. Even fellow AAC school USF, which plays its games in the very Tampa stadium where Monte Kiffin created the Tampa 2, opted instead for Charlie Strong.
Clearly, Kiffin's reputation remains toxic outside of Tuscaloosa.
Kiffin, who was always unlikely to come back for a fourth year of Saban "ass chewings"—held one intriguing option in his back pocket. He could rejoin former assistant Ed Orgeron as offensive coordinator at LSU. And he'd probably make a lot of money doing it.
But Kiffin's goal was obviously to become a head coach again, and if three years of coordinating national championship-caliber offenses didn't impress the likes of Houston or USF than calling plays at another SEC West school wasn't going to change that.
In FAU, he found an FBS school willing to pull the trigger. How could he turn it down?
He's going to be in for quite a shock when he gets there. Kiffin has only ever coached at glamour schools with palaces for facilities and four-star recruits growing on threes. This will not be that.
But nor is FAU necessarily a bad job, either. It's in Boca Raton, smack dab in one of the most fertile recruiting areas in the country. The program has not enjoyed much success since Howard Schnellenberger started it from scratch and took it to the FBS level a dozen years ago. But Kiffin is a big enough name he can likely attract some recruits that have seemingly better opportunities.
It's probably for the best he'll be off the beaten path, not doing daily media scrums for 25 reporters after every USC practice. If he can win, and stay out of trouble, he'll likely be able to move up to a better job within a couple of years.
Whether he's capable of either, we shall see. But he's now a 41-, not 31-year-old head coach with considerable experience. On paper at least, he's much better prepared for this head-coaching stint than those before.
This article originally appeared on
---
---