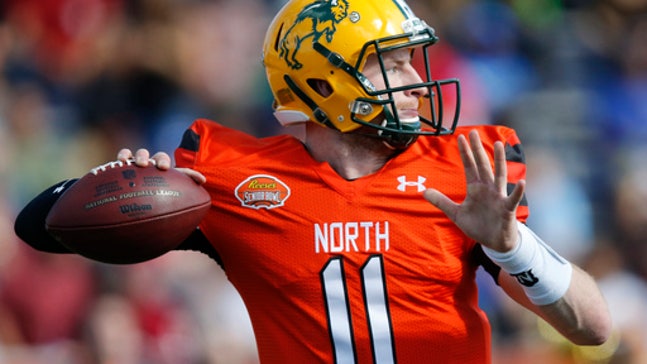 Wentz completes strong Senior Bowl week
Published
Jan. 30, 2016 6:05 p.m. ET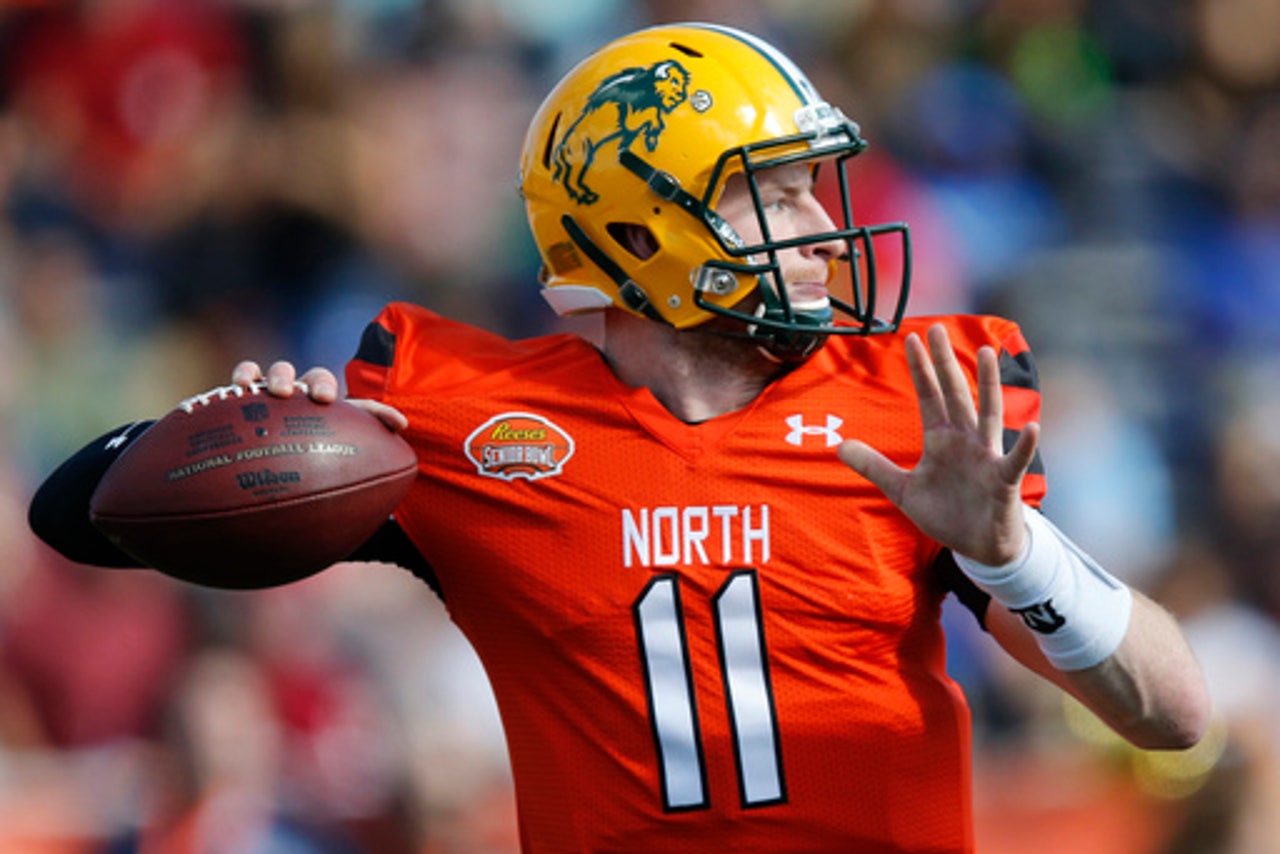 (STATS) - Wentz Week concluded on Saturday in Mobile, Alabama.
Some knew it as the 67th Senior Bowl.
North Dakota State's Carson Wentz kept himself in the mix to be the first quarterback selected in the NFL draft with a strong if not overwhelming performance in the Senior Bowl, where his North squad lost to the South 27-16 at Ladd-Peebles Stadium.
Only three weeks removed from winning the most outstanding player award in the FCS national championship game for the second straight year, Wentz played only the first quarter as the starting quarterback for a North team coached by Jason Garrett and his Dallas Cowboys staff.
It wasn't quite vintage Wentz leading the NDSU dynasty, but the 6-foot-5, 231-pound standout led four drives and then the first two plays of another before the quarter ended. He completed 6 of 10 attempts for 50 yards, victimized by several dropped passes, and carried the ball twice for eight yards.
"The biggest thing is no matter if you're coming from the SEC or FCS, Division II, Division III, you gotta make a jump," Wentz said in a sideline interview during the NFL Network broadcast. "The speed of the game is going to come that much faster and, obviously, this is just a step, but it's going to be even faster than this. So I think everyone is gonna adjust. I think I'm more than capable of proving that and am ready for it."
On his final two plays, Wentz connected on a 29-yard pass to Ohio State tight end Nick Vannett and lost a fumble to a teammate after he was sacked by Baylor's Shawn Oakman.
But Wentz's poise, consistent ball placement and command of running an offense were obvious, just as they were while he drew the most attention from teams and media throughout the week's heavily analyzed practices.
"From my perspective, I saw what I needed to see with him," NFL Network analyst Mike Mayock said. "Big arm, good location, got rid of the football."
The other seven quarterbacks spent the week in supporting roles as Wentz got the star treatment, but Saturday's game offered more equal opportunities. Most of them played well, including Mississippi State's Dak Prescott, the game's most outstanding player. He was 7 of 10 for 61 yards with a 5-yard touchdown pass to Southeast Missouri State wide receiver Paul McRoberts, which provided the South with a 17-3 lead just before halftime.
No FCS player has been selected in the first round of the draft since 2008, but Eastern Kentucky defensive end Noah Spence is a prospect who could join Wentz there in the April 28-30 draft. He had one of the more highly regarded weeks for the South, including a sack of USC quarterback Cody Kessler in the third quarter.
Other FCS All-Americans also made statements with their play. For the South, McRoberts caught four passes for 46 yards and had a 27-yard kickoff return and a tackle on special teams. Southeastern Louisiana cornerback Harlan Miller collected seven solo tackles.
Northern Iowa cornerback Deiondre' Hall had five first-half tackles, including three solos, for the North. In addition, Northwestern State wide receiver Ed Eagan had two receptions for 31 yards and a 20-yard kickoff return.
Wentz's North Dakota State teammate and offensive lineman Joe Haeg didn't play for the North because of an injury. Their teammates included Southern Utah safety Miles Killebrew (two tackles) and Harvard offensive tackle Cole Toner.
But North Dakota State claimed some of the South win as former Bison player and defensive coordinator Gus Bradley, now the Jacksonville Jaguars head coach, guided the victorious team with his NFL staff. Their roster included Samford cornerback James Bradberry (three tackles), South Carolina State defensive tackle Javon Hargrave (half sack) and William & Mary free safety DeAndre Houston-Carson (two tackles).
---