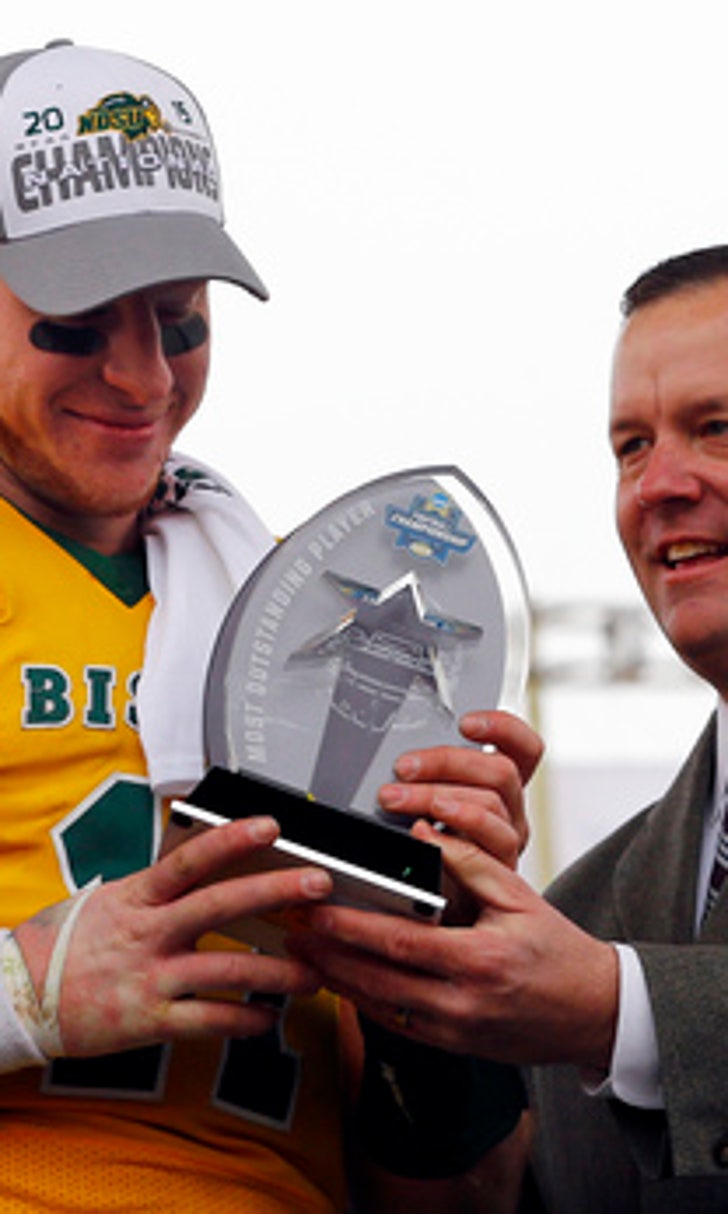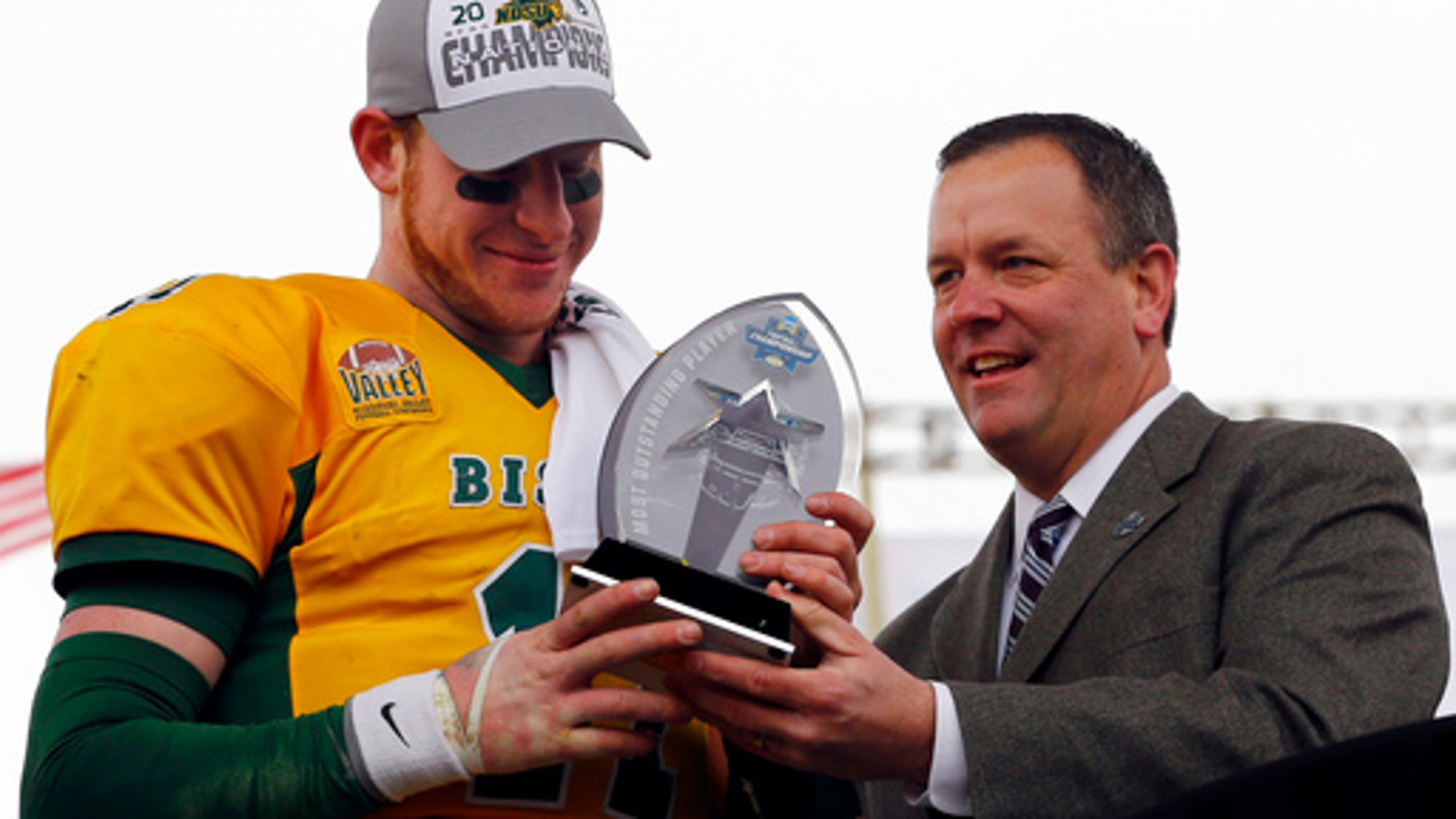 Turned closer, Wentz 'MOP's up another NDSU title
BY foxsports • January 9, 2016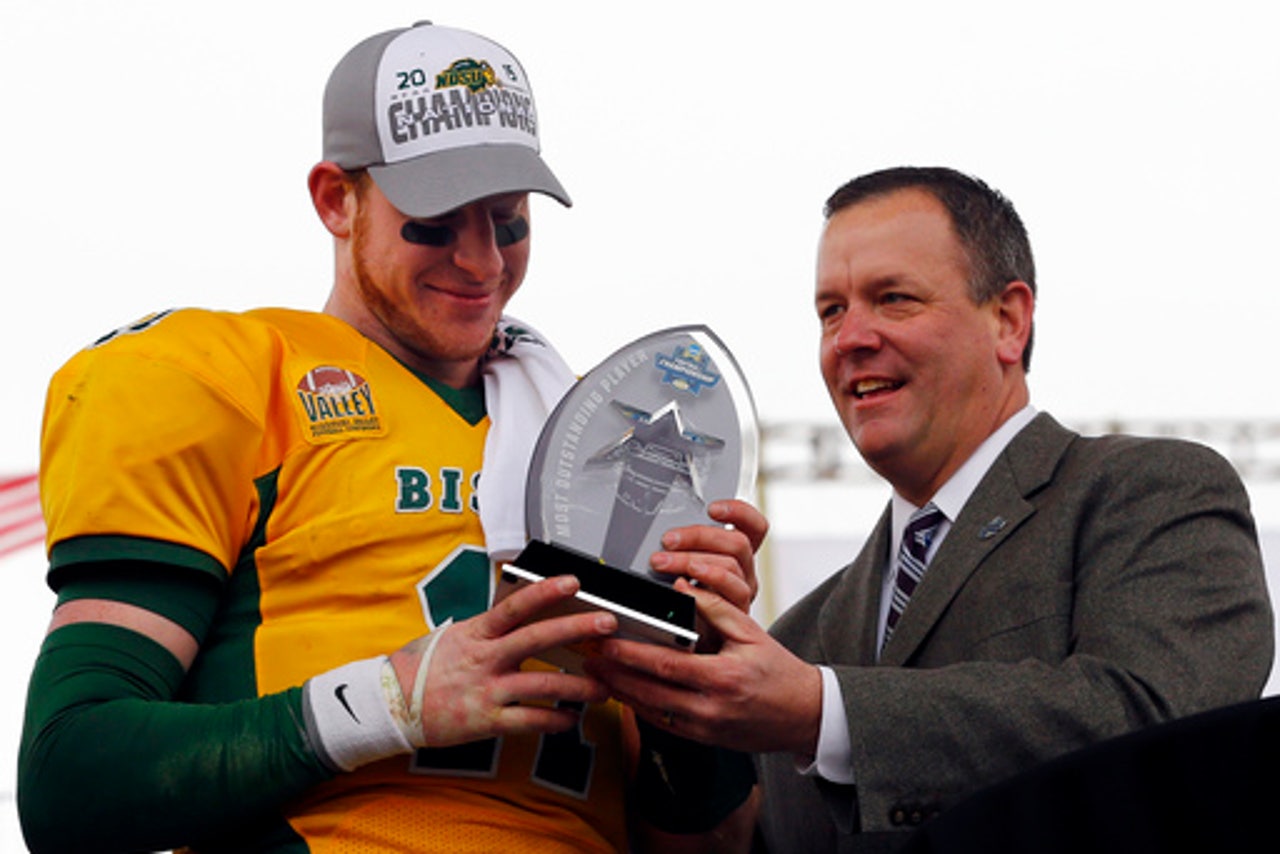 FRISCO, Texas (STATS) - It seemed like a ritual to North Dakota State football players at the start of many recent practices.
They hadn't even walked onto the practice field to begin stretching, let alone go through hard drills, and there was quarterback Carson Wentz drenched in sweat, trying to work his way back into the Bison lineup after breaking his right throwing wrist in mid-October.
The question with Wentz's teammates was when he would play again. It never seemed to be what would happen once he was.
They almost expected Wentz would be the Most Outstanding Player of the FCS title game again in his return. The fifth-year senior, after being sidelined for eight games and 12 weeks, totaled 276 yards of offense and three touchdowns in Saturday's 37-10 romp over top-seeded Jacksonville State as the Bison claimed their record fifth straight title.
"I don't know how many times I got asked if he was going to play, if he was going to start," wide receiver Zach Vraa said. "In the back of my mind, he's a fighter. We knew he was going to come out and do his job today."
North Dakota State coach Chris Klieman made it a point after the Bison dynasty rolled on to credit redshirt freshman Easton Stick for being poised, productive and 8-0 as a starter in Wentz's absence.
But having a savvy first- or second-round NFL prospect waiting in the bullpen meant the Bison (13-2) always planned to turn to him as the closer once he was medically cleared to play again, as he was on Monday.
"I was just excited," said Wentz, who suffered his injury in the Missouri Valley Conference power's last loss, Oct. 17 against South Dakota. "Kind of had the first-game jitters for me a little bit. Just with the emotions and the anxiety and the jitters, sleeping last night was kind of a pain in the butt.
"But I love this game so much, and I was so thankful to get an opportunity with these guys and to go out the right way."
Said Klieman: "I know a lot of people maybe questioned if he would be rusty. I didn't question it at all. I know what kind of competitor he is. I know what kind of player he is. Just so happy for him."
North Dakota State basically put the game away at 24-0 by halftime as Wentz threw an 8-yard touchdown pass to tight end Andrew Bonnet - "just felt like old times almost," Wentz said - and rushed for an 11-yard score. He added a 1-yard TD run in the fourth quarter before departing late in the game to countless hugs and smiles.
He threw for 197 yards and rushed for 79 to 'MOP' up the game's top individual honor for the second straight year.
"I still say I was glad he got to play the game - his last college game," said a fan who happened to be Jacksonville State coach John Grass. "He's definitely a top-5 quarterback going in the draft. He had a great game, he played phenomenal."
---
---