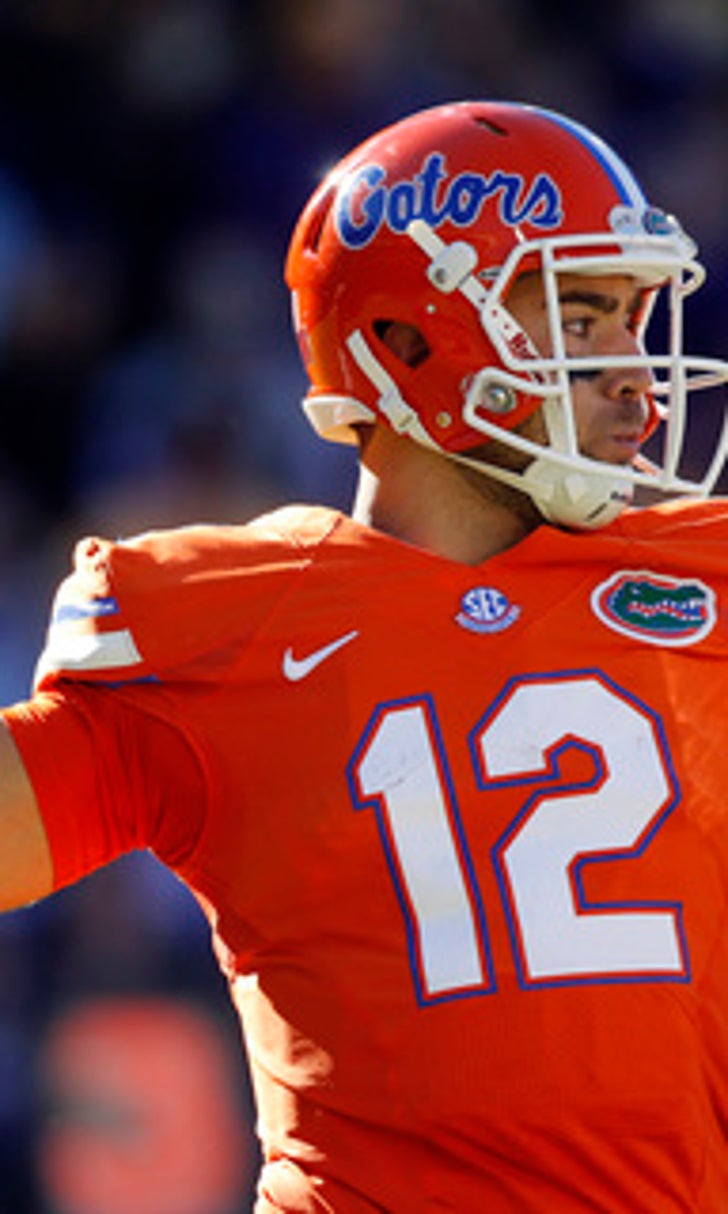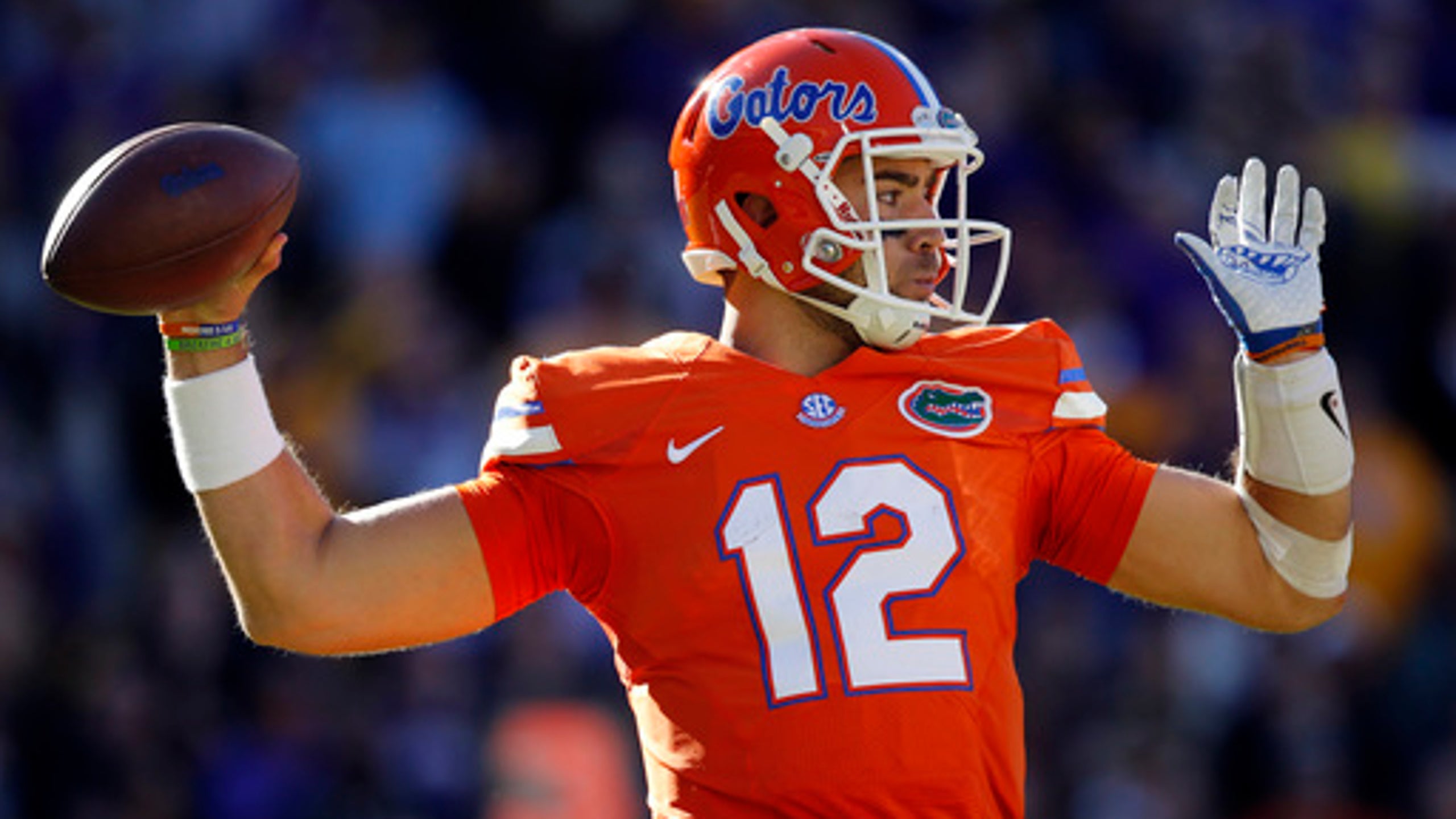 STAT WATCH: D'Onta Foreman's workload heaviest in 13 years
BY foxsports • November 21, 2016
Pound the ground was a common theme around college football over the weekend. One running back recorded the most carries by anyone in 13 years, another went over 300 yards and a quarterback rushed for the most touchdowns by anyone at his position this season.
Let's start with Texas' D'Onta Foreman. His 51 rushing attempts in a 24-21 overtime loss to Kansas were a school record and the most in the Bowl Subdivision since Michigan's Chris Perry ran 51 times against Michigan State in 2003.
Foreman finished with 250 yards, marking his fourth straight game of 250 or more and his 12th straight over 100. But he fumbled twice, with the second one at the Kansas 13 as Texas was trying to put away the game.
Foreman built on his national rushing lead. He's averaging 186.3 yards a game, 20 more than San Diego State's Donnel Pumphrey, who was held to 78 yards by Wyoming.
West Virginia's Justin Crawford joined Foreman and Utah's Joe Williams as the only running backs to go over 300 yards in a game this season. Crawford had 331 on 24 carries in the 56-28 loss to Oklahoma . Like Foreman, Crawford also had a crucial fumble, losing the ball at the OU 4 with his team down 21-0 early in the second quarter.
Iowa State's Joel Lanning tied the school record with five rushing touchdowns in a 66-10 win over Texas Tech, the most TD runs by a quarterback since Navy's Keenan Reynolds had the same number against East Carolina in September 2015.
Other top rushing performances: Stanford's Christian McCaffrey broke a 90-yard run, longest in the nation Saturday, and finished with 284 on 31 carries against California; South Carolina's Rico Dowdle had 226 yards against Western Carolina; Florida State's Dalvin Cook had 225 yards against Syracuse; and Missouri's Damarea Crockett of Missouri had 225 against Tennessee.
---
Other notable statistical feats:
SOMETHING IN THE AIR
Freshman Dom Maggio of Wake Forest and Corey Bojorquez of New Mexico each popped 80-yard punts, tied for the third-longest in the nation.
Maggio's came in the third quarter against Clemson and beat his previous long of 67 yards. Bojorquez's boomer in the second quarter was 1 yard off the school record that has stood since 1958 and topped his previous best of 66 yards.
LONG PLAYS
Florida's Austin Appleby and Tyrie Cleveland connected for a 98-yard pass play that tied for the longest in the nation this season. Appleby hit Cleveland with a deep ball from his end zone, the freshman shook off a defensive back at about midfield and ran to the end zone in a game the Gators won 16-10 .
The other long play Saturday came on a screen pass from Maryland freshman Max Bortenschlager to D.J. Moore, who took it 92 yards for the Terrapins' only touchdown in a 28-7 loss to Nebraska.
KICK RETURNS
T.J. Logan's 100-yard kick return against the Citadel was the longest ever by a North Carolina player at the Tar Heels' Kenan Stadium. Two visiting players, in 1936 and 2012, had 100-yarders at the stadium. For Logan, it was his second kick return for a touchdown this season and fourth in his career.
South Carolina's Deebo Samuel also had a 100-yard kickoff return, against Western Carolina.
MR. EFFICIENCY
Oregon State's Marcus McMaryion was a model of efficiency in a 42-17 win over Arizona , completing 16 of 19 passes for 265 yards and five touchdowns. His pass efficiency rating of 288.211 was second-best in the nation this season behind Chad Litton's incredible 367.225 for Marshall against Morgan State.
Oregon State hadn't had a QB throw for five TDs since Sean Mannion in 2013. McMaryion had come into the game with only four TD passes for the season.
SACK ATTACK
Houston's 11 sacks against Louisville on Thursday were the second-most in program history and pushed the Cougars from 36th in the nation to ninth, with 36. The 11 sacks tie for most in the nation with Utah's 11 against Arizona State.
Myles Garrett of Texas A&M had the most sacks individually, recording 4 1/2 against UTSA to more than double his season total. He now has 8 1/2.
---
More AP college football: http://collegefootball.ap.org and https://twitter.com/AP-Top25
---