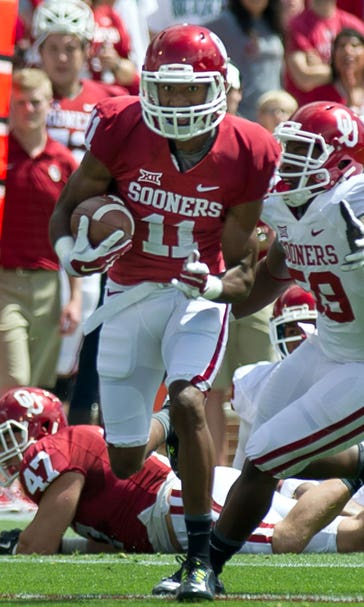 Sooners boast WR duo in ranking of Big 12's top 10
July 1, 2015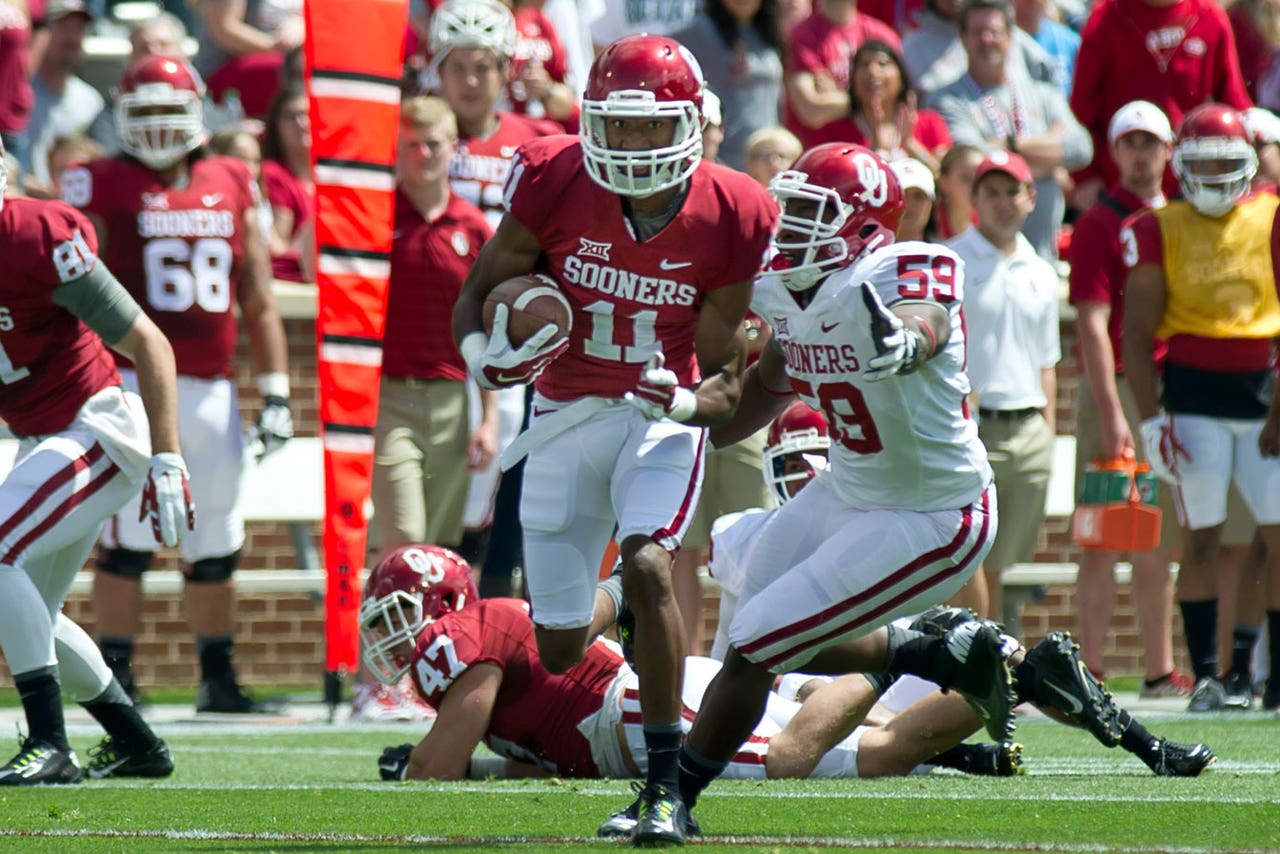 There are plenty of reasons to be intrigued by the Oklahoma Sooners' return to the Air Raid offense in 2015.
New offensive coordinator, young whiz kid Lincoln Riley, seems to have an excellent grasp of what he wants to do. Sophomore running back Samaje Perine could be the best back in the country. Now imagine if Riley can get the best out of quarterback Baker Mayfield, or even a revitalized Trevor Knight. OU could be really be cooking.
Yet there's still one missing element, an area that struggled last season, and that's a dominant, play-making wide receiver (or receivers).
That story could be much different this season, which should add to the excitement of what might be to come for the Sooners' new offense.
In a ranking of the Big 12's top 10 receivers by Horns Digest, two OU receivers made the list, veteran Sterling Shepard (ranked No. 3), whose 2014 was cut short by injuries, and Dede Westbrook (No. 10), a junior-college transfer who has turned heads since his arrival in Norman.
The Sooners are one of four teams to put the two receivers on the list. Baylor has two in the top four (No. 1 Corey Coleman and No. 4 KD Cannon). TCU has two in the top six (No. 2 Josh Doctson and No. 6 Kolby Listenbee), as does Texas Tech (No. 7 Jakeem Grant and No. 9 Devin Lauderdale).
Oklahoma State (No. 5 Brandon Sheperd) and Iowa State (No. 9 Allen Lazard) each have one.
Sooners fans might note that their Red River rival in Austin, which is also transitioning to an up-tempo, spread offense, had no players make the cut. Sooners fans will also note that former OU receivers coach Jay Norvell is now doing the same job at Texas.
Shepard, now a senior, could have a banner year in Riley's offense, which promises to throw the ball a lot. And with Perine in the backfield, he should only help that cause by keeping defenses honest. Shepard led a mediocre Sooners receiving corps in 2014 with 51 receptions for 970 yards and five touchdowns.
Westbrook is the lone player on the list who wasn't with his current team last year. Probably nobody is happier to see his arrival than Shepard, who will look forward to the explosive Westbrook forcing defenses away from ganging up on Shepard.
(h/t Horns Digest)
Photo Credit: Rob Ferguson-USA TODAY Sports
---
---