Washington State Cougars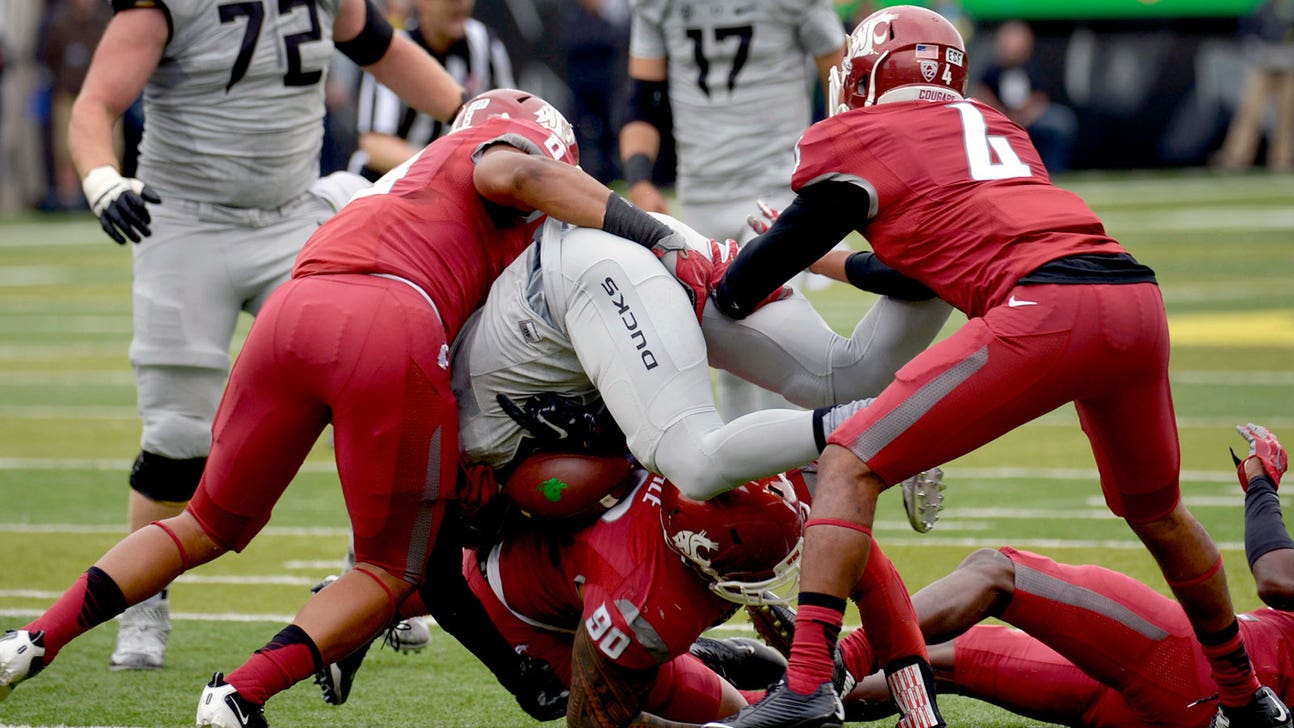 Washington State Cougars
Sad ducks: Washington State upsets Oregon in double overtime
Published
Oct. 10, 2015 10:29 p.m. ET

EUGENE, Ore. -- Washington State quarterback Luke Falk held his breath on his final touchdown pass against Oregon.
Falk threw for season-high 505 yards and five touchdowns, including a momentary nail-biter that turned out to be the game winner, and the Cougars snapped an eight-game losing streak to the Ducks with a 45-38 victory in double overtime on Saturday.
Knotted at 38, an unnecessary roughness foul on the Ducks helped Washington State get closer in the second OT. Then Falk threw to River Cracraft who was tackled at the goal line and the ball popped into the hands of Robert Lewis for a 4-yard touchdown.
The play stood on review, and Oregon's subsequent drive ended in an interception -- sending the Cougars rushing onto the field at Autzen Stadium in celebration.
"I thought (Cracraft) was in because I thought he broke the plane," Falk said. "And then I saw it bounce up and thought `Oh crap.' But Robert was right there."
The game-winning TD even had Cougars coach Mike Leach confused for a moment.
"Just from where I was sitting it looked like River scored right away, end of the story," Leach said. "Well, then the ball never touched the ground and Robert Lewis got it."
Falk had marched Washington State (3-2, 1-1 Pac-12) downfield in the final two minutes of regulation, capping the drive with an 8-yard pass to tie the game at 31 and send it to overtime.
Jeff Lockie hit Bralon Addison with a 9-yard touchdown pass for the Ducks (3-3, 1-2) on the opening possession of the extra period. The Cougars answered with Falk's close 1-yard keeper that again tied the score.
Royce Freeman ran for a career-high 246 yards and two touchdowns, and also caught a TD pass, for Oregon.
"We have two choices," Freeman said afterward. "You can go downhill and give up, or you can get back together and refocus. We'll see what this team has Monday."
Vernon Adams Jr., who was named Oregon's starting QB just prior to the beginning of the season, broke the index finger on his throwing hand in the Ducks' opener against his former team, Eastern Washington. A standout for the Eagles for the last three seasons, Adams transferred to Oregon for his year of eligibility.
In his place, both Lockie and Taylor Alie have rotated. Lockie shouldered most of the load, throwing for 123 yards and two touchdowns.
Both QBs leaned on Freeman, just as they had in last week's 41-24 victory at Colorado when he ran for 163 yards and two scores. Freeman ran for 135 yards and a touchdown against Washington State in the first half alone.
Falk threw a 7-yard touchdown pass to Gabe Marks on Washington State's first series of the game. Marks has been seeing a lot of action in Leach's pass-heavy offense, going into the game with an average of 91 yards receiving per game, and leading the Pac-12 with an average of 8.3 catches per game.
He finished with eight catches for 111 yards against the Ducks.
Oregon was ranked 114th in the nation for passing yards allowed going into the game, allowing an average of 287.2 yards a game.
The Ducks attempted to switch things up against the Cougars, playing wide receiver Charles Nelson at safety at times. It was the sophomore's first career appearance on defense, although he played on D during the Spring Game. Nelson also played at receiver and on special teams during the game.
Oregon's initial drive ended with a 26-yard field goal from Aidan Schneider.
Oregon switched to Alie midway through its second series, and he ran 8 yards for a touchdown to give Oregon a 9-3 lead.
After Freeman's 2-yard touchdown run, Falk hit Marks again with a 4-yard scoring pass just before the break to cut Oregon's margin to 17-14 at halftime.
Falk gave the Cougars a 21-17 lead early in the third quarter with a 27-yard touchdown pass to Tavares Martin.
But Freeman caught a 17-year scoring pass from Lockie that put the Ducks back in front 24-21. He added a 1-yard scoring run early in the fourth quarter.
Erik Powell added a 22-yard field goal for the Cougars before Falk's game-tying drive.
Oregon wore a gray theme uniform paying tribute to the state of Oregon, which featured an image of explorers Lewis and Clark -- along with the Duck -- on the helmet.
The Ducks, who went to last season's national championship game, fell out of the AP rankings after losses earlier this season to Michigan State and Utah.
---
---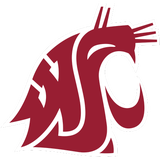 Get more from Washington State Cougars
Follow your favorites to get information about games, news and more
---