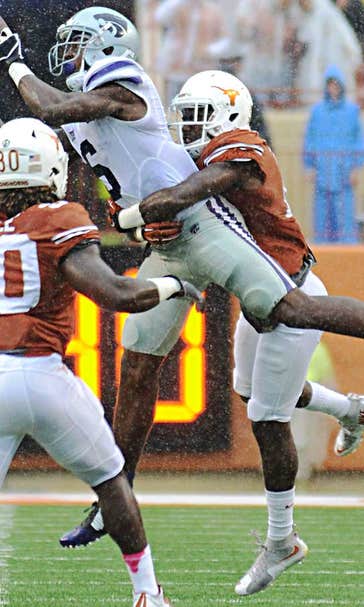 Now that's starting to look more like a Charlie Strong defense
October 29, 2015

It appeared nothing could save a clueless Texas defense after TCU almost effortlessly posted 50 points. Of course, Notre Dame and Cal had combined for 83 points before that.
But since that TCU loss that sent Texas spiraling to 1-4, coach Charlie Strong's defense has sparked to life. Strong has built his reputation on hard-nosed defenses, and finally this Longhorns team might be starting to resemble the unit that kept Texas afloat last season and enabled it to reach a bowl game.
In the last two games, both wins over Oklahoma and Kansas State, the Texas defense has allowed 26 total points. 
"I told our guys before we played Kansas State, 'we're still a 2-4, guys, let's not get full of ourselves. I know we just beat Oklahoma. But we still got to go play,' " Strong said Tuesday during his weekly press conference. We have to be consistent. We have to continue to play out."
Several key statistics tell the story of Texas' improved defense: Bowing up on third down, limiting big gains, an improved pass rush and staunch run defense.
Earlier in the season, the defense couldn't get off the field on third down, and consequently fatigued itself. OU and K-State were just 7-for-26 combined on third-down conversions.
Part of the reason is Texas is putting opponents in tougher third downs thanks to a run defense that allowed just 2.7 yards per carry against OU and K-State, two teams that possess tough run games.
Through the first five games, Texas managed just five sacks. Defensive coordinator Vance Bedford has said the opportunities for sacks were there, but that plays just didn't get completed. That's changed lately with 11 sacks in the last two games and six against OU's Air Raid offense.
Finally, big plays can be devastating plays, as TCU showed over and over again. But on a whole, Texas has improved. It allowed just one play more than 50 yards in the last two games and just one more than 20 yards against Kansas State last week.
With a defense that can get off the field on third down helping a ball-control offense, Texas is creating an old-school formula to winning football games.
(h/t SB Nation)
---
---