Jacksonville State Gamecocks
Jacksonville State Gamecocks
No. 7 William & Mary riding high as playoffs near
Published
Nov. 16, 2015 1:13 p.m. ET

(STATS) - William & Mary hasn't been in a giving mood all season, so the last thing the first-place team in CAA Football wants to do is share a conference title.
Having maintained its No. 7 ranking in Monday's STATS FCS Top 25, the Tribe will try to gear up for the upcoming FCS playoffs by claiming an outright championship this weekend.
Many other FCS teams also are jockeying for position in conference title races and for playoff bids. The focus was evident Saturday, when for only the second time in this unpredictable season all of the top eight teams in the national media poll went without a loss. As a result, the new rankings looked similar to the old ones - with overwhelming No. 1 Jacksonville State leading the way.
Included in the status quo was another win by William & Mary - 31-17 over surging Towson - for the Tribe's sixth in a row to push them to 8-2.
"Last week we were just focusing on getting No. 8. I'm sure this week they're going to talk about focusing on getting No. 9," coach Jimmye Laycock said. "It's kind of like a golf game. You go out each hole and then add 'em up at the end and hope you did well."
One of the keys to the team's big season is how well the Tribe have held onto the ball. They have more wins than turnovers - seven - which is fewer in the FCS than only fifth-ranked South Dakota State.
With senior quarterback Steve Cluley, who has thrown 13 touchdown passes but only two interceptions, directing an efficient offense, William & Mary has clinched at least a share of its first CAA title since 2000.
It can claim its first outright title since 1996 in the old Yankee Conference with a victory at No. 14 Richmond on Saturday - the final day of the conference season. A win by Richmond, though, would create a three-way share of the CAA title between those two rivals and either No. 12 James Madison or Villanova, which play each other as well.
But make no mistake, the Tribe is not in a sharing mood.
Neither is No. 1 Jacksonville State (9-1), which doubled up Southeast Missouri State 56-28 on Saturday for its eighth straight win. The Gamecocks, who have now been No. 1 for 10 straight weeks, will finish the regular season by hosting Murray State with a chance to complete a second straight perfect season in Ohio Valley play. Only Eastern Illinois can catch coach John Grass' squad for a share of the conference title, but the Gamecocks have no interest in that as they also look to earn the top seed for the 24-team playoffs, which will be announced Sunday morning.
"I'm excited to be sitting in the position that we're in. Now we just have to finish it out," said Grass, whose team gained 145 of the 156 first-place votes (92.9 percent) in the Top 25.
Eleven FCS conferences were represented in the rankings, led by the Big Sky for the first time this season with five teams.
After Jacksonville State, the rest of the Top 10 was North Dakota State (9-1), the four-time defending FCS champion; McNeese State (9-0), which received 10 first-place votes; Coastal Carolina (9-1); South Dakota State (8-2); Illinois State (8-2); William & Mary; Chattanooga (8-2); Charleston Southern (9-1), which received a first-place vote for the first time this season; and Sam Houston State (7-3).
Portland State (8-2), coming off a big win over Southern Utah, was the first Big Sky team in the rankings at No. 11. The Vikings were followed by James Madison (8-2), Fordham (9-2), Richmond (7-3), Northern Iowa (6-4), North Carolina A&T (9-1), Montana (6-4), Eastern Washington (6-4), Harvard (8-1) and Southern Utah (7-3).
Rounding out the rankings were No. 21 Dartmouth (8-1); Grambling State (8-2); Eastern Kentucky (6-4); Northern Arizona (7-3), whose fourth straight win moved it back into the Top 25 for the first time since Sept. 14; and The Citadel (7-3).
Youngstown State (5-5) fell out of the rankings after its loss to North Dakota State dropped it to .500.
A national panel of sports information and media relations directors, broadcasters, writers and other dignitaries select the STATS FCS Top 25. In the voting, a first-place vote is worth 25 points, a second-place vote 24 points, all the way down to one point for a 25th-place vote.
The Top 25 is released every Monday afternoon during the regular season, except for Sunday morning, prior to the selection of this year's 24-team FCS playoff field. A final Top 25 will follow the FCS championship game, which will be held Jan. 9 in Frisco, Texas.
---
---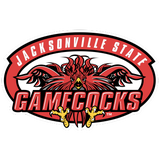 Get more from Jacksonville State Gamecocks
Follow your favorites to get information about games, news and more
---