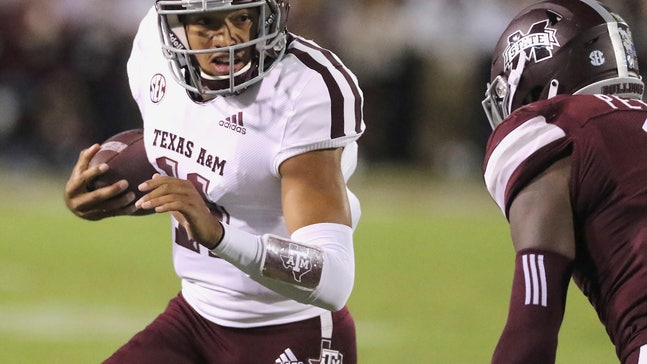 No. 25 Texas A&M, Auburn square off in SEC matchup
Updated
Mar. 4, 2020 12:41 p.m. ET
AUBURN, Ala. (AP) — A national championship was on the line the last time Jimbo Fisher and Gus Malzahn stalked opposing sidelines.
This time, they'll settle for forging a strong November.
Fisher and No. 25 Texas A&M (5-3, 3-2 Southeastern Conference) hope to rebound Saturday against Auburn (5-3, 2-3) and Malzahn, who's trying to salvage a disappointing season.
The present is of far more concern for both coaches, but they last met when Fisher's Florida State team rallied to beat the Tigers 34-31 in the national title game to end the 2013 season.
"I think it was one of the great memories in my career as far as being able to be part of a team that overcame a lot of adversity in as critical a situation as you can possibly be in," Fisher said. "I mean, that was big a moment as there is."
This one's not nearly as big, but it is important for both teams.
Once a top 10 team, the Tigers are far from assured of a winning record if they lose this game, since road trips to No. 6 Georgia and No. 1 Alabama await.
But the Tigers had an open date to work on problems, including for quarterback Jarrett Stidham and the offense. Auburn is 7-0 under Malzahn after open dates.
"Really, it sounds simple, but it's about execution," he said. "We've just got to execute better around (Stidham). He needs to execute better. That's really our plan. It was good for us to sit back and look and evaluate the whole first eight games and try to build around our strengths and things we can do to be successful, and I feel like that will help us with that plan moving forward."
The Aggies are trying to rebound from a 28-13 loss to Mississippi State and also forge a strong finish.
"The last four games of the season, we have to make a change and make a statement about who we are as a team," Texas A&M wide receiver Camron Buckley said.
Here are some other things to know about this game:
ROAD TEAM WINS
The road team has won all six Texas A&M-Auburn games since the Aggies joined the SEC. In fact, Texas A&M's 63-21 drubbing of the Tigers in 2012 marks the most points a visitor has scored at Jordan-Hare Stadium.
THIRD DOWN
Auburn's offense has already struggled converting third downs and faces an even more difficult challenge in that regard. The Tigers rank 12th in the SEC on third downs at 37.2 percent. Texas A&M's defense leads the league and is seventh nationally in opponents' third down conversion (27.5 percent).
HARD RUNNING
Auburn's inconsistent running game already faced a huge test against the league's top run defense. But the Tigers could be without leading rusher JaTarvious Whitlow, who has an apparent leg injury. Auburn's ground game is 11th-best in the SEC.
RUNNING QBS
Texas A&M quarterback Kellen Mond's mobility could be a weapon in this game given Auburn's difficulty in stopping dual-threat QBs. Mississippi State's Nick Fitzgerald ran for 195 yards against the Tigers. Mississippi's Jordan Ta'amu torched them for 324 passing yards and had some success on the ground, too.
DAMEYUNE'S HOMECOMING
Former Auburn quarterback and assistant coach Dameyune Craig returns to Jordan-Hare Stadium as receivers coach under Fisher, his former position coach. Craig played for the Tigers from 1993-97 and once coached the same position there.
"He was one of the great quarterbacks in (Auburn) history, I think," Fisher said.
---
---