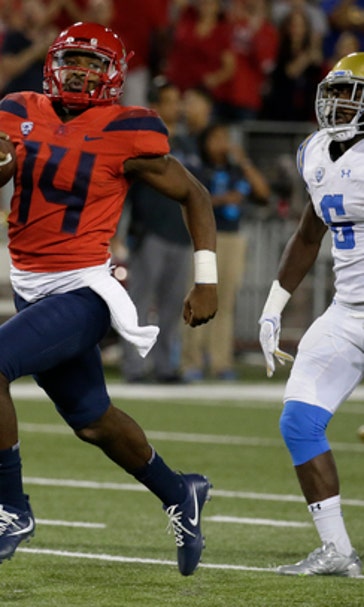 No. 23 Arizona's Tate proving to be unstoppable
November 1, 2017

TUCSON, Ariz. (AP) Khalil Tate kept the ball on a zone read and raced around Colorado's defensive end, quickly widening the gap with each cheetah-like stride.
A defensive back had the angle on Arizona's quarterback around the 10-yard line, but Tate broke through his arm tackle, cut at almost a right angle to avoid another tackler and left a final one futilely diving at his feet as he crossed into the end zone.
Tate has kept running from there, leaving defensive players scattered behind him as he races off to what could turn into an unprecedented run to the Heisman Trophy.
''That young man is dynamic and he changes the game,'' UCLA coach Jim Mora said after Tate ran for 230 yards and threw for 148 more against the Bruins. ''You have to defend him every single play. He makes you miss and when he gets in the open field he is spectacular.''
Tate played in seven games - one start - as a freshman, throwing for 243 yards and three touchdowns, rushing for 237 more. He opened this season as the backup to Brandon Dawkins, appearing in Arizona's first two games without much impact.
Once Dawkins went down with an injury in the first offensive series against Colorado on Oct. 7, Tate took the ball and ran.
The sophomore broke the FBS single-game rushing record for a quarterback against the Buffaloes, running for 327 yards and four touchdowns. Tate threw for 154 more and another score in the 45-42 victory.
No one has been able to catch him since.
In October, Tate rushed for 840 yards and eight touchdowns. His rushing total in those four games was more than seven FBS teams have all season and his 154.3 yards per game is third nationally. He's also 12th in the FBS with 926 yards rushing, most of which came in four games.
Tate's run has been so good even LeBron James noticed.
''Sheesh!!!'' the Cleveland Cavaliers star replied to an Instagram post about Tate breaking the QB rushing record.
What's made it most impressive is that teams know what Tate and the Wildcats are going to do, yet still can't stop him.
A week after breaking the rushing record, Tate ran for 230 yards and a pair of scores while throwing for 148 and a TD in a victory over UCLA. He accounted for 303 yards - 137 rushing - and three scores in a win against California and last week lit up then-No. 16 Washington State for 421 total yards and three scores.
''I knew what I was capable of,'' Tate said. ''And I knew if I got the opportunity, I would show it.''
He certainly has.
Tate has a run of 70-plus yards in four straight games and seven touchdown runs of at least 45 yards. His shortest scoring run is 28 yards.
He was named the Pac-12 offensive player of the week for the fourth straight week Monday, a conference record. Tate also was named one of 18 semifinalists for the Maxwell Award, given to the nation's top player, and has thrust himself into the Heisman Trophy conversation.
''Khalil Tate for Heisman. The dude is electric,'' Arizona tight end Jamie Nunley said. ''You think he's going to be tackled for a loss and I don't know how he gets out of it. He's a little squirrel.''
Tate's exploits have led to an unexpected turnaround in Tucson.
Arizona finished 3-9 last season and was picked to finish last in the Pac-12 South. Coach Rich Rodriguez was considered to be on the hot seat and another middling season might have ended his tenure in Tucson.
But behind Tate and a better-than-expected defense, Arizona has been one of the biggest surprises in college football.
The Wildcats (6-2, 4-1 Pac-12) moved into The Associated Press Top 25 for the first time in two years at No. 23 this week and have a chance to take the Pac-12 South lead on Saturday against No. 17 Southern California.
''I'm really proud that our guys put themselves in a position now to be more relevant and have a lot at stake the last month of the season,'' Rodriguez said.
Tate has helped up the ante in a short amount of time.
---
More AP college football: www.collegefootball.ap.org and https://twitter.com/AP-Top25
---
---