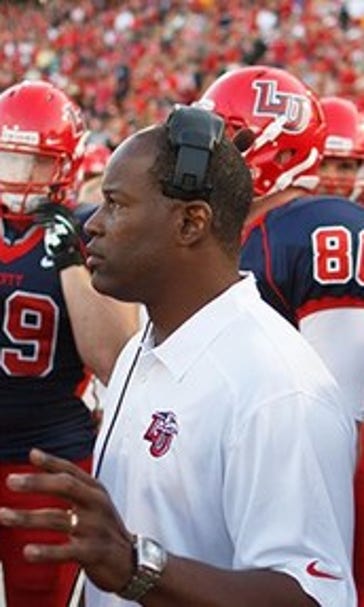 Liberty to become FBS independent in 2018
February 16, 2017

(STATS) - Let there be Liberty in the FBS.
Liberty received notification from the NCAA on Thursday that its football program has been approved for reclassification to the FBS. The Flames will play their final FCS season as a member of the Big South this year, compete as a FBS independent in 2018 and be bowl eligible in 2019.
They won't be eligible for the Big South title or an FCS playoff berth in 2017.
Although it has yet to receive an invitation to join a FBS conference, the private, nonprofit Christian university located in Lynchburg, Virginia, submitted a waiver to the NCAA last month requesting relief to enter in the two-year FBS reclassification process. An NCAA academic and membership affairs staff determined Liberty was ready for the move following feedback from the NCAA's Division I strategic vision and planning committee, football oversight committee and office of legal affairs.
"Today is truly historic for Liberty University," school president Jerry Falwell said. "This university aspired to compete at the highest levels of NCAA competition and began working toward that dream and vision from the day of its founding in 1971. We are deeply grateful to NCAA leadership and staff for considering this request and for acknowledging Liberty's readiness and the appropriateness of Liberty now moving to FBS football status as an independent."
Liberty has won eight Big South championships in the last 10 seasons, including a share of the 2016 title under coach Turner Gill. The Flames appeared in the FCS playoffs for the first time in 2014 and advanced to the second round.
Their on-campus Williams Stadium was renovated to 19,200 capacity in 2010. They averaged 16,377 over six home games last season, ranking ninth in the FCS.
Liberty will have to rework or cancel some future contracts. It is required to have at least three FBS home games in 2018 and five in 2019.
The Flames' departure will have the Big South restructuring again. It will remain at six members when Campbell joins Charleston Southern, Gardner-Webb, Kennesaw State, Monmouth and Presbyterian in 2018. North Alabama will reclassify from the Division II level and become a member in 2019.
---
---