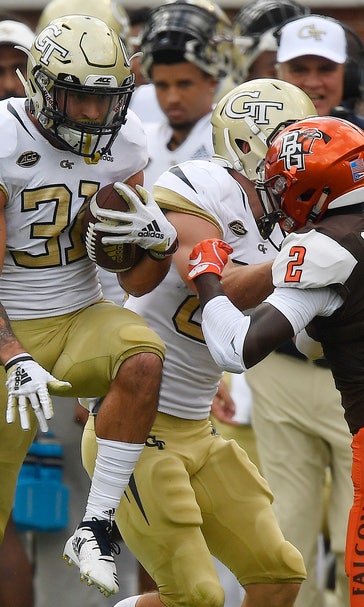 Georgia Tech rushes for 372 yards, tops Bowling Green, 56-17
September 29, 2018
ATLANTA (AP) — There were all kinds of moving parts Saturday in Bobby Dodd Stadium, where Georgia Tech rushed for touchdowns the first seven times it had the ball, yet the Yellow Jackets didn't so much surprise Bowling Green in a 63-17 win as they ran circles around the Falcons.
And threw over them. And blew threw them.
Tech (2-3) ran 31 fewer plays than Bowling Green (1-4) yet was never threatened while snapping a three-game losing streak and doubling the pass-happy Falcons in yards gained per play (9.5 to 4.5).
Nobody was surprised that the Jackets ran the ball 88 percent of the time, racking up 372 rushing yard on 49 carries. That's what they do; Tech entered the game ranked No. 3 nationally in rushing at 331 yards per game. Plus, Bowling Green came in last the nation against the run, giving up 333.5 yards.
There were a few surprises, too, like when Johnson called a passing play on Tech's first snap, and senior TaQuon Marshall connected with wide receiver Jalen Camp for 33 yards.
"I was pretty shocked because normally we go into a running play," said Camp, who on Tech's next possession pulled in a 37-yard reception on a day when Marshall completed 5-of-6 passes for 160 yards — 32 yards per completion.
Bowling Green never figured out Tech's spread-option offense, especially the triple option plays. They were so flummoxed and under-sized that coaches subbed in reserve offensive lineman Tim Blair (who's 6-foot-6, 285 pounds) on defense to try to slow the pounding.
"We still haven't gotten a stop . . . " Bowling Green coach Mike Jinks said. "We knew they would pose a problem with their scheme and having a limited time to prepare for it."
Tech did most of the running with quarterbacks Marshall and Tobias Oliver and fullback Jordan Mason scoring a pair of touchdowns each on the ground.
Bowling Green rushed for one yard in the first half, when Tech took a 28-10 lead. The Falcons made most of their progress through the air, where sophomore Jarret Doege completed 27-of-44 passes for 305 yards and a touchdown.
Tech scored as many touchdowns through Bowling Green passing game as the Falcons, and set up a couple other scores, too.
Linebacker Victor Alexander sacked Doege in the third quarter, forcing a fumble, and reserve end Antwan Owens returned that 21 yards to set up a 16-yard Tech drive for the Jackets' sixth consecutive rushing score.
In the fourth quarter, Tech linebacker David Curry intercepted a Doege pass in the end zone.
And on the Falcons' next drive a Doege pass was tipped into the air. Tech end Anree Saint-Amour chased it down, and returned the interception three yards for a touchdown.
"My eyes got real big . . . " Saint-Amour said after his first career score. "Desmond Branch made a great play on the ball, tipping it up there, and once I saw the ball I was like, 'Dang, this is my moment; catch the ball Anree.' "
For Tech, Saturday's greatest reward came not from the final score but in details as they snapped a three-game losing streak. The Jackets fumbled eight times a week earlier in a blowout loss to Clemson.
"Well, that's a lot more fun," said Tech coach Paul Johnson. "I thought offensively we were very efficient. We went back and tried to simplify and just make sure we do things the right way. I don't think we had a penalty on offense, and we might have had one bad snap but the ball was never out . . .
"That looked more like one of our football teams . . . I don't know that (Marshall) missed a read on the option."
THE TAKEAWAY
Bowling Green: Nobody can accuse the Falcons of scheduling down. They've also suffered lopsided non-conference losses of 58-24 at Oregon and 45-14 to Maryland. At least the program earned $900,000 for traveling to Atlanta.
Georgia Tech: The Jackets treated Bowling Green — Tech's first-ever opponent from Ohio — like a tune-up before returning to conference play for six consecutive ACC games, and it could hardly have gone better.
WHAT COULD HAVE BEEN
There wasn't much to be disappointed about for Georgia Tech, yet surely the Jackets were not happy to see freshman Juanyeh Thomas' 96-yard kickoff return called back in the third quarter. Sophomore Bruce Jordan-Swilling was called for holding.
LYNCH PINS NAME IN RECORD BOOK
With a 41-yard reception in the second quarter, senior wingback Clinton Lynch became the first player in Georgia Tech history to bank 1,000 career rushing yards (1,138) and 1,000 career receiving yards (1,015). He has averaged 9.3 yards per rushing play, and 27.4 yards on 37 receptions.
"I was really listening in for the announcer . . . once he said like '40-something' I knew I did it," Lynch recalled. "I had my little moment and just went out to the next play.
UP NEXT
Bowling Green: With a rare Friday game, the Yellow Jackets return to ACC action at Louisville.
Georgia Tech: The Falcons will dig back into a Mid-American Conference rivalry when they travel 25 miles to play Toledo next Saturday.
__________
More AP college football: https://apnews.com/tag/Collegefootball and https://twitter.com/AP_Top25
---
---