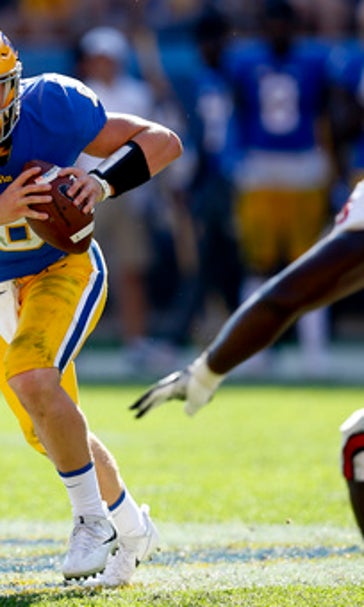 DiNucci? Pickett? Pitt still searching for answers at QB
October 16, 2017

PITTSBURGH (AP) Pat Narduzzi is intent on creating a competitive atmosphere at every position on his team. Especially quarterback.
So the Pittsburgh coach is hardly apologetic about his unusual approach for handling a carousel that shows no signs of slowing even as Halloween approaches.
''I guess we're odd,'' Narduzzi said Monday.
At the beginning of the season he kept shuttling between Max Browne and Ben DiNucci. With Browne now out for the year with a right shoulder injury , DiNucci now finds himself splitting snaps with true freshman Kenny Pickett, an arrangement Narduzzi will keep in place until someone - anyone - lays claim to the starting spot for good.
While DiNucci will run out with the first team on Saturday when the struggling Panthers (2-5, 0-3 ACC) travel to Duke (4-3, 1-3), what happens after the opening series is anyone's guess, Narduzzi seemingly included.
''Ben will be our guy, and then we'll see how it goes from there,'' he said.
DiNucci worked into the third quarter last weekend against N.C. State before Narduzzi made the unorthodox move of going to Pickett with the Panthers trailing by just a touchdown. Pickett moved around the pocket effectively but the Panthers managed just a field goal during his three series. When DiNucci finally returned, the game was well out of reach.
''I've never necessarily been in a situation like this,'' DiNucci said after completing 19 of 32 passes for 170 yards with a touchdown and an interception. ''I think, you know, the biggest thing like I said is just control what I can control. Try to make plays, move the sticks and score points and when I'm not, support whoever is in the game.''
Pickett allowed it's ''different'' being unsure of how you're going to be used in a given week.
''I'm not used to it and neither are the other quarterbacks, but you adjust to it and you go from there,'' Pickett said.
Pickett is also grateful for the opportunity. Pitt planned on redshirting him before Browne hurt his shoulder in a loss to Syracuse and DiNucci was forced to sit out the final play from scrimmage after his helmet came off on the penultimate snap.
Just like that, Pickett found himself in the mix. He completed 5 of 13 passes for 61 yards and tied for the team lead in rushing with 18 yards against the Wolfpack, drawing raves from his teammates for his poise.
''He came in and said, `What's up? Let's go,''' tackle Brian O'Neill said. ''As a lineman, you're kind of excited about that, a freshman coming in and he doesn't care about the moment. He didn't get all rigid and scared and nervous per se. He let it fly and we knew that's kind of how it is and I give him a lot of respect for that.''
Narduzzi said the gap between DiNucci and Pickett isn't substantial. He'd like it to be one way or another. It isn't. Until it is, he's going to keep the pressure on. He initially planned to put Pickett in earlier against N.C. State, but DiNucci started off so well he didn't see the need.
Three empty series to open the second half changed Narduzzi's mind.
''It comes down to consistency,'' Narduzzi said. ''Again, it's not just quarterbacks. As I've told Ben, we've got to run the ball. ... The poor kid can't do it all by himself.''
The Panthers are currently 10th or worse in the ACC in nearly every major offensive statistical category. The running game, a serious strength during consecutive eight-win seasons in 2015 and 2016, is averaging just 113 yards a game. Pitt managed just 95 on the ground against N.C. State even though Narduzzi finally settled on five offensive linemen for the first time.
The quarterback is an issue. For a team in danger of missing a bowl game for the first time in a decade, there's plenty to go around.
''We talk way too much about the quarterback,'' Narduzzi said. ''There's some other things that we should be talking about, too.''
---
More college football: http://collegefootball.ap.org and https://twitter.com/AP-Top25
---
---