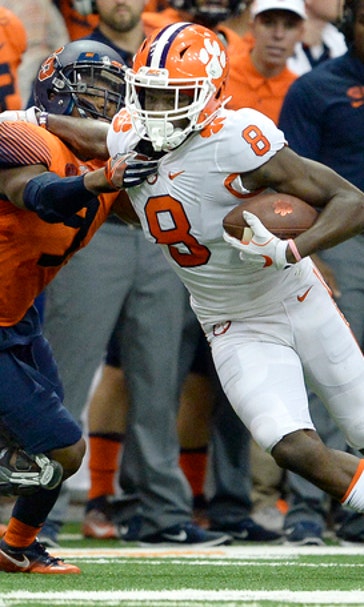 Coach Swinney goes back to drawing board after Clemson loss
October 16, 2017

COLUMBIA, S.C. (AP) Clemson coach Dabo Swinney has already started breaking down every aspect of his program since the seventh-ranked Tigers surprise loss to Syracuse this past Friday night.
''It's been a long weekend,'' Swinney said Monday.
Clemson (6-1, 4-1 Atlantic Coast Conference) is off this week before hosting Georgia Tech on Oct. 28. During the break, Swinney hopes to uncover why the defending national champions, who were more than a three-touchdown favorite, instead were outplayed across the board in a 27-24 loss.
''The bottom line is we really did a poor job. We really did a poor job as coaches,'' Swinney said. ''Flat out got our butts kicked.''
That was a big reason why Swinney stepped into the Syracuse locker room during the Orange celebration to congratulate the winners. Swinney said the Syracuse and visiting team's locker rooms are right next to each other and he wanted the Orange to know firsthand from him how well they played.
''I was happy for those guys,'' he said.
Now, Swinney's got to rediscover that happy feeling for the Tigers, who were held to their second-lowest total of the season with 304 yards of offense. A big reason was quarterback Kelly Bryant leaving the field early for a second consecutive game. This time, Bryant was diagnosed with a concussion after getting tackled in the second quarter. That followed his sprained ankle in the third quarter of a win over Wake Forest on Oct. 7.
Swinney said Bryant has ''responded well'' since Friday night's injury and he expected him back at practice later in the week.
''We'll be really cautious with him this week,'' Swinney said.
The offense showed how dependent it was on Bryant's play: the Tigers attack and backup quarterback Zerrick Cooper accounted for one touchdown after Bryant left. Cooper threw for 88 yards and was sacked three times. Swinney was asked why highly regarded freshman Hunter Johnson, the third-stringer, did not get in with Cooper struggling to move the ball.
Swinney said quarterback coach Brandon Streeter believed Cooper gave Clemson the better chance to win. The coach said also the Tigers had their fewest snaps of the season with 57 plays and did not get the chance to go very deep on substitutions.
This week will be one of self study and correcting mistakes for the Tigers. The to-do list is long, but includes giving up too many penalties that kept Syracuse drives going and correcting defensive techniques if Clemson has hopes of winning the ACC Atlantic, the league title and returning to the College Football Playoff.
Syracuse ''saw they had a definite chance to win the game and we just didn't capitalize on the opportunities we had to make a comeback,'' Clemson defensive end Clelin Ferrell said.
Also in need of repair is Clemson's field goal kicking, which has been in disarray since a freak practice injury to national championship starter Greg Huegel cost him the rest of the season because of knee ligament damage. Backup Alex Spence missed two of three field goals at Syracuse and four of six since taking over the job last month.
Swinney said the place-kicking job is wide open. Spence is expected to compete with Christian Groomes for the starting job.
He believes his players have a good sense of what's necessary to accomplish after last year's surprise loss to Pitt 43-42 that followed a 10-0 start. The Tigers responded with five straight wins on the way to the national title.
Swinney got a welcome dose of perspective Saturday when he returned to his alma mater, Alabama, for the 25-year reunion of the Crimson Tide's 1992 national title team. Swinney, a reserve receiver for coach Gene Stallings, said he was warmly received by Tide fans, some who used his name like a curse nine months earlier after Clemson's win over Alabama.
''There was no place I wanted to be Saturday,'' he said. ''But it was what the doctor ordered.''
---
More college football coverage: http://collegefootball.ap.org and www.Twitter.com/AP-Top25
---
---