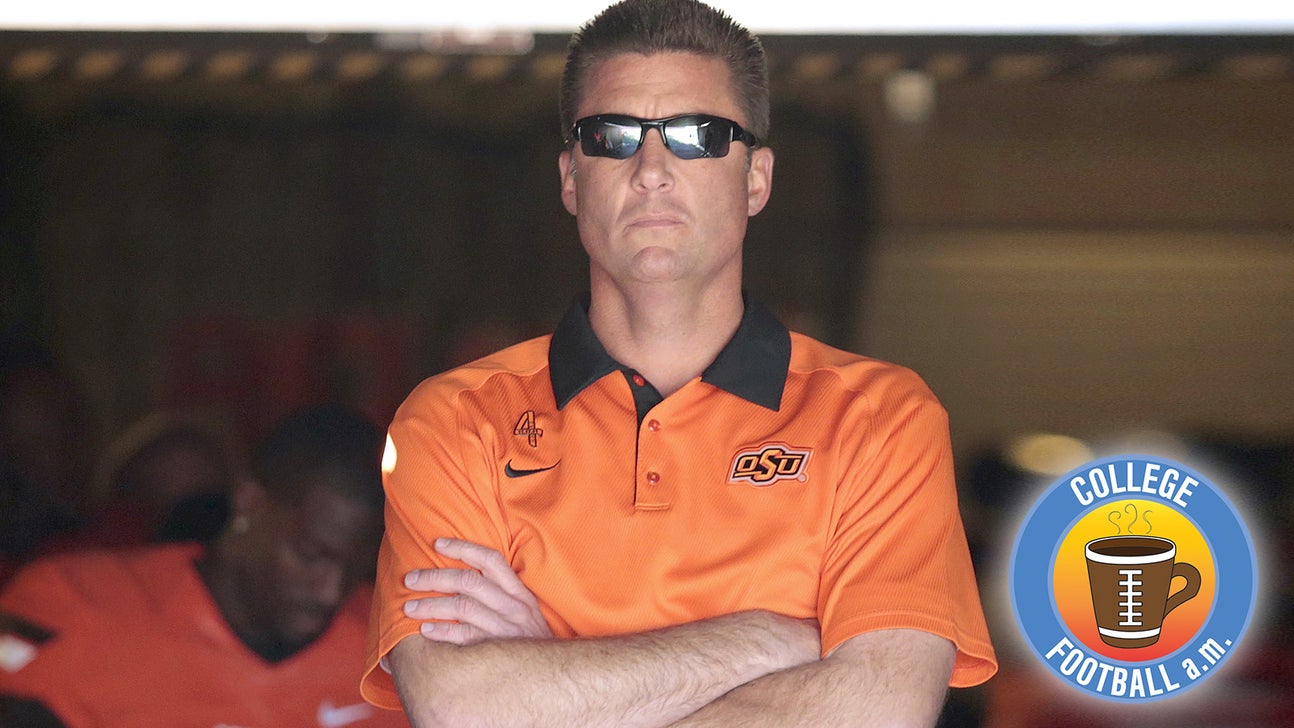 CFB AM: Meet the man who freed Oklahoma State from NCAA jail
Published
Aug. 1, 2014 9:00 a.m. ET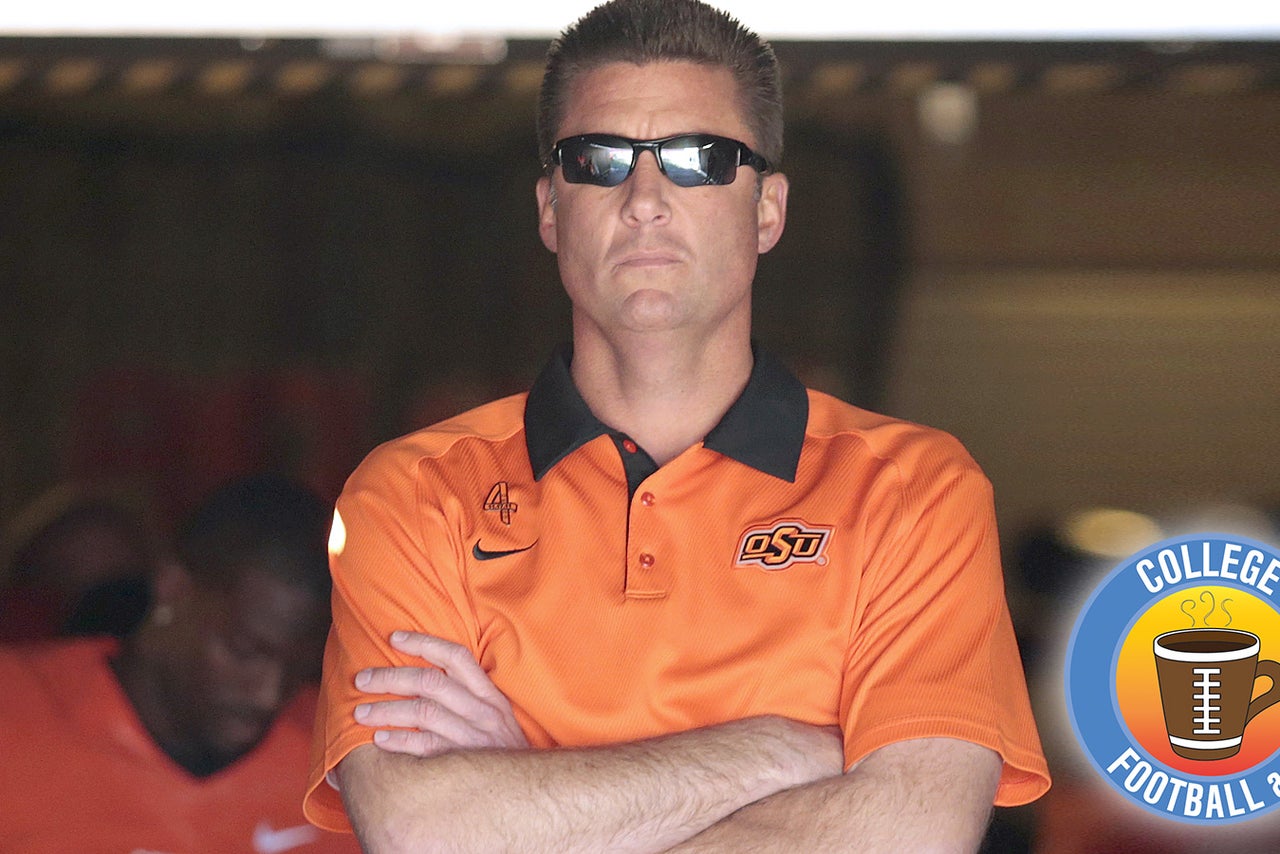 Twenty-three years ago, Larry Mahsetky made a promise to his mother.
He was a freshman walk-on receiver at Oklahoma State with dreams of becoming a sports broadcaster. All Susie Carey wanted was a degree.
Three classes short of graduation in 1996, Mahsetky received a job offer in information technology that he felt was too good to pass, so he left school and moved to Austin, Texas.
"After five years of being in school and being three classes short of graduation, my mother was not happy at all," Mahsetky told the Oklahoman. "But I gave her my word that I would go back and graduate."
He finally did in 2012, which in turn helped the Oklahoma State football team in a way Mahsetky could have ever imagined.
In May, the NCAA announced penalty of two hours and loss of a practice day this season for the Pokes due to a sub-standard APR score. Oklahoma State was one point short of satisfactory. Enter Mahsetky, a God-send of sorts.
From Kyle Fredrickson's story in the Oklahoman:
Mahsetky had no idea he was helping Oklahoma State until he saw the story on the news like everyone else and figured the unnamed player had to be him.
He didn't ever think about the impact the timing of his decision could have had. He was just trying to uphold the promise he made to his mother, and getting Oklahoma State out of NCAA sanctions was "icing on the cake."
Here's an interview of Mahsetky and his mother talking about his story. I'd encourage you to read the Oklahoman's piece for more detail.
THREE THINGS YOU NEED TO KNOW
1. The first coaches poll of the 2014 season was released on Thursday, and Florida State ran away with the No. 1 spot. The Noles secured 56 first-place votes, and Oklahoma (ranked No. 3) was second with three. Stewart Mandel has 10 teams who were wrongly ranked, including Auburn at No. 5, who he thinks should be higher and is a playoff team.
I'd lean more towards "properly ranked" with the Tigers, if not a couple spots too high, considering a defense that was questionable before losing DE Carl Lawson and the brutal schedule. But, as Stew emailed when we were discussing his high/low choices, Auburn will throw it better this year and might just be so frighteningly good on offense that they can overcome a suspect defense. Probably true. My rebuttal to that: Texas A&M (they're not equals, but just for reference: Auburn ranked 95th in yards per play allowed last season with 5.96, and A&M ranked 109th at 6.36). And, of course, those Aggies went 9-4 with the most transcendent offensive player college football has seen in some time. But we'll see; Stew IS a smart man.
2. Speaking of the Aggies, they unveiled their brand new Bright Football Complex, and it's incredible. TV's line the bathroom, wild graphics flash on large digital screens everywhere, there's a damn barber shop … I mean, watch this video and look at these pictures. The digs are so insane, and Texas A&M has so much going for it football-wise, that it legitimately begs the question: Can Kevin Sumlin become Nick Saban's true challenger on the recruiting trail?
3. Jameis Winston and his father have both hinted that 2014 might not be his last season at Florida State – the redshirt sophomore is eligible to enter the 2015 NFL Draft, where he'd be a coveted selection, if he wishes – because Winston's family wants to see him complete his college degree. Florida State believes Winston will be back next year so much so that it now has three QB commits in its 2015 class. So, yeah. Winston might one day get his degree, but in terms of the 2015 season in Tallahassee? He gone.
THREE THINGS YOU SHOULD KNOW
1. Could mean something, could mean nothing for FSU in 2014: As Laken Litman points out, no team in the past decade has won the national title after being ranked No. 1 in the coaches poll (USC would have done it in 2004 if its title wasn't vacated by the NCAA; to me, that counts, but whatever).
2. Former Ohio State D-lineman Tracy Sprinkle pleaded no contest to a bar-fight charge stemming from an incident in early July. Sprinkle, a redshirt freshman, is optimistic that Urban Meyer will reinstate him to the football program. Meyer left that possibility open when he dismissed Sprinkle from the team, although he hasn't indicated he'll indeed bring Sprinkle back.
3. A linebacker who planned to walk on at Miami this season as a graduate student died while diving for lobsters off Pompano Beach in Florida. Condolences to the Grosso family.
THREE THINGS YOU MAY WANT TO KNOW
1. Oregon is trying something, uh, innovative with its season tickets this season: They have a scratch-and-sniff Carl's Jr. logo on them that will actually give off the scent of a hamburger.
2. There are more details regarding TCU's Devonte Fields and the alleged assault he was involved in with an ex-girlfriend. Previously, the woman told police Fields pointed a gun at her during the incident and said, "I should blast you." Now, according to court documents, the woman recanted the claim that she "initially thought" Fields had a gun. Two things: 1) How is it unclear whether someone is pointing a gun at you or not? 2) That fact may help Fields in the case – he admits being at the scene but denies ever assaulting the woman – but it may not help him return to TCU's program. If you read this story, nothing in here looks good for Fields. It's an ugly incident all around, making Gary Patterson's decision difficult.
3. It hasn't been a great offseason of news for my alma mater, North Carolina. Glad the Tar Heels are opening up fall camp today.
LASTLY
* Arizona State banned kegs from its pregame tailgates. Sigh.
* Hey, Brady Quinn. Welcome.
* This is what spending two years in Ohio State player's strength and conditioning program will do for you:
Have a good weekend, all.
Teddy Mitrosilis is an editor and writer for FOXSports.com. Follow him on Twitter @TMitrosilis and email him at tmitrosilis@gmail.com.
---