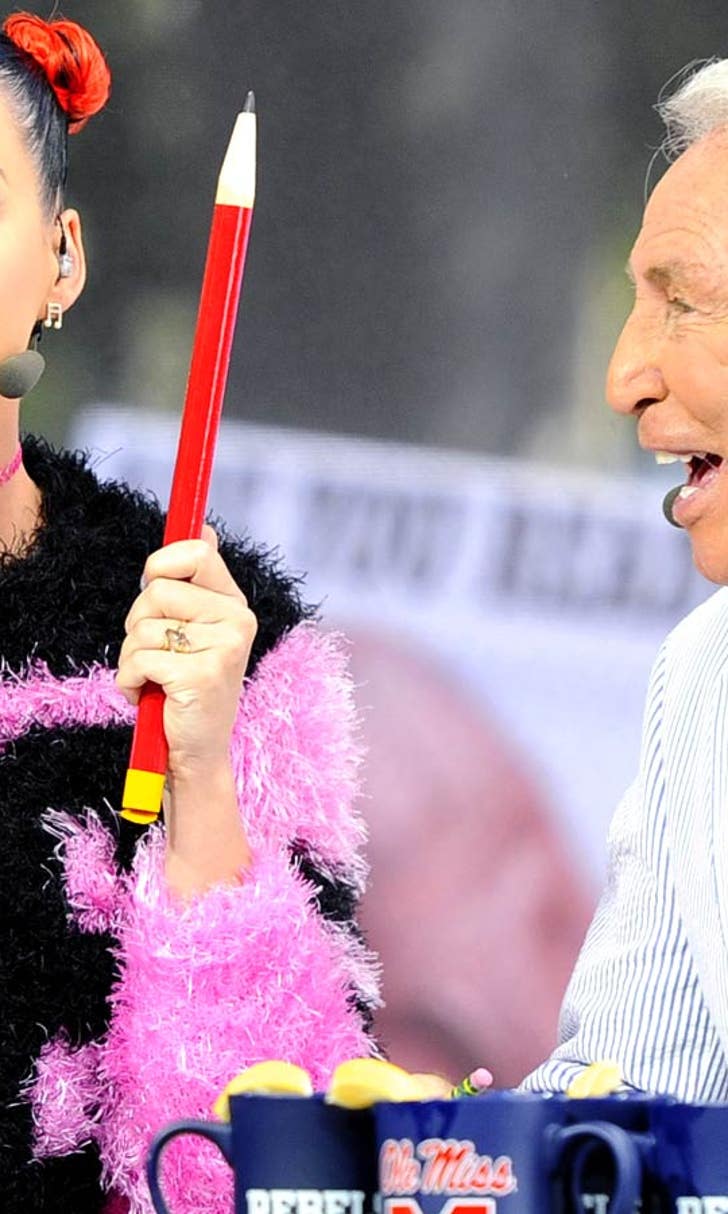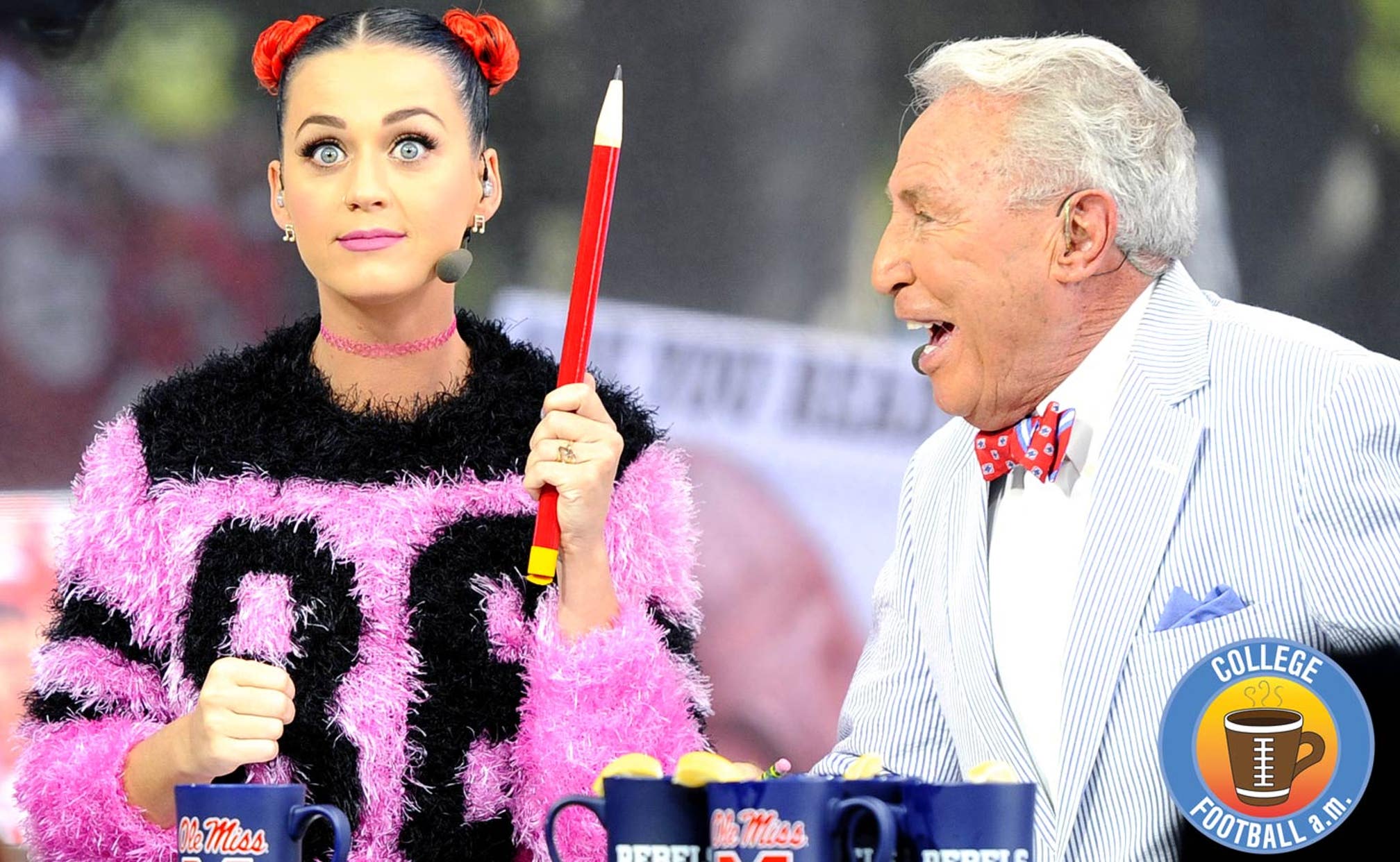 CFB AM: Katy Perry was seven points away from perfect Week 6 picks
BY Teddy Mitrosilis • October 5, 2014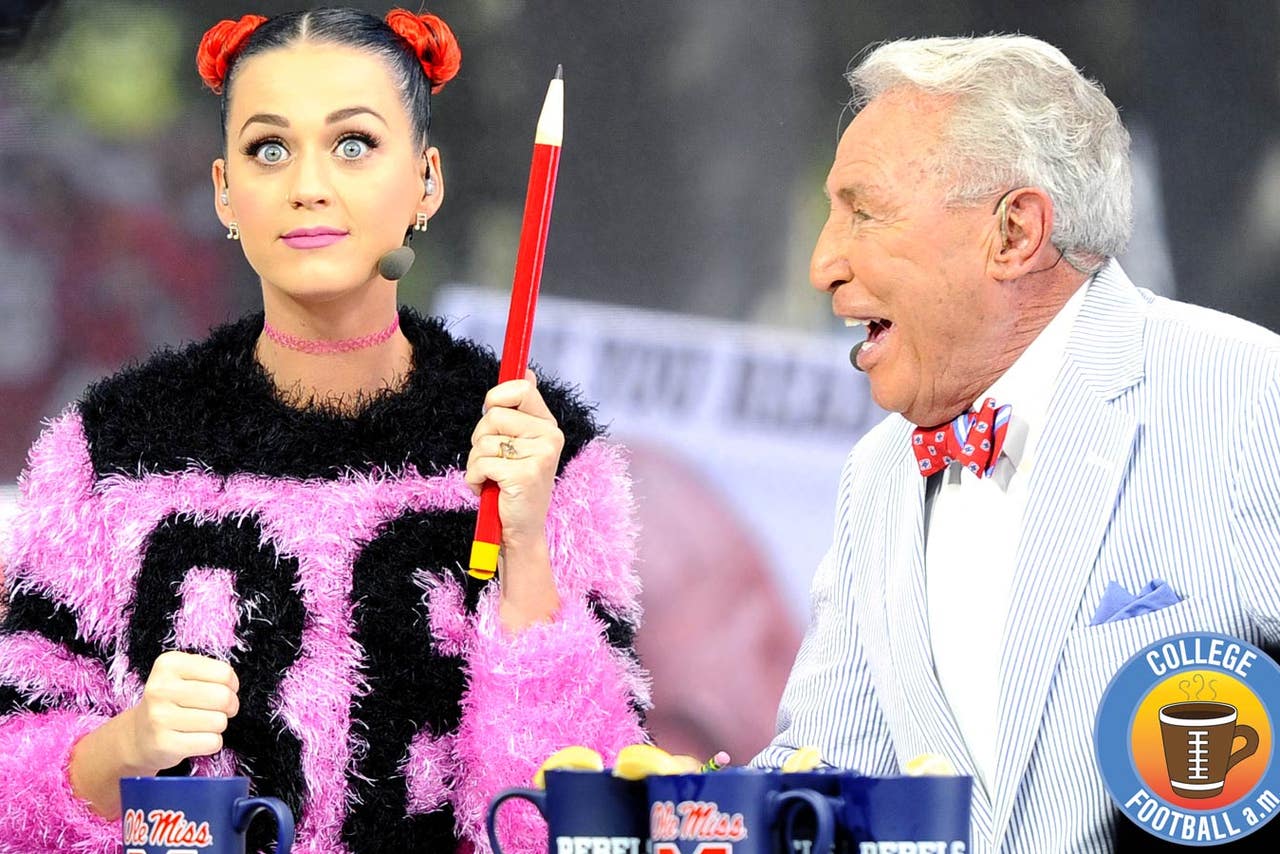 Week 6 was the perfect week for Katy Perry to enter our college football lives, because everything about it was utterly insane.
The whole day felt like an upset, which we'll get to, but we need to start with Perry and perhaps the most amazing part of her day in Oxford, Mississippi, where she was a guest picker on College GameDay and watched Ole Miss upset Alabama.
The pop star began by going on national television and hitting on Oklahoma quarterback Trevor Knight, throwing corn dogs and making South Carolina jokes about "'Cocks."
Later, she essentially straddled Ole Miss' bear and then trolled Nick Saban on Twitter. It was a helluva show, and that was before the day played out and we realized this:
Katy Perry was seven points away from going perfect in her Week 6 picks!
One touchdown! Katy "I pick teams by their colors" Perry! Here are her selections, missing on only Tennessee and OU:
* Winner: Mississippi State over Texas A&M (48-31)
* Loser: Tennessee over Florida (10-9)
* Winner: Auburn over LSU (41-7)
* Loser: Oklahoma over TCU (37-33)
* Winner: Ohio State over Maryland (52-24)
* Winner: Michigan State over Nebraska (27-22)
* Winner: Rutgers over Michigan (26-24)
* Winner: Notre Dame over Stanford (17-14)
* Winner: Ole Miss over Alabama (23-17)
To recap: Perry went 7-2 and missed going 9-0 by five points for Oklahoma and two points for Tennessee.
How did she celebrate her success and the Rebels's big win? By chugging beer and diving off a bar in Oxford:
Never once have I uttered the words, "I like Katy Perry." Now I think I love her.
THREE THINGS YOU NEED TO KNOW
1. Let's remain in Oxford for a little while longer, where No. 11 Ole Miss delivered the biggest upset of the day in taking down No. 3 Alabama, 23-17. Bo Wallace went 18-of-31 for 251 yards and three TDs while, most importantly, throwing no picks. That was probably the difference on a night when the Rebels ran for only 2.3 yards per carry and stud receiver Laquon Treadwell caught five balls for only 55 yards (one TD).
For the Tide, they weren't nearly as explosive as they've been in previous weeks. QB Blake Sims went 19-of-31 for 228 yards and zero TDs with one pick, although running back T.J. Yeldon gained 123 yards on 20 yards. Credit Ole Miss' defense for locking down beastly RB Derrick Henry (2.2 yards per carry) and "holding" Amari Cooper to 91 yards and no TDs on nine catches. Alabama was gifted a touchdown before halftime after an obvious face-mask penalty was missed on a fumble that would be scooped up and taken in by Christion Jones, but they made too many critical errors, as Michael Casagrande breaks down. They also lost RB Kenyan Drake to a gruesome broken leg, which will require surgery and likely means he's done for the year.
The Ole Miss crowd ended up being too much for the Tide, Nick Saban said after the game, which makes sense when you're up against a sea of clowns like this: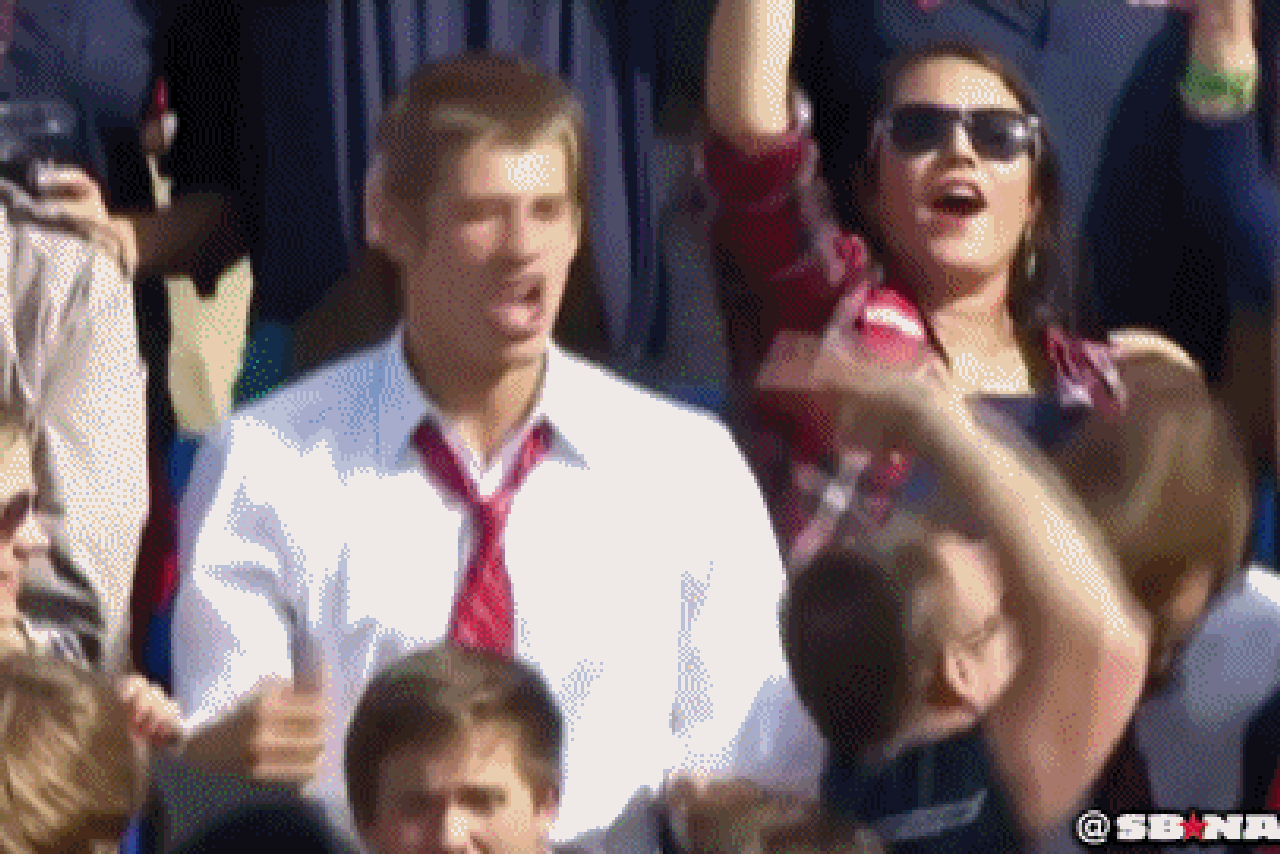 Bruce Feldman was in Oxford for us and wrote about the Rebels' big night and how, for once, the biggest party in Oxford wasn't in The Grove. Of course, The Grove was spectacular on this day, and Laken Litman has 10 things you'll find only in that precious place. The woman who runs one of the best tailgates in the SEC said, "Find something to do, somebody to love and something to look forward to. If you have those three things, you'll be happy. And the zebra tent gives us those three things."
God bless you, college football, for scenes like this and the beautiful, reassuring souls that can be found on fall Saturdays underneath zebra tents.
2. In the second-biggest upset of Week 6, No. 25 TCU knocked off No. 4 Oklahoma at home, 37-33. It was a great day for the Horned Frogs, as QB Trevone Boykin went 20-of-38 for 318 yards and two TDs (one INT), while also rushing for 77 yards. WR Kolby Listenbee caught five balls for 103 yards, and TCU even scored a TD on defense.
The best part of the day, though, was the trick play TCU tried. They made a player lie down in the end zone, thinking his purple jersey would blend in with the purple turf, and then get up to catch a pass in hopes of catching the defense sleeping. It didn't work that great, but it was an awesome attempt,
On the other hand, the talented Sooners couldn't have been much worse on offense. Trevor Knight completed only 14 of 35 passes for 309 yards, one TD and two interceptions, and stud freshman running back Samaje Perine was held to 3.5 yards per carry despite scoring three touchdowns. The Sooners were exposed, writes Berry Tramel. The good news for Oklahoma, as Stewart Mandel writes in his Week 6 takeaways piece, is that it, along with every other playoff contender that lost on Saturday, still has plenty of hope to make the playoff. This is a different era in college football, and a lot of teams will have losses at the end of the year. One defeat doesn't take you out of the title race when you come from a strong league and play a formidable schedule.
3. Continuing with our upsets, No. 12 Mississippi State mauled No. 6 Texas A&M, 48-31, in a game that was littered with dropped passes and wasted opportunities. The Aggies didn't play well or come close to deserving to win – Kenny Hill threw three interceptions and his receivers killed him – but it also shouldn't have been a 17-point game. It's hard to know what to take from this game when evaluating the Aggies, because they made so many mistakes that could be easily cleaned up next week.
There were good moments for A&M – WRs Josh Reynolds and Speedy Noil each caught two TDs -- but this game was all about the Bulldogs doing their part to give the state of Mississippi a great day. QB Dak Prescott went 19-of-25 for 259 yards, two touchdowns and zero picks and also rushed for 77 yards and three TDs. His main counterpart in the ground game, RB Josh Robinson, added 107 yards and two TDs on 17 carries to complete the "Dakman and Robinson" attack:
It was a perfect day for MSU and Dan Mullen was filled with pride and gratitude afterward, writes Bob Carkskadon.  Prescott channels another Mullen protégé – Tim Tebow – writes George Schroeder. Next up for the 5-0 Bulldogs: They host Auburn, which will probably be the No. 2 team in the country when they come to Starkville next weekend.
THREE THINGS YOU SHOULD KNOW
1. After most fans around the country probably turned the TV off and went to bed, the fifth Top 10 team lost in Week 6, as Utah took down No. 8 UCLA at the Rose Bowl, 30-28. It was both surprising and not so much. The Bruins have been playing dangerously all year, with a beat-up offensive line that can't protect QB Brett Hundley worth a damn right now. They allowed ten sacks to Utah! Hundley went 16-of-21 for 269 yards with two TDs and one pick and Paul Perkins ran for 99 yards and a score, but the Bruins could never find a rhythm and took the lead only momentarily, with 4:50 remaining in the game.
UCLA had an opportunity to win it at the end with a long field goal but couldn't connect, writes Chris Foster. With all the chaos this weekend, the Bruins missed a great opportunity to rise, writes Chris Dufresne. With a win, they probably would have moved up to fourth or so, with Florida state, Auburn and Baylor ahead of them. But because of Devontae Booker's 156-yard night on the ground and a Utah pass rush that couldn't be stopped, UCLA will drop back some and get ready to host Oregon next week.
2. You want a fifth upset from Week 6? OK, how about this one, the craziest of them all: Arizona State went on the road and beat No. 16 USC 38-34 on a last-second Hail Mary. Here's the GIF of the play, and I still can't believe how the Trojans let Jaelen Strong, one of the best WRs in the country, have such an easy attempt at the catch:
How about Mike Bercovici, the guy who threw that Hail Mary? Filling in for injured starter Taylor Kelly for the second straight week, Bercovici went 27-of-45 for 510 yards and five TDs with zero interceptions. He's a pocket-passer more than a mobile guy, which would seem to favor USC, but it didn't at all on a night ASU accounted for only 31 total yards rushing. Instead, they chucked it, with Strong catching 10 balls for 202 yards and three TDs and two other receivers clearing 70 yards receiving with a TD.
Elsewhere in the Pac-12, Washington State QB Connor Halliday set the NCAA single-game record for passing yards with 734 yards (six TDs) – and lost to Cal. Anyone other than Stanford – which lost 17-14 at No. 9 Notre Dame -- gonna play D on the West Coast this year?
3. How about a SIXTH notable upset? Northwestern, after losing to Cal and Northern Illinois to start the year, has won three straight, with the last two coming against Penn State and now No. 17 Wisconsin. Justin Jackson ran 33 times for 162 yards, and the Wildcats took advantage of four interceptions by the Badgers – three thrown by Joel Stave, who returned from battling the yips – to overcome a 259-yard rushing day from Melvin Gordon. Somehow, Northwestern sits atop a Power 5 division (Big Ten West) after six weeks of play.
 From elsewhere in the league: No. 20 Ohio State smacked Maryland 52-24, Rutgers beat Michigan 26-24 and No. 10 Michigan State hung on to beat No. 19 Nebraska 27-22 in East Lansing. This piece of offensive line play also happened in that last game:
That's … not quite how Bo Pelini teaches it in Lincoln I don't think.
THREE THINGS YOU MAY WANT TO KNOW
1. Florida coach Will Muschamp would have seen his hot seat ramp up even more if the Gators had lost at Tennessee, but they won 10-9 with freshman quarterback Treon Harris replacing Jeff Driskel (11-of-23, 59 yards, zero TDs, three INTs) in the second half. Apparently at some point a "F-you Florida" chant broke out in Knoxville, so in his postgame TV interview, Muschamp stuck it to Vols fans:
More from the SEC: No. 5 Auburn smoked No. 15 LSU 41-7 at home. It was a loud statement for Auburn, writes Brandon Marcello. Auburn played LSU in primetime, with both teams ranked in the Top 15, and it hardly cracks our radar of notable stories. That's how crazy Week 6 was.
Another story you probably glossed over: Kentucky beat South Carolina on a late pick-six, giving Mark Stoops a fantastic win for his Wildcats program on the rise. Listen to the UK radio call of the game-winning play.
2. Miami lost at home to Georgia Tech, 28-17, but that hardly matters for our purposes. What matters here is that the Yellow Jackets' punter went running on a trick play and got his ass picked up and body slammed. You won't be able to stop watching this for at least 10 solid minutes:
Other things happened in the ACC on Saturday, too, but that's really the only thing you need to see from the conference. Just trying to help save you some time. If you go Googling the Pittsburgh-Virginia score, you either had a son playing or you have a sickness.
3. Iowa State lost to Oklahoma State, 37-20, and there was another controversial call that didn't go the Cyclones' way. After the game, athletic director Jamie Pollard wasn't pleased and spoke out against the officiating, which he acknowledged would probably get him fined. Here's the video:  
LASTLY
What – you want MORE? Fine, fine. I hope you found as much, uh, pleasure in Week 6 as this guy: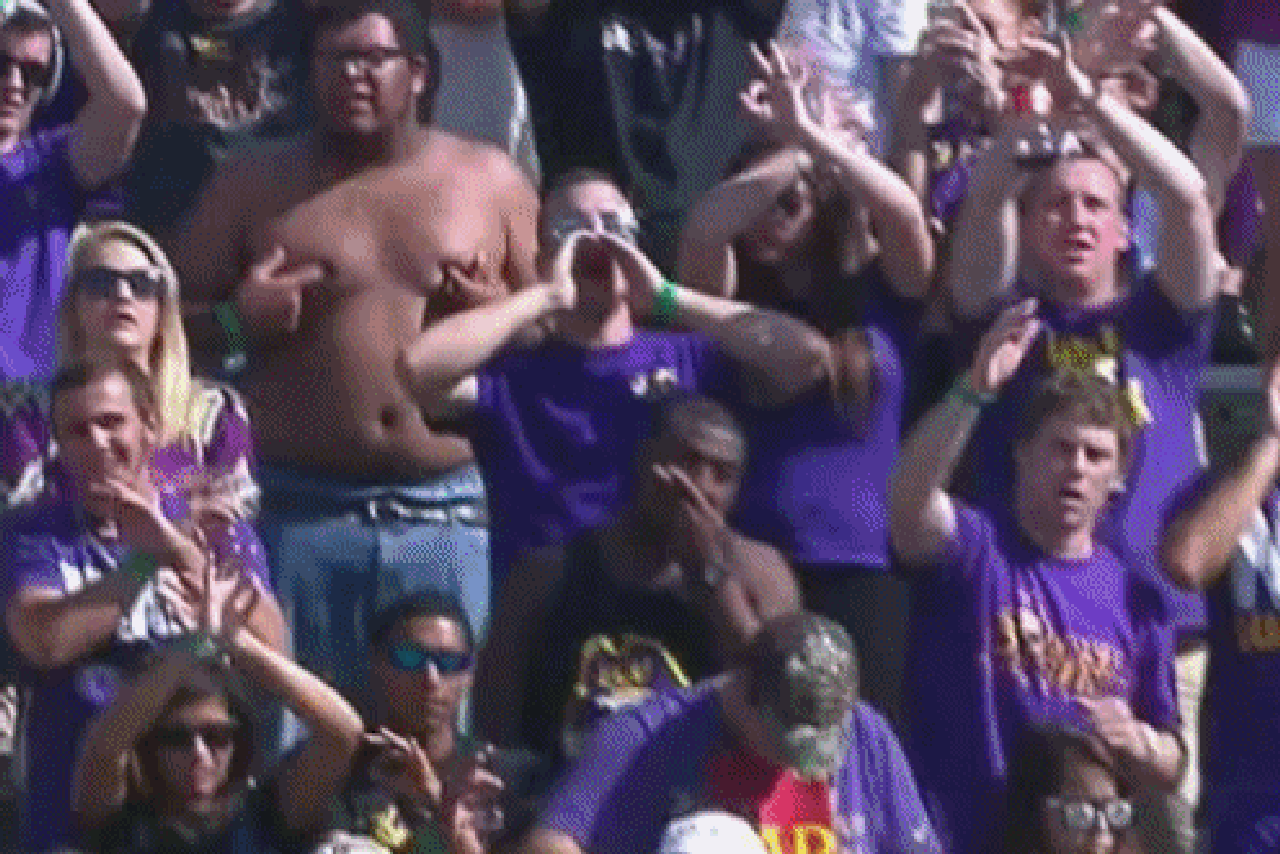 What a weekend! Hope you guys enjoyed the games and thanks for reading CFB AM. Have a great Sunday. And can one of you do me a favor and check on Katy?
Teddy Mitrosilis is an editor and writer for FOXSports.com. Follow him on Twitter @TMitrosilis and email him at tmitrosilis@gmail.com.
---