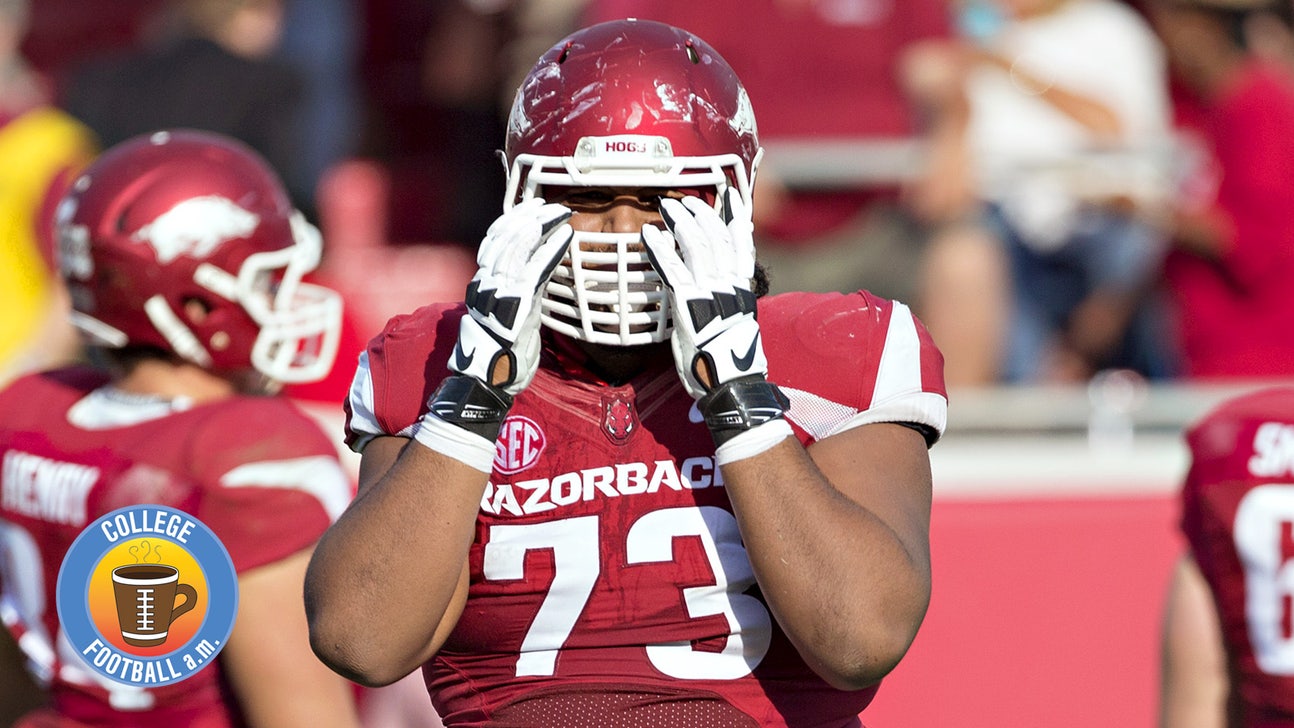 CFB AM: 350-lb lineman who threw TD has official Heisman campaign
Published
Oct. 30, 2014 9:15 a.m. ET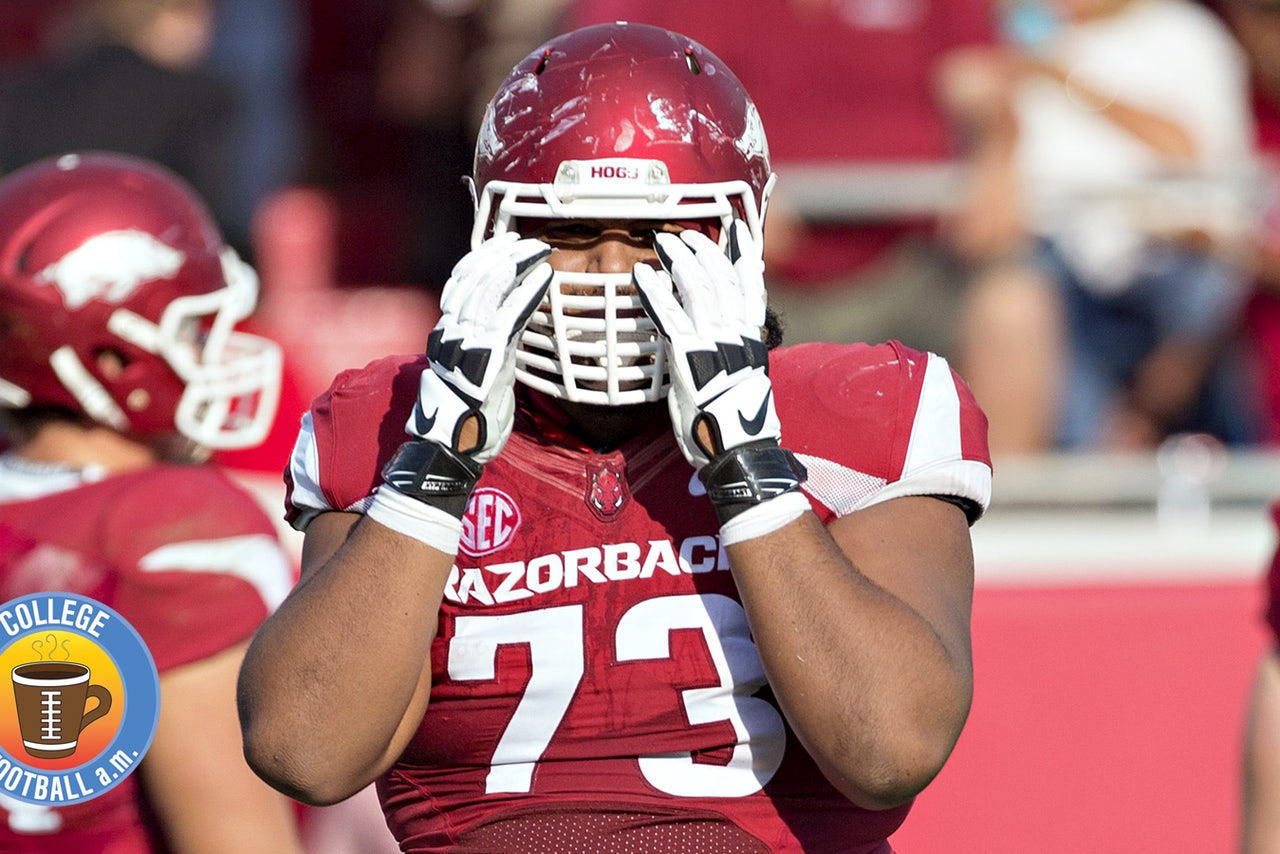 Remember the 350-pound lineman who threw a touchdown for Arkansas last week?
Of course.
How could anyone forget Sebastian Tretola and the play that made him famous for at least 10 minutes on one fall Saturday?
Well, now Tretola is about to enjoy a newfound level of fame.
Arkansas has launched an official Heisman campaign for their big guy with the help of Tretola's teammates and coaches. Why is Tretola an ideal person to represent the Heisman legacy?
"I wake up in the morning and brush my teeth with greatness, I comb my hair with greatness and I strike a Heisman pose – with greatness," Tretola said.
Sold. You got my vote Tretola!
Here's the great campaign video – kudos to the Arkansas video team for putting this together.
THREE THINGS YOU NEED TO KNOW
1. We finally have a resolution to Georgia running back Todd Gurley's suspension: Gurley will miss four games (he's already missed two), complete 40 hours of community service and pay back an undisclosed portion of the reportedly more than $3,000 he accepted for signing autographs. Georgia is appealing the suspension, but that's unlikely to be overturned, meaning Gurley will miss this weekend's game against Florida and the Kentucky game on Nov. 8. Most importantly, he will be back on the field for the Nov. 15 game against Auburn, which could spring the Bulldogs into legitimate playoff position with a win.
Gurley said in a statement: "I want to thank the university, coaches, teammates, and the Bulldog Nation for their patience and support. I take full responsibility for the mistakes I made, and I can't thank the university, my coaches, and teammates enough for supporting me throughout this process. I'm looking forward to getting back on the field with my teammates."
Whatever. I must say: This couldn't have worked out better for Gurley. In his absence, Nick Chubb has carried the Bulldogs to two wins, and they're unlikely to lose to Florida or Kentucky. So that means Georgia's national title hopes wouldn't have taken any hit during four games without Gurley, and he gets to spare himself, a first-round NFL Draft prospect next spring, four games worth of hits. Plus he gets some cash. The only thing he might have forfeited in the process was a potential shot at the Heisman Trophy, which was unlikely anyway since running backs rarely win.
I'm not condoning breaking rules – although I fully condone pressuring institutions and organizations to abandon stupid ones – but do you think Gurley has any regrets? I don't.
2. Every day, it seems, there is negative news around Florida State. For the first time in a while, it doesn't have to do with Jameis Winston. Running back Karlos Williams is now the subject of a university Title IX investigation into an alleged domestic battery case, which the lawyer of the alleged victim – allegedly Williams' allegedly pregnant girlfriend – said would not result in charges and the alleged victim would allegedly not cooperate with authorities. Williams is also involved in an alleged armed robbery case, and Deadspin has a report saying Williams allegedly set up the drug deal that got the guy robbed.  
By the way: As of this writing, Karlos Williams is PLAYING FOOTBALL ON NATIONAL TELEVISION TONIGHT FOR FLORIDA STATE UNIVERSITY!
And, FSU fans, you wonder why your program is taking so much negative heat? This. Is. Why.
Bruce Feldman and Stewart Mandel knocked out a new edition of The Audible on Wednesday in which they discuss the maddening mishandling of these matters at Florida State and why the news just gets worse.
3. One other FSU story that had people talking on social media yesterday: The Seminoles practiced at a public park in Louisville – at which they oddly tried to prevent people from taking pictures, despite being in a public park – and then on their walk back, they strolled by a Joe's Crab Shack.
That produced this photo, which had a lot of people laughing:
Gotta be honest: I don't get what the big deal is about this. Is it that funny that FSU walked by a building that just happened to be there? In any case, just shows you how polarizing the Noles are these days. Almost anything they do will draw a reaction.
THREE THINGS YOU SHOULD KNOW
1. Some tough news for Utah: The Utes' best offensive player, wide receiver Dres Anderson, is done for the season with a knee injury. Utah remains in the thick of the Pac-12 race and is a potential playoff sleeper if it can win out. The only positive takeaway here is they're winning games with a lot of RB Devontae Booker and a lot of defense, not a lot of production in the pass game.
2. Coy Wire previews the big Auburn-Ole Miss game this week and says that if the Rebels are going to beat Auburn and knock the Tigers out of the playoff race, they must contain the run game. Coy looks at how Kansas State had success doing this while nearly everyone else has failed against Nick Marshall, Cameron Artis-Payne and Co. Check it out -- you always get a little smarter reading Coy's pieces.
3. Bovada has Oregon QB Marcus Mariota as the current favorite to win the Heisman Trophy (what, no Tretola?). Interestingly, Jameis Winston's odds have dropped from 18/1 to 33/1. We know that's not based on football, as Winston hasn't played since that incredible second half against Notre Dame in which he led FSU to a win. So it's a clear indication of a Winston fatigue factor playing into how Vegas thinks the voters will handle Winston's Heisman candidacy. I understand why people would be tired of Winston, but I don't believe anything other than on-field performance should dictate the Heisman. It could be really awkward if he finishes the season strong, other candidates lose and/or have poor performances and then we have to watch people craft flimsy football arguments to shield their moral judgments regarding Winston.
THREE THINGS YOU MAY WANT TO KNOW
1. Texas A&M is wearing 1939 throwback uniforms this weekend to honor a championship team, complete with a helmet made to look like the leather ones worn almost eight decades ago. These are sweet.
2. Bill Connelly put advanced metrics against the current College Football Playoff rankings and projected the playoff, and the numbers have both Florida State and Mississippi State missing the playoff. The highest probabilities actually have both of those teams losing twice. None of this is assured, of course, but it makes for fun chatter, and at least a projection system is working with data and not regurgitating the same arguments out there.
3. This is sort of incredible considering it's Florida and all: The Gators are on their way to being the first UF team since 1979 to not be ranked in any top 25 at any point during the season.
LASTLY
* WVU coach Dana Holgorsen said TCU QB Trevone Boykin is the most improved player in college football and the Horned Frogs should probably move him back to wide receiver before they visit Morgantown this weekend. Can't wait for that game.
* FSU will unveil new road jerseys tonight.
* Some Internet wizard made a Brady Hoke Geico commercial after the Minnesota debacle in September. Pretty funny.
Have a great Thursday, all, and let's see if the Cardinals can give the Noles some trouble tonight.
Teddy Mitrosilis is an editor and writer for FOXSports.com. Follow him on Twitter @TMitrosilis and email him at tmitrosilis@gmail.com.
---