CFB AM: 3 reasons Jim Harbaugh should decline Michigan, stay in NFL
BY Teddy Mitrosilis • December 18, 2014
There is zero question Jim Harbaugh would be a tremendous hire for Michigan and somebody who would return the program to the level of national relevance and success it deserves.
There's also zero question Michigan is doing everything it possibly can to lure Harbaugh back to Ann Arbor, as numerous reports on Wednesday afternoon noted the Wolverines have a six-year deal in the range of $48 million on the table, and Harbaugh is mulling it over.
Michigan fans and alumni are clamoring for the deal to happen, as the rumor mills ceaselessly burn.
Should Harbaugh actually do this, though?
The Michigan job is still a fantastic one for the right person – and Harbaugh is as right as it gets for the Wolverines – but would going back to Ann Arbor be best for him at this time?
I don't think so. Here are three reasons why Harbaugh should say no to Michigan and stay in the NFL.
THE LEVEL OF SUPPORT AT MICHIGAN REMAINS UNCLEAR
Michigan introduced a new president this year, Mark Schlissel. He's a Princeton grad with a BA in biochemical sciences and a PhD in physiological chemistry from John Hopkins. He's built his career as an academic and came to Michigan from Brown, where he served as provost, to lead the university into the future and define what it means and what it stands for. In his first comments after former athletic director Dave Brandon resigned in November, Schlissel spoke about his concern for how academics and athletics, and football specifically, fit at Michigan.
"We admit students who aren't as qualified, and it's probably the kids that we admit that can't honestly, even with lots of help, do the amount of work and the quality of work it takes to make progression from year to year," Schlissel said. "These past two years have gotten better, but before that, the graduation rates were terrible, with football somewhere in the 50s and 60s when our total six-year rate at the University is somewhere near 90 percent, so that's a challenge."
He continued, "The thing you have to keep in mind is there's football and there's everything else. There are 930 or so recruited athletes and 115 of them play football, and most of those teams actually have great graduation rates, and it's just where you'd expect we struggle."
Michigan is not a win-football-games-at-all-costs school. It's a proud and prestigious academic university, and it feels like Schlissel, who has yet to hire a full-time athletic director although there's a chance Jim Hackett stays on for the long-term, is just beginning to define his vision for athletics and academics going forward. By his comments, it seems he's not interested in lightening the academic burden for football players, which is fine. In the most recent NCAA academic report, Stanford football had a 99 percent graduation rate for the 2004-2007 classes, and many of those players crossed paths with Harbaugh; he's obviously adept at implementing a structure that helps players achieve academic success and would theoretically have no issue with that at Michigan.
But to remake the Wolverines, Harbaugh will need every key to the operation and support his pursuit of football success without fail. Is Michigan prepared to do that? That's unclear.
EVERYTHING ABOUT HIS PERSONALITY SAYS "NFL"
Seth Wickersham wrote a tremendous profile of Harbaugh in October that details just how insane he is about football. In the piece, it describes the level of effort and commitment he had in college, as well, and nobody doubts he can be successful in the college game.
But something else stuck out recently when asked about the Michigan rumors. Harbaugh said he doesn't talk about other jobs and that his future is his last priority. Then he listed his priorities in order. "My number one priority is winning football games," he said. "Second priority is the welfare of the players, the coaches, all our staff. The welfare of our team. Lastly, is my own personal professional future."
Does someone who has the welfare of his players second sound like a guy best suited for college? Not to me, which isn't an indictment of Harbaugh. He's purely business-like and understands he will be solely judged on how many games he wins. In this way, he's the least naïve and emotional persona in the business, which is to be commended.
But there's an odd Catch-22 about college football. Coaches are hired and fired based on wins and losses, but that's not the only thing the job requires. Speaking to boosters, working in the community, serving the university and doing all sorts of things that take away from football are requirements of the gig that ultimately won't determine whether a job is kept or lost. Yes, that's unfair, but that's what coaching in a university community is.
"I think I'm pretty misunderstood, because I'm not just about football," Alabama coach Nick Saban, the most driven and disciplined coach in college football, said in a GQ profile last year. "I'm kind of portrayed as this one-dimensional person who -- this is everything to me. I almost feel like I'm not that way at all." Even Saban understands the duties of his job and that not everything can be about winning games. Does that sound like Harbaugh?
THERE'S NO RISK STAYING IN THE NFL
From a business perspective, this is the point that matters most. Money shouldn't be much of a factor in this decision, because Harbaugh is going to make a ton of it no matter where he goes.
He should stay in the NFL because he's currently seen as royalty in the league and nothing he does will change his status in the college game. We've seen numerous examples of coaches fail in the NFL and take elite college coaching jobs – Saban and Pete Carroll being the most notable of the last decade or so – and Harbaugh would be able to name his next college job even if his next NFL stop goes terribly. Staying in the NFL not only sets up this job, but it sets up his second one.
If he goes to Michigan and for whatever reason doesn't have success, will he still have NFL opportunities? Most likely, because he's been so successful in the league. But it's much more difficult to go the other way. When NFL coaching stocks cool, it happens quickly. If this decision is purely business for Harbaugh, he should ride out the NFL as long as he can. Almost any college program in America will still want him down the road no matter what happens in the pros.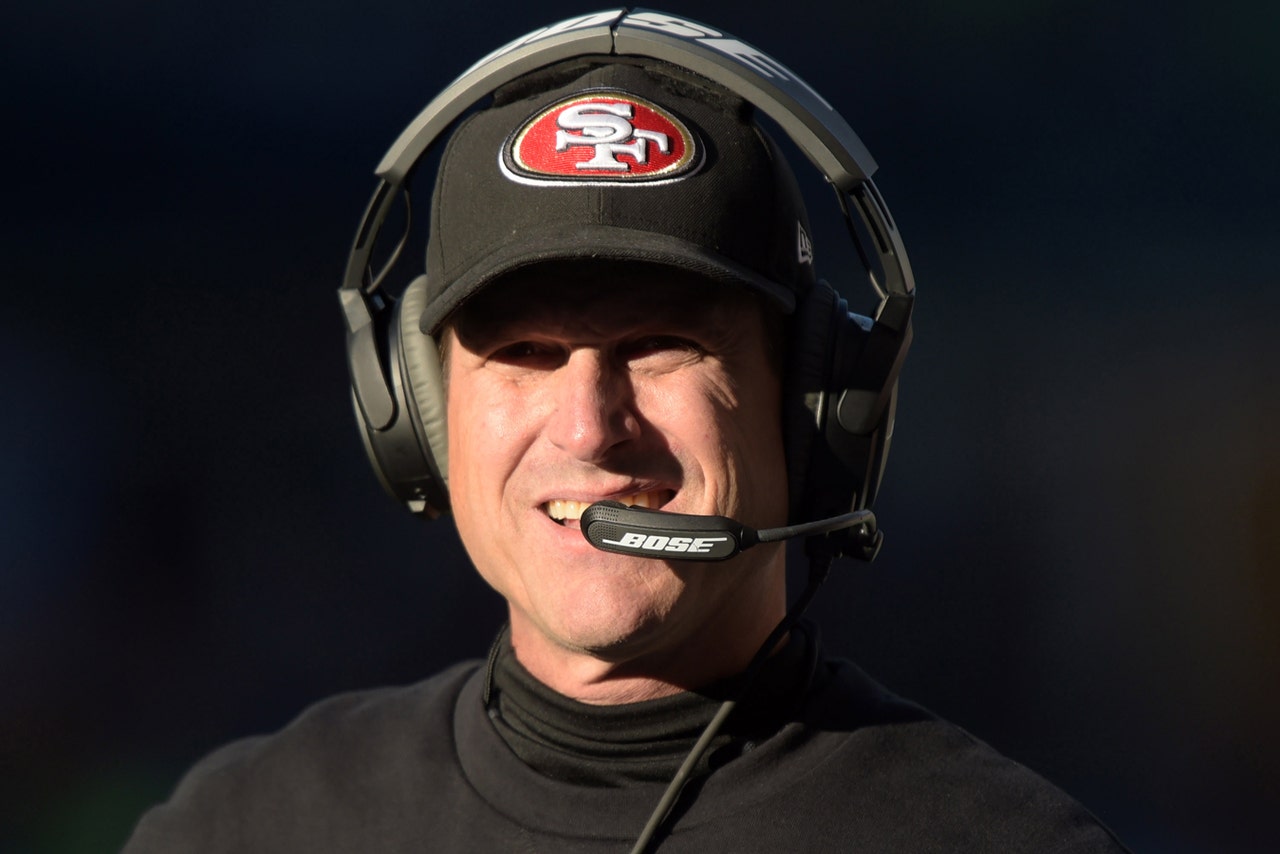 THREE THINGS YOU NEED TO KNOW
1. Wednesday was an interesting day for Bo Pelini. The former Nebraska coach officially became the new head coach at Youngstown State, and then hours later the Omaha World-Herald released a story about a 30-minute meeting Pelini held with Nebraska players after being fired in which he trashed athletic director Shawn Eichorst and the Nebraska administration. The World-Herald obtained a tape of the expletive-filled meeting and detailed Pelini's comments to his players. Here's just one sampling:
"A guy like (Eichorst) who has no integrity, he doesn't even understand what a core value is," Pelini told players, according to the report. "And he hasn't understood it from the day he got here. I saw it when I first met with the guy. To have core values means you have to be about something, you have to represent something, you have to have something that is important to you. He is a f------ lawyer who makes policies. That's all he's done since he's been here is hire people and make policies to cover his own ass … I didn't really have any relationship with the A.D. The guy, you guys saw him (Sunday), the guy is a total p----. I mean, he is, and he's a total c---."
Yikes. There is a ton more where that came from, and Nebraska responded with this statement:
"If these comments were, indeed, spoken by Mr. Pelini, we are extremely disappointed, but it only reaffirms the decision that he should no longer be a leader of young men at Nebraska. His habitual use of inappropriate language, and his personal and professional attacks on administrators, are antithetical to the values of our university. His behavior is consistent with a pattern of unprofessional, disrespectful behavior directed by Mr. Pelini toward the passionate fans of Nebraska, employees of the university and, most concerning, our student-athletes. This behavior is not tolerated at the University of Nebraska and, among many other concerns, played a role in his dismissal. Any assertions that the campus or athletics administration was not supportive of our student-athletes and our football program are flat-out false and are contradicted by the facts."
Here's the full transcript of Pelini's comments.
2. After a week of speculation, Paul Chryst is officially the head coach at Wisconsin. "It's really special," Chryst said at a press conference. "I grew up in Madison. As early as I can remember, Badger football was a part of (my) life." Chryst went 19-19 in three seasons at Pitt and now promises to bring some stability to the Badgers after its previous two coaches bailed for other jobs. Meanwhile, Pitt fired its athletic director after Chryst's departure, and now the Panthers begin their fourth coaching search in the last four years. The program has become a turnstile for coaches.
3. Devastating news for Oregon and Ducks All-American Ifo Ekpre-Olomu: He reportedly suffered a serious knee injury in practice on Tuesday – it's feared to be a torn ACL – and is out for the rest of the season. It obviously hurts Oregon in the playoff, but it's also crushing for Ekpre-Olomu, a senior who was projected to be a first-round pick in the 2015 NFL Draft. He still has a bright pro future ahead of him if his knee rehab goes smoothly, but his stock will take a hit in the interim and it's a long, slow road ahead to recovery. Good luck and get well, Ifo.
THREE THINGS YOU SHOULD KNOW
1. Couple coaching notes: West Virginia offensive coordinator Shannon Dawson is heading to Kentucky to be the Wildcats' OC and playcaller; at WVU, head coach Dana Holgorsen called the plays. Colorado State is moving through its process of finding a replacement for Jim McElwain and has interviewed Georgia OC Mike Bobo and Notre Dame running backs coach Tony Alford, presumably among others.
2. West Virginia athletic director Oliver Luck is leaving the Mountaineers to take a job as the executive VP for the NCAA, making him second in line to president Mark Emmert. This is fantastic news for college sports, as Luck is widely respected as one of the smartest people in collegiate athletics and an innovative thinker. A former college football and NFL player – and the father of former Stanford and current Indianapolis Colts star QB Andrew Luck – Oliver understands what it means to be a student-athlete in the current NCAA climate as well as anyone. Luck also served on the College Football Playoff committee this season. This move puts him in position to be a candidate for the president job whenever Emmert moves on, which would be a great move for the NCAA. A personal perk for Luck is his new job will be at the NCAA's headquarters in Indy, where he can watch his son play much more easily.
3. This is great: A 5-year-old boy wanted to help save UAB's football program, so he wrote a letter to the school and sent along his $1 allowance in case that would help boost finances. UAB responded with a nice note and a care package of memorabilia (but, sadly, not a football team).
THREE THINGS YOU MAY WANT TO KNOW
1. As Ohio State prepares to play Alabama in the Sugar Bowl on New Year's Day, Urban Meyer brought one of his former Florida greats to Columbus to speak with the team. Yep, Tim Tebow would know a thing or two about winning.
2. Former Wisconsin coach Gary Andersen's son, Chasen, was a walk-on freshman with the Badgers in 2014. So how did he find out his dad was leaving to take the Oregon State job? Like every other guy on the team – dad gave him no early warning. "It was hard for Chasen. I felt he needed to be educated in that process," Andersen said. "He was on that team and part of that team, and I wanted Chasen to be educated in that process the way the rest of the team was. He is a young man now. He is not a 13- or 14-year-old kid. He is not going to be living with us here and is out on his own. He was given an opportunity to hear it just like the rest of the team was. I think that took him a little bit by surprise, and I get that, but that is just what I thought was best as a dad and I thought that was best as a coach."
3. Ready to get bowl season kicked off this Saturday? Me too. Jeff Smith has one star to watch in all 38 bowls.
LASTLY
* I joined JT The Brick and Tom Looney on FOX Sports Radio Wednesday night to talk Jim Harbaugh and Michigan. Our chat leads off this hour if interested.
* Texas A&M landed a five-star wide receiver out of Arizona – just another weapon for Kevin Sumlin and OC Jake Spavital.
* Tennessee freshman running back Jalen Hurd was arrested for underage drinking.
* As always,  Stewart Mandel covers a ton of ground in his weekly Mailbag, and this week looks at the question of Nick Saban preparing for Ohio State QB Cardale Jones, who nobody has seen much on film.
* Who also hasn't purchased a single Christmas gift yet? Better get to gettin'.
Have a great Thursday, everybody. 
Teddy Mitrosilis is an editor and writer for FOXSports.com. Follow him on Twitter @TMitrosilis and email him at tmitrosilis@gmail.com.
---