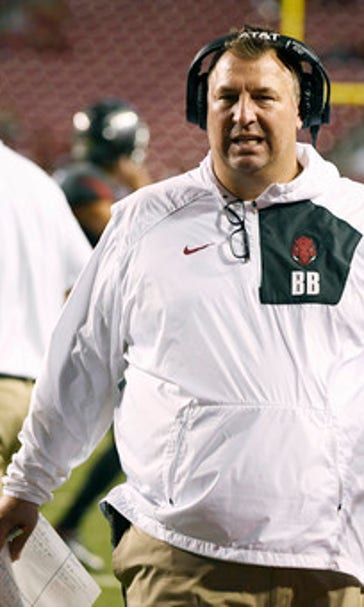 Bielema narrows focus in face of job security questions
October 22, 2017

FAYETTEVILLE, Ark. (AP) Arkansas coach Bret Bielema knew the questions about his job security were coming after a 52-20 loss to No. 19 Auburn on Saturday night.
Knowing didn't make the moment any easier for the embattled fifth-year Razorbacks coach, who fell to 27-31 overall and 10-26 in the Southeastern Conference following the school's third straight blowout loss.
The defeat was Arkansas' (2-5, 0-4 SEC) seventh in its last nine games dating back to last season, keeping the Razorbacks at the bottom of the SEC's West Division - and far from the conference championship Bielema promised when he was hired away from Wisconsin following the 2012 season.
''Obviously, this is unchartered waters for me,'' Bielema said. ''I've never been in a situation where we're 2-5 and disappointed where we're at. The greatest thing about a coaching position is this: You just worry about the day in front of you.''
The immediate future for Arkansas is a trip to Mississippi (3-4, 1-3) this week, starting a stretch of four SEC contests out of five games to close out the season.
Whether it's the final season for Bielema with the Razorbacks is anybody's best guess at this point, including his own.
''I can't worry about anything but the day in front of me,'' Bielema said when asked if he expects to return next season. ''I don't really worry about the future or anything like that. I just worry about Ole Miss.''
Arkansas athletic director Jeff Long praised Bielema earlier this season and talked about his confidence in the former Wisconsin coach following a loss to No. 4 TCU on Sept. 9, saying he was ''100 percent behind Bret Bielema.''
Long declined an interview request from The Associated Press through a spokesman on Sunday.
The College Football Playoff committee member will have several factors to weigh when making a decision about Bielema's future with the Razorbacks.
Long cited falling attendance as a factor when firing former Arkansas basketball coach John Pelphrey in 2011. Paid attendance has remained consistent this season in Razorback Stadium, with an announced crowd of 71,961 on Saturday, but the school's students have largely left after halftime in each of the last two home games - and no more than a few thousand fans were left in the fourth quarter of Saturday night's loss.
Also, Bielema signed a contract extension in 2015 that keeps him tied to the school through 2020. That contract includes a stated buyout of $15.4 million if he's fired before the end of 2017 - though a recent legal review by the Arkansas Democrat-Gazette has suggested that total might be far less.
Arkansas likely needs to win four of its final five games to avoid missing a bowl for the first time since Bielema's first season in 2013. The Razorbacks went 3-9 that season and had enjoyed steady improvement under Bielema until the end of last year, when they blew large halftime leads in back-to-back losses to Missouri and Virginia Tech to close out the season and finished 7-5.
The frustration from those losses has carried over into this year, with Arkansas without a win over Power 5 conference school since last November against Mississippi State.
Regardless of the mounting negativity - and losses - the Razorbacks voiced their support of Bielema following the loss to Auburn.
''As players, we can't do anything but be behind our coach, and that's what we're going to do 100 percent,'' cornerback Kevin Richardson said. ''I know there's speculation on the outside. Regardless of what guys on the outside are saying, we know what's going on inside our room and we're behind him 100 percent.''
---
More AP college football: http://collegefootball.ap.org and https://twitter.com/AP-Top25
---
Follow Kurt Voigt on Twitter at https://twitter.com/Kurt-Voigt-AP
---
---