Baylor, TCU take it on chin yet again from CFP committee
Published
Nov. 3, 2015 8:34 p.m. ET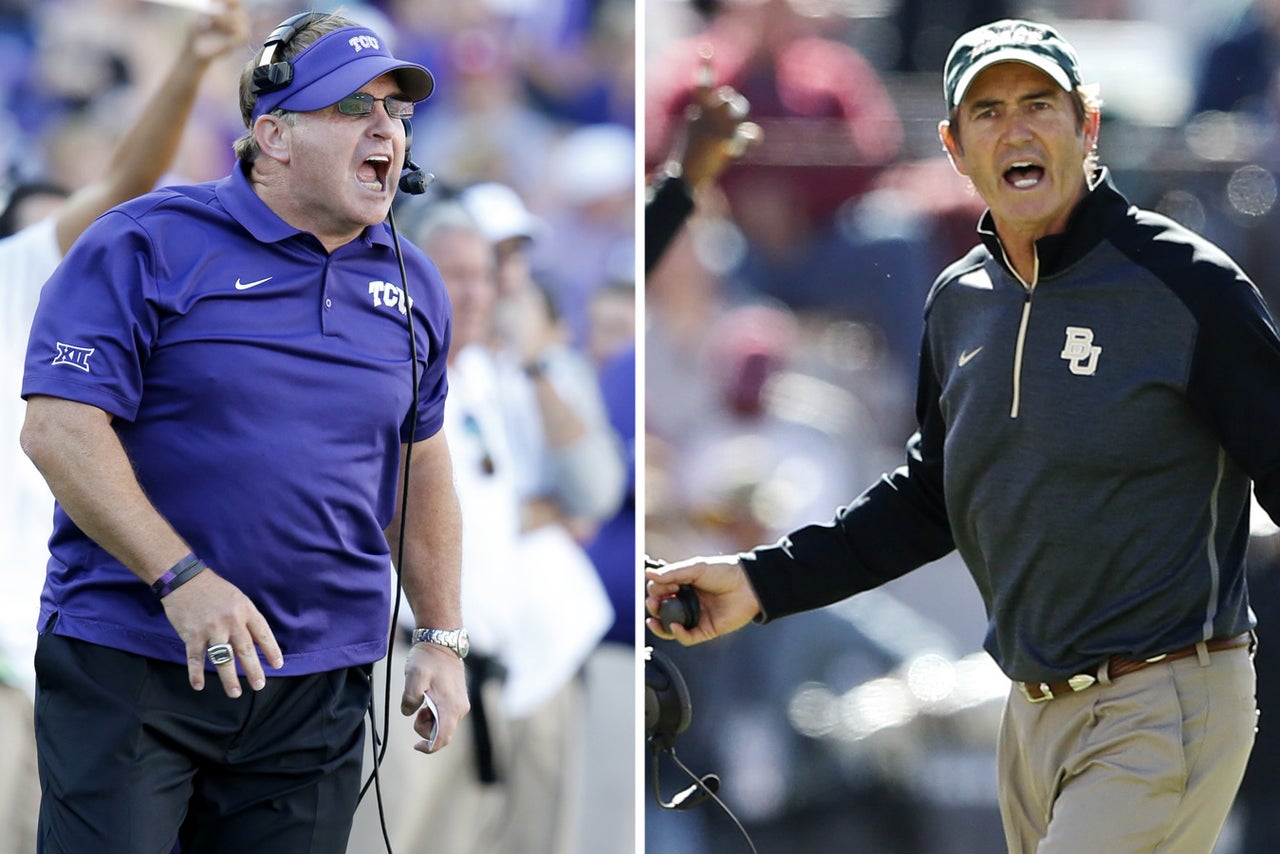 It's a good thing — wink, wink — TCU coach Gary Patterson says he doesn't pay attention to this stuff. Because if he was watching Tuesday night's debut release of the College Football Playoff committee's rankings he'd probably need a replacement TV in his office.
Baylor coach Art Briles might be on the phone right now clamoring for the committee to add even more voters from his home state. Clearly the committee still doesn't get Texas because yet again Baylor and TCU took it on the chin.
The first CFP rankings have Baylor (7-0, 4-0 in the Big 12) at No. 6, and TCU at No. 8 — that despite Baylor holding down the No. 2 spot in both the AP Top 25 poll and the Coaches poll. Patterson's Frogs (8-0, 5-0 Big 12) are No. 5 in the AP poll and No. 3 in the Coaches poll.
Apparently the committee sees something different. Just like last year. Remember the Horned Frogs inexplicably tumbled from No. 3 to out of the playoff at No. 6 despite a 52-point win that final week. Baylor closed out at No. 5, and everybody knows how Briles handled that. Not well.
Two weeks ago, Baylor lost starting quarterback and dark horse Heisman candidate Seth Russell for the season in its last game. But CFP chairman Jeff Long told reporters that was not taken into account in these rankings, just as it was not for Ohio State last season. The Frogs, lauded for playing Minnesota in the nonconference last year by the committee, won at Minnesota on a Thursday night in the season opener this year, but it apparently lacks the same luster.
Unfortunately for Patterson and Briles this time around, the Big 12's backloaded schedule that figures to make November one of the most exciting in recent memory, might be the biggest culprit keeping the Big 12, along with the Pac-12, out of the top four. 
The league's top four teams have yet to play one another. TCU, Baylor, No. 14 Oklahoma State and No. 15 Oklahoma essentially play a round-robin schedule this month starting Saturday with TCU at undefeated Oklahoma State. However, it leaves all four teams without a signature victory in or out of conference. Oklahoma's win at Tennessee probably constitutes the best of the bunch.
It's really the only explanation for Baylor and TCU coming in behind one-loss Alabama, the surprise of the night at No. 4, and one-loss Notre Dame at No. 5. Michigan State, which needed a miracle finish to win at Michigan, sits at No. 7 between Baylor and TCU.
No. 1 Clemson, No. 2 LSU and No. 3 Ohio State all figured to be somewhere in the top four.
Obviously plenty can happen between now and the final Saturday of the regular season on Dec. 5. But, wow, this is certainly not how the Big 12 pictured these first rankings.
"The way I look at it right now is I watch and I think this year we're going to come down wishing that we had an eight-team playoff, not a four," Patterson said earlier Tuesday during his weekly news conference.
Patterson and Briles have good reason to begin wishing that 2015 doesn't become a repeat of 2014.
---
---