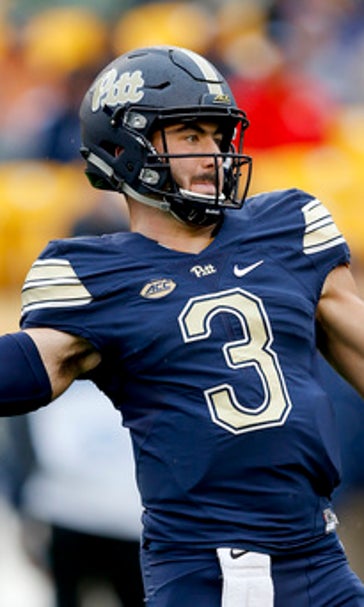 Balanced Pitt takes care of sluggish Virginia 31-14 (Oct 28, 2017)
October 28, 2017

PITTSBURGH (AP) Pittsburgh coach Pat Narduzzi finds every opportunity he can to talk about his team's youth, often stressing that building a program is a process and as difficult as the growing pains may seem at the time, a tangible payoff awaits if you simply keep at it.
The proof came to life across four soggy quarters at Heinz Field on Saturday, as the Panthers relied heavily on running backs Darrin Hall and Qadree Ollison and a rapidly improving defense in a 31-14 victory over Virginia.
''They're still puppies,'' Narduzzi joked about a defense that didn't have a single senior starter. ''They don't bark real loud right now. They growl a little bit.''
More than enough, actually, to beat the suddenly reeling Cavaliers.
Pitt (4-5, 2-3 Atlantic Coast Conference) stopped Virginia four times on fourth down, collected three sacks and never trailed while winning its second straight. Two weeks after the season appeared to be at a tipping point following a home loss to North Carolina State that dropped them to 2-5, the Panthers head to November with a very real chance to extend their decade-long streak of reaching a bowl game.
''We all got together and said, `Hey, there's still a lot of season left, we're still bowl eligible,' " Pitt quarterback Ben DiNucci. ''That's the biggest thing right now. Trying to get to six wins, whether that comes in two weeks or three weeks, whenever that might be. But our biggest thing is we've just got to finish. ... These last two weeks we've been able to finish on the field and get the W.''
DiNucci threw for 134 yards and a 19-yard touchdown to Jester Weah. Quadree Henderson added a twisting 75-yard punt return for a score as the Panthers built a 21-0 lead then let its defense do the rest. The Cavaliers needed 73 snaps to manage 314 total yards.
''We're all starting to get comfortable with each other,'' Pitt linebacker Elijah Zeise said. ''I don't know what it is. It's just starting to click.''
GROUND TO A HALT
Virginia quarterback Kurt Benkert completed 22 of 42 for 212 yards with two touchdowns and an interception as the Cavaliers missed a chance to qualify for a bowl game for the second weekend in a row. The four failed fourth-down attempts didn't help, including a pair near the goal line as Virginia scrambled to get back in it.
''It's really frustrating,'' Benkert said. ''I feel like as an offense, we expect to get those every time, or else the coaches would not put us in positions to go for it. We just have to find a way to get those. Too many of those opportunities we did not get, and that changes the game.''
I'M ON TV
Henderson was an All-American as a kick returner last fall but has struggled to find running room for much of this season. He found just enough late in the first half when he fielded a punt at the Pitt 25, broke to his right and weaved his way through traffic to the end zone. His second punt return touchdown in 2017 gave him eight combined kick returns for scores in his career, one off the NCAA record.
It helped that Henderson was racing toward the open end of Heinz Field, which happens to feature a massive high definition videoboard.
''Broke a couple tackles and once I get into space I look at the Jumbotron to see who's chasing me,'' Henderson said. ''I see two dudes chasing me ... (one of them) grabbed me, I stepped out of that and at the time I was winded and just reached the ball across the goal line.''
THE TAKEAWAY
Virginia: A bowl berth suddenly seems like an iffy proposition at best for the Cavaliers. The remaining schedule includes home games against Georgia Tech and Virginia Tech and road games at Louisville and Miami. Virginia is on the rise in head coach Bronco Mendenhall's second season but work remains to be done against quality competition, particularly on offense.
Pitt: The Panthers may have found a solid balance on offense. Hall followed up his breakout 254-yard, three-touchdown performance against Duke by going over 100 yards again. Ollison, who spent most of last week leading the way for Hall, was a factor in both the run game and the pass game. Ollison's 25-yard dart to the end zone in the third quarter put the Panthers up 28-7.
''When he's in there I know he's going to do big things too,'' Hall said of Ollison, who he rooms with on the road. ''He can make plays. He can do everything I can do.''
UP NEXT
Virginia: Hosts Georgia Tech next Saturday.
Pitt: Off next week. Welcomes North Carolina for a Thursday night game on Nov. 9.
---
More AP college football: http://collegefootball.ap.org and https://twitter.com/AP-Top25
---
---