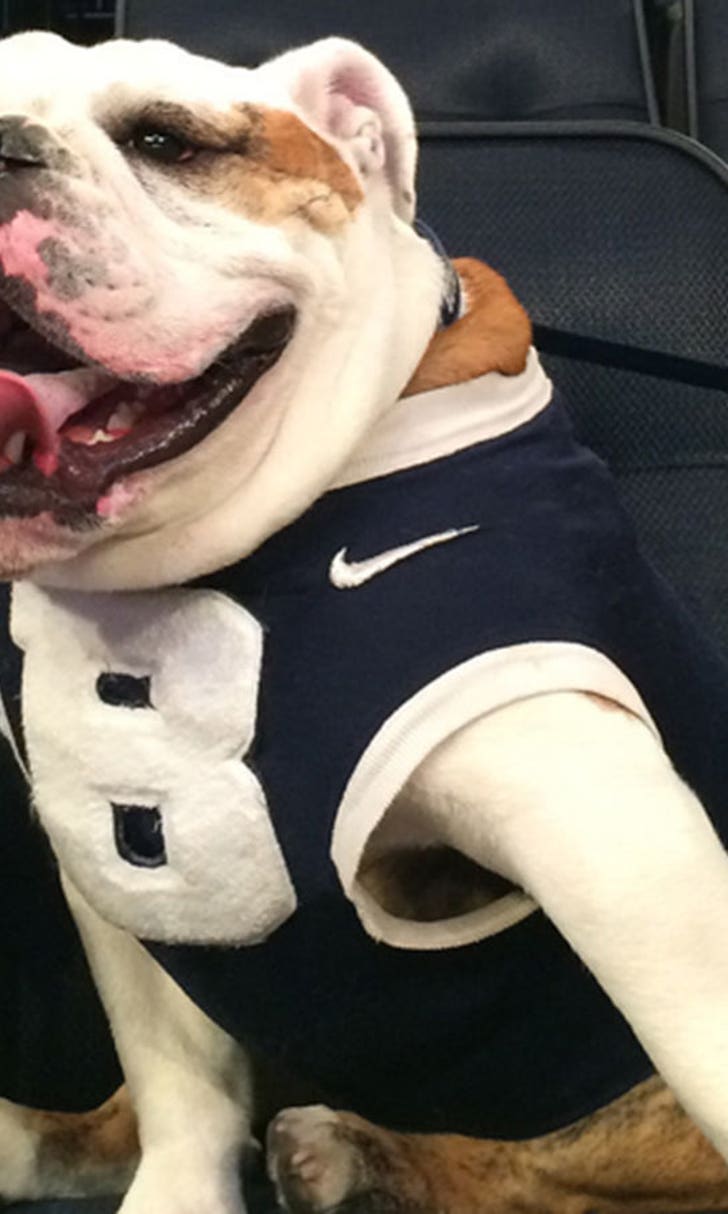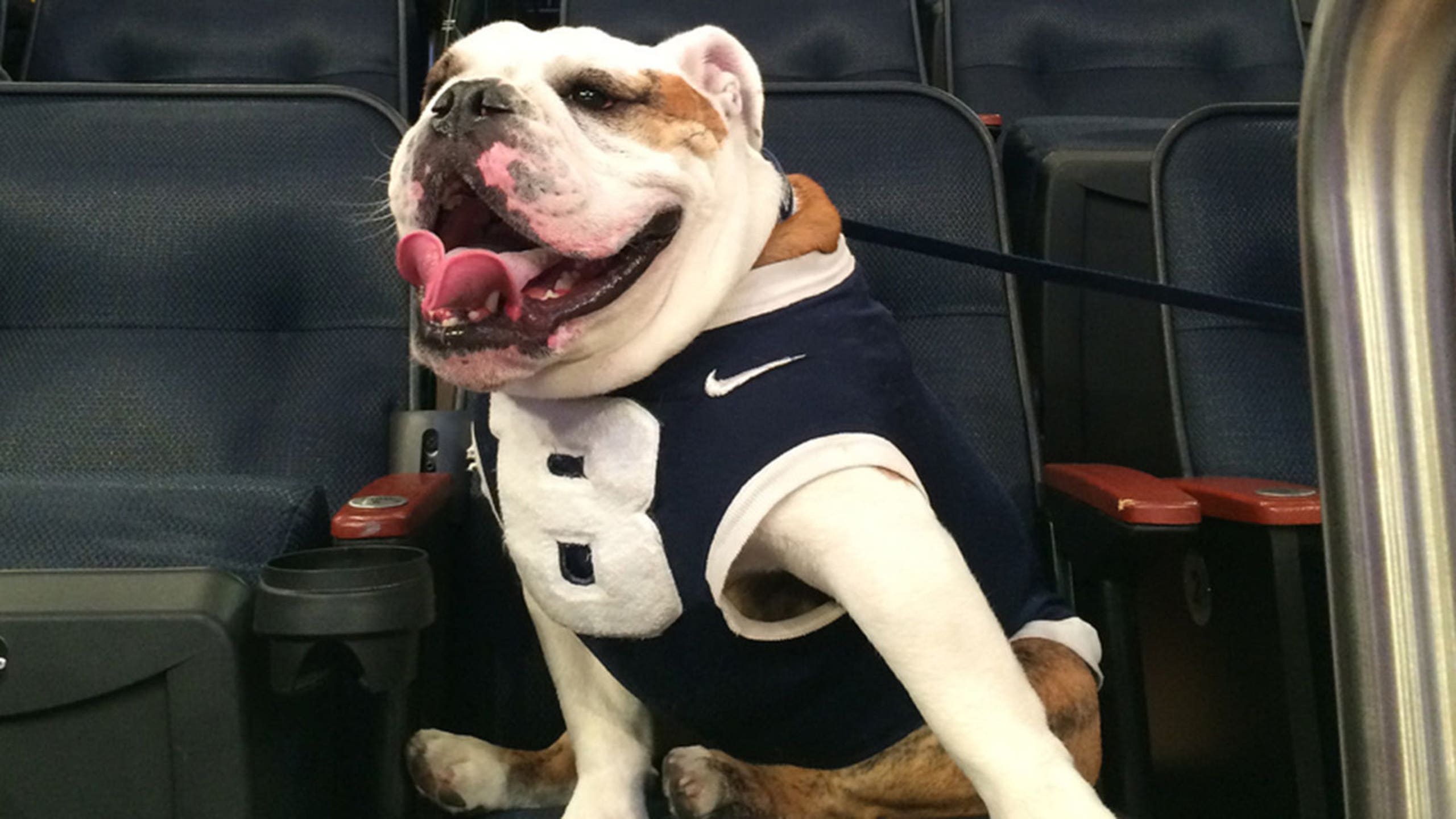 You're my boy, Butler Blue! Dog goes old (& new) school to gain following
BY Sam Gardner • March 13, 2014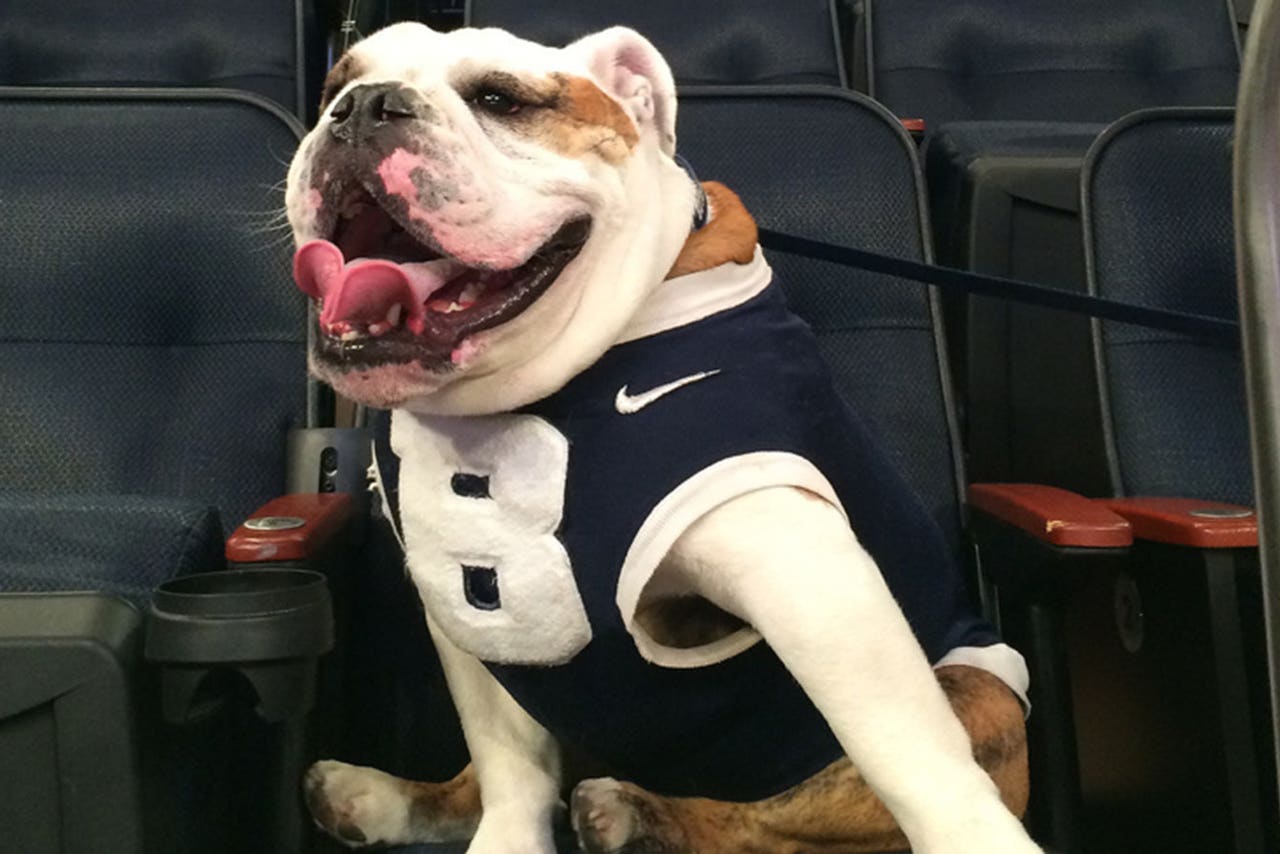 NEW YORK — Butler lost to Seton Hall Wednesday night in the first round of the Big East tournament, bringing to a close a difficult first season of the post-Brad Stevens era.
But as new coach Brandon Miller tries to rebuild a struggling Bulldogs program with two NCAA championship game appearances since the turn of the decade, there's another member of the Butler basketball family already performing at the top of his game — and most likely drooling on the floor while he does it.
Butler Blue III is the latest in the proud lineage of live bulldog mascots at the small private school from Indianapolis, and he goes by several names, with Blue, Blue III and Trip among them (though the hosts at "FOX & Friends" insisted on simply calling him "Butler" during a live national TV appearance early Wednesday morning).
For Blue III's handler Michael Kaltenmark, however, it doesn't really matter what people want to call the 2-year-old brindle-and-white dynamo as long as it gets people talking about the university with which his canine companion has become synonymous.
"They got 'Butler,' and that's all that matters," Kaltenmark said during a break in a jam-packed day that took Blue III from Rockefeller Center to Times Square to a Brooklyn elementary school to Madison Square Garden.
"And think about the demographics watching that show," he added. "Chances are it's not 16- to 18-year-olds. So if they just say 'Butler' 50 times, that's great. People kept commenting on how they weren't getting his name right, but they weren't saying 'Purdue' or something like that, so I didn't really care."
And why should he? Folks are more interested than ever in Butler these days, with applications up from 6,760 in 2010 to 9,682 in 2012, according to the Indiana Business Journal. And though the basketball team's success certainly plays a critical role in the uptick in eager candidates, Kaltenmark is convinced that at least a little bit of it has to do with Blue III and his predecessor, Blue II.
"There has to be (a connection), but I don't know how you quantify that," said Kaltenmark, a 2002 Butler graduate who took over the live mascot program in 2004, when the original Butler Blue moved away from the area. "Even if it's a small percentage, this dog has to have some impact on that effort, I've just got to believe it.
"There are kids who will tweet at us or come up to me and say, 'This dog is the reason I came here,' and I know that it's tongue-in-cheek, but I'm sure he influenced their decision or made them feel good about it or certainly didn't hurt their decision. He certainly plays a role in that recruiting process, and I feel like what we do from an awareness standpoint is huge."
A large part of the awareness Blue III helps generate comes in the social media sphere, where Blue III boasts nearly 12,000 Twitter followers and about 6,000 followers each on Instagram and Facebook. Through these mediums, Kaltenmark tries to create a persona for the spunky 62-pound tank and offer a level of engagement that he describes as "unparalleled" while documenting a season-long "Big Dawgs Tour" during Butler's first year in the Big East.
"If you mention us on Twitter, chances are we're going to reply," Kaltenmark said. "We're going to speak with you, we're going to have a conversation, and I think that resonates with people."
Still, though, the best interaction comes in person, where Blue III embodies the sweet temperament that bulldogs are known for with each admirer he meets. (And there are many.) The tour has taken Blue III from the 103rd floor of the Willis Tower in Chicago to the inside of the U.S. Capitol to the heart of the Big Apple, the school's most recognizable ambassador snorting and panting along the way.
"Nobody is going to apply to a school they've never heard of, but if we're out in these markets making noise, getting on blogs, social media, traditional media, and people are hearing about Butler and they see the dog, they've heard about us now, and I feel like that goes a long way," Kaltenmark said. "They may not remember that it was the dog that got them to hear about Butler or got them to investigate further, but if we can spark some of that awareness, I think that's good."
The latest leg of the tour started at 6:30 a.m. Tuesday in Indianapolis and made a detour through Columbus, Ohio, before arriving at 9 p.m. in Times Square. After the TV appearance early Wednesday, Blue III returned to Times Square for a photo op at the so-called "Crossroads of the World."
After lunch came a car ride out to Brooklyn, where Blue III visited an elementary school class taught by a Butler alum as Kaltenmark shared his children's book, "Good Boy Blue." The book, which was written by Kaltenmark, is based on the story of Blue II, who spent nine years with Kaltenmark as Butler's live mascot before his death in September.
"I had taken this guy and Blue II to a lot of Indianapolis-area schools and we do a lot of book readings and visits, and we were always taking somebody else's book, so I thought we should have our own book to take," Kaltenmark said. "And why not? We have our own story, we have our own character, and I know we have an audience. The story was there, so I wrote it."
The response, as is the case with most things Blue III does, has exceeded expectations, Kaltenmark says, and has helped to make Blue III even more of a celebrity, particularly around the state of Indiana.
"I remember when we first got Blue II, we'd go to a park or a restaurant and people would be like, 'That's a cool bulldog,' and then after a minute or two they'd say, 'Hey is he the Butler dog?' and that's how it would be," Kaltenmark said. "But then you do it for a couple years, and they're kind of like, 'That's the Butler bulldog.' Then you go to a Final Four and it becomes, 'Hey, that's Blue.'
"Now, that's how it is. He's a household name, he's recognized and people recognize him even without me. Usually it was a package deal like, 'You're the dog guy, right?' but now even without me, Blue III can walk around and people know who he is."
But while Blue III's surging popularity — thanks in large part to Kaltenmark's innovative use of social media — has been a coup for Butler, Kaltenmark says he sees bigger things for Blue III and his future ancestors to come. That's because the eventual goal is for Butler Blue to be as nationally revered as Uga, the beloved mascot at the University of Georgia.
"I felt that if Butler was going to have a dog, we should be able to reach the status of Uga," Kaltenmark said. "I didn't know how we were going to get there … but I wanted to start doing the things I thought might be good to help us get more visibility, more notoriety.
"So we did those things and we had the foundation in place, and then it was just the perfect storm with those two Final Fours. Now we're just a Google search away, and the rest is history."
And though Blue III still has a ways to go before he overtakes Uga in terms of popularity, he's well on his way — and he's making lots of admirers happy along the way, one sloppy kiss at a time.
"We're getting there, we're definitely chipping away at it," Kaltenmark said. "I think we're always going to be a little bit handicapped because we're not big-time football in the south, where big-time football is king and it can land you on the cover of Sports Illustrated. But we're holding our own with what we have.
"I don't think we've surpassed him, but I think we're knocking on his door, and that's cool, I love that. When I started, that, in the back of my mind, was my goal, and I thought we'd be there maybe by Blue VI, but I didn't know how. But we got (on the map) by Blue II and now we're working on it with Blue III and we're definitely further ahead than I thought we'd be."
You can follow Sam Gardner on Twitter or e-mail him at samgardnerfox@gmail.com.
---