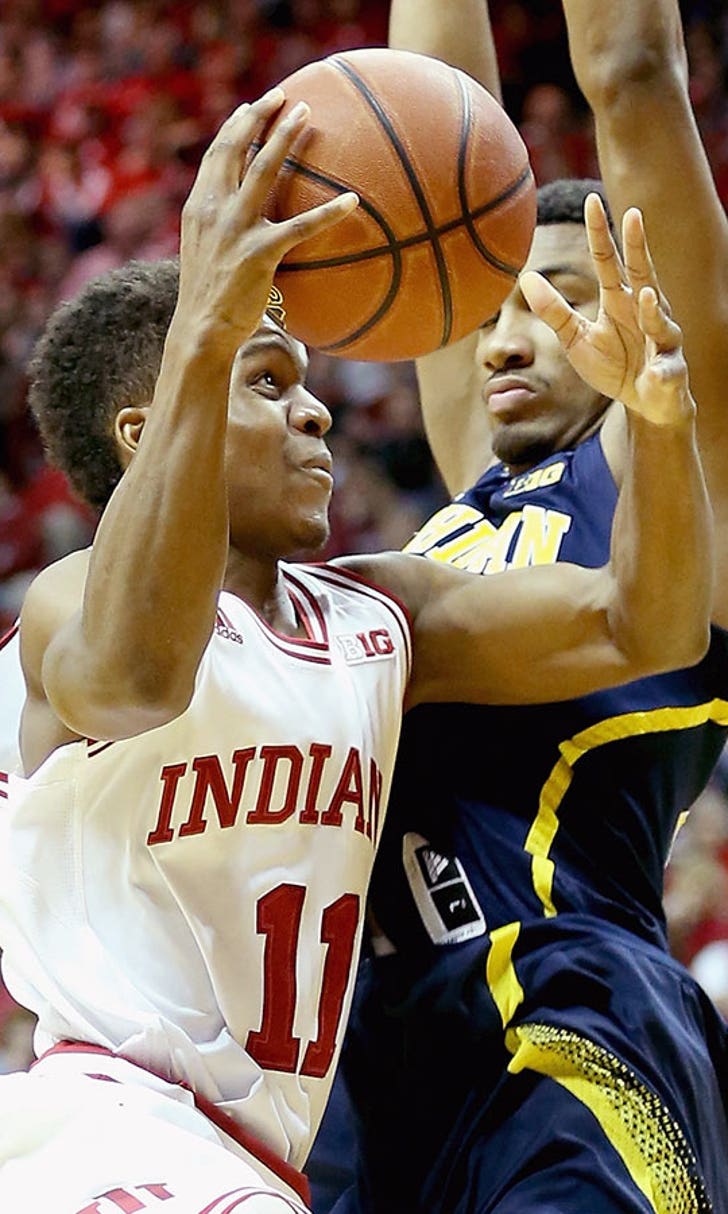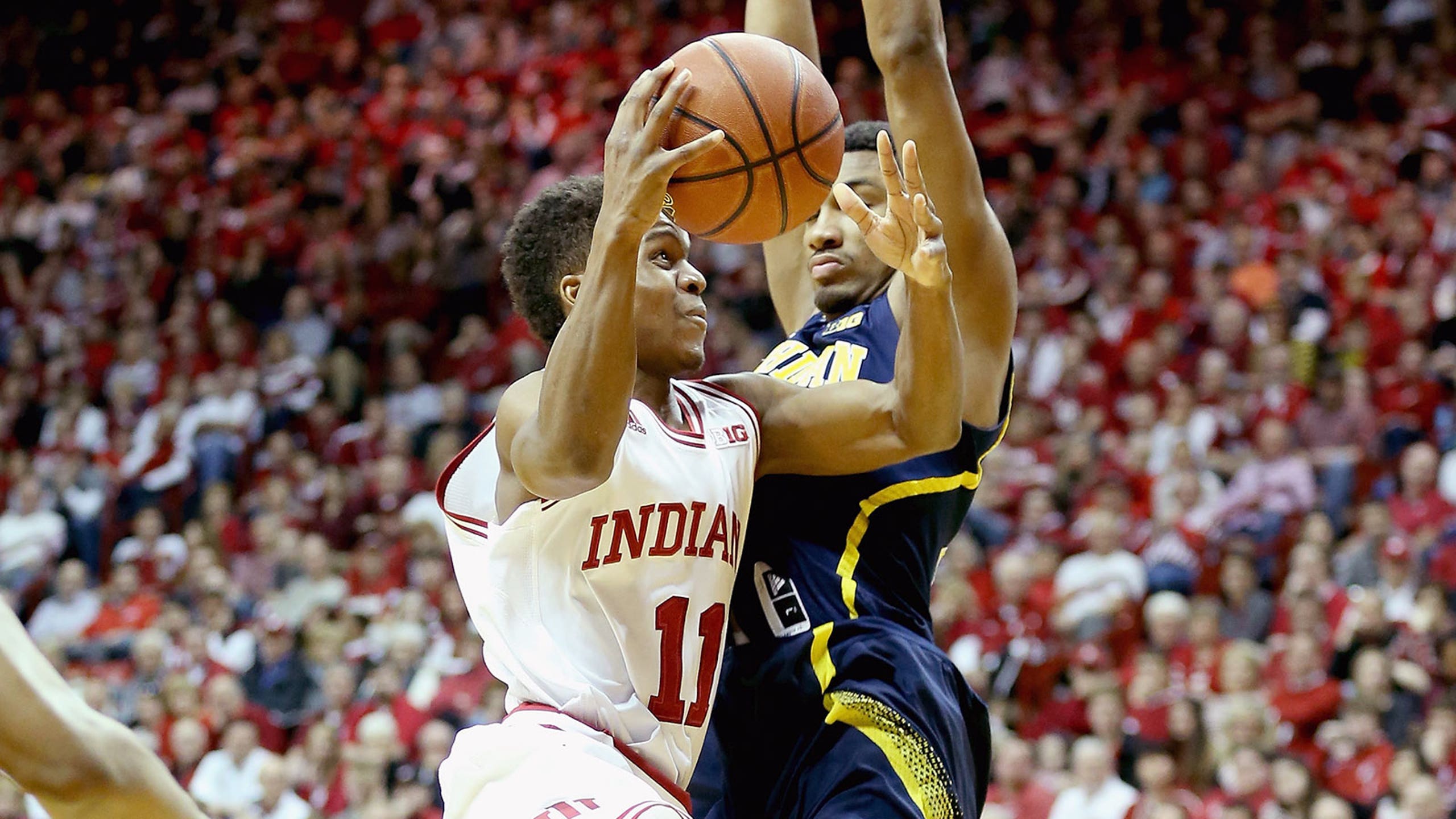 Williams, Ferrell get Indiana back on track with win vs. Michigan
BY foxsports • February 8, 2015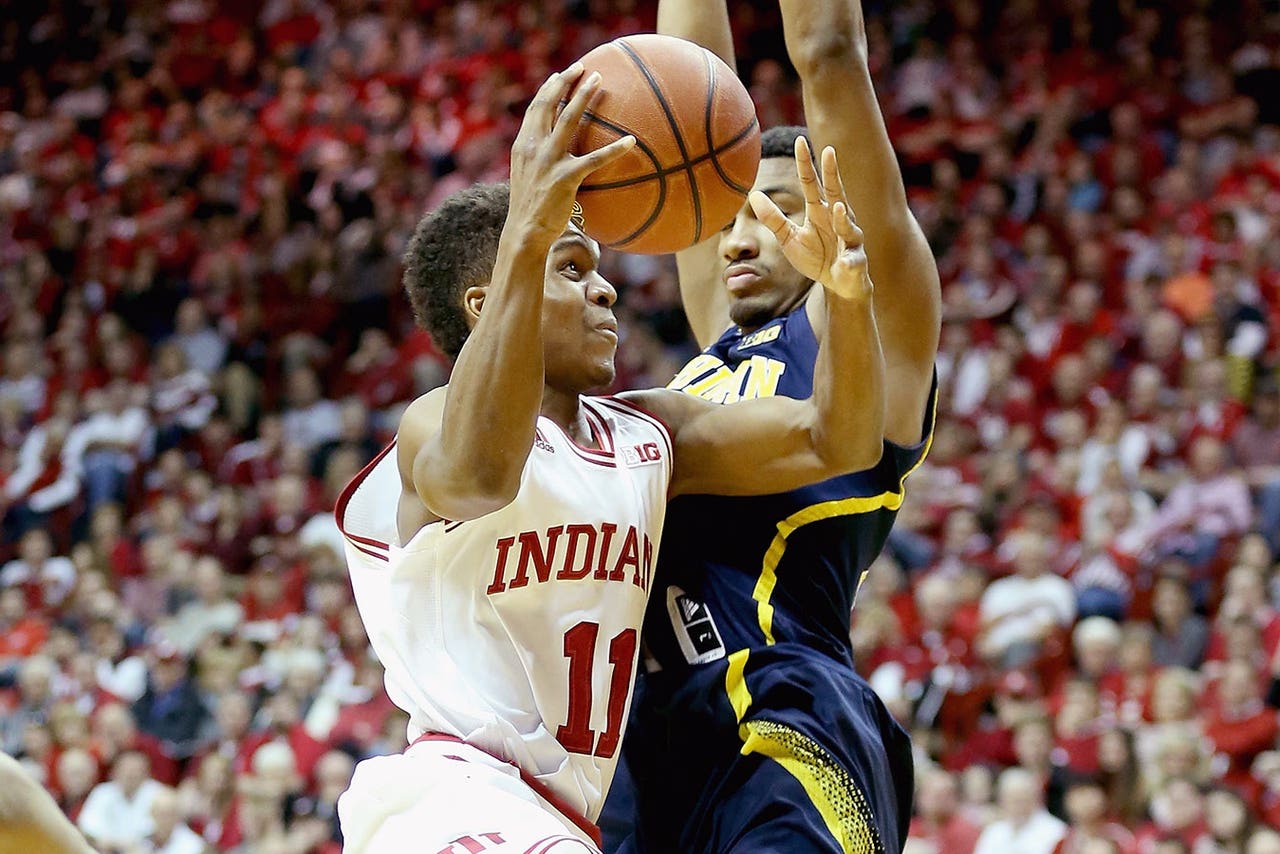 Troy Williams understands just how important a win is for the Indiana Hoosiers at this point in the Big Ten season.
Williams, who finished 20 points and eight rebounds, hopes Sunday's 70-67 victory over the Michigan Wolverines, will get the Hoosiers back on track.
"It builds everybody's confidence," he said. "Some people will break down, but we just stay with it in practice and we just stay with it on the court and off the court and the win just makes you feel better."
Yogi Ferrell had 18 points and six assists, and James Blackmon, Jr. added 13 for the Hoosiers (17-7, 7-4 Big Ten), who have won two of three games.
Zak Irvin had 23 points and Ricky Doyle finished with 15 points and six rebounds for the Wolverines (13-11, 6-6), who have lost three straight.
Spike Albrecht converted a 3-point play with 1:18 remaining to pull the Wolverines within three, 65-62, and the Hoosiers did just enough to keep the lead.
Ferrell tossed a pass to Williams, whose dunk put the Hoosiers ahead 69-64, but Irvin answered with a 3-pointer to make it 69-67 with 18.9 seconds left.
Collin Hartman scored a free throw before Michigan missed a game-tying shot just before the buzzer.
Indiana and Michigan are trying to get their Big Ten seasons headed in the right direction after struggling of late. The Wolverines entered the game coming off an 18-point loss to Iowa last week, and the Hoosiers just suffered a 92-78 loss at Wisconsin.
Indiana coach Tom Crean said the losses just added to Sunday's matchup between the two teams.
"It was two teams that came in to battle," he said. "I don't think any of us would take these games and call them our best games of the year, but I know our guys fought and their guys fought and fortunately we were able to get the ball one last time and get one last stop."
After Michigan cut the deficit to three to start the second half, Indiana went on an 8-0 run to take an 11-point lead.
Hartman scored a 3-pointer to put the Hoosiers ahead 39-33 to spark the run. Williams scored two free throws and Robert Johnson made a 3-pointer to give the Hoosiers a 44-33 lead with 17:42 remaining.
But the Wolverines kept finding ways to cut the deficit, but couldn't find a way to get over the hump.
"That's our story and we're getting tired of it," Michigan coach John Beilein said. "But it beats the alternative of giving in. So we're making progress. We're growing in both victory and defeat."
Irvin scored twice, including a 3-pointer, to get Michigan back within six but Indiana extended the lead again when Williams scored on a put-back dunk and Nick Zeisloft made a 3-pointer to make it 51-40 midway through the half.
Irvin, Dawkins and Doyle scored baskets to get back within five, 51-46, before Williams scored on a one-handed dunk and the Hoosiers held on down the stretch.
The Wolverines went on a 7-2 run late in the first half and got within three points when Albrecht made a pair of free throws to make it 24-21, but then Ferrell drove to the basket and made two free throws before Blackmon hit a 3-pointer to give the Hoosiers a 31-23 lead with 2:06 left in the first half.
Doyle and Muhammad-Ali Abdur Rahkman scored to cut the lead again, but Ferrell scored a 3-pointer and Hartman made a lay-up to give the Hoosiers a 36-29 halftime lead.
TIP-INS
Michigan: Derrick Walton, Jr. missed his fourth straight game because of a left toe sprained in a game against Villanova on Nov. 25. The guard sat the bench, along with Caris LaVert, who is out for the remainder of the season after he had surgery on his left foot last month.
Indiana: The Hoosiers had several plays that gave them a momentum swing. One play in the first half didn't come through, though. At the 12:18 mark Ferrell started a drive to the basket, and made a short pass to Williams, who made a one-handed dunk. But Ferrell was called for charging and Williams' dunk didn't count.
INDIANA PRESENCE
Indiana has a reputation for the popularity of basketball around the state and Indiana natives make up a large part of the rosters for the Hoosiers and the Wolverines. Both teams have five players that played high school basketball in the state, including standouts Blackmon and Ferrell for Indiana, and Albrecht and Irvin for Michigan.
UP NEXT
Michigan: At Illinois on Thursday.
Indiana: At Maryland on Wednesday. 
---