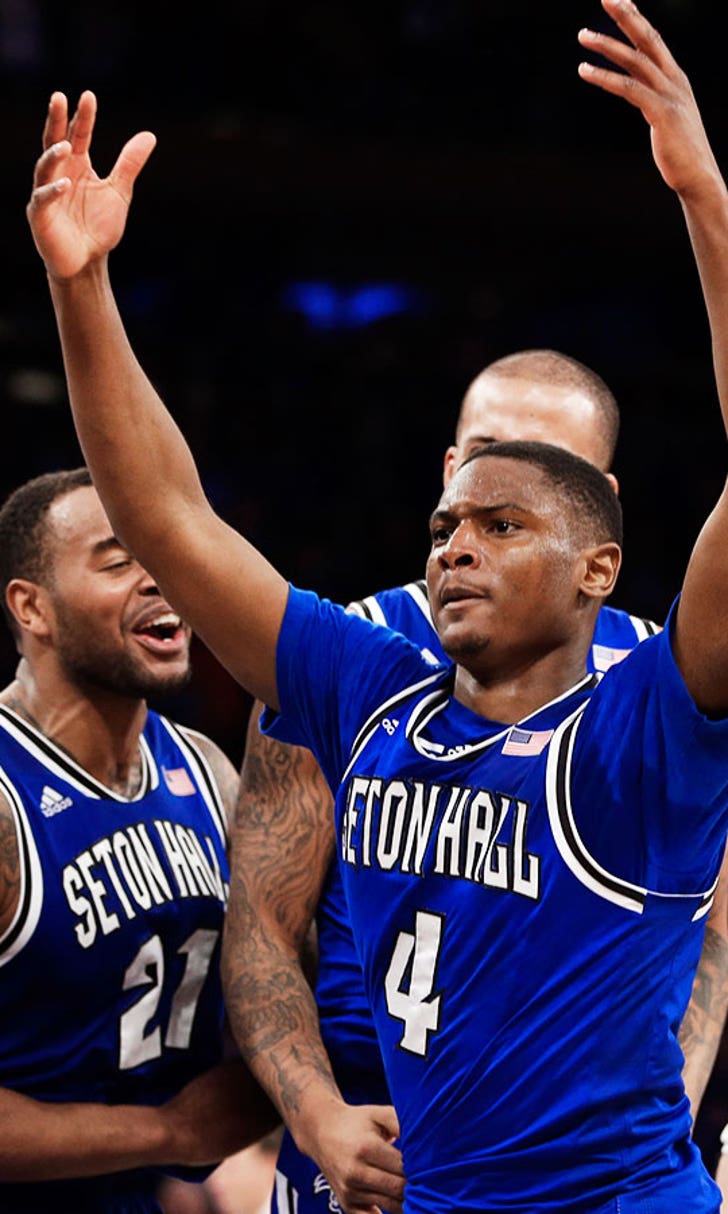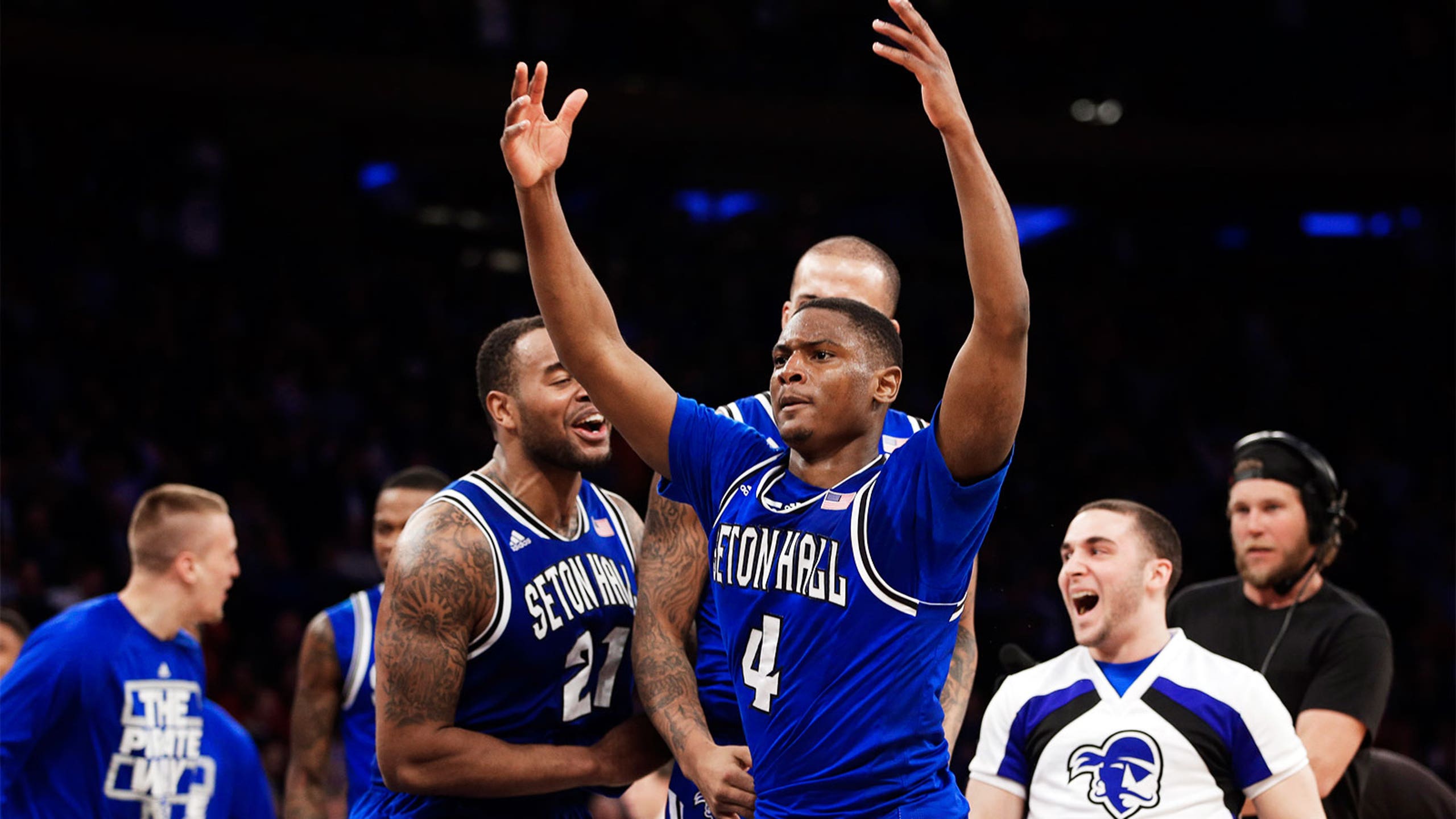 Why Villanova's stunning loss to Seton Hall might not be such a bad thing
BY Sam Gardner • March 13, 2014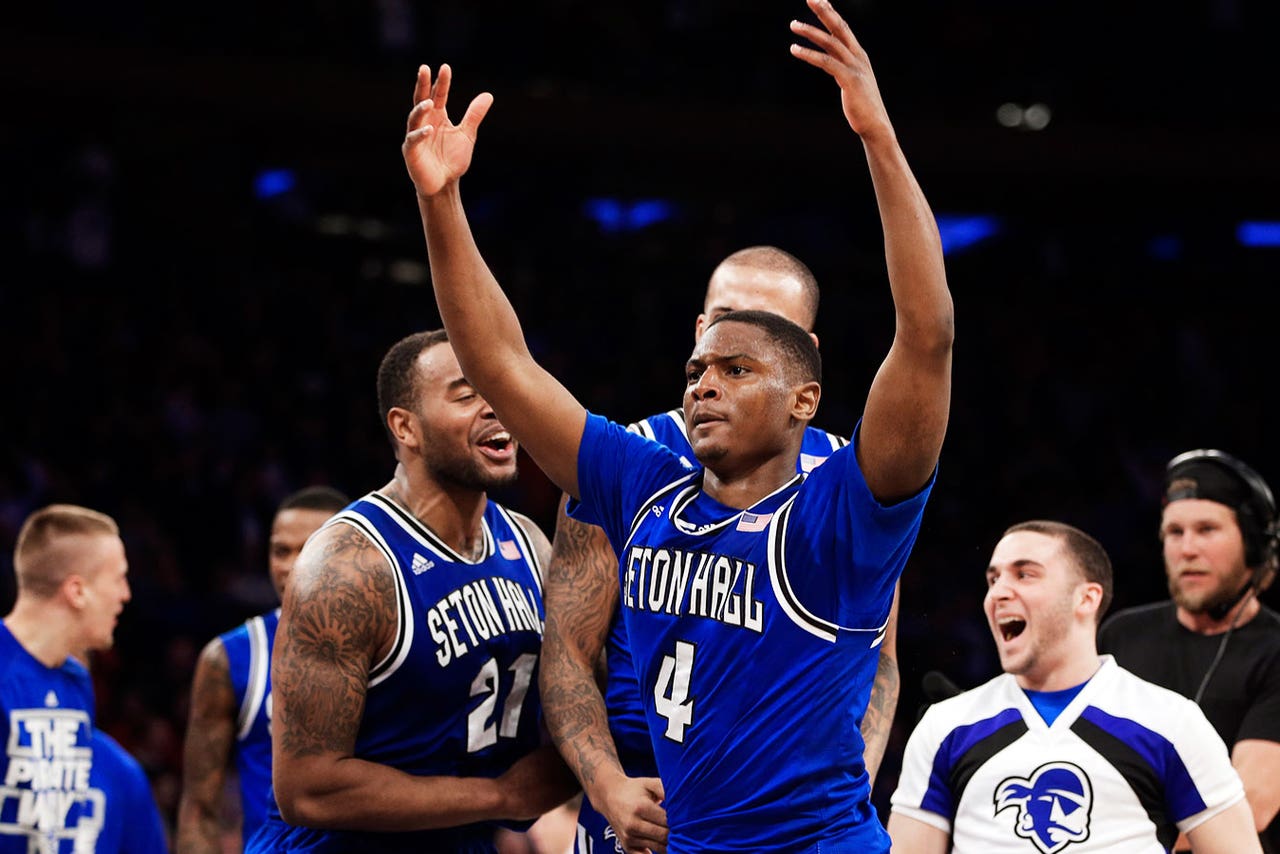 A new-look Big East is taking over Madison Square Garden this week, but two holdovers from the league's bygone era brought some of the same old drama to the tournament quarterfinals.
Sterling Gibbs made a step-back jumper from the top of the key as time expired Thursday afternoon to give No. 8 seed Seton Hall (17-16) a 64-63 win over top-seeded Villanova (28-4), the No. 3-ranked team in the country. The result was a stunner for just about everyone in the arena — save, maybe, for the coaches of each of the two teams involved.
"I really thought if we could get past Butler (in Wednesday's first round), we could get past anybody," Seton Hall coach Kevin Willard said. "I was really scared about getting past Butler ... and I thought if we could get past them, we could get some momentum and just keep going."
"I believe my quote (earlier this season) was that nobody would want to play these guys on these teams in a one-and-done game," Villanova coach Jay Wright added. "I just know the quality of coaching in this league, and I know the quality of play."
For Seton Hall, which earned its first back-to-back Big East tournament wins since 2001, the victory gets them one step closer to the Big East'€™s automatic bid to the NCAA tournament. But in all likelihood, it'll amount to little more than a feather in the Pirates' cap after a difficult season that has been marred by injuries and close losses, seven of which came in one-possession games.
For Villanova, however, the loss will likely cost them a No. 1 seed in the tournament — a fact that means less to Wright and the Wildcats than one might think.
"You've all heard me say this before: This was not about 1-seeds, 2-seeds," Wright said. "This was about (us wanting) to come to Madison Square Garden and win the Big East Tournament. Winning the Big East Tournament would mean much more to us than a 1-seed.
"This is a great tournament. We wanted to be here until Saturday. I think we're most disappointed about that. The NCAA tournament seedings, my belief is one, two, three — it doesn't matter that much. You're going to play great teams."
And though Wright wouldn't admit as much, there's probably a silver lining to Villanova's early exit if they do, in fact, believe they can contend for a national championship.
With even the top seeds playing up to three games in three nights, conference tournaments are a grind. And while there's certainly something to be gained by playing well heading into the NCAA tournament, the rest afforded to tourney locks like Villanova when they lose early on could prove even more important when NCAA play starts.
That's not to say that 'Nova didn't want to win Thursday. You could feel the energy radiating from the Wildcats' bench during a 16-0 run to take a 47-44 lead in the second half.
But when the Wildcats open the NCAA tournament next Thursday or Friday — as a 1-seed or a 2-seed — and they've played only one game in the last two weeks, they may be silently, and perhaps bashfully, appreciative of the extra few days off to rest and prepare.
Madison Square Garden was treated to a Villanova squad with little to play for giving it their all. But if the NCAA truly wanted to get prime effort out of every team in every conference, it would modify the schedule to move all of the conference tournaments to the same time, with an extra week between the end of conference action and the beginning of the round of 64.
Wichita State will certainly benefit from the extra few days off this week, with their Missouri Valley title locked up on Sunday. And though Villanova is hurting right now, they, too, will be better prepared for the tournament that matters because of their early ouster from this one.
"In the NCAA tournament, it's one-and-done," Villanova guard Ryan Arcidiacono said. "We have to bring it right from the start. We can't have Coach call a quick timeout. We have to bring it, and it comes from practice every day and just going at each other."
You can follow Sam Gardner on Twitter or e-mail him at samgardnerfox@gmail.com.
---