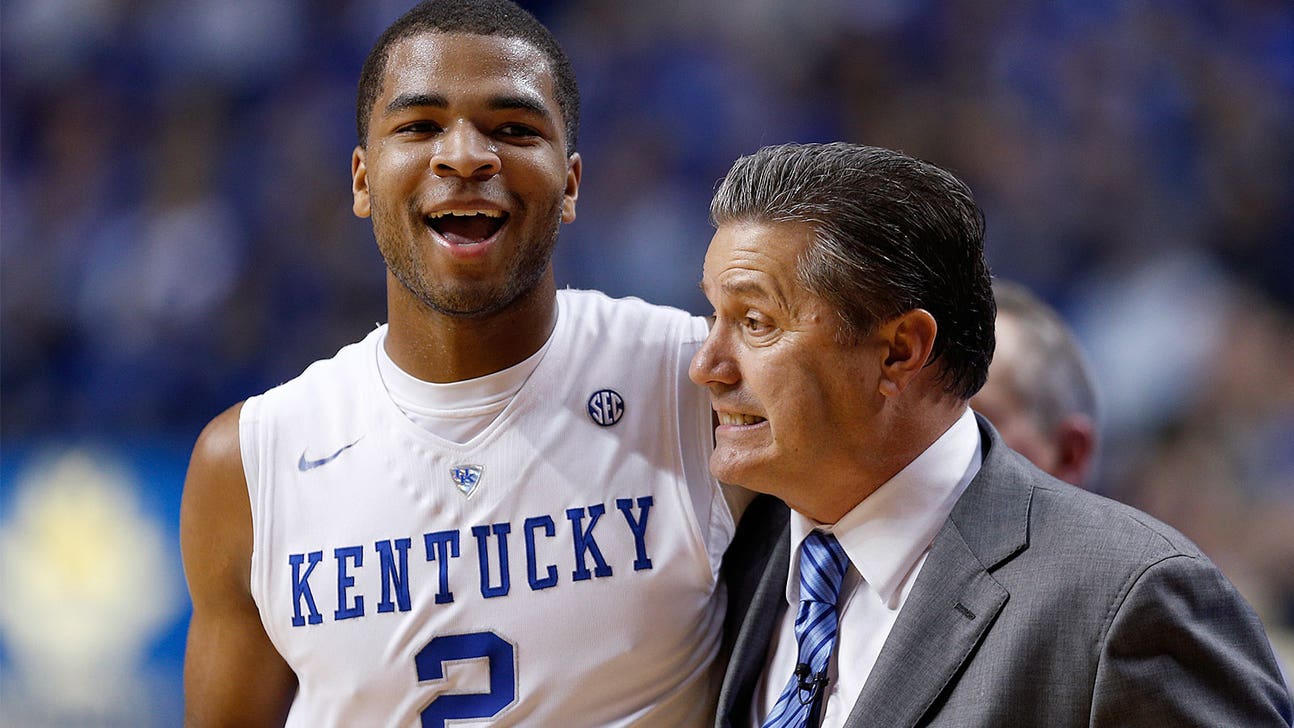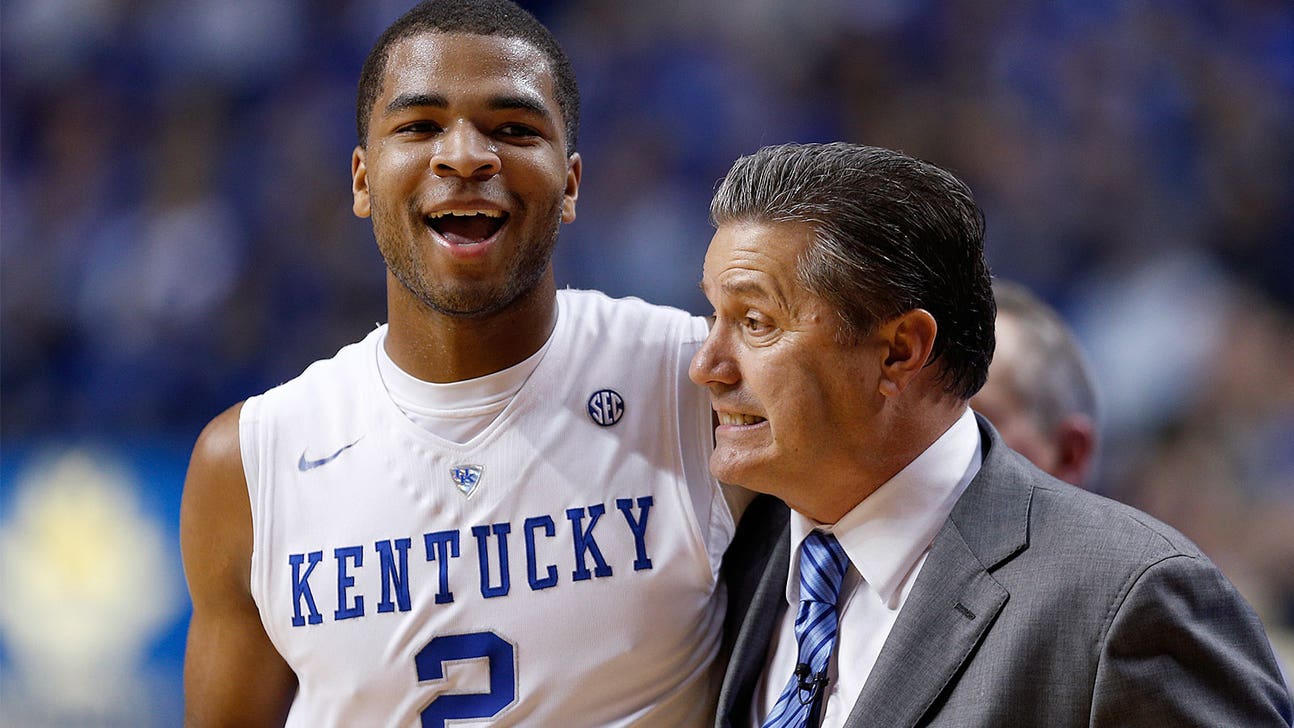 Time to hit the reset button on the college basketball season
Published
Feb. 2, 2015 5:32 p.m. ET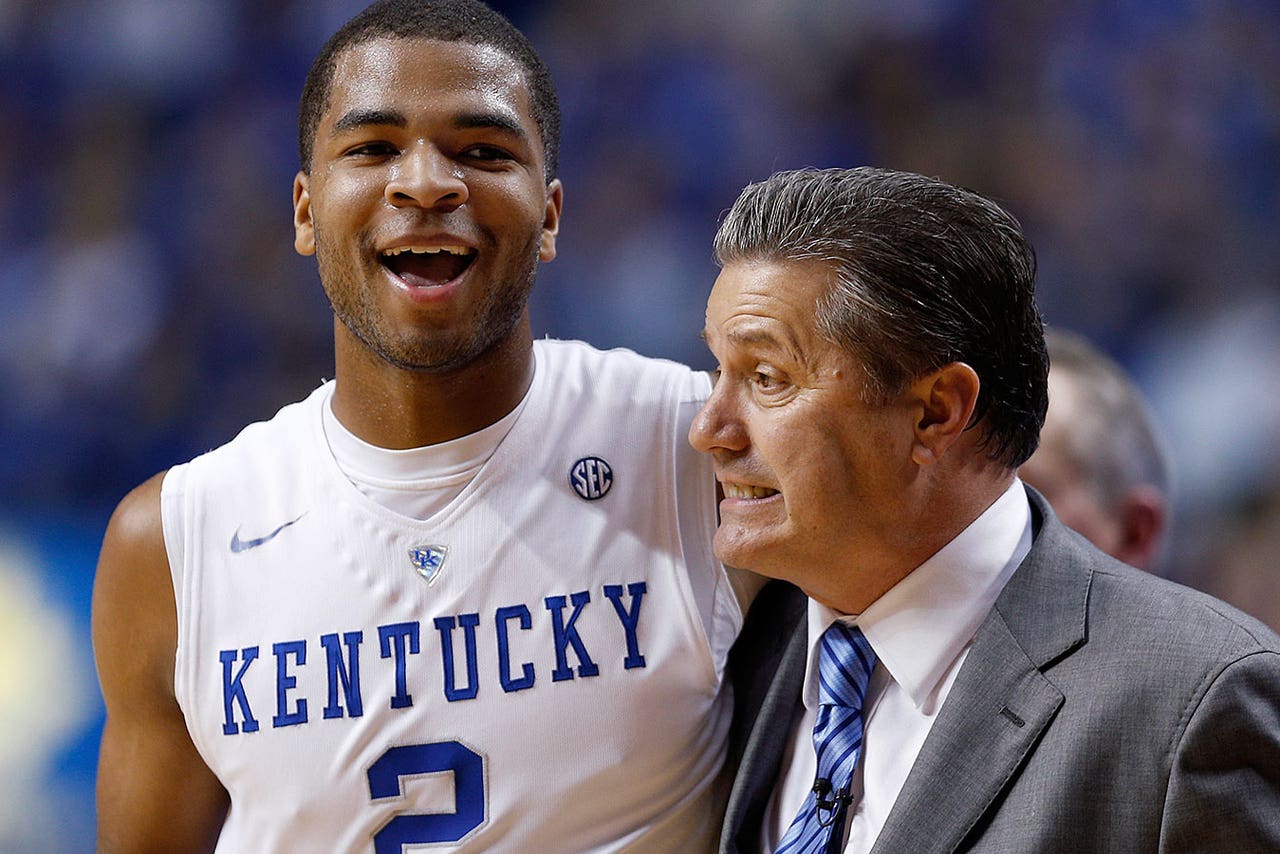 The moment Russell Wilson threw that end-zone interception, it was time. Time for the presentation of the Lombardi Trophy, which in my world means it's time to fully turn the page on football and time for college basketball to take center stage.
The most hardcore of college hoops fans have been paying close attention to the 2014-15 season since even before teams started practicing in October, but for many of you, it's only now time to start brushing up on your hoops. After all, Selection Sunday is 41 days away.
So let me catch you up with 10 things you need to know if you first thought of paying attention to college hoops when you were nursing that Super Bowl hangover Monday morning.
1.  Kentucky is that good. This is one part of the college hoops season even the most casual fan has heard about: It's February, and Kentucky is still undefeated. The 21-0 Wildcats are hands-down the best team in the country. This team's defense has been historically dominant. Kentucky is allowing 81.7 points per 100 possessions. That's a full 3.4 points ahead of the second-place team and would be the best mark since the analytics site KenPom.com started tracking the statistic 13 seasons ago. John Calipari's squad is young, with only one rotation player, Willie Cauley-Stein, who is an upperclassman. It's also tall, with a roster filled with 7-footers and near-7-footers that's bigger than most NBA teams. A year ago Syracuse was undefeated well into February, but that team was never as good as its record indicated. Kentucky, however, is. The Cats had a couple of near-slip-ups early in conference play with two overtime victories, but considering how weak the SEC is, the chance of this team being undefeated going into the NCAA tournament has gone from a fairy tale at the beginning of the season to something that now feels more likely than not.
2. Instead of "Who's No. 1?," the more interesting argument in college basketball is, "Who's No. 2?" By my count, there are five teams that can make a solid case for being the second-best in the country: Duke, Arizona, Gonzaga, Wisconsin and Virginia. It would not shock me if a month from now, Villanova, Kansas or Louisville injected itself into that conversation. If I had to project which team will be the second-best team in the nation next to Kentucky entering the NCAA tournament, I'd go with Duke. Coach K's team has the burden of his 1,000th victory off its shoulders, and its defense – briefly considered a huge issue during a two-game January losing streak in which Duke gave up 87 points to NC State on the road, then 90 points to Miami at home – feels like it has settled in. This is the first time in three decades Coach K has started at least three freshmen. By March, these likely one-and-doners – Jahlil Okafor, Justise Winslow and Tyus Jones – will be ready for a Final Four run.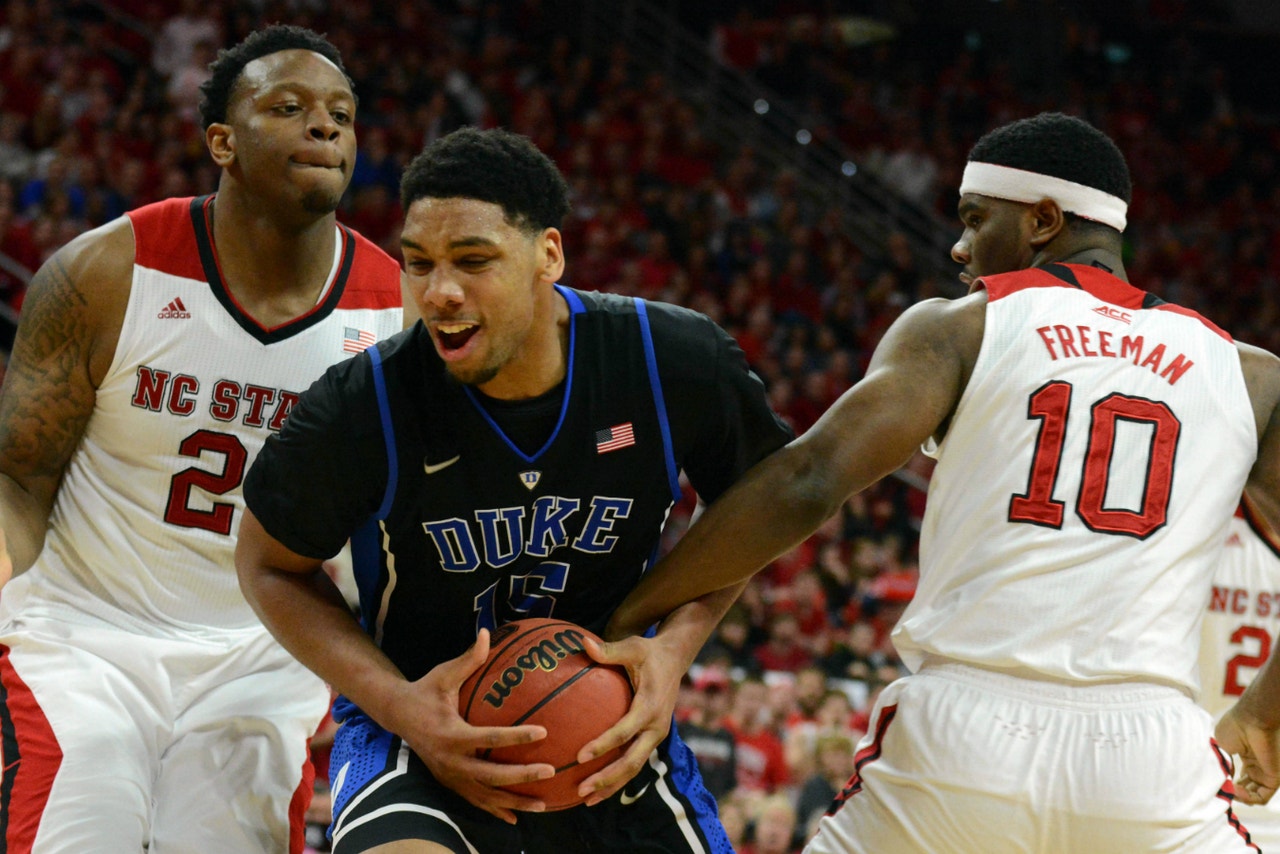 Jahlil Okafor makes Duke the second-best team in the country -- for now.

3. Jahlil Okafor is both the best college basketball player in the country and the best NBA prospect. The preseason hype didn't reach Andrew Wiggins levels, and that's because Okafor is the anti-Wiggins as a player. Whereas Wiggins entered college as a freak athlete who was somewhat rough around the edges as a basketball player, Okafor arrived as one of the most polished offensive big men we've seen since Tim Duncan was at Wake Forest. He's a good but not great athlete, but it's that sort of polish that has made Okafor the obvious choice for the No. 1 pick in the June NBA Draft. Just about every time he touches the ball, he's double-teamed, but he handles that pressure with so much poise.
4. Okafor will have plenty of competition for the title of Mr. College Basketball 2014-15. A few of these names you've heard of if you've followed the sport in recent years: Wisconsin's Frank Kaminsky. Louisville's Montrezl Harrell. Kentucky's Cauley-Stein. Notre Dame's Jerian Grant. But there are plenty of other folks in the discussion for player of the year – or first-team All-American status – who are new to the scene. There are dominant freshmen such as Arizona's Stanley Johnson, Ohio State's D'Angelo Russell and the young Wildcats who are playing big roles in Calipari's platoon system: Karl-Anthony Towns, Devin Booker, Tyler Ulis. And there are also upperclassmen on top-25 teams who have been unheralded until this season but are now stepping into the spotlight. My favorite of these players is Utah senior point guard Delon Wright, who might be more valuable to his team than any player on a top-25 squad. There's also junior wing Justin Anderson for a Virginia team that might be the best in the ACC. And a kid who is the biggest surprise on KenPom.com's player of the year standings: Seth Tuttle of surging Northern Iowa. He ranks fifth.
Tony Bennett and Virginia like to play it slow.
5. Slow ball is winning basketball. There has been no shortage of hand-wringing this season about how slow college basketball has become, especially when compared to the NBA. Grinding games in which both teams are below 50 points have been far too frequent. But coaches are going to keep slowing the game down because slow basketball is competitive basketball. Look at Virginia, which has the second-slowest tempo in the nation, per KenPom. A controlled pace plus a choking pack-line defense is how Tony Bennett is able to take a group of zero McDonald's All-Americans – and possibly only one future NBA player – and turn it into one of the best teams in the country. Similar styles are successful for slow-paced Wisconsin, Northern Iowa and Wichita State.
6. If your definition of "fun basketball" is "fast-paced basketball," look no further than the Big 12. Specifically, look toward Iowa State and West Virginia, two of the fastest-paced teams in the country, which are winning fast and doing it in completely different ways. Iowa State might be the most watchable team in the country, with a high-flying, NBA-style offense that plays with more confidence than anyone. When Fred Hoiberg's team gets the ball, it's off and running with an average length of possession that's second-quickest in the country. Bob Huggins' Mountaineers play a completely different type of fast -- on defense, not offense. West Virginia just keeps turning opponents over with the quickest average defensive possessions in the country. Nearly a third of its opponents' possessions (31.2 percent, according to KenPom.com) end in turnovers. If fast is fun, set your Valentine's Day date for basketball-watching, as West Virginia heads to Ames.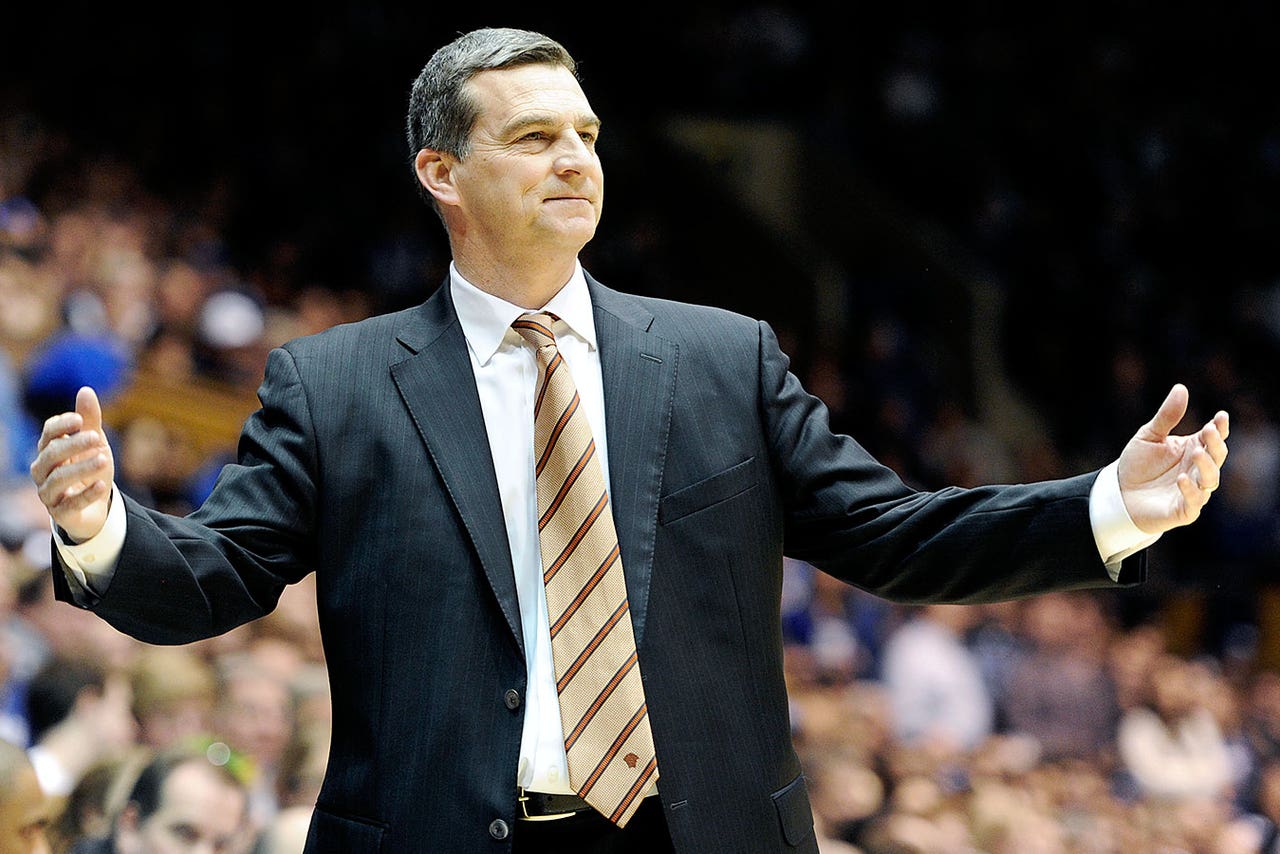 Maryland's Mark Turgeon sure isn't on the hot seat anymore.
7. Remember those coaches who were supposedly on the hot seat? Most of them are no longer there. The offseason and early-season rumor mill had Indiana's Tom Crean, Oklahoma State's Travis Ford, Maryland's Mark Turgeon and Seton Hall's Kevin Willard in danger of unemployment. All of them are on track not just for NCAA appearances but perhaps pretty decent seeds.
8. The best conference is the Big 12. I say that because I think the Big 12 has a shot at sending 80 percent of its teams to the NCAA tournament, which would be insane. I value conference depth over a league that is top-heavy, and there's no deeper conference than the Big 12. But if you judge a league's strength by how many Final Four contenders it has, then you should pick the ACC. Things at the bottom of the ACC get pretty ugly, but life at the top is gorgeous. Two teams –Duke and Virginia – ought to be considered favorites to reach the Final Four. Another three teams – Notre Dame, Louisville, North Carolina – ought to be considered Final Four contenders. Meanwhile, NC State and Miami could go on a run and beat anybody, as they proved when each defeated Duke.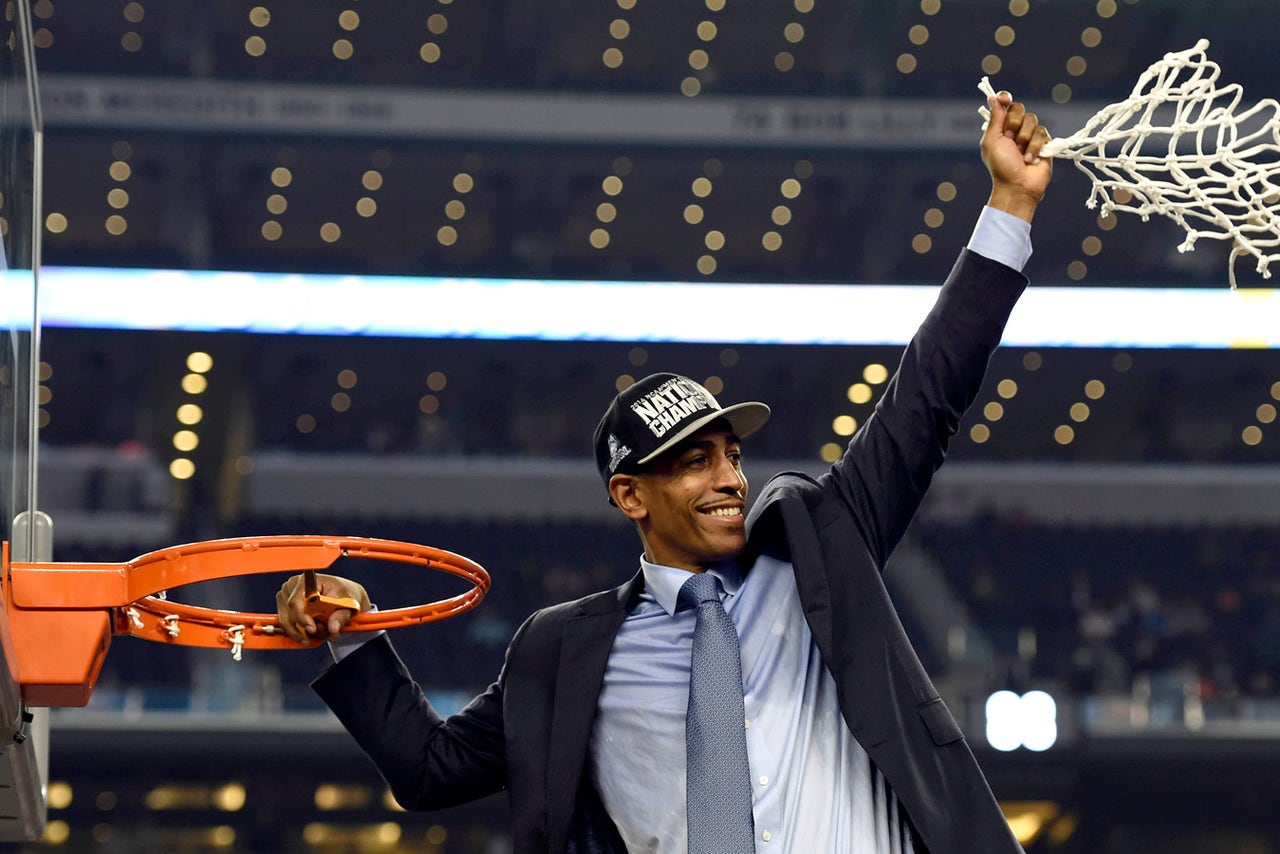 Kevin Ollie and UConn may have trouble getting a chance to defend their title.

9. Bluebloods are struggling. Last season, Syracuse was undefeated until mid-February and ended up getting a three-seed in the NCAA tournament. UCLA had one of the most exciting offenses in the country and made the Sweet 16. Michigan was a two-seed in the NCAA tournament and was an Aaron Harrison 3-pointer away from making the Final Four. Florida was the No. 1 overall seed in the tournament en route to a Final Four. And Shabazz Napier-led UConn ended up winning it all. This season, it's entirely possible that all five of those teams will miss the NCAA tournament. It just goes to show how thin the margins are in college hoops, and how the sport operates in cycles more than any other in America.
10. I'm changing my Final Four. In the preseason, I told you my Final Four was Arizona, Kentucky, Wisconsin and Iowa State, with Arizona upsetting an as-yet-undefeated Kentucky for the national title.  I'd like to amend that. Kentucky is going to win it all and will go undefeated; it will go down as one of the more impressive seasons in college basketball history. And I'll flip my title game, having Kentucky beat Arizona. I'm going to change my other two picks, though. I still like Iowa State as a dark-horse team, but the Cyclones are too inconsistent, especially when they aren't playing at Hilton Coliseum. And Wisconsin is still good-bordering-on-great, a model of efficiency, but two things give me pause there: The defense isn't as dominant as a typical Bo Ryan defense, and Traevon Jackson fracturing his foot in January means the Badgers will be bringing their starting point guard back into the mix shortly before the NCAA tournament. The two new teams I'm putting in my Final Four are Duke and Virginia. I feel comfortable with Kentucky, Arizona and Duke. But you could plug at least a half-dozen other teams in for Virginia – Oklahoma, Gonzaga, Louisville, Kansas, Villanova, Utah, Notre Dame and more – and I wouldn't argue.
Email Reid Forgrave at reidforgrave@gmail.com, or follow him on Twitter @reidforgrave.
---