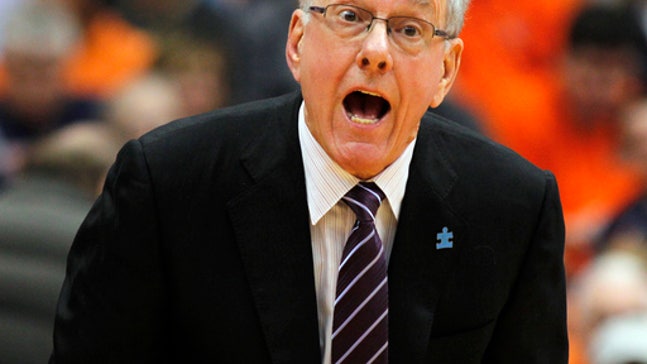 The Latest: St. Bonaventure hopes to prove committee wrong
Published
Mar. 13, 2016 10:50 p.m. ET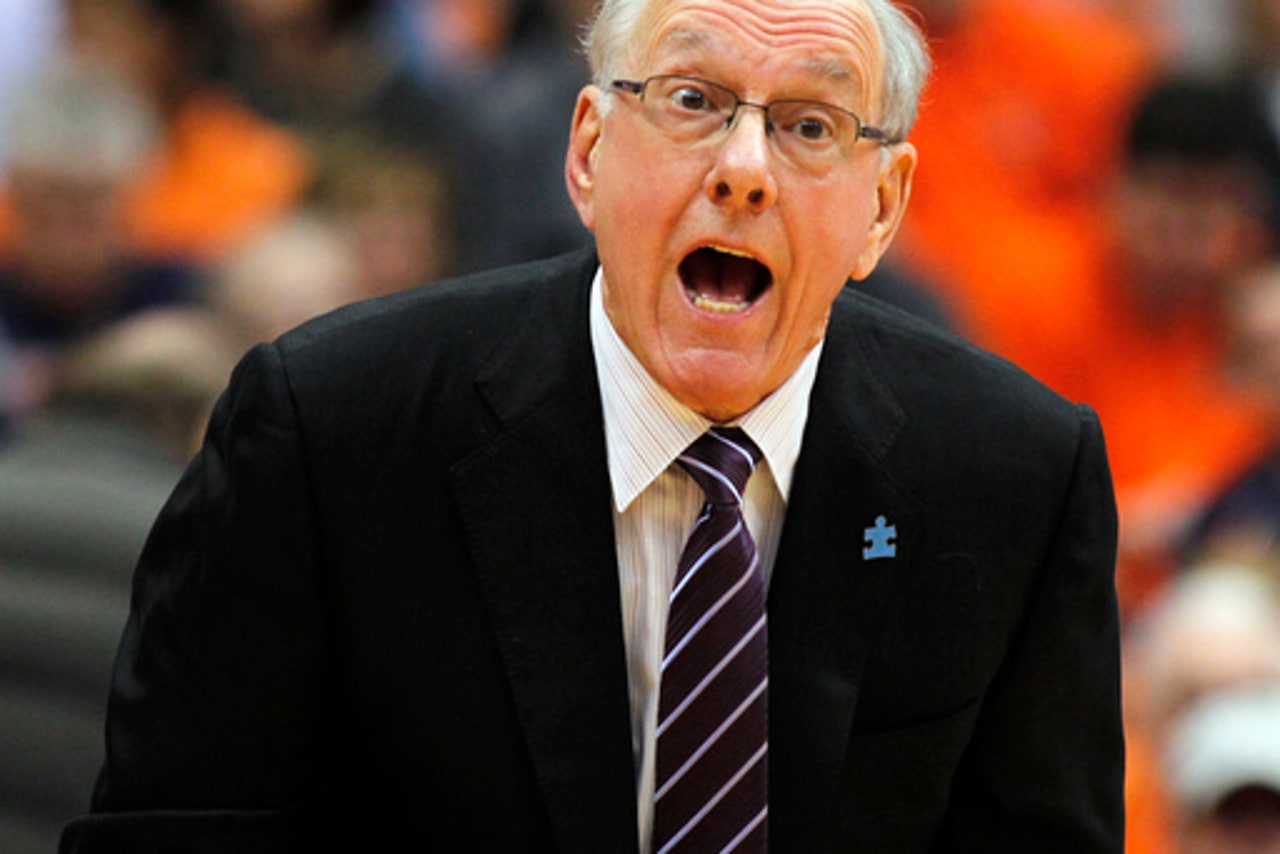 The Latest on Selection Sunday for the NCAA Tournament, with 32 automatic qualifiers and 36 at-large teams picked and placed into brackets (all times Eastern):
9:45 p.m.
St. Bonaventure coach Mark Schmidt says he will not allow the NCAA Tournament selection committee to define his team's season. The Bonnies were regular-season co-champions of the Atlantic 10, but did not make the field of 68.
''To me, that's really, really important because the things that they've accomplished - when you're the first person to do something, that's pretty special. And these guys, this is the first team to do a lot of firsts. So we're proud of that,'' Schmidt said. ''We can't allow 10 guys in a room to define how good a season we had.''
St. Bonaventure will face Wagner as a No. 1 seed in the NIT on Wednesday night.
''At the end of the day, we knew our resume was better than some of the teams that got picked, but we still had no control over it. It's kind of weird seeing it, because when you look on certain teams' quality wins, you see St. Bonaventure pop up. And those are teams that are in, that got picked,'' said guard Marcus Posley.
Schmidt said: ''Our goal is to show the committee that they made a mistake. You play with that chip on your shoulder. I think our guys will bounce back from this disappointment and get ready to play on Wednesday.''
---
9:20 p.m.
NCAA spokesman David Worlock calls the leak of the bracket via a Twitter post regrettable. The bracket posted about a half hour into a two-hour show on CBS revealing the tournament matchups. Most of the pairings had not been revealed.
''We go through great lengths to prevent the tournament field from being revealed early and the NCAA took its usual measures to protect this from happening,'' Worlock said in statement. ''Unfortunately, and regrettably, the bracket was revealed prior to our broadcast partners having the opportunity to finish unveiling it. We take this matter seriously and we are looking into it.''
---
9:00 p.m.
Atlantic 10 Commissioner Bernadette McGlade says she is ''shocked'' that St. Bonaventure was left out of the NCAA field of 68. The Bonnies were regular season co-champions of the A-10 and had an RPI of 29. The A-10's other co-champions - VCU and Dayton - made the field, along with tournament champ Saint Joseph's.
''As commissioner I will always defend my institutions,'' McGlade said in a statement. ''St. Bonaventure belongs in the NCAA Championship. Their body of work, seven wins against top 70 teams, their first-place finish in the A-10, and a 29 RPI - every measuring point has been successfully met. In short they met the `eye test' and the fact test. I am shocked that the committee did not select this team. It's a tremendous disservice and disappointment to these student-athletes, the SBU nation and the A-10.''
McGlade says she will talk to the selection committee and compare stats of all of the at-large teams.
---
8:50 p.m.
Xavier got a No. 2 seed for the first time in its history, yet another milestone for the Musketeers' season. They've had a No. 3 seed twice before. Xavier tied the school record with 26 regular-season wins and a No. 5 ranking. The Musketeers were in the Top 10 for a school record 13 weeks. And now, their best seed.
''It's amazing,'' guard Myles Davis said. ''A great feeling. I'm proud of these guys and all we've done in the regular season and being able to make history at Xavier.''
- Joe Kay.
---
8:29 p.m.
Monmouth released a statement from coach King Rice about being left out of the NCAA Tournament. He said the team was disappointed, but excited to play in the NIT. And a planned conference call with the media was canceled.
''We are happy for the teams that will participate in the 2016 NCAA Tournament and wish them the best of luck,'' Rice said.
---
8:13 p.m.
Sterling Smith's addiction to his phone paid off for Pitt. The senior graduate transfer guard set the Panthers at ease early during the selection show, sharing the leaked NCAA Tournament bracket that showed Pitt was the 10th seed in the East Region and would face seventh-seeded Wisconsin in St. Louis on Friday.
''We were wondering what we were going to do for that entire time; all of a sudden we knew rather quickly,'' coach Jamie Dixon said.
This is Pitt's first appearance in the tournament as a double-digit seed since 1985. The Panthers haven't survived past the first weekend since losing in the regional finals to Villanova in 2009. Pitt went 4-7 over its last 11 games this season.
- Will Graves.
8 p.m.
Notre Dame coach Mike Brey said he got a text from his son Kyle, a tight ends coach at Youngtown State, saying he had seen the leaked bracket and the Irish would play the winner of the Michigan-Tulsa game in New York.
''I thought he was messing with me,'' Brey said. ''So I just deleted it. Fifteen minutes later we show up, and then I found out we had a little leakage going on. Nothing's secure, huh? That's great. That is so typical. It's so typical of college basketball. It's great.''
- Tom Coyne
---
7:45 p.m.
Ivy League player of the year Justin Sears acknowledges a bit of the joy of his program's first NCAA Tournament bid since 1962 has been dampened by the controversy surrounding the departure last month of team captain Jack Montague.
But Sears and the rest of the team were dancing along with about 200 fans at Payne Whitney Gymnasium Sunday when it was announced the Bulldogs would headed to Providence as a No. 12 seed to play Baylor on Thursday in the West region.
The team clinched the Ivy League championship on the road at Columbia. It spent a few minutes before the selections were announced cutting down the net on their home court.
Yale finished the regular season with a 22-6 overall record and was 13-1 in the Ivy, matching the best league record in school history.
The team is 7-1 since its last game with Montague, whose father says was expelled from school.
The Bulldogs last week apologized for wearing T-shirts in support of Montague during warmups of their Feb. 26 win over Harvard, a move that upset many on campus.
''Jack's one of our teammates, our brothers,'' Sears said. ''We're a team still, no matter what. Jack is supporting us right now, wherever he is. We're having fun right now and I'm sure he's enjoying the moment, wherever he is.''
- Pat Eaton-Robb.
---
7:35 p.m.
Kentucky beat Texas A&M on Sunday for the SEC Tournament championship. The Wildcats received a four seed from the NCAA selection committee. The Aggies got a three.
Wildcats coach John Calipari's reaction during an interview on ESPN: ''Did we not play a basketball game today?''
---
7:28 p.m.
Why did Michigan and Syracuse get in? Joe Castiglione, the chairman of the selection committee and Oklahoma's athletic director, said victories against teams ranked in the top 50 of the RPI boosted the Wolverines and Orange.
Michigan had four. Syracuse had five.
Why did Monmouth miss out? Castiglione said three losses against teams with RPI's of 200 or worse hurt the Hawks.
---
7:20 p.m.
Villanova was hoping to get into the East Region with a path through Philadelphia. Instead the Wildcats are the No. 2 in the South, face a possible second-round game against Philly rival Temple and will be playing in Louisville if they get to the second weekend.
''I'm sure a lot of the fans are probably disappointed,'' Villanova coach Jay Wright said. ''Everybody here probably anticipated being in Philly. We had our chance at that. We would have to have won the game (Big East championship) last night. We didn't do it. Now we have to move on and take on a new challenge. We had our chance. I have confidence that if we won that game last night, we would have been in Philadelphia and we didn't. It's all part of the season on how you handle it.''
---
7:01 p.m.
Bubbles burst: Monmouth was left out despite wins against Notre Dame and Southern California. Unfortunately for the Hawks, wins against UCLA and Georgetown were not so impressive in the end.
Sharing the Atlantic 10 regular-season title did not get St. Bonaventure in the field.
South Carolina did not make it, despite starting 15-0 and finishing 24-8. The Gamecocks played a weak nonconference schedule. St. Mary's was the West Coast Conference regular-season winner and beat Gonzaga twice, but got left out.
Teams that surprisingly got in: Tulsa and Syracuse.
--
6:48 p.m.
A supposedly leaked official bracket was posted on Twitter during the CBS selection show. It ended up being 100 percent correct. It was nearly an hour later by the time the network had officially announced all the teams, with Syracuse getting in and Monmouth - and its entertaining bench players - missing out.
---
6:38 p.m.
Michigan is in. The Wolverines are going to the First Four to play Tulsa, with Notre Dame then waiting for the winner in Brooklyn.
Remember Florida Gulf Coast? The Eagles made a surprising run to the Sweet Sixteen in 2013 with then-coach Andy Enfield. They were Dunk City back then. FGCU won the Atlantic Sun again and will be in the First Four against Fairleigh Dickinson. The winner plays top seed North Carolina in the East.
---
6:22 p.m.
It would be a better bowl game, but Texas and Texas A&M are lined up to meet in the second round of the West Region in Oklahoma City. The former Big 12 rivals broke off their regular meetings in football and basketball when the Aggies left for the Southeastern Conference four years ago. The divorce was messy with plenty of lingering animosity.
Texas is a sixth seed that opens with Northern Iowa. A&M has Green Bay in the first round.
---
6:13 p.m.
Holy Cross, which won the Patriot League as the No. 9 seed and with an overall losing record, is headed to Dayton, Ohio - as expected. The Crusaders will face SWAC champion Southern in a First Four game with the winner getting Oregon in Spokane, Washington.
---
5:58 p.m.
Wichita State is in, but the Shockers will have to play an extra game. The perennial power out of the Missouri Valley Conference was one of those top seeds that didn't win their conference and was left to hope for an at-large bid.
Wichita State got it, but will start in Dayton, Ohio, in the First Four against Vanderbilt, another bubble team. Kentucky coach John Calipari touted his SEC rivals from Vandy, saying the Commodores were a tournament team when many thought they were not. Cal was right.
---
5:50 p.m.
The first controversy in the brackets came quickly. Oregon, which won the Pac-12 regular-season and tournament titles, took the one seed that many experts though could go to Michigan State. The Spartans and coach Tom Izzo have been a constant Final Four threat, but they didn't win the Big Ten regular season, just the tournament.
Two ACC teams - North Carolina and Virginia - on the one line could also be debated.
---
5:43 p.m.
The No. 1 seeds are: North Carolina in the East, Kansas in the South, Virginia in the Midwest and Oregon in the West.
---
AP college basketball website: http://collegebasketball.ap.org
---