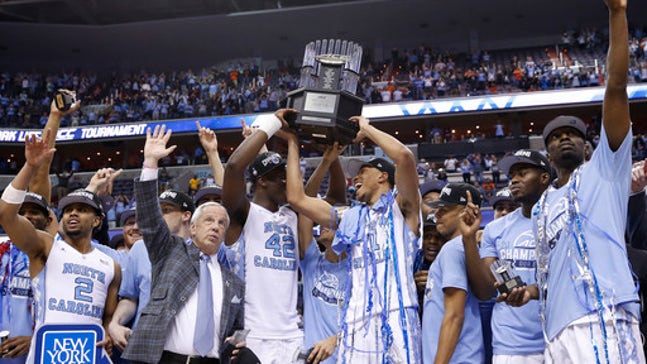 Thanks to its defense, UNC tops Virginia 61-57 for ACC title
Published
Mar. 13, 2016 12:14 a.m. ET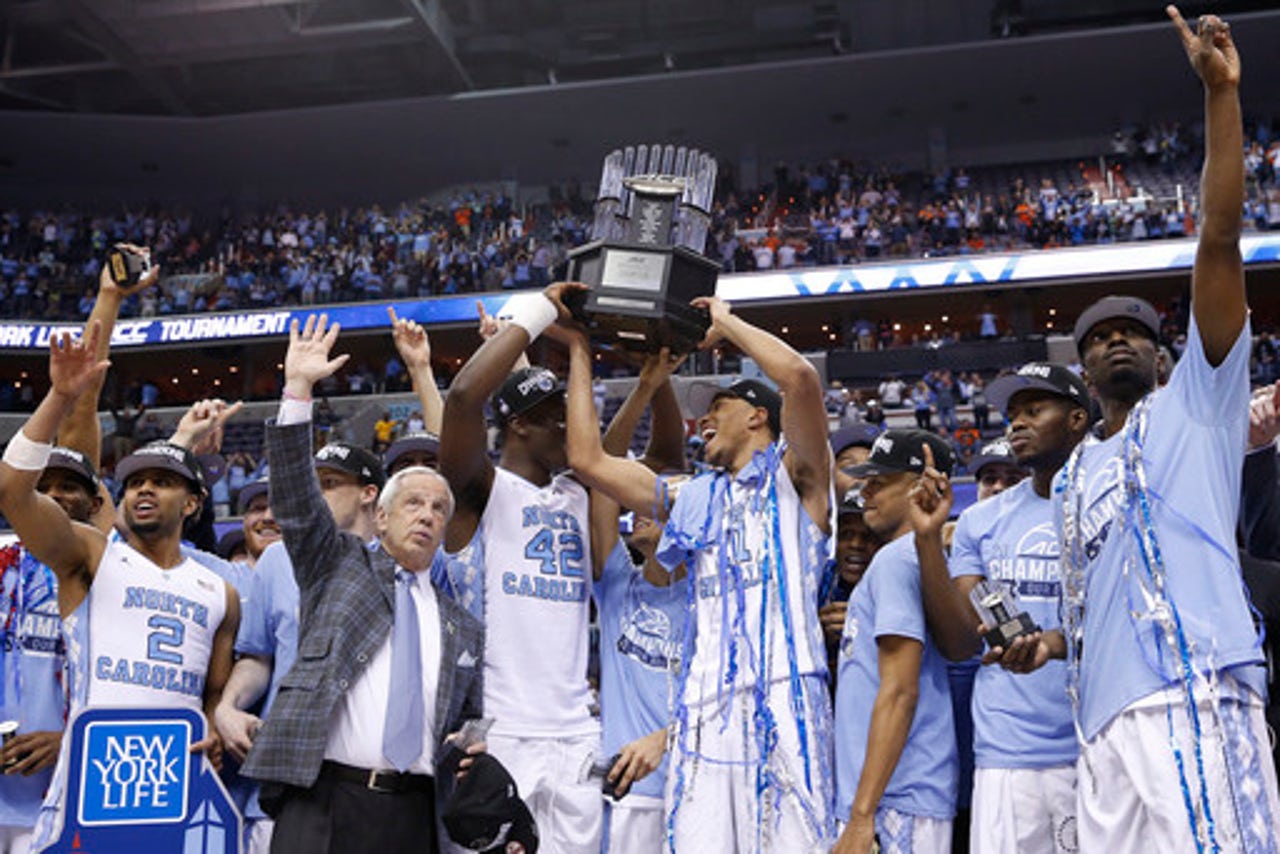 WASHINGTON (AP) Thanks to the sort of defensive dominance coach Roy Williams has been seeking, North Carolina's longer-than-usual wait for its latest ACC Tournament championship is over.
Now the Tar Heels can turn their focus to returning to their customary results in the NCAAs, too.
No. 7 North Carolina held No. 4 Virginia without a field goal for more than 8 minutes in the second half to break open a back-and-forth Atlantic Coast Conference final, and tournament MVP Joel Berry II scored 19 points Saturday night, giving the Tar Heels a 61-57 victory for their first league title since 2008.
In the interim, Williams led the Tar Heels to four ACC finals - in 2011, 2012, 2013 and 2015 - and lost each one. Even Virginia owned a more recent ACC trophy, from 2014.
''After having the confetti fall a couple different times in a couple different years and you're not the one celebrating, at some point you've got to draw a line in the sand,'' said senior Marcus Paige, who scored 13 points. ''And this team has done that.''
North Carolina (28-6) won its 18th league championship, one shy of Duke's ACC record. And they did it not with fast-of-foot offense, but with hard-nosed defense.
''I've been harping on, pushing them, cursing them, kicking them, pleading with them, begging with them, all year long,'' Williams said, ''to understand how important the defensive end of the floor is.''
Malcolm Brogdon led Virginia (26-7) with 15 points, but the conference player of the year was limited to 6 of 22 on field-goal attempts, 2 of 9 on 3s, with Paige doing a lot to slow him.
''We were able to force them into some tough shots,'' Berry said. ''Brogdon was shooting off one leg.''
In all, Carolina held the Cavs to 37 percent shooting.
''Absolutely,'' Virginia coach Tony Bennett said, ''their defense was ratcheted up.''
Now comes the NCAA Tournament and an all-but-certain No. 1 seeding that often feels like a birthright for the kids who wear Carolina blue. UNC hasn't been to the Final Four since winning its second national title under Williams in 2009 - which would not seem all that long ago for most schools but feels like a lifetime to the folks from Chapel Hill.
''Our toughness has been questioned on several occasions, but I think we answered that call,'' Paige said. ''We've really turned the corner to become a complete basketball team.''
It was 28-all at halftime Saturday, an entertaining game between a pair of evenly matched teams.
But Paige took over at the beginning of the second half for UNC, scoring nine of 10 points for his team in one stretch, continuing the resurgence he began in Friday's semifinal. So much for the lithe guard's supposed slump. Then Berry got going on offense, too.
The key, though, was that the entire Tar Heels squad displayed the sort of defensive toughness and will that Williams has been begging to see consistently.
''We picked up the intensity,'' Berry said.
Now there's an understatement.
After Anthony Gill put Virginia ahead 44-40 with a little under 10 minutes left in regulation, the Cavaliers missed their next 12 shots, part of a larger 2-for-20 rut. That allowed UNC to go on a 15-2 run capped by Brice Johnson's putback layup for a 55-46 lead with under 2 minutes to go - the largest margin for either team.
Virginia would cut it to two in the closing moments, but UNC stayed in front and held the Cavs to their lowest point total all season.
Afterward, Paige stood on court, holding a piece of a cut-down net in his hand, with red, white and blue streamers strewn about at his feet.
He had been imagining what both those sensations might be like, after all the so-close-yet-so-far finishes in ACC action during his college career.
''It felt just as good as I thought it was,'' Paige said. ''And hopefully we can cut down another one.''
HE SAID IT
''You have to keep shooting, even on tough shooting nights,'' Brogdon said. ''You have to believe the next shot is going in.''
TIP-INS
North Carolina: This was the Tar Heels' 34th appearance in an ACC final, most in conference history. ... Over the past 13 years, UNC has appeared in seven ACC finals - against seven different schools.
Virginia: This was the Cavaliers' eighth ACC final; they beat UNC in 1976 and Duke in 2014. ... Beat North Carolina 79-74 on Feb. 27.
UP NEXT
North Carolina: NCAA Tournament.
Virginia: NCAA Tournament.
---
Follow Howard Fendrich on Twitter at http://twitter.com/HowardFendrich
---