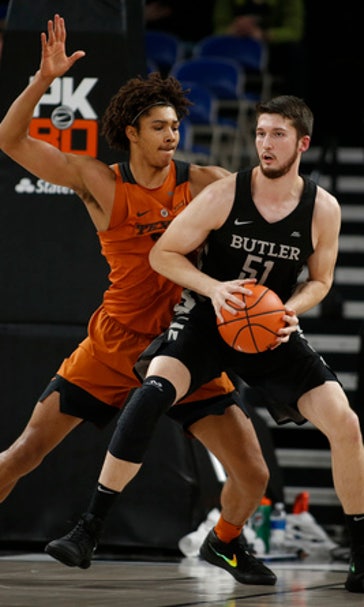 Texas holds off Butler 61-48 in the PK80 (Nov 23, 2017)
BY AP • November 23, 2017
PORTLAND, Ore. (AP) Texas is confident they'll muster enough enthusiasm for Duke.
With a 61-48 victory over Butler on Thursday, the Longhorns advanced at the Phil Knight Invitational to face the top-ranked Blue Devils on Friday.
''We're playing Duke, so I think that's enough said right there,'' guard Matt Coleman said. ''No. 1 team in the country.''
Andrew Jones had 16 points and Texas held off a late rally by the Bulldogs. Mohamed Bamba had six points and 12 rebounds along with four blocked shots, and the Longhorns opened the season 4-0 in coach Shaka Smart's third year.
The Blue Devils defeated Portland State 99-81 in the earlier game on Thursday.
Smart said Texas needs ''to be all about letting our hair down'' and playing more freely against the Blue Devils. The comment drew laughs because of Smart's shorn head.
Kamar Baldwin had 15 points to lead Butler (3-2), which trailed by as many as 10 points in the second half but rallied to come within three points late. Kelan Martin added 12.
Baldwin's layup got the Bulldogs within 47-44 with 4:12 to go, but he missed the free throw and Dylan Osetkowski scored on the other end for Texas. Osetkowski added a dunk, the second in a string of three straight baskets that put the Longhorns up 53-46, and Butler couldn't catch up.
Osetkowski finished with 12 points.
The tournament involves 16 teams playing in two brackets on Thanksgiving, Friday and Sunday, with a break on Saturday. The field also includes No. 4 Michigan State, No. 7 Florida and defending NCAA Tournament champion North Carolina.
Dubbed the PK80, the tournament celebrates Nike co-founder Phil Knight's 80th birthday.
Texas and Butler are in the Motion Bracket, playing Thursday at the Memorial Coliseum. Teams in the Victory Bracket played Thanksgiving Day at the adjacent Moda Center.
Former Butler coach Chris Holtmann now coaches at Ohio State, which is also playing in the PK80. There is a possibility that Butler and Ohio State could meet on Sunday. The Buckeyes play in the late game Thursday against No. 17 Gonzaga.
LaVall Jordan, an alum, is in his first season as Butler's coach. He said he's not looking that the possibility of a Sunday matchup with Ohio State.
''We were looking at Texas, and not we'll look at Portland State,'' Jordan said.
Bamba, a 6-foot-11 Texas freshman with a 7-foot-9 wingspan, had five blocks in the Longhorns' 80-57 victory over Lipscomb on Saturday, but he played in just 19 minutes because of foul trouble.
Butler was coming off an 82-65 victory over Furman on Saturday.
It was a low-scoring affair from the start, with Texas holding a slight edge at 10-9 with nine minutes left in the first half. Texas stretched the lead to 16-11 on Baldwin's jumper with 4:37 left.
Texas led 22-19 at the half, with Jones leading all players with 10 points.
Eric Davis hit a 3-pointer that put the Longhorns ahead 33-23 with 14:41 left in the game. Butler closed within 36-30 on Baldwin's 3-pointer.
Martin pulled Butler close again, within 43-39, on 3-pointer with 8:12 left. He hit another 3 to get the Bulldogs within 45-43, but Bamba answered with a two-handed dunk for Texas.
The two teams last met in the 2015 NCAA Tournament, with Butler coming out on top 56-48.
BIG PICTURE
Texas: Kemba Hepa, a senior power forward at Portland's Jefferson High School, committed to Texas this past week. The four-star recruit also considered Gonzaga.
Butler: During Jordan's playing career with Butler, he made three NCAA Tournament appearances with the Bulldogs. ... Butler opened the season with four games in nine days.
OFFENSIVE WOES
Butler shot 32.8 percent from the floor against Texas (19 of 58). It was the Bulldogs' worst offensive output since shooting 23.7 percent against Oklahoma in a 59-46 loss in 2014.
UP NEXT
Texas: Goes on to face No. 1 Duke (6-0) on Friday.
Butler: Will play Portland State (4-1).
---
---