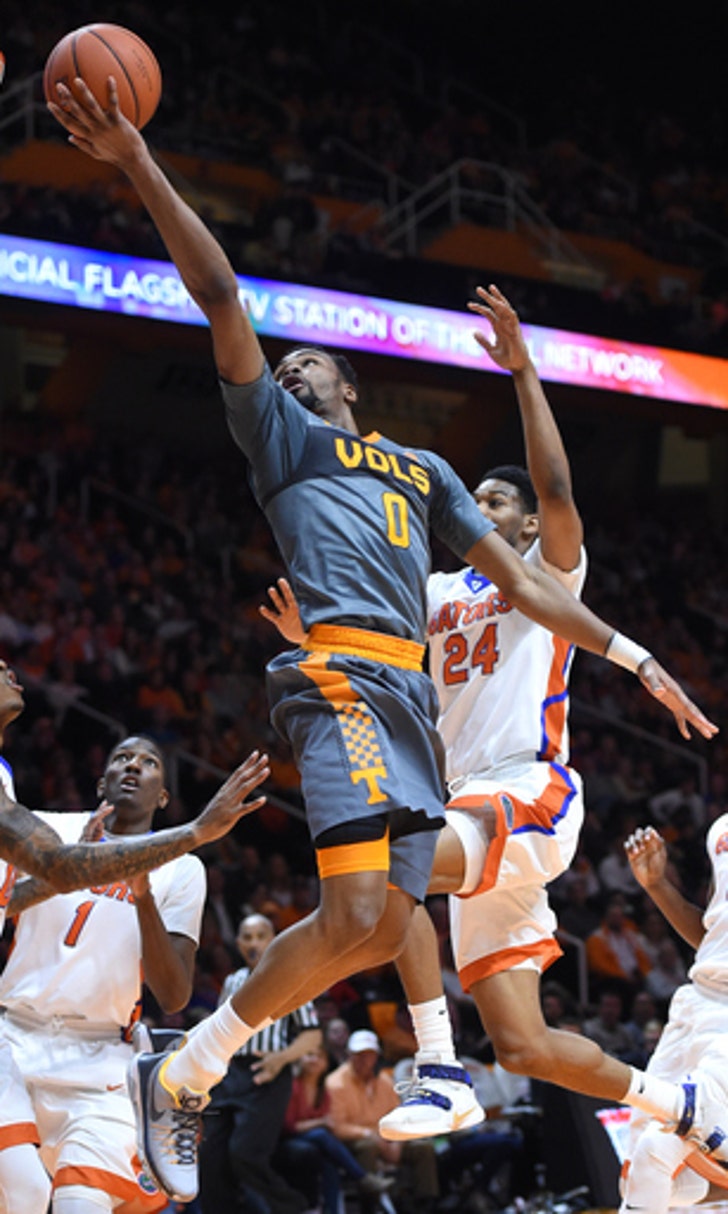 Tennessee's Punter emerges as 1 of nation's prolific scorers
BY foxsports • January 8, 2016
KNOXVILLE, Tenn. (AP) Tennessee guard Kevin Punter Jr. initially resisted the adjustment that has helped make him one of the nation's most prolific scorers.
When Rick Barnes took over as Tennessee's coach in the offseason, he suggested that Punter alter the mechanics of his shot. Punter said that marked the first time someone had mentioned changing his unorthodox delivery.
''I didn't want to do it, to be honest with you, just for the simple fact that I've been (shooting that way) all my life,'' Punter said. ''I always knew my shot was ugly. I didn't want to do it, but I said, `I'm going to give it a try.' And to be honest with you, it worked out.''
Has it ever.
Punter has 23.1 points per game - more than double his average from last season - to rank second in the Southeastern Conference and 10th among all Division I players in scoring. Punter will try maintaining his torrid pace Saturday when Tennessee (8-6, 1-1 SEC) hosts No. 21 Texas A&M (12-2, 2-0).
Barnes has asked plenty of players to tinker with their shots during a 29-year head coaching career. Barnes says Punter probably has adapted to the switch as quickly as any of them.
''That's one of the hardest things to do for all of us, to change habits,'' Barnes said. ''For you to change a shot like that, if he doesn't want to do it, he won't do it. We've asked other guys on the team here to tweak some things here and there, and not any of them have been able to stay with it the way he has.''
Punter is on pace to become the first Tennessee player to average at least 20 points per game in a season since Chris Lofton scored 20.8 points per game in 2006-07. No Tennessee player has finished a season with as many as 23.1 points per game - Punter's current average - since Allan Houston had 23.7 in 1990-91. This natural shooting guard is producing those big totals while adjusting to playing point guard for the first time.
He averages 28.5 points per game in SEC competition and has scored at least 23 points in 10 of his last 11 games.
That represents a remarkable jump for this 6-foot-2 senior from the Bronx, a borough of New York City. Punter averaged 10.3 points per game last season after arriving from State Fair Community College in Sedalia, Missouri.
Barnes believed Punter could benefit from some changes. Specifically, Barnes wanted Punter to make sure he began his shooting motion with the ball out in front of his body. Punter had been shooting with the ball directly above his head or occasionally even behind it.
''It took all summer - all summer long,'' Punter said. ''But this year, I shoot in front of my face rather than behind my head and all crazy.''
Punter's new shot and his willingness to drive into the lane have boosted his production. Punter is shooting 51.5 percent overall and 40.6 from 3-point range while averaging 8.1 free-throw attempts per game. He has 114 free-throw attempts, tied for 13th nationally.
Last season, Punter shot 41.9 percent overall and 35.2 on 3-pointers while averaging 2.9 free throws per game.
''I can stand here and close my eyes and think of all the times I've walked through Pratt (Pavilion, Tennessee's practice facility) at all different times of the day and he's standing right there in front of the rim just working on moving the ball from behind his head, to the left of his head out where he has it in that nice sweet spot now.''
Punter has adapted so well he's deleted his old shooting approach from his muscle memory.
''I used to kid him,'' Barnes said. ''I'd say, `Let's see the old KP.' He says, `I can't do it. I won't do it.'"
---