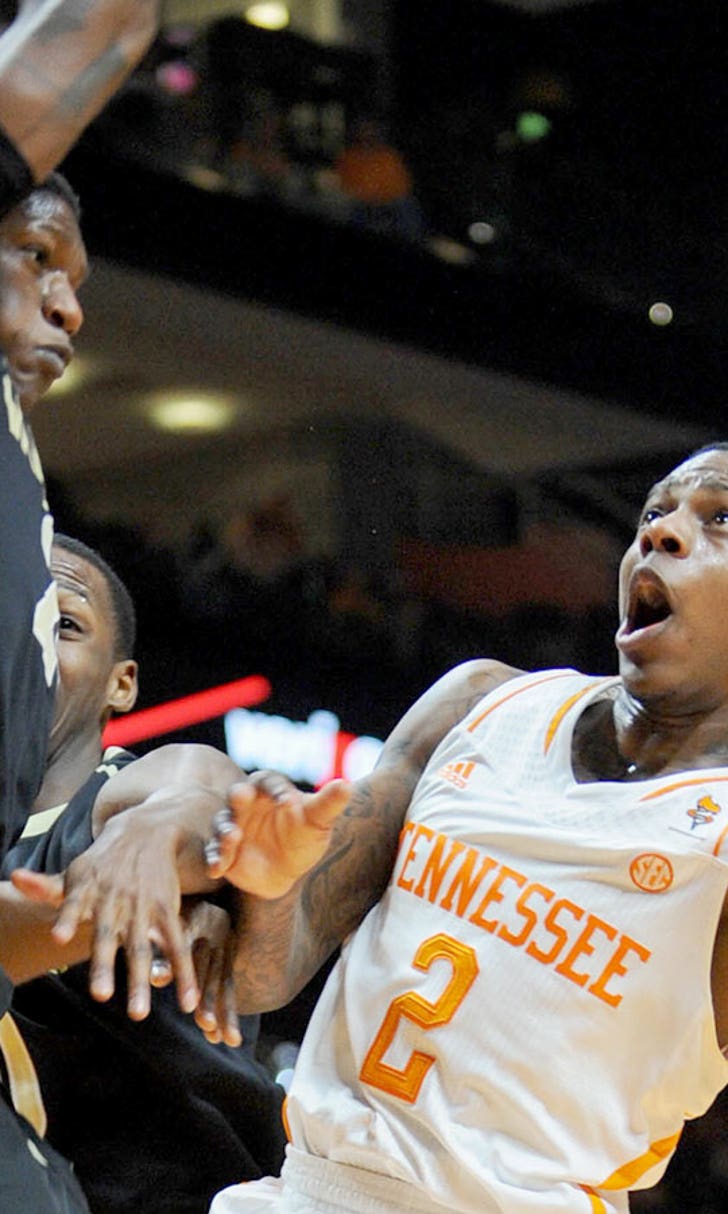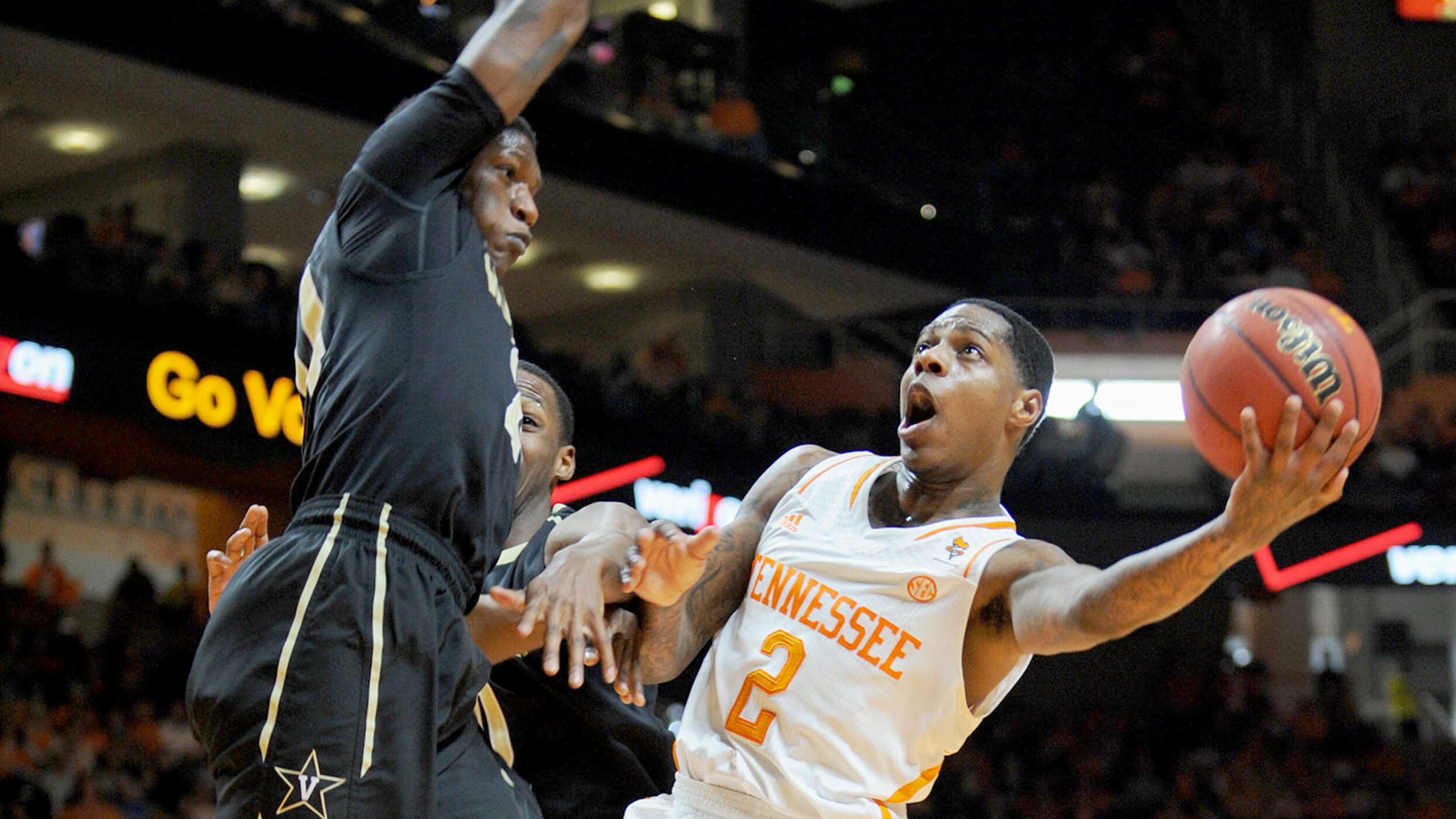 Tennessee trounces Vandy for most one-sided win in rivalry's history
BY foxsports • March 1, 2014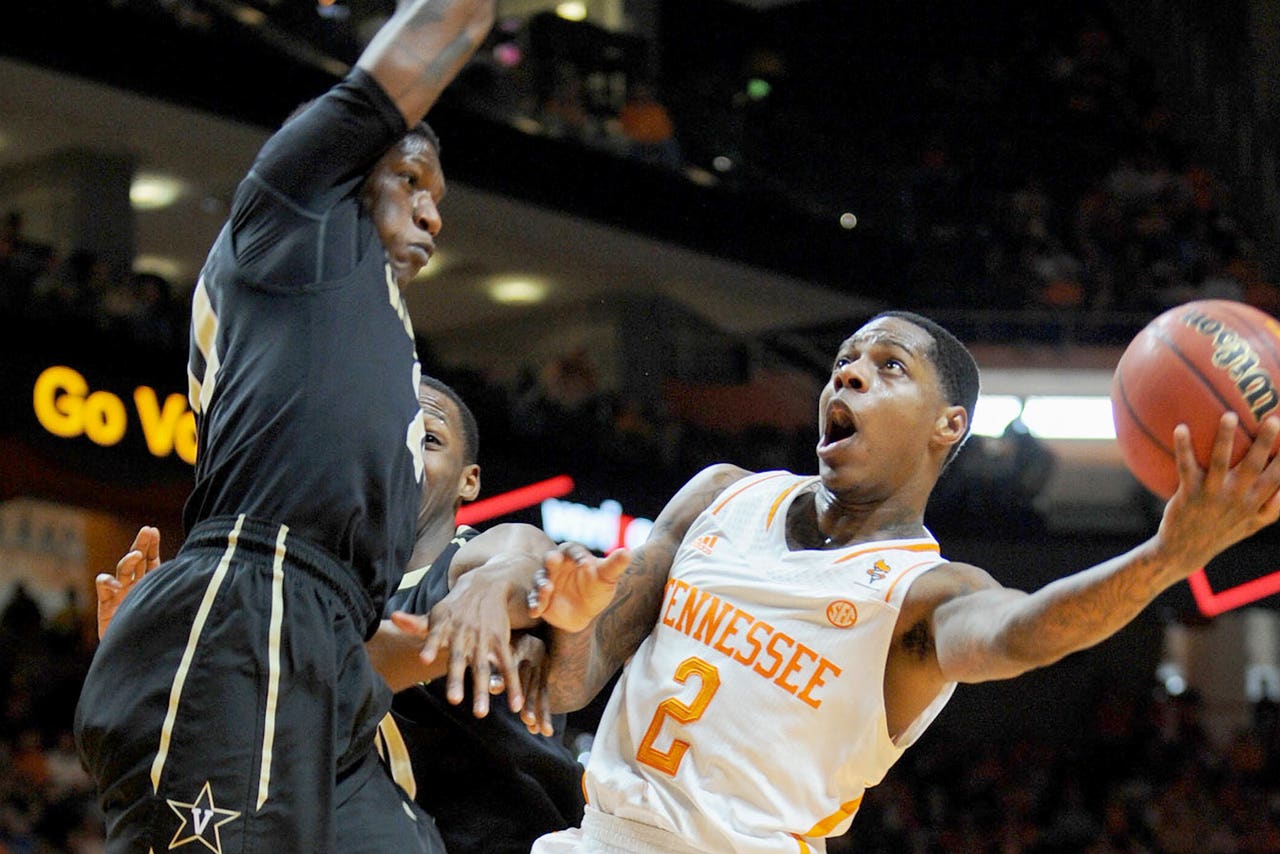 KNOXVILLE, Tenn. -- Antonio Barton had a season-high 21 points and a career-high six assists Saturday as Tennessee trounced cold-shooting Vanderbilt 76-38 for its most one-sided victory in this rivalry's 185-game history.
Tennessee (18-11, 9-7 SEC) boosted its NCAA tournament hopes as Vanderbilt shot 22.4 percent (11 of 49). The Volunteers travel to Auburn on Wednesday and host Missouri on March 8 in their final two regular-season games.
Barton's 21 points were three off his career high. Barton scored 24 against Tennessee State while playing for Memphis on Jan. 2, 2011.
Jarnell Stokes added 12 points and 11 rebounds for Tennessee. Kyle Fuller had nine points for Vanderbilt (15-13, 7-9).
Before Saturday, Tennessee's most one-sided victory over Vanderbilt was a 56-21 blowout on Feb. 22, 1947. The most one-sided win by either team is a 108-68 Vanderbilt triumph on Jan. 8, 1991.
Vanderbilt finished the game with more turnovers (14) than baskets (11).
The Vols entered Saturday's game on the NCAA tournament bubble. Tennessee's inconsistency had turned up the pressure on Vols coach Cuonzo Martin, who is seeking his first NCAA bid in his third season on the job.
Vanderbilt coach Kevin Stallings defended Martin this week by saying "it's absolutely a joke" that the Tennessee coach was facing questions about his job security.
Stallings added that he expected Tennessee to earn an NCAA bid and to do well in the NCAA tournament regardless of what happened in Saturday's game. And after struggling for most of the last couple of weeks, Tennessee played Saturday like a team that could do some damage in the NCAA tournament.
The performance was a stark contrast from Tennessee's 64-60 loss at Vanderbilt on Feb. 5.
In the first meeting between these two teams, Vanderbilt shot 60 percent in the first half and owned a 12-point lead early in the second half. In Saturday's rematch, Tennessee led 41-18 at halftime.
Tennessee got a big contribution from Barton, who had struggled for much of the season. After losing his starting job in late January, Barton moved back into the starting lineup Wednesday in a 75-68 victory at Mississippi State.
Barton shot 3 of 4 from 3-point range and had four assists in the first half Saturday. He stayed hot in the second half as Tennessee led by as many as 40 points and never trailed in the game.
Any hopes for a Vanderbilt comeback pretty much vanished when starting center Damian Jones picked up his second, third and fourth fouls in the first 80 seconds of the second half. Jones' foul trouble tested the depth of a Vanderbilt team that has only seven healthy scholarship players.
Rod Odom, who scored a career-high 26 points in Vanderbilt's Feb. 5 victory over Tennessee, scored just four points and shot 1 of 7 in the rematch.
Before the game, Tennessee retired the No. 14 jersey of Dale Ellis, a two-time SEC player of the year who was with the Vols from 1979-83. Bernard King (53), Ernie Grunfeld (22) and Allan Houston (20) are the only other former Tennessee men's players to have their jerseys retired.
---