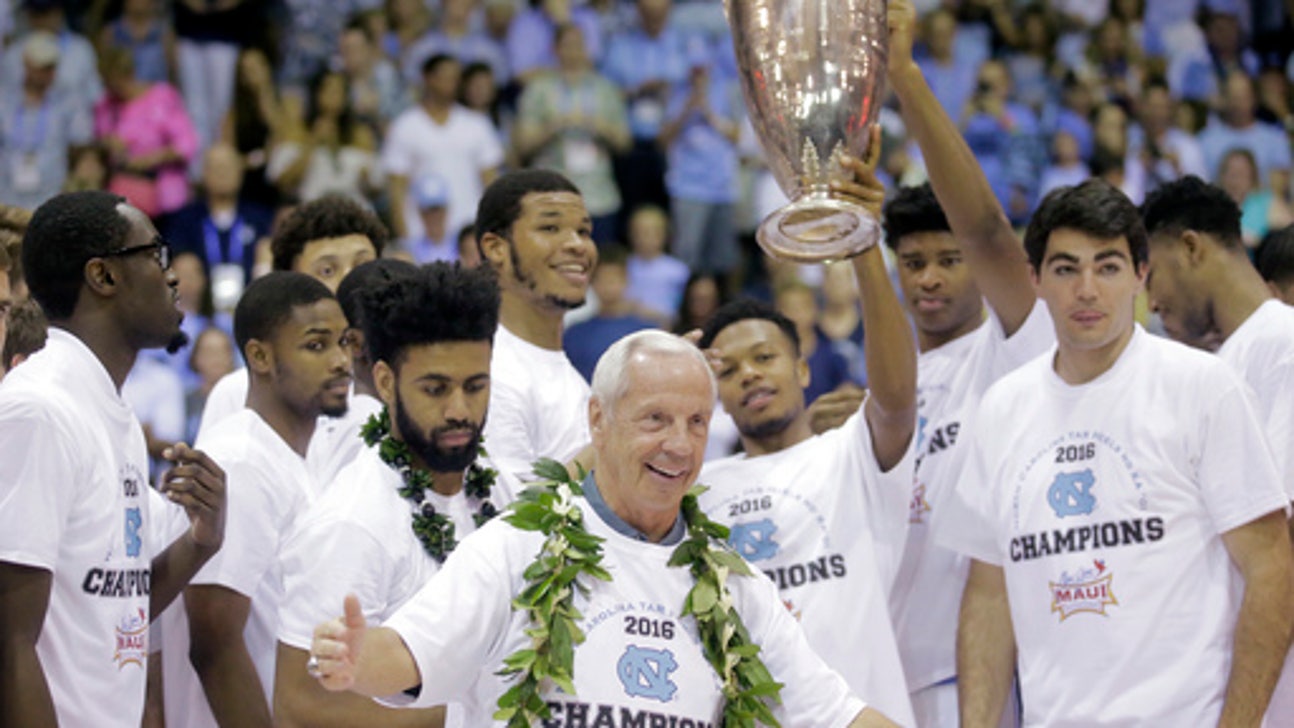 Tar Heels on a roll after Maui; UNC likely to climb in poll
Published
Nov. 27, 2016 5:58 p.m. ET

LAHAINA, Hawaii (AP) Wisconsin achieved two of its priorities against No. 4 North Carolina at the Maui Invitational, keeping the Tar Heels from getting out in transition and controlling the glass.
Yet once the Maui title game started, the 16th-ranked Badgers immediately found themselves in a hole and couldn't dig out of it. By the time it was over, North Carolina had a comfortable, 71-56 victory for its fourth Maui Invitational title.
The Tar Heels may not be the No. 1 team just yet, but they can make an argument for being the best team in the country so far.
''You take away the two major things they do and the team still finds a way to beat you, obviously it's a sign of a very good team,'' Wisconsin coach Greg Gard said.
The Tar Heels (7-0) rolled into Maui with four nonconference victories by an average of 24.5 points and left with four more lopsided wins at one of the deepest early season tournaments.
North Carolina started slow against host Chaminade before rolling to a 104-61 victory in the Maui opener. The Tar Heels followed that up by trouncing Oklahoma State on the glass and the scoreboard, grabbing 19 offensive rebounds in a 107-75 victory.
The Wisconsin game was supposed to be another in a long line of epic title games inside the Lahaina Civic Center, yet North Carolina held the Badgers without a field goal for the opening 7+ minutes and was never really challenged .
North Carolina is big and athletic, causing a matchup nightmare for teams inside. Point guard Joel Berry II, the Maui Invitational MVP, provides the Tar Heels with leadership, scoring and an ability to get teammates the ball in places they can score.
They have a chance to be the best defensive team under coach Roy Williams, with so many long, mobile players who can contest shots inside and out.
And North Carolina has been doing it without guard Theo Pinson, who was expected to be a big contributor this season, and forward Luke Maye.
''Well, my opinion, Carolina is the best team in the country and we got throttled pretty good by them,'' Oklahoma State coach Brad Underwood said.
---
BIG EAST RISING
While the ACC has four teams in the top 10, the Big East is not far behind in the race for best conference in the country.
The conference has three ranked teams, topped by No. 2 Villanova, and that could change soon as its teams rack up one quality win after another. Its list of conquests includes No. 8 Arizona, No. 13 Oregon, No. 16 Wisconsin, No. 17 Purdue, North Carolina State, Clemson, Ole Miss and Memphis.
Expect Butler to move into the poll this week after knocking off Arizona to earn the Las Vegas Invitational title.
---
HIGHLIGHT OF THE WEEK
It's a rare occurrence when a 5-foot-9 player can dunk, even rarer still when he does it over a 6-8 player.
That's what Campbell's Chris Clemons did last week when he launched over Samford's Alex Thompson in what surely be will be a candidate for dunk of the year .
---
OREGON WOES
A popular refrain early in the season has been, ''What's wrong with Oregon?''
The Ducks are loaded with talent and are expected to be national-title contenders, yet they have failed to live up to expectations so far.
Oregon lost by 17 to unranked Baylor and fell to No. 13 in last week's AP Top 25 . Then the Ducks opened the Maui Invitational with another loss to an unranked team, Georgetown, which is sure to knock them down a few more spots.
But don't worry Duck fans. Dana Altman's teams always seem to start slow and Oregon (4-2) is still trying to integrate star Dillon Brooks, who missed the first four games of the season following offseason foot surgery.
The Ducks won their final two games in Maui, and it won't be long until they're flying high again.
---
FRESHMAN SPOTLIGHT
Malik Monk, Kentucky. It's hard to pick just one player from John Calipari's talented freshman class - that could be said just about every year - but Monk has been stellar.
The 6-3 guard is one of the nation's best dunkers - he had two spectacular ones in succession against Tennessee Martin - but has more to his game than soaring through the air. Monk is Kentucky's leading scorer at 18.7 points per game and is shooting 49 percent, including 40 percent from 3-point range.
---
More AP college basketball at http://collegebasketball.ap.org and http://www.twitter.com/AP-Top25
---